Check Out Marvel Legend Jack Kirby's Interpretation Of Darth Vader And Luke Skywalker
Did New Gods Influence Star Wars?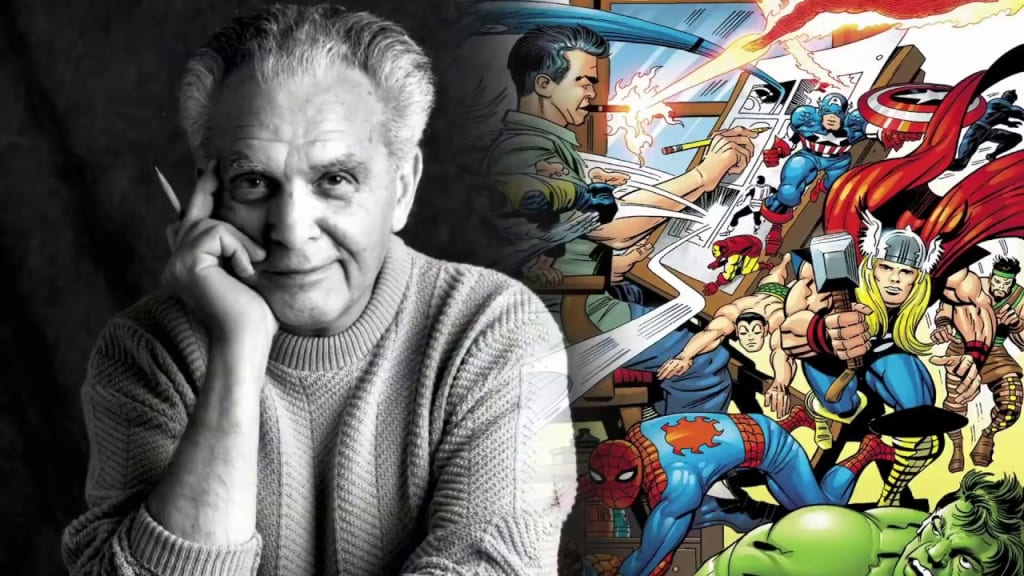 Everyone loves Star Wars Art. Some of the art out there by fans and professionals is mind-blowing. And many artists, some incredibly influential comic book artists, have contributed to the Star Wars universe from Howard Chaykin, Bill Sienkiewicz, and the legendary Jack Kirby.
Jack Kirby co-created and illustrated much of the early Marvel comic universe and DC's New Gods, a conglomeration of some of DC's most powerful characters. Kirby also worked on numerous other projects and is considered by comic fans to be the father of the modern comic book. Many comic book fans believe that Jack Kirby's New Gods were actually one of the inspirations for Star Wars. Fans don't know for sure, but it is believable because George Lucas is a huge comic book fan, and creatives tend to be influenced by other creative works, especially ones they love. And with Kirby's work and New Gods especially being so influential and popular, it is definitely conceivable that we owe some of the inspiration for Star Wars in part to Jack Kirby.
RELATED: Top 5 Spinoffs That Could Come Out Of DC's Black Adam
For fans that might not be familiar with Jack Kirby's comic New Gods, New Gods is about an "Astro-Force" wielding son. This son discovers that his father is the "epitome of evil." There is a mysterious mythical energy called "The Source" that is eerily similar to George Lucas' The Force. And there is also a powerful Darkseid (which, of course, is pronounced "dark side"). New Gods is a blend of different ideas in ancient mythology, with, as most superhero stories go, a science fiction setting. However, there seems to be an eerie amount of similarities between the two.
And Tom Scioli, Jack Kirby's expert and biographer, agrees. Scioli talked with Paste Magazine about Jack Kirby's influence on George Lucas and Star Wars. He spoke about how Kirby's "The Pact" from New Gods #7 has definite Star Wars vibes.
"…the Star Wars-iest thing Kirby's done… It's a very epic, very sci-fi, very mythic and very cinematic comic at a time when no one else was doing cinematic comics. It's SO similar to Star Wars, but I've read Lucas's early script drafts and it seems like he really did arrive at that story honestly. It's something I've pondered for a long time and can argue both sides."
In 1994, Jack Kirby finally made a direct contribution to the Star Wars franchise by creating trading cards. Kirby was commissioned by the trading card giant Topps for Series Two of the Star Wars Galaxy Trading Cards. Jack Kirby drew Darth Vader and Luke Skywalker for Series Two New Visions Collection. Along with Jack Kirby, this remarkable collection also featured other artists who had never done anything for Star Wars. Some of these artists featured in Series Two were Michael Allred, Amanda Conner, Dave Gibbons, and others.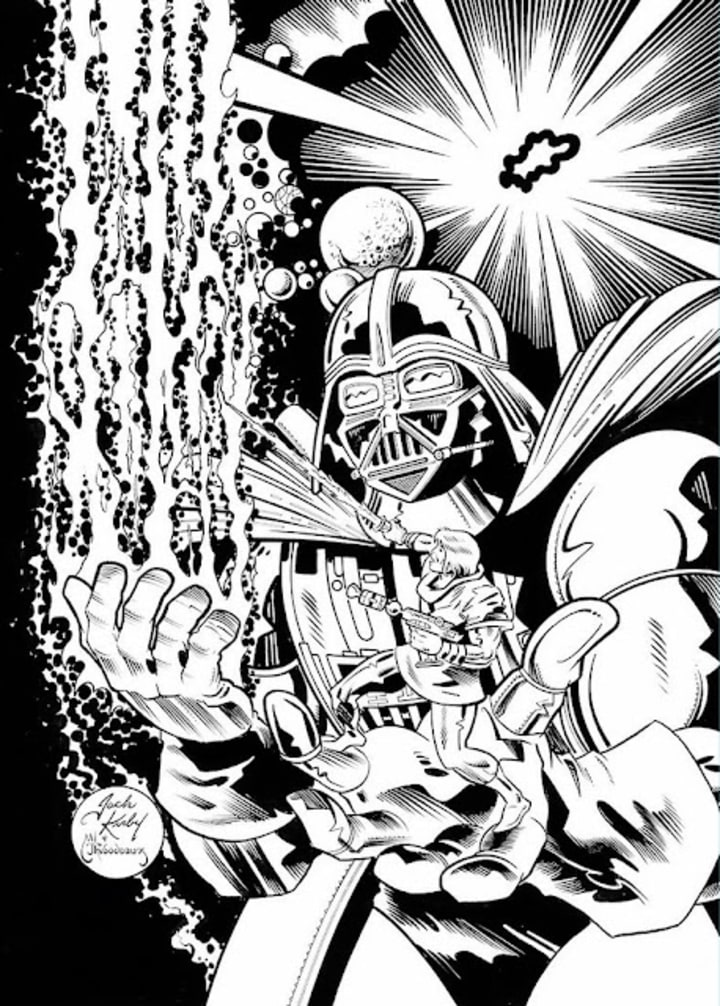 For the trading card, Jack Kirby depicted Darth Vader wielding the Force with quite the visual flair that radiates power from his outstretched palm. Kirby even added his signature Kirby Krackle. In Darth Vader's other hand, Luke wields a fiery lightsaber and a Kirby-esque blaster. Vader is portrayed as ginormous and menacing, whereas Luke is small but heroic. This shows that Vader is the threatening menace looming over the whole story, whereas Luke has quite the uphill battle to fight and overcome. The trading card was inked by Mike Thibodeaux.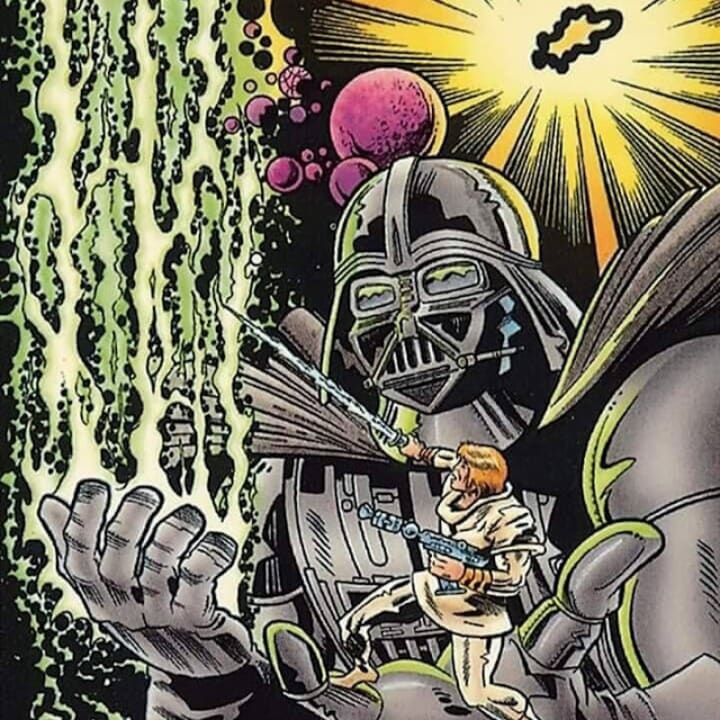 Jack Kirby also said that he does believe that Star Wars was inspired by his New Gods series. In an interview with Royal Flush, Frank Zappa's son, Ahmet Zappa, talked about a conversation between Kirby and his father after The Empire Strikes Back was released. Ahmet Zappa said:
"I remember Jack confided in Frank that he felt like the stories he created helped shape the Star Wars saga, that he saw direct parallels between his characters and the movie's story arcs...He told my dad stuff like, 'Darth Vader was Doctor Doom and the Force is the Source' and that George Lucas ripped him off."
It isn't known whether Jack Kirby had any lingering resentment over the similarities and most likely "rip off" of New Gods for Star Wars or if it is just a passing annoyance for him. Although, if he did have any resentment, he overcame that, it seems, to give the Star Wars franchise a prized possession of his artwork for a trading card. Which is definitely a unique treasure.
For someone who had contributed so much to the comic book industry, it really is impressive that Kirby was able to contribute to the Star Wars universe using his own unique cosmic style. This trading card is actually one of the last pieces of art that Jack Kirby did before his death on February 6, 1994. It helped to bring his career full circle with a piece depicting the universe that his work most likely inspired, and his life and work are still felt today throughout the comic industry and in almost everything produced by Disney. His work continues to inspire creators everywhere.
READ NEXT: The Real Reason Why Leia Was Classed As A Princess in 'Star Wars'
Written by Elizabeth Dresdow
Source(s): ScreenRant
Syndicated from Culture Slate