'Jedi: Fallen Order 2' Announcement Reportedly Coming Sooner Than Expected?
Could The Highly Anticipated Game Release This Year?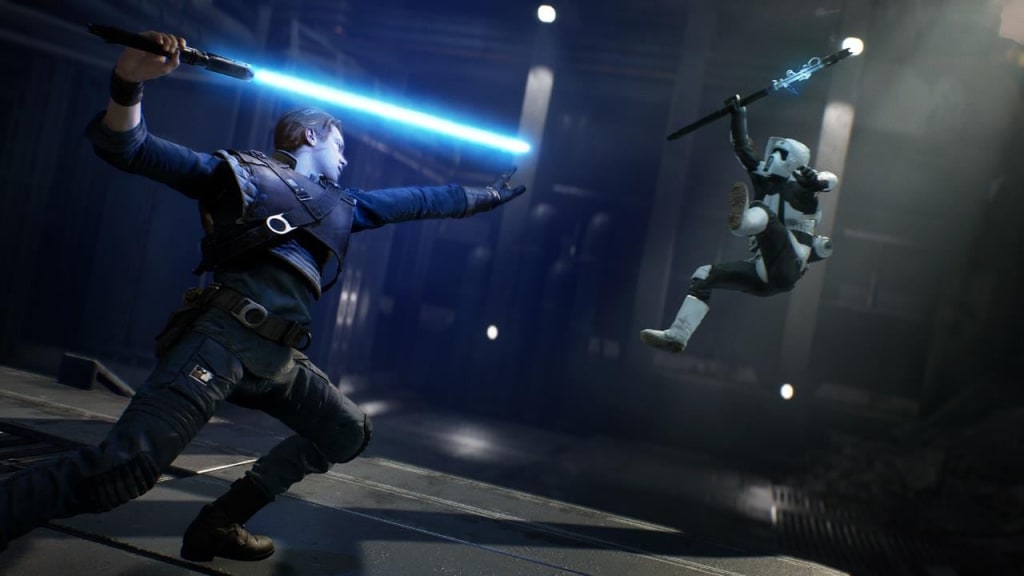 Fallen Order took Star Wars fans down the path of a Jedi in hiding after Order 66, struggling to survive and find his place in the galaxy. The puzzles, platforming, and lightsaber combat made this game extremely popular in the Star Wars and gaming community. Add on relatable and likeable characters, extensive customization (most importantly of the player's saber hilt), and a legendary final boss fight, and this game has become a vital part of any Star Wars fan's collection.
Given the popular and financial success of Fallen Order, it seemed a sequel was a foregone conclusion. Hopefully continuing and expanding the story of Cal Kestis while delivering another engaging and enjoyable gaming experience. While many expectant fans had E3 in June circled as a possible announcement date, new information from Jeff Grubb, author and video game designer, seems to indicate that a game reveal may be even closer than originally anticipated.
RELATED: Could 'Jedi: Fallen Order 2' Bring Back This Fan Favorite Character As a Villain?
Twitter user Nibel is extremely plugged in to the gaming community, routinely tweeting out video game news and announcements. They recently sent out a tweet regarding the upcoming Star Wars gaming sequel, quoting Jeff Grubb, who spoke on the Giant Bomb podcast, who said that fans can "expect to hear about the game in a significant way before E3." The full tweet can be seen below:
Given that the first Fallen Order game was announced at 2018's E3, and the lack of Star Wars news at EA's other recent events, it seems all but certain that the impending Fallen Order 2 announcement and/or reveal will occur sooner rather than later. The most exciting reveal from Grubb is that the game could have a chance of releasing this year. Nibel again referenced Grubb's interview on the Giant Bomb podcast telling Twitter users that Grubb believes the game could potentially release at the end of the year (perhaps for the 2022 holiday season?) or might slip into the first quarter of next year (again, see tweet below).
The Fallen Order sequel has a surprisingly blank slate to work with, due in part to the cohesive ending of the first game, leaving few strings left to tie up with a sequel. This provides an exciting opportunity to continue to develop Cal as a character and as a Jedi in a fresh, unencumbered story. Many fans have already expressed a fondness for the main playable protagonist of Fallen Order, due in no small part to the portrayal of the character by actor Cameron Monaghan, who Cal is also physically modeled after.
The intuitive and quick-thinking Cal possesses a Force ability that has rarely been seen in cannon, the ability of psychometry. This power, also known as a Force echo, allows a Jedi to "feel" the history of an object and its owners, history, and surrounding events with a mere touch. For example, Cal learns a simple song by picking up an instrument the song was played upon. This ability is also displayed by Quinlan Vos while tracking Ziro the Hutt with Obi-Wan Kenobi in The Clone Wars animated series. This unique ability not only makes for great visuals and gameplay in Fallen Order, but also differentiates Cal from other Jedi characters, making for an overall stronger protagonist.
Regardless of when the game will be announced or released, Star Wars fans are waiting with bated breath for any news about the Fallen Order sequel. Expectations and hype are high for the game, as with any Star Wars project, especially one as well received as the first Fallen Order. With the two decades between Revenge of the Sith and New Hope generally uncharted, the story for Fallen Order 2 is wide open, which should excite fans for the creative potential alone.
READ NEXT: Review: 'The Book of Boba Fett - Chapter 2: The Tribes of Tattooine'
Written by Weston Erickson
Syndicated from Culture Slate