Captain Rex And Sabine Wren Rumored For Ahsoka Tano Spin-Off Series Starring Rosario Dawson
Could We Be Seeing More Familiar Faces?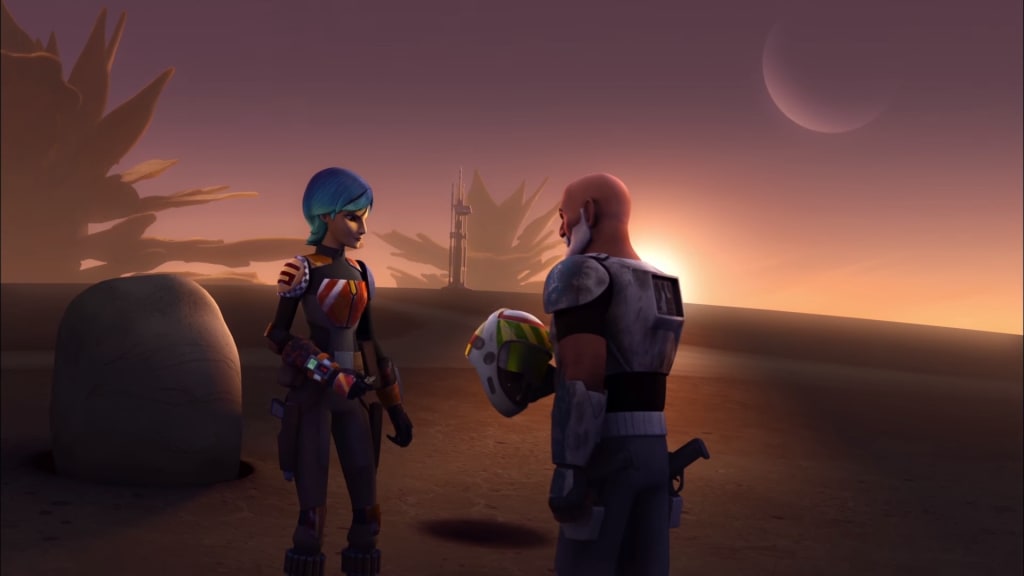 Last week, it was announced that the Disney+ series The Mandalorian season 2 will premiere on October 30. Plus, we got the new title poster, and now a trailer! The marketing of The Mandalorian season 2 has been ramping up and is finally going to be closing the gap between now and the premiere. We were offered with an exclusive first look on The Mandalorian season 2 along with new images and interviews with cast and crew, and now we have a trailer with a glimpse of what is to come.
In addition to The Mandalorian marketing, there has also been a rumor about a spin-off series about Ahsoka Tano, in which she would be portrayed by Rosario Dawson, who played Claire Temple in Netflix's Daredevil series. There have also been reports that she may appear in season 2 of The Mandalorian. This fan favorite, Ahsoka Tano, first appeared and was introduced as the Jedi Padawan of Anakin Skywalker in the 2008 animated movie Star Wars: The Clone Wars, which was followed by the hit animated TV series that went on for seven seasons across 12 years (with a long gap between the last two seasons). Ahsoka Tano has also appeared in the hit 3D-animated TV series Star Wars Rebels, first under the codename Fulcrum. Tano's first appearance in the live-action Star Wars films is in Star Wars: Episode IX - The Rise of Skywalker, albeit in a voiceover cameo appearance by the original Ahsoka Tano voice actress, Ashley Eckstein, who had voiced Tano in all of her animated appearances across the Star Wars franchise since 2008. If the Rosario Dawson rumor his true, her appearance as Ahsoka Tano would serve the backdoor into her own live-action series.
According to a Kessel Run Transmissions YouTube live stream, rumor has it that this spin-off series will feature Captain Rex and Sabine Wren, with Captain Rex being played Temura Morrison. Reportedly, Captain Rex and Sabine Wren are highly likely to appear in The Mandalorian season 2. Kessel Run Transmissions also stated that both Ahsoka Tano and Bo-Katan Kryze will be featured in season 2 as well. Captain Rex first appeared in 2008's Star Wars: The Clone Wars along with Ahsoka Tano. Since his appearance in The Clone Wars, he has also been appeared along with Sabine Wren in Star Wars Rebels. Captain Rex is a clone trooper cloned from the bounty hunter Jango Fett, so it would make perfect sense that, if Captain Rex appears in The Mandalorian season 2, he would be portrayed by Morrison, even if it is just for one episode. Captain Rex and Sabine Wren joining Ahsoka Tano in the TV series would make sense given their association with one another, though it does raise the question of how a certain unresolved thread from the end of Rebels may have played out. For now, we do not know for sure about any of this.
Although this is just a rumor, it is one that has persisted for months. Star Wars fans kept getting more word on Captain Rex and Sabine Wren on The Mandalorian season 2 and kept getting excited. Since the premiere is on October 30, which is coming up pretty soon, we do not have to wait too long to find out if Ahsoka Tano will appear along with her companions Captain Rex and Sabine Wren. We do not know how these animated characters will factor into the live-action Star Wars events and what might happen with these characters in future animated stories. The Force is strong with The Mandalorian season 2 on Disney+, though, so we shall see what happens.
Written By Pat Kusnadi
Syndicated From Culture Slate