Best Alien Invasion Films on Netflix to Stream Right Now
The best alien invasion films on Netflix attempt to answer a mysterious question: Are we alone?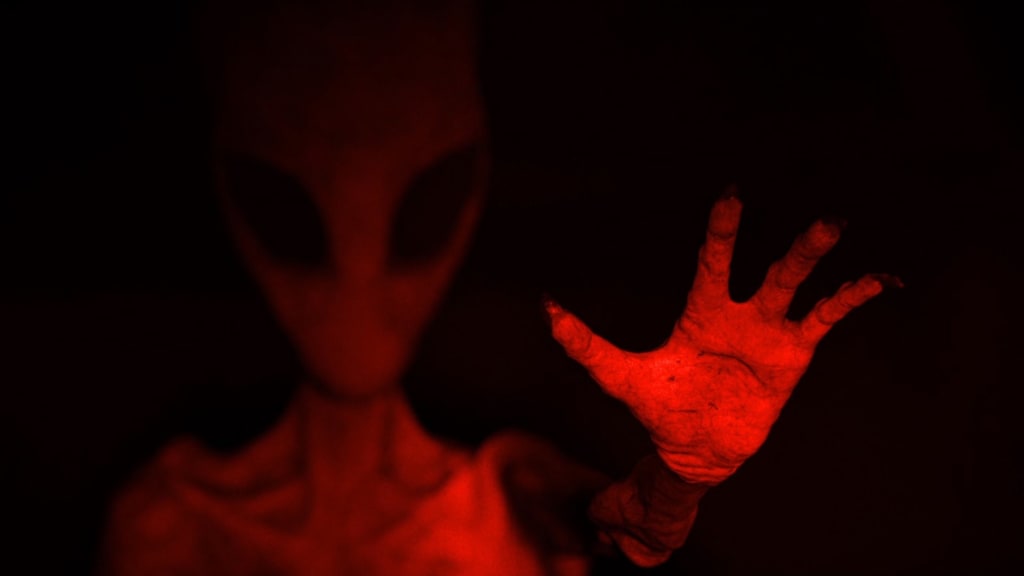 We can't be the only ones out here, right? The best alien invasion films on Netflix answer that question with a resounding no. Some of these movies about extra terrestrials are for the whole family, while others are horrifying tales of bloody and brutal alien invasions.
These captivating films introduce us to characters from other worlds and galaxies, while artfully attempting to answer the complex question of intelligent life on planets not named Earth. Anybody interested in one of the most important issues for humanity should check out some of the best alien invasion films on Netflix to stream right now.
Think back in time for a second. You're in college and you're on a quiet vacation with four of your friends at a cabin in the middle of the woods. Sounds like a really good time right? Until a host of evil aliens reigns on your parade.
There's no shortage of fear or gore in Extraterrestrial. You're left with your mouth wide open as a perilous group of coeds fall victim to some pissed off beings from an outer world in this addition to the best alien invasion films on Netflix.
Monsterstakes place six years after a bloody alien invasion has turned parts of the Earth into an unlivable waste land. The story is about a cranky journalist who agrees to escort an American tourist through an infected zone in Mexico, in hopes of reaching a safe zone in the United States.
The American and Mexican military are struggling to contain the alien invaders, and it comes across as one of the more realistic of the best alien invasion films on Netflix.
Absolutely Anythingis a comedy film about a bunch of aliens who travel from planet to planet to see what kind of species inhabit them. It's much lighter than the rest of the best alien invasion films on Netflix, but if you're a fan of Simon Pegg or Kate Beckinsale, it's worth a watch.
If the aliens don't judge to humans to be decent by their standards, then they will destroy the entire planet. They do this by inhabiting one person and giving them the power to do anything they want, and they see what they do with it. On Earth, they choose Pegg, a teacher who works with special needs kids and who has a crush on his neighbor. What will he do?
After an accident, a man makes an unprecedented discovery that will change the course of mankind. Is it an asteroid? Are aliens attempting to invade the Earth? You'll have to check out one of the best alien invasion films on Netflix to see how it plays out. Terminusis a slow burn and moves along more slowly than many on this list, but the payoff is big and it has a lot to say about other worlds and planets.
The Hosttells the story of an alien race that implants a parasite soul into a young girl's body, and when she resists the two end up becoming unlikely allies.
Saoirse Ronan is one of the best young actresses in Hollywood, and she pulls of a great performance in one of the best alien invasion films on Netflix. The alien race is attempting to take over everybody on earth, and these two must find support to help defend it. Simply put, it's the classic alien takeover scenario modernized for a younger, Twilight-loving audience.
Infini is about a mission to outer space to save the sole survivor of a biological outbreak, in hopes that the alien threat won't make its way towards Earth. The story is compelling enough to make it one of the best alien invasion films on Netflix.
An interesting part of the film, which is pretty classic sci-fi, is the off-world mining facility that is used because we've damaged such a vast swath of the Earth that we no longer have enough resources.
A private company sends six astronauts to Jupiter's moon to see if it is capable of sustaining life, and what they find shocks them all. Europa Report is one of the best alien invasion films on Netflix because instead of them invading us, we invade them.
The team is attempting research and sends their samples back to Earth, but have they accidentally set off an alien invasion that will spread without the possibility of being stopped? Follow the crew of the Europa Report to find out more.
In Spectral, a special-ops team that is dispatched to fight is called in to fight off alien force that is killing anyone it comes into contact with. What makes it one of the best alien invasion films on Netflix is the fact that nobody seems sure of what it is, and many suspect it is some super secret technology created by the government.
What ensues is invasion movie with the spirit of some of the best war movies, including the brotherhood between soldiers fighting. In addition, it's also a Netflix original movie, something they are doing more and more of lately.
In many ways, Guardians of the Galaxy Vol. 2is one of the best alien invasion films on Netflix. It's certainly lighter than most, but that doesn't change the fact that Peter Quill was abducted by a group of space aliens in the first film.
In the sequel, the Guardians must fight to keep their newly formed family together from enemies and invaders from all over the galaxy. Also, you don't really need any Marvel Universe knowledge to enjoy Guardians of the Galaxy.
The most interesting thing aboutUnacknowledged is that it details alien invasions that may have already happened! It exposes the Disclosure Project and how UFO secrecy has been ruthlessly enforced—and why that is.
It's one of the best alien invasion films on Netflix because everyone wants to know if we've ever truly been in contact. It has tons of documents and footage that hasn't been seen anywhere else, and some of this stuff simply has to be seen to be believed.