Be prepared for when the robots turn on you
In the evolving world of self driving cars and robot workers be prepared for error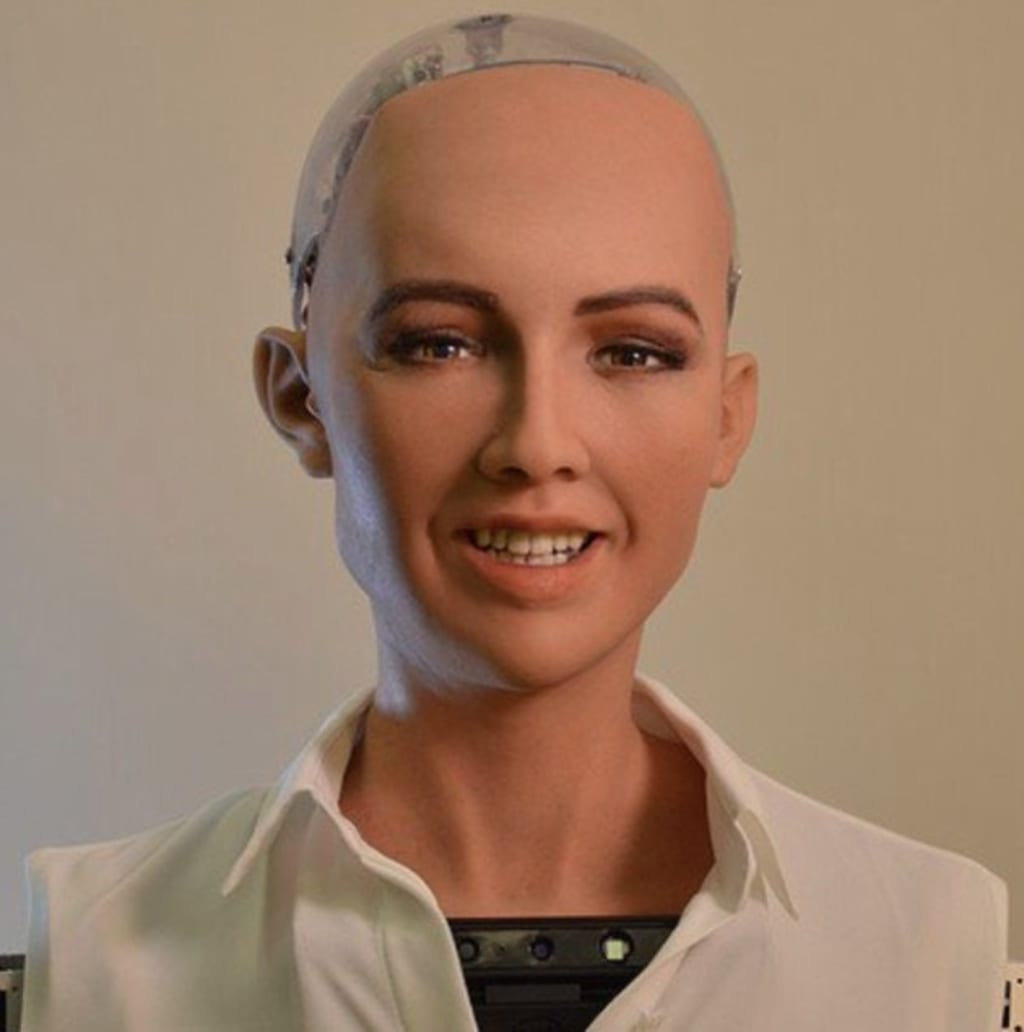 Her name is Sophia

Are we really evolving or are we unvolving? How many people can still cook? We have self-driving cars and robots to do chores.Think of that movie Megan and tell me.Anyways, did you know in Syria we have a legalized robot citizen,her name is Sophia.She was created by David hansen.She was activated February fourteenth 2016 and made her first appearance in March 2016 at Austin,Texas.She kinda looks like Megan starting out. Does anyone else kind of feel that's wrong?I mean I think robots are cool but the advancement as of late is pretty scary and too quick as a world that already going so quick
FedEx has robots that deliver packages in select areas.SOME select McDonald's have robot workers.This be careful of your feet they might run you over.Also don't move too soon.But is it this me,but most robots have errors from time to time.Here's a list of a few of them accidents this list shows what the future somewhat holds for Us
An Alvey machine from Blueshift Industrial in Colorado attacked a worker who had been to install platforms to allow safer access to machinery. The Alvey machine is a robot used in the distribution of packaged goods.While the contractor was working, the machine hit him and then crushed his head.The man died on sight.
In may 2007,an accident occur at lenco,Inc.Where an employee was attempting to repair a robot arm,the arm attacked the man.The man suffered serve trama to his ribs and died two weeks later.Who is their to sue no one.
In June 2007, an accident occur,where an industrial robot attacked and nearly killed a man in Sweden.The robot was used to move huge stones.An man was there to do maintenance and thought the machine was off.Where the man approached the machines to carry out his maintenance work.The robot put him in a vise like grip.But the man managed to escape with his life.I but that man goes to a different place of work
In October 2007 in South Africa a robot cannon went berserk the anti aircraft gun launched a attack against South Africa's defense killing nine soldiers and wounded 14 others
In July 2015 at a Volkswagen plant a robot crushed and killed a man.The robot malfunctioned,picked him up and smashed him against a metal plant the man later died at the hospital.
In Russia a chess robot broke a seven year olds finger in a chess tournament.Oh it was an accident Sergey Lazarev claims.It was said the boy moved to soon.The chess player still plays chess.
In China in December 2018.A 49 year old Chinese worker was impale with ten sharp rods.By a rogue robot that collapsed.The man somehow survive.
In Tempe, Arizona, in March 2018.A bicyclist was pushing their bicycle across a four line road and was struck by a self driving vehicle that was operating in self driving mode with a human safety driver distracted and watching their phone in the driving seat.The bicyclist was taken to the hospital where she died from her injuries.
So I guess next time people think we need advancement in technology,they can look at this list. So I guess we can keep on evolving and wait and see what happens.Be prepared for when the robot turns on you.Just be prepared because you won't see it coming.It may come from any angle.At any given time.
About the Creator
I'm a father with a learning disability to two very intelligent artistic kids and raising them right.Im married to a very beautiful woman with a learning disability.I like writing on free time to get stuff off my mind.
Reader insights
Be the first to share your insights about this piece.
Add your insights