Art of 'OMNI' Magazine
'The Mind's Eye: The Art of OMNI' celebrates sci-fi's best and brightest artists through a collection of the magazine's most iconic imagery.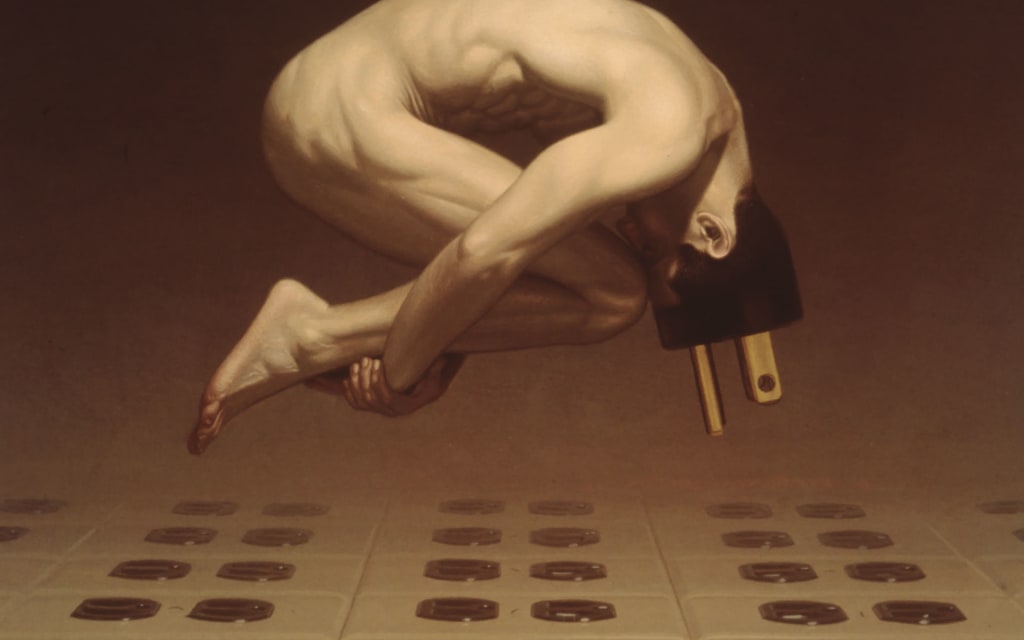 On OMNI, Ben Bova said, "For me, OMNI was a dream come true: a big, slick, beautifully presented magazine dealing with the future." OMNI magazine is considered a jewel among the popular science magazines of its era. In the very first publication of its kind, The Mind's Eye: The Art of OMNI celebrates in stunning detail the exceptional science fiction imagery of the 1970s and 1980s. The Mind's Eye assembles 185 images from the era's most illustrious contributing artists, including John Berkey, Chris Moore, H.R. Giger, Rafal Olbinski, Ralle, Tsuneo Sanda, Hajime Sorayama, Robert McCall, and Colin Hay among many more, along with quotes from artist, contributors, writers, and critics. The Mind's Eye celebrates the worlds of tomorrow, today.
Collected in book form for the first time, the striking art of OMNI magazine will delight fans who remember seeing the work years ago and newcomers interested in the unique aesthetic of the genre's biggest artists. The Mind's Eye editors Jeremy Frommer and Rick Schwartz sat down with us to share their unique perspective on how the magazine of the future has fared in the modern age.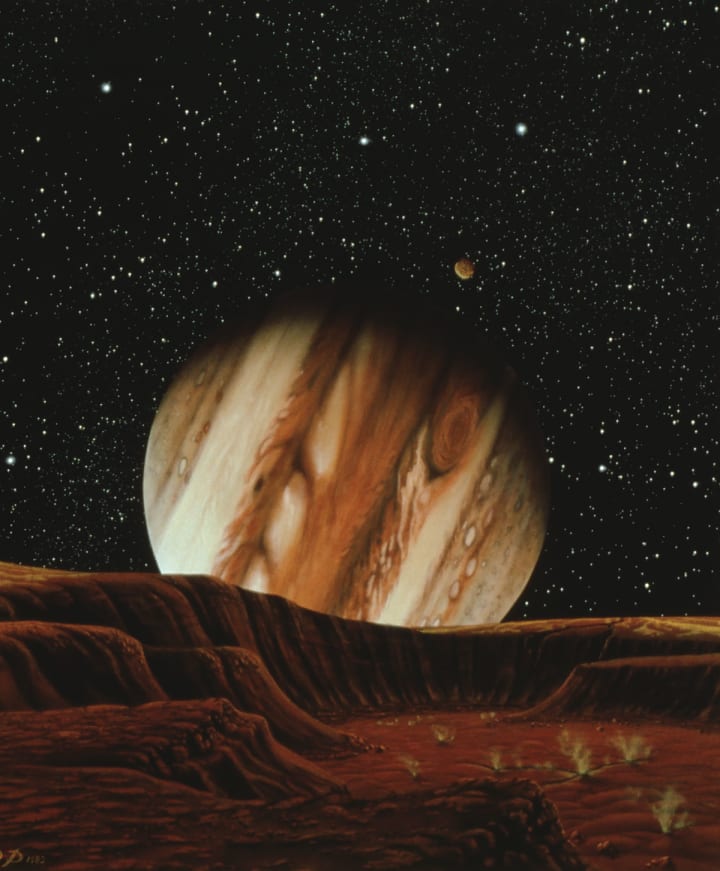 OMNI: Can you explain your background and how you came to be involved in the OMNI realm?
Jeremy: I am an ex-Wall Streeter, who retired from the financial services industry in 2009. My partner Rick Schwartz and I, who have known each other since childhood, decided to start a new type of media company. After purchasing assets, including a treasure trove of OMNI material and intellectual property, my inner geek was ignited.
Rick: My background is producing movies and TV, but when we first discovered some OMNI artifacts in a storage locker, it was too tempting an arena to not pursue. It's extremely rare to find so much rich material from which to cull, and Jeremy and I literally discover new things each week from the OMNI archives to share with people.
What kind of impact did OMNI have on you the first time you saw it, and what does OMNI mean to you now, looking back?
Jeremy: I remember my first OMNI subscription, which was given to me as a Bar Mitzvah gift by my dad. I felt it legitimized my interest in science fiction, but more importantly, educated me on the facts of science. Looking back on OMNI, its prophetic nature has inspired me and many fans to create, discover, and enjoy a world of opportunities that now somehow seem possible.
Rick: I had never really heard of OMNI until Jeremy told me about it a few years ago; My interests as a kid never extended past sports and girls, and not necessarily in that order. I guess I'm what you'd call a new believer, though I've now gone through every single issue in detail.
What kind of influence do you think the magazine has had on art, science, and science fiction?
Jeremy: Without OMNI, there would not have been a legitimization of fantasy and science fiction artists. From literature to illustrations to paintings, the creative minds of so many young and talented individuals from the 70s and 80s have shaped the visions of today's contemporary thinkers.
Rick: Those lines—art, science, and science fiction—have never been more blurred than they are now. You can walk into an art gallery in Soho and see something that looks like it belongs on a Star Wars set, or you can read an article about one of Google's upcoming new products that could be straight out of Blade Runner. Looking through the old OMNI magazines, it's amazing to see how prescient all the articles, illustrations, and photography were.
Do you see the spirit of the magazine in any current media enterprises?
Jeremy: We are trying to be inspired by the magazine in our own stuff, and are currently involved in a number of projects related to OMNI. We are developing a comic in the vein of OMNI with a group of talented artists, including fanboy favorites Larry Blamire and Tyler Kirkham. There are a number of digital shorts as well as a recreation of the OMNI TV series—think Cosmos, but more fun.
Rick: Obviously the natural heirs are Wired, Boing Boing, Motherboard, etc. but I really see the spirit in many areas—and much of it has nothing to do with science or science fiction. The magazine was quite daring at the time—disruptive, if you will—and there are a ton of new media players out there trying to emulate that spirit. Anyone who is willing to draw outside the lines, push boundaries, or simply provoke intelligent conversation embodies the essence of what Guccione and his team did with OMNI.
You mention in the introduction to the book that there is almost a decade's worth of imagery missing from the archives. Do you have hopes that this may be recovered? I assume taking scans from the published magazines was undesirable?
Jeremy: I'm a purist at heart and have amassed hundreds of original art directly from the artists of OMNI. The hi-res negatives that were used by the original OMNI Editorial staff are being auctioned off, so the collector community can own a piece of OMNI. Along with this community and numerous other resources, we field calls related to discoveries of the lost OMNI artifacts. Recently, we acquired six original pieces from a collector on the west coast. We are in regular touch with the comic illustrators who brilliantly provided the humor that was so OMNI, and continue to hunt for anything OMNI related.
Rick: It's an ongoing process, and part of what makes it so exciting is that today's digital world brings us all closer in every way. So someone who has had an original issue under his bed since 1979 now has an outlet to share it with the rest of the world. The website is designed to be an equal opportunity creative outlet—for old imagery, video content, stories, and perhaps looking at our current world through an OMNI-type lens. That's really part of the joy of this journey—it was started by one team in the 1970s and now we have another team carrying the torch. Maybe 30 years from now all of the images will be available but in a different format than any we can even imagine right now.
What are your hopes for futurism.media and beyond?
Jeremy: I hope futurism.media will do for the 21st century generations of creative people and innovators what the original OMNI did for the tech giants, sci-fi writers, and science industry professionals in the 20th century. Most of all, I want people to share in my passion for science fiction, fact, and fantasy.
Rick: There are so many seminal magazines from the past that are in the publishing graveyard—no matter what the genre. As technology progresses, it's nice to see cool content find different ways of reaching audiences; Vice was a great magazine then an amazing website then a must-see TV show. For OMNI especially, given the forward-facing theme, the reboot will hopefully bring back great memories for old fans and then find a whole audience as well.
Containing images from contributing OMNI artists including H. R. Giger, Chris Moore, John Berkey, Hajime Sorayama, and many more, The Mind's Eye: The Art of OMNI celebrates the exceptional science fiction imagery of this era.