Best H.R. Giger Art Books
H.R. Giger is a master of surrealism, and if you're a fan, you'll love copies of the best H.R. Giger art books for that very reason.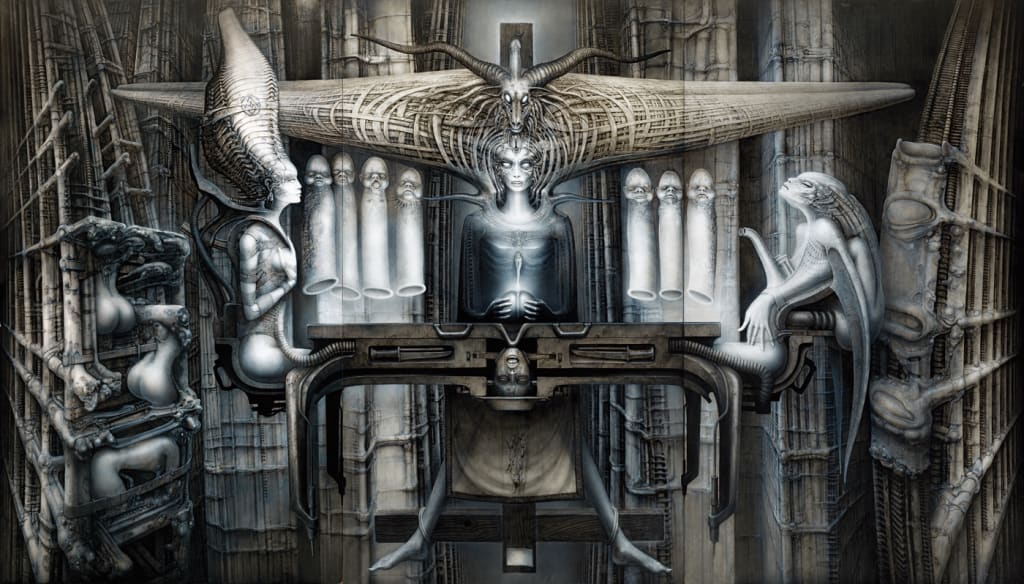 H.R. Giger is one of the few artists out there who was born last century and still remains easily recognizable by pop culture. He's the mastermind behind facehuggers and xenomorphs. He's worked with Alejandro Jodorowsky on the unmade Dune flick. He's even become famous for album art.
If you're a fan of his work, you already know why. It's haunting and surreal — and undoubtedly just totally unique. If you want to get better collections of his work, you might want to look at some of the best H.R Giger art books to ever be published...
Without a doubt, the best of the best H.R. Giger art books ever published was H.R. Giger's Necronomicon. This book (not the documentary by the same name) holds one of the largest compendiums featuring his artwork currently in print.
This book isn't just a book with his artwork, though. It's one of the largest collections of H.R. Giger artwork money can buy. This collector's edition book was a smash hit when it was first released in 1977, and director Ridley Scott was even given it as a gift.
Overall, it's one of the best collections you can get of dark surrealism — and yes, it does have xenomorphs in it.
We all know that H.R. Giger was the mind behind Alien and the horrifying creatures in it. That's one of his biggest claims to fame ever, right? Well, Giger's 1994 publication, H.R. Giger's Alien, is one of the best H.R. Giger art books for people who love the classic sci-fi horror movie franchise.
This book features tons of detailed pictures showing what the concepts behind Alien looked like — and also involves cool annotations about the design process, too.
Though he's definitely famous for surrealism in all its forms, what really stands out about H.R. Giger's artwork is often the very heavy focus on sexuality and nearly-mechanical organisms.
For many who really enjoy Giger's work in that sense, Biomechanics is one of the best H.R. Giger art books to buy. It's sexual, it's dark, and has that strangely dystopian-spooky vibe about every illustration in it.
Simply put, if you love H.R. Giger in his best element, then Biomechanics is one of the best art books money can buy. It's his work at its finest, and that means you can expect your favorite works to be featured inside it.
Have you ever wanted to see some of Giger's artwork in full color? Perhaps, you might have been curious as to what it would look like if H.R. Giger were to start working his magic on sculptures and paintings.
Well, H.R. Giger (Icons) is an art book that features Giger's more experimental work. Here, you can find photos of his sculpture works, full length color paintings, and more — as well as some of his classic styles as well.
While it's definitely a smaller book than most on this list, it's still one of the best H.R. Giger art books for fans on a budget.
Many people wonder what went through H.R Giger's head when he developed the concept of xenomorphs — or really, whenever he was working on a new art piece. ARh+ is an autobiographical book that has full illustrations from the legendary surreal artist himself.
In this book, you get to read up on vital information on the world's most legendary surreal sci-fi artist, and also see his greatest works in full detail. Needless to say, for newbies to his work, this is one of the smartest buys you can pick.
Even if you aren't new to Giger's artwork, it still ranks highly among the best H.R. Giger art books on the market. That is, after all, why a copy of this book in mint condition will cost as much as $3,000.
About the Creator
Riley Reese is comic book fanatic who loves anything that has to do with science-fiction, anime, action movies, and Monster Energy drink.
Reader insights
Be the first to share your insights about this piece.
Add your insights