Your Man Really Loves You When He Does These 10 Things In Bed
Ladies, find out your future loving man from the ways he treats you in bedroom.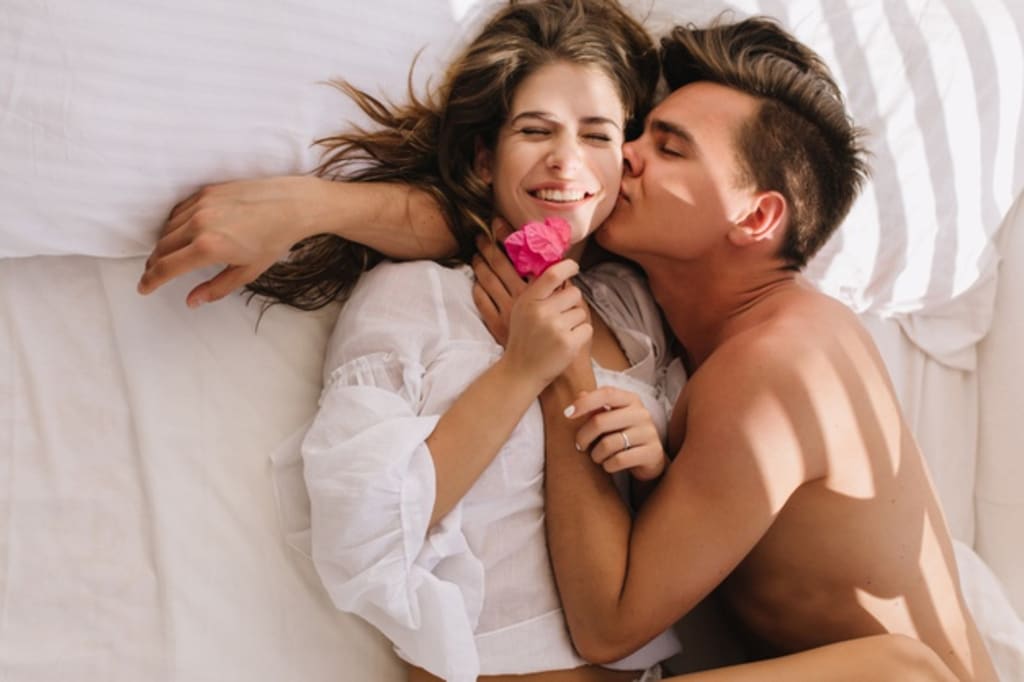 Image by lookstudio from Freepik
Women need to feel safe and loved. In marriage, love is a strong foundation for building great relationships. With love, you and your partner will be able to spend the rest of life together happily.
It may be months or years you've been married or living together with your partner, but might be that you still not be able to catch what his true feelings are. You might think is this man really into you or just get the better of you and fool you to his benefit?
But did you know? How a man treats you in the bedroom can also be a sure sign that he really loves you! Though sex isn't the only thing that contributes to the happiness in the relationship, it is still a major part of it!
So, ladies, here are a few things you will notice when he makes love to you which will undoubtedly prove that he is crazy about you!
Your Man Looks Into Your Eyes While Making Love
One thing that can ensure that a man really love you is eye contact. You can look deep into man's heart through his eyes as it has a great power to communicate feelings of love, caring and desire. If he adores you, love you than the emotion will surely be there in his eyes.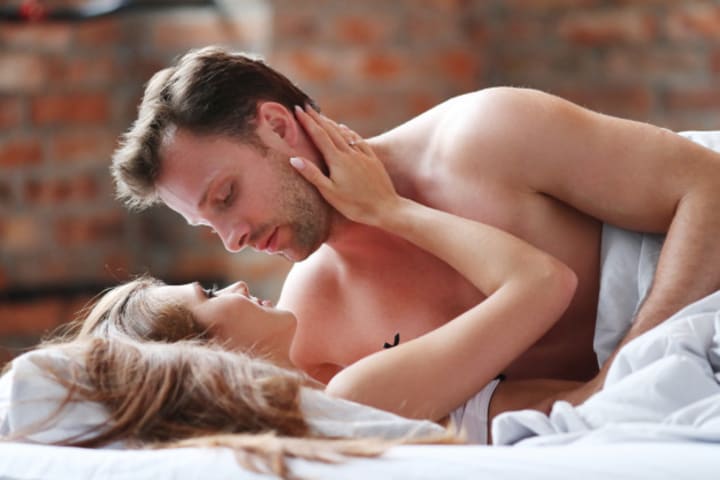 When making love to you, he won't just stare at the wall or selfishly admiring how his body topping you through the reflection in the mirror all the time! He will keep looking into your eyes affectionately. His emotions will travel to you without words. Just his eyes will speak the unspoken feelings for him. Also the tender smile he gives you as looking at you while having sex is a strong sign that he really cares about you.
He Will Kiss You All Over
Kissing is symbol of love for a couple.That is one of the first intimate touches in a relationship before you both ready for the next stage, the sexual activities. A man who loves you will express his love through kisses. He will try his best to make sensational and memorable kisses. He will kiss you not only on your lips but all of you thoroughly to show that he is into every inch of you. He showers you with both romantic kisses and wild kisses just to tell his craving for you!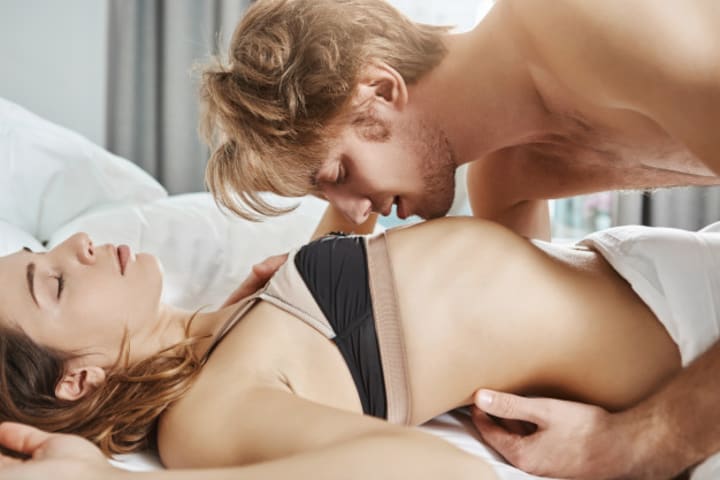 Your partner will be really engrossed in those act of kissing and licking. You will feel his needs, his desire and emotions as if your body is a meadow in heaven where his tongue can dance and play on it as much as he wants.
He Appears Really Want To Please You In Bed
When a man really in love with you, he'll make you a priority, even before his own. When he comes for sexual act, your partner will make any efforts he can do to actually fulfill your needs in bed only to make sure you are satiated.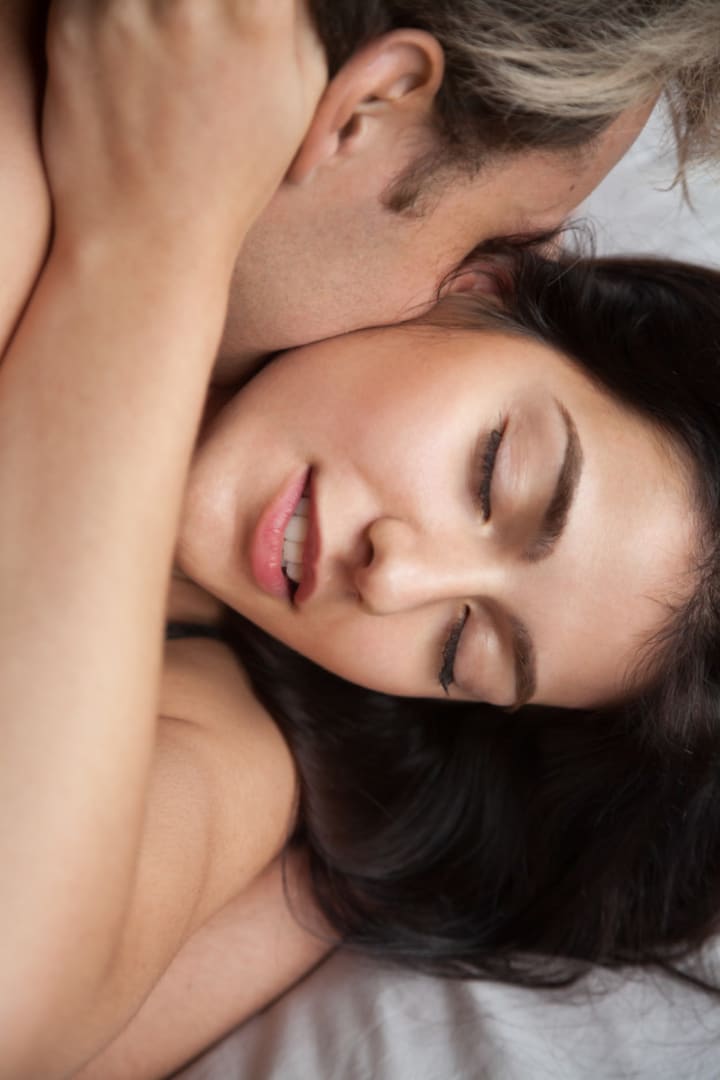 He'll make you screaming, wriggling and shuddering in delight, he will try to find the most sensitive spot of you to make you orgasm for the second time or even to the sixth time after the first one, or at least he will try hard to reach it.
He Will Not Just Receive But Give Too
In relationship, balanced give and take is important things that can make it last forever. In sexcual act, the things that should be reached the most is that you both have the same enjoyful moment during and after all the activities ended.
A lot of women often confide that it seems the things they must to do is to always making sure their partner can stay in heat during sex by giving him oral sex, and eventhough sometimes it feels obliged, they stlll doing it.
Indeed women tend to be more submissive to do things to keep their partners on fire and satisfied, but at the other hand sometimes they're too shy to ask the same treatment. If a man love you, he will do it, like you would do to him. with or without your asking. Once again, he will accept every inch of you as his own.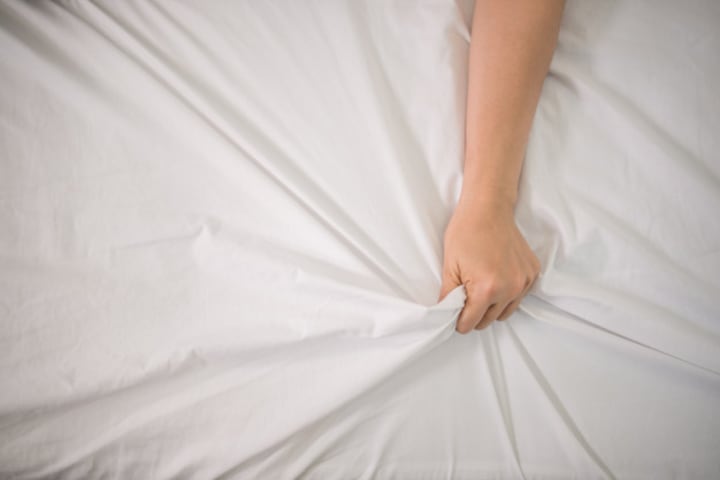 Oral sex is regular for you both. It is obvious that he is getting more than what he wants and that's why he doesn't mind gives you oral sex. Your pleasure are a great deal for him. You will find your loving man goes down on you often with great efforts to make you see stars as amazingly as him.
It's not just in oral sex, your man will make all things be in balance too. For him, there will not be any condition for a mutual relationship. He would equally try and please you in bed or outside of the bedroom.
He Always Creates Romantic Atmosphere
Man who loves you will always try to find a way for a romantic relationship. Even if he's not so romantic, he will make all things run sweet as he can.
One sure fire fact is that women love things escalating real slow. Yes almost all of women crazy for romance! So, a man who loves you will make efforts to learn what turns you on. He won't just rush into sex and then get over it or cause you tired in pain. He's not there for only about his sex needs that must be fufilled. For example he'll play a romantic movie in bed as in a few times gives you his tender gaze and passionate kisses.
He will start it slow, arouses your woman instinct, to make you feel those a little waves of desire and then elevate it till you're fired and climax in sheer delight! Even if he suddenly comes and pounce you, he will do it accompanied by a love passion, not in a rough manner. You will know and feel that it's not a brutal sex.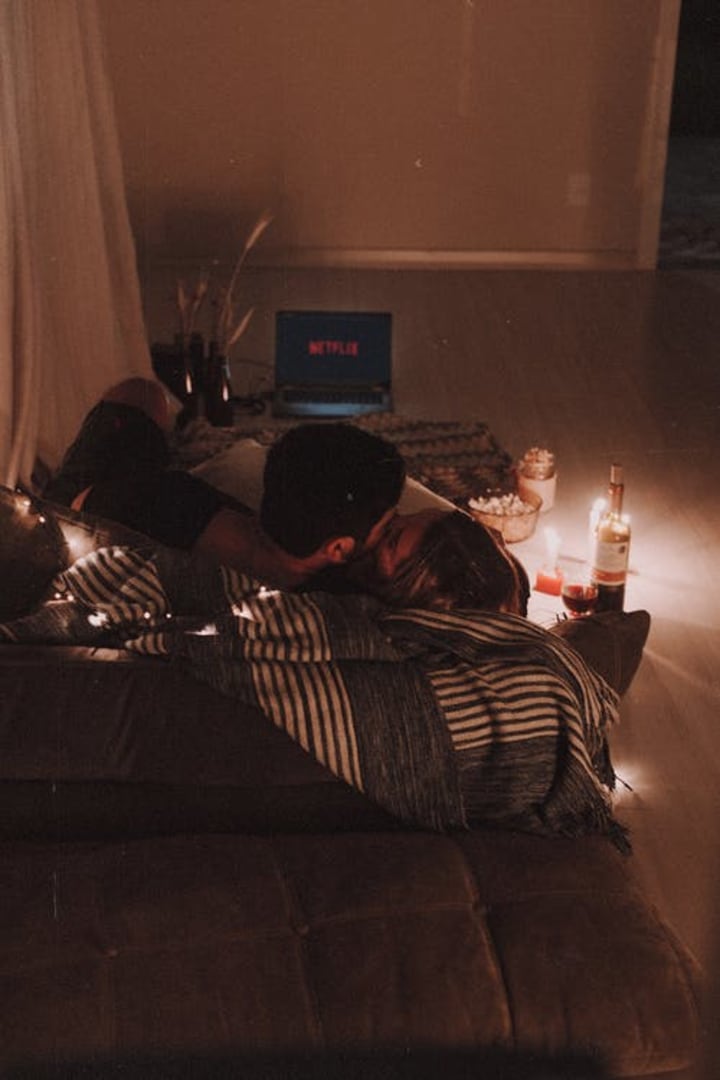 In some ocassion if he has great time, he would make thing more special.
He might take you for a candle light dinner, or make a candles path that leading you to the bedroom where you can find him lying naked on the bed, or preparing you a bathub full of red roses' petals in it. It's so romantic, isn't it! You will be surprised by his various treatments that he always makes things really set the mood for a passionate night together!
He Will Communicate, Ask And Listen During Sex
In sexual activities, he will try and make sex a pleasurable experience for you. He will take the time to ask what you need, what makes you feel great, if he should be rough or if you would want him to take it slow. He needs you to express what you want and then practice it just for you.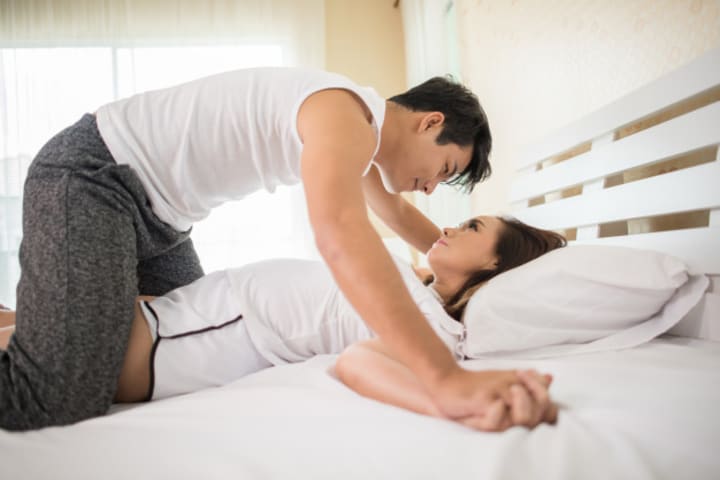 You might be shy about it at first, but he will encourage you to be honest with him, to make you comfortable with your choice. Likewise he will also tell you what works better for him, so you both can enjoy the company in bed.
He Loves All Of Your Body
One of the clear signs of he's trully love you would be when he admires your body more than you do. You may be unconfident about your flaws or small boobs but he would never point it out to you. He would still accept your body as you are. He loves a wattle under your chin, he likes your brunette hair, etc.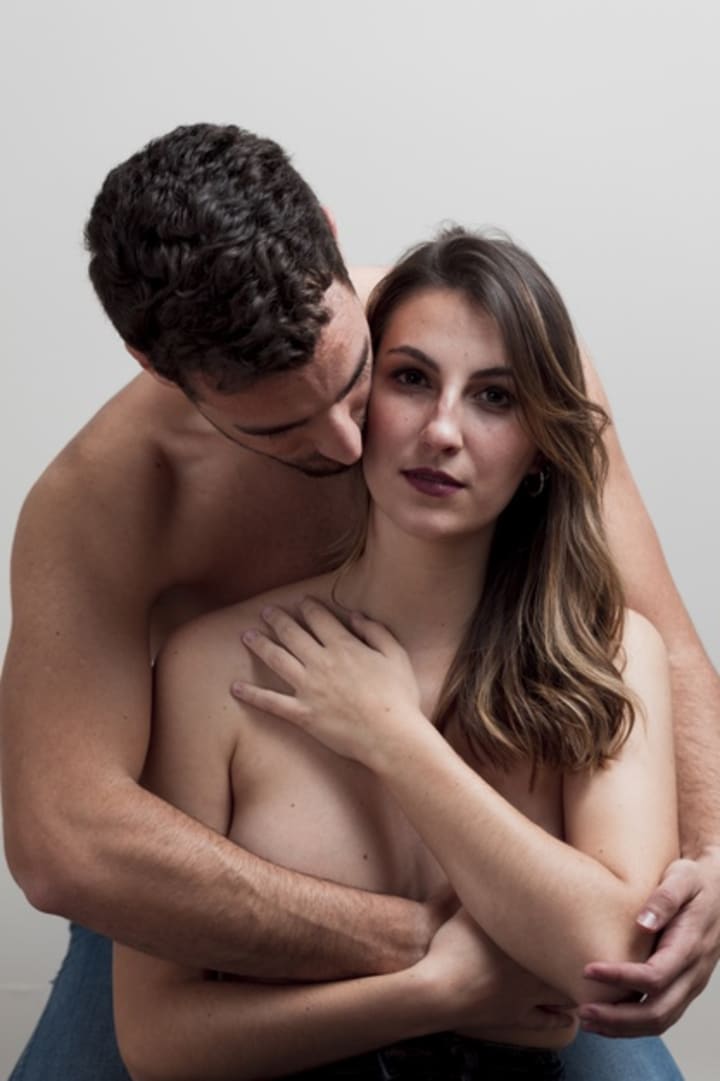 Absolutely they will pay attention to all of a woman's body, inside and outside of the bedroom. If your man likes to grab your ass when you walk by, consider it as a compliment rather than think that it's as his terrible nasty behaviour
He Takes His Time Just For You
The man who loves you will remember that one of the best parts about being together is that you both should be get to be together. He will give you his undivided attention and ensures he takes his time to enjoy the moment and the beautiful experience you are sharing together.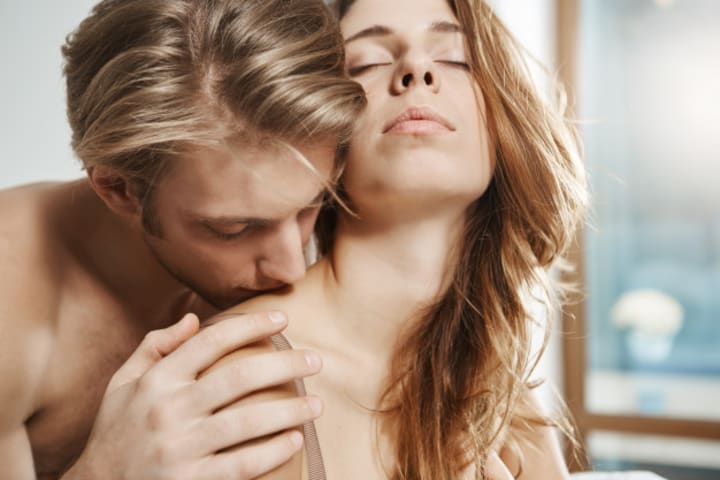 He won't come to you, rush to the main attraction and then all be done!
He is patient and kind and considerate of your needs, and he's not racing against a ticking clock! He's very devoted man, he will want to hold you and will enjoy kissing with you for long periods of time. He'll spend time looking into your eyes and caressing you.
He just wants the emotionsl and sexual connection you're engaging lasts for as long as it can. He wants to keep you interested and wants to be with you, so he will make you always in your pleasure center during sex.
And when the main session comes, he will patiently waiting for you to orgasm, caused this is not a race for him. This isn't just a single's ride to him. A good guy will wait for their woman to feel things that are equally enjoyable. He will wait for his woman to feel the same satisfaction with him. If your partner does it, he could be worthy of your love forever.
He Won't Haunt You For Not Being Perfect
Not every woman can do things like an expert in bed. Even a lot of them still don't know exactly what every man wants in bed that probably will make them feel unconfident in serving their partner.
A few men will disparage their partner's efforts or complain if she's falter in sexual activities. An extremely loving guy will accept you with all your shortcomings, and in fact they will never judge you. They won't criticise or blame you if you make mistakes in the bed. but if you try he will appreciate!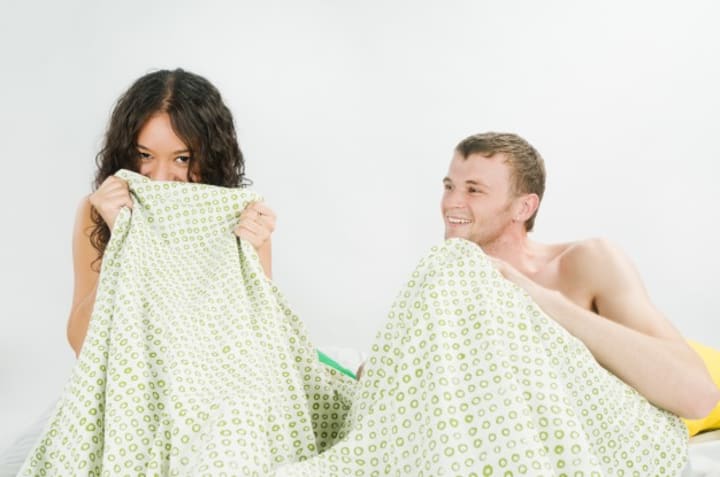 If you appear clumsy, he will laugh it out loud in a sense of understanding and look it as a cute side of you, or even you would realize that a few times he pretends he doesn't know that you've done things imperfectly or oddly during the act. He will ignore it and let that pass because he knows you would feel really shame if he point at it.
He will still see it as a great intimate moment for the both of you. He reach you and encourage you to make things better next time. He won't force you to be perfect in bed.
He reach you and encourage you to make things better next time. He won't force you to be perfect in bed.
Sex Is A Regular Things And He Doesn't Find It As An Issue
Any sex activities generally start off with touching, kissing, foreplay, until the couple ready for the union to climax. Certainly all of the above are enjoyful things to do. However, it's impossible for a couple to not feel boring. For a man he will touch, kiss, and fondle the same woman's body in the exact those same rituals all the time as long as he stays in relationship with his woman.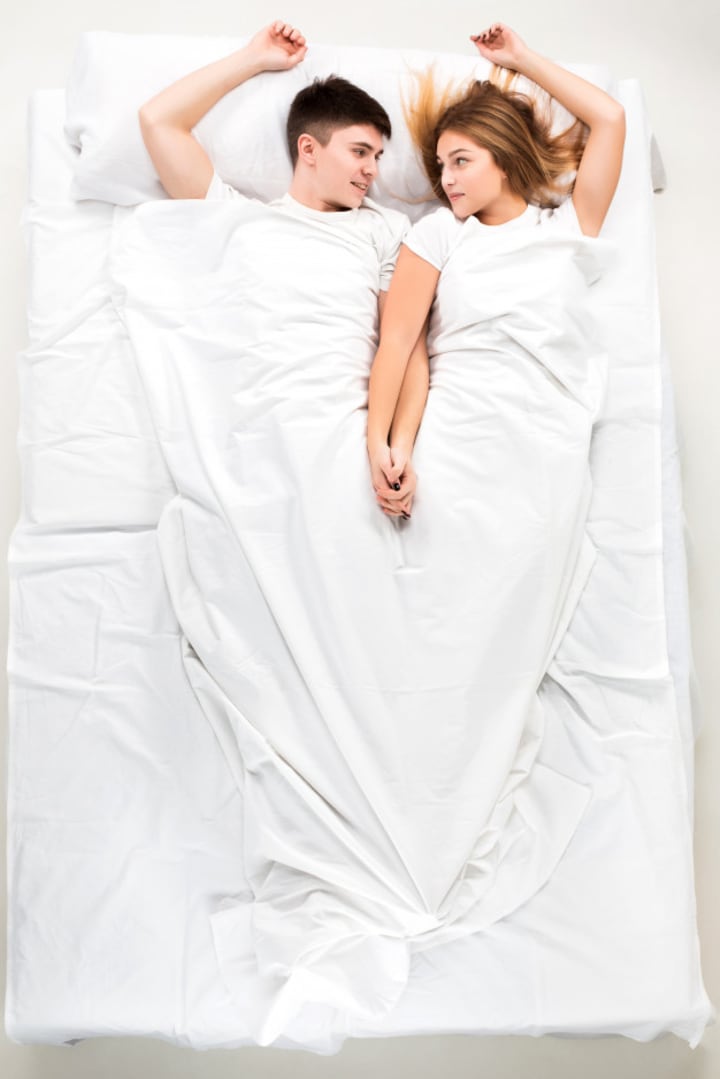 Sex is one of main things in relationship, and it will become less pleasurable rutinity if a couple see it just a sex, which there are not love and caring involved in it. How a man feels love about their partner, the chemistry he has with them, and the physical attraction he has for his woman are certainly a true sign for a man that he is into a serious relationships.
A man who loves you will see the up and downs regular sex with you as a part of his love life's journey. For him your body and soul is a medium where he can express his emotions, love and passion.
Love comes from the deepest heart and while that can be recognized outside of the bedroom, observing on how man treat you in bed, all their feelings can be determined easily. So, consider the list above when you meet a new man, and find yourself if he's marriage material or not.
So, please give claps to all men in the world who truly love their woman sincerely and thoroughly and make the best in everything he does to make his woman pleased inside and out of the bed!
Thanks for reading! To get other interesting articles, be sure to keep coming to my page!