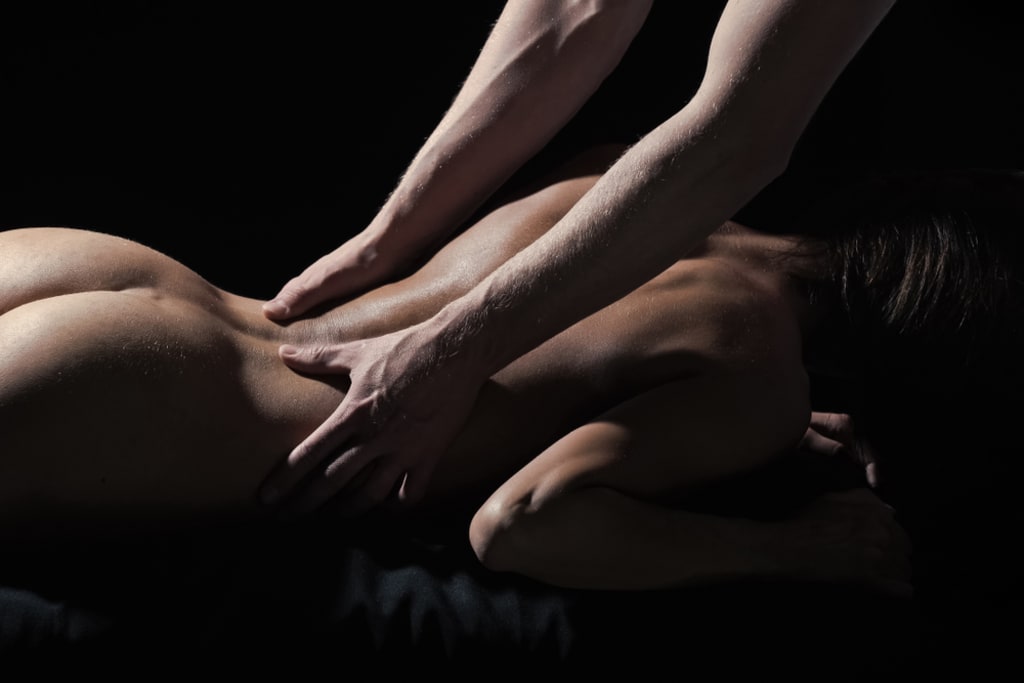 With the blindfold over her eyes, Jodi's other senses were heightened. She could smell the chocolate-scented massage oil as it floated through the air, and she could feel his fingers and lips moving over her bare skin.
With each touch, each kiss, each press, she felt her body getting more turned on. He had surprised her with the blindfold, as well as the massage oil. She knew that there would be more treats that he had in store for her as well, he always had something to make her feel special.
His magic fingers continued to play press into her back, finding each spot that needed his attention while his tongue and lips kissed up her spine. It was electric, she felt her nipples hard pressing into the bed, they were so hard in any other circumstances it would have been uncomfortable or painful. But, not in this scenario.
As Simon sat on top of her, she could feel him hard pressed against her backside. The thought of how he would feel back inside her just aroused her further. She didn't need to touch herself to know how wet she was, she pressed her hips slightly forward putting a bit of pressure on her clit, it felt so good.
He leaned forward, letting his cock sit between her buttocks. The massage oil made him slippery as well. He began kissing her neck while he started rocking gently forwards and back. Jodi was on the precipice of orgasm before he had even touched her pussy or her clit. He leaned close to her ear and in that voice, Jodi loved to hear, he whispered, "fuck you feel good". All that Jodi could muster in response was an "Mmmmm". But she knew he understood what she meant.
He began to kiss back down her body, she could feel his lips and tongue find their way back down the way they had come up. He moved further back and then she could feel his tongue move into the valley between her two buttocks. Meanwhile, his hands started to rub her inner thigh, his fingers dug in, applying the right amount of pressure between pain and ecstasy. Every now and then he would let a finger gently brush against her pussy, she knew he was teasing her now.
Jodi pushed herself back onto her elbow, up onto her knees, she couldn't see him, but she knew he was there, she could feel him breathing harder. He pressed his face into her ass, his tongue licking her little asshole. Simon's desire to kiss all of her turned her on so much that she needed to touch herself, resting her weight on one arm, Jodi took the other and placed it between her legs. As her fingers first touched her pussy, she confirmed just how wet she was, and her digits entered a pool of sweet juices. The more she rubbed, the more those juices flowed.
Simon picked up on how turned on she was, so he shifted his attention to her pussy as well, she felt a finger slide deep inside and start to press against the best spot inside her. As if using muscle memory, Jodi began to rock back and forth to allow the finger to slide in and out of her. She could still feel his tongue playing with her chocolate flower, and his finger applying the right amount of pressure in the right spots. As she continued to rock on her knees, she could feel her juices running down her inner thigh. The way her smell mixed with the smell of the massage oil was intoxicating.
Then she felt Simon stop, he withdrew his finger from inside her and pulled his face away. Jodi kept rubbing her clit, but it felt like an eternity to not have him pleasing her. She wanted to rip off the blindfold to see what he was doing, but she was patient and waited. Soon her patience was rewarded.
She could feel the head of his magnificent cock pressing against her excited wet pussy. He rubbed it gently to get some of Jodi's own lubricant on him and then he began to feed it inside her. As he pushed in as deep as he could, Jodi could feel his hips press against her backside. She pushed back on him to get the last little bit of him inside her. He was where Jodi wished he could stay all the time.
As he started to move in and out, she could feel his hands grab hold of her hips. His tempo quickened and soon as Jodi's body began to rock with him, she could feel the air passing over her breasts and her hard nipples. She started rubbing her clit faster now, every time his cock reached its apex inside her, every time his hips would smash against her ass, just making her wilder and wetter.
She was close, and she hoped he was too. She wanted them to cum together. She felt one hand move from her hips, at first, he placed it on her lower back, she loved him touching her wherever he wanted. Then she felt his finger pressing around her asshole, and she pressed back to invite it inside her. As she felt the finger slide into her, she heard him moan, "I'm going to cum". This spurred Jodi into top gear.
Her fingers started rubbing her clit with ferocity, she rocked her hips slightly to allow his finger to move inside her while his rod pounded deep into her. He was gliding inside like a piston in an engine, Jodi was happy to provide the fuel and the lubrication.
Then as her body started to release the first ripples of an orgasm, she felt his warm liquid filling her. This sent her body into spasms, feeling him in two of her holes and her clit excited. He kept pumping in and out of her. With each stroke, a little bit more of his cum filled her. Her senses were getting overwhelmed with the feelings, the smells, and the sounds.
He leaned forward again and started to kiss her shoulders, she squeezed to make sure he didn't slip from inside her just yet. She wasn't ready for him to leave her body.
About the Creator
Amateur storyteller, LEGO fanatic, leader, ex-Detective and human. All sorts of stories: some funny, some sad, some a little risqué all of them told from the heart.
Thank you all for your support.
Reader insights
Be the first to share your insights about this piece.
Add your insights