Why the OhMiBod Club Vibe Should Be in Every Bedside Drawer
Even if you're not a club kid, the OhMiBod Club Vibe is a great pick.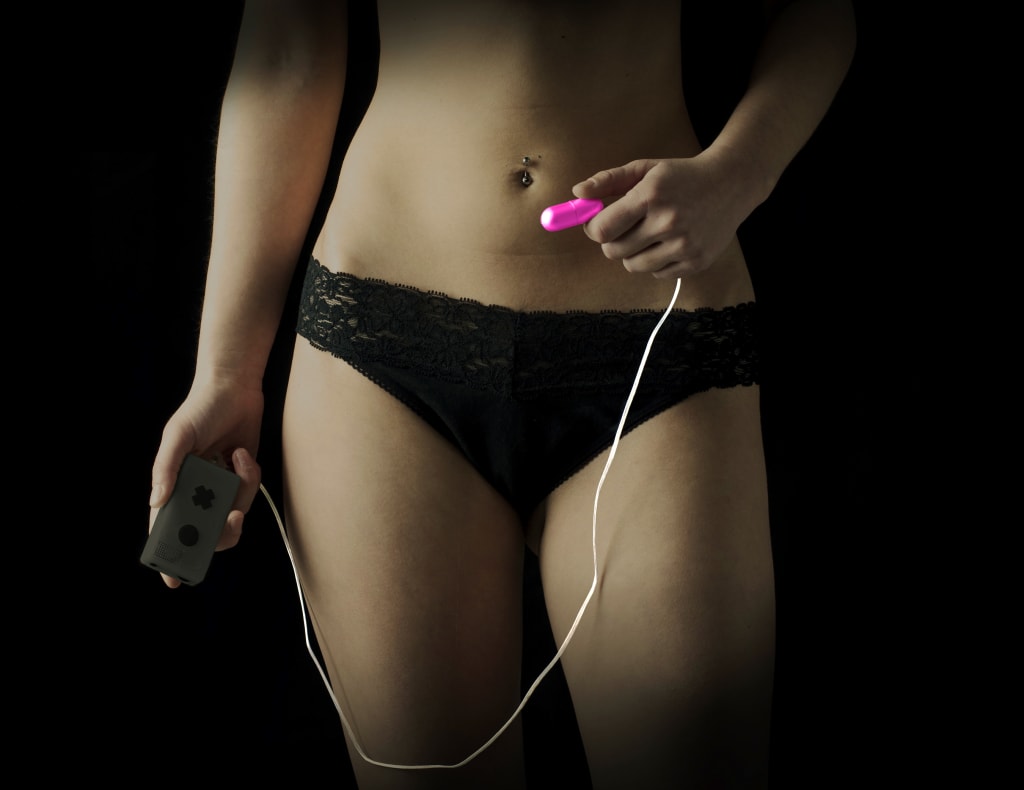 Anyone who has met me, even for five minutes, can tell you that I love nightlife. In fact, I don't just love it. I eat, sleep, rave, repeat it. It's a true-to-God lifestyle for me, and to a point, yes, clubbing does turn me on quite a bit.
Among kinky folks like myself, there's a very strong tendency to incorporate their favorite hobbies into their sex life. It's a phenomenon I've personally noticed quite a bit.
For example, many people who dig Renaissance fairs tend to bring corsets and leather into the bedroom. Cosplayers love to bring cosplay, cat ears, and hentai into their bedrooms. And club kids? Well, give us good music and we are good to go.
So, that's why my partner and I were thrilled to find out about the OhMiBod Club Vibe.
OhMiBod is a brand that creates high-tech sex toys that are meant to tease and please while still being subtle. Their OhMiBod Club Vibe line is no exception; it's a line of wearable, remote-controlled sex toys that react to noise around them.
As the name suggests, the OhMiBod Club Vibe is designed to be worn in nightclubs. It's designed to really let you feel the music in a brand new way.
There are both male and female-oriented vibes in the series.
Ever the progressive company, OhMiBod has vibes that work with both male and female users. The male (or gender neutral) vibe is an anal plug that is a perfect fit for beginners. It's easy to insert, and has a very flexible "T" pull that is designed to feel totally natural while dancing.
The female vibe is a cute little massager that's meant to lay on top of your panties. A small bump is designed to touch your labia and clitoris, which gives you amazing, yet not overpowering vibrations.
Like all high-quality sex toys, they're made from the good stuff.
If you're new to sex toys, it's important that you learn about sex toy materials before you buy a toy. Sex toys that are made out of low quality materials, especially materials that are porous or contain phthalates, have been linked to serious illnesses.
I personally don't use sex toys that aren't made out of safe materials like phthalate-free body-grade silicone or tempered glass. It's not unheard of to find out about people who got serious infections due to using sex toys made of poorly manufactured materials.
One of the reasons why we love OhMiBod's toys is because they are made of soft silicone that is safe for your body—and it also feels amazing against your skin.
Forget the batteries, already!
If you have ever had a sex toy that ran on batteries, you already know how aggravating it can be to try to get a love session going only to realize you're low on batteries.
Both the toys and the remote in OhMiBod vibes are rechargeable, and a single charge can offer up over an hour of play time. Need I say any more?
Its settings are great, but it's really the OhMiBod's versatility that makes it amazing.
Each OhMiBod toy comes with multiple pleasure modes that allow you to ramp up the excitement or, even, become a slave to the music. That's a nice little perk, sure, but what I love most about this line is the sheer versatility when it comes to its uses...
When it comes to usage, anyone who enjoys exhibitionism or "hidden play" will love the OhMiBod Club Vibe line.
Finding sex toys that actually work with exhibitionism (while still being legal) is difficult—exceedingly so, at times. I mean, it's not like you can use a traditional rabbit vibrator in public without being led out in cuffs once someone sees you.
OhMiBod's vibes are designed to be worn underneath clothes, and allow you to tacitly get your jollies off without having to worry about being exposed. The motors are whisper-quiet, and your partner can control the remote for you as a way to get an even higher element of surprise.
The best place to give this toy a whirl is to take it to a club with you for an orgasmic night out. Trust me when I say that going to a club will never be the same. You will *feel* the music!
The possibilities for BDSM play are also there.
The fun thing about having a wireless remote control vibrator is that it allows you to give up control to someone else. This means that Doms who love the idea of adding an element of surprise to their punishment or humiliation can get a lot of playtime through the OhMiBod series.
Unlike other vibrators, the possibilities, when it comes to using OhMiBod in kink play, really are endless.
Of course, handsfree solo play is also very doable.
Are you tired of having sex toys you need to actively thrust into you? Do you ever just want to kick back with some sexy reading and have a toy that goes to town on you? If so, you need a handsfree remote control toy.
Speaking from personal experience, OhMiBod is amazing for moments when you just want to lay back and feel some teasing vibrations before the big event.
By the way, you don't need to be in a nightclub to enjoy OhMiBod.
I won't lie; one of the reasons I love my OhMiBod Panty Vibe is because it adds a brand new level to my time clubbing. However, you don't need music to enjoy OhMiBod. You can vibe without beats, too—all in the quiet comfort of your new home.
When it comes to casual fun that I can bring out and about, the OhMiBod is a no-brainer. Once you try it, you'll understand why I love this toy, and why it's my go-to toy for just about any occasion.