Why Straight Girls Do Lesbian Porn
While lesbian porn has its benefits, the key to a good performance is an appreciation of the female form.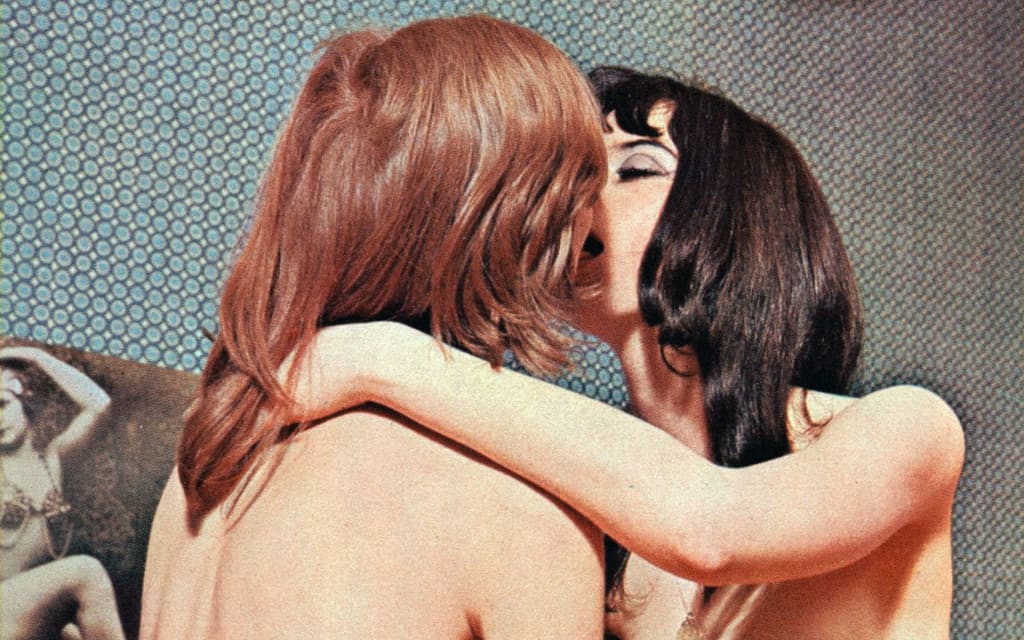 I love girls. Really, I do. I was sexually active with females long before men. My first orgasm was at the hand of my first "girlfriend." We were inseparable, adorable, ridiculously weird goths. We "had sex" in a tent in her mother's garden. I say "had sex," because we didn't really have sex in as much as we rubbed each other until it felt really good and I realized I had had an orgasm. So my introduction to sex was a girl, which explains why I sometimes lean more towards females, even now.
I would class myself as bisexual. I have dated girls, I enjoy sex with girls, and, though I would not want to solely have sex with women, there is something untouchable and special about females that is just incomparable. So it goes without saying that when I began shooting porn, girl/girl was easy for me. Not just easy, but genuinely enjoyable. I found out very quickly that was not the case for most girls.
So why DO girls shoot lesbian porn if they are not into girls in their private life? Well the first reason is obvious: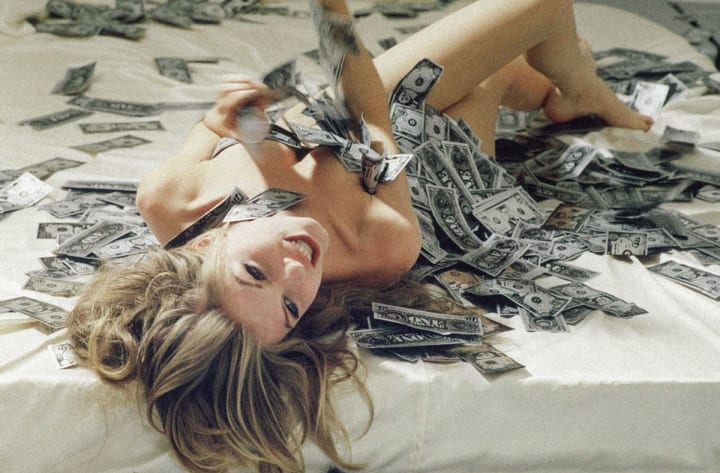 Money
Ah yes money, that thing that makes the world go round, and if you have enough of it you can buy a house and a car and do your weekly shopping at Marks and Spencer's. However, in the porn world, lesbian porn pays a fraction of the amount forked out for a boy/girl, anal, DP, or gang bang scenes! So if girls are ACTUALLY into dudes in their private life and going down on a girl makes them look like they are chewing a wasp, then WHY do they not do boy/girl porn?
For some reason girl/girl porn is deemed more "acceptable" in the girl's eyes, the boyfriend's eyes, possibly even the public's eyes… I started out on girl/girl, as do a lot of performers, for those reasons, it was more acceptable. I had a boyfriend, and in my eyes I wasn't FULLY doing porn. Even though I definitely was. It's easy, the scenes are usually quicker to shoot, and the pressure is a lot less than if you are shooting boy/girl.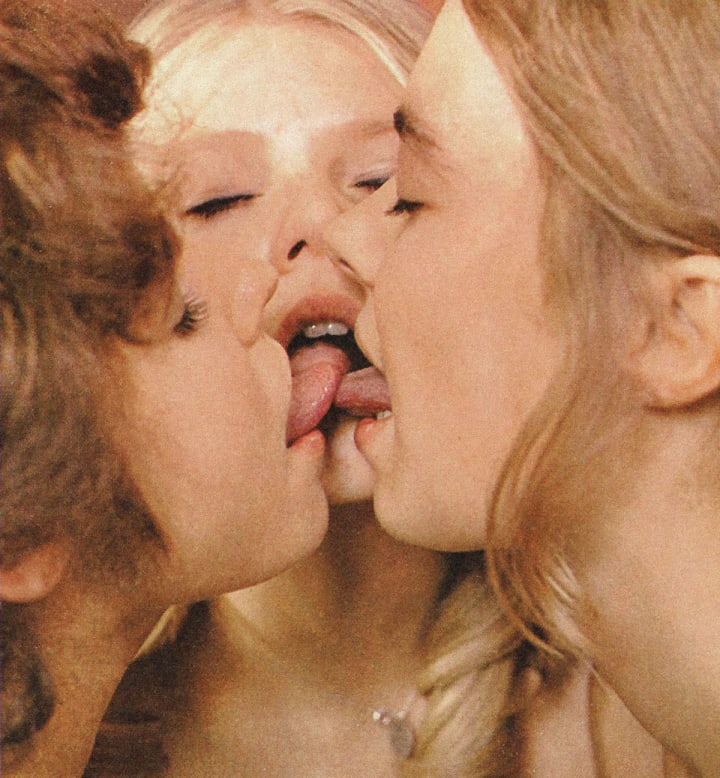 Working With Girls
As I mentioned in my previous piece on dating within the industry, I recently scaled back my performing levels indefinitely to girl/girl only. Now, for me this was to give me time to do other things, I also suffered some health issues when I was shooting every day and wanted to give my body a break. Make no mistake, everything I ever did, I did because I wanted to, and this decision is no different. But it's great for me because I do LOVE girls. In my experience, working with girls that also love girls results in something tremendous, and one of these efforts has earned me an AVN award for best all girl scene.
On the other hand, working with girls that DON'T like girls is painful. I'd rather do a gang bang. It's awkward, it's uncomfortable, it's boring, and it looks like utter crap. The viewer can always tell, I don't care how good of an actress or actor you are, if you are grossed out by your scene partner it's hard to hide. I've done scenes in the past where I am so grossed out by the person I'm working with that I spend the entire scene grimacing. I don't have to be attracted to my scene partner, or even know or really like them, but if I'm disgusted, its another story. And that is what girls that don't like girls are: disgusted.
They look down at your pussy like it's a rotting corpse, they lick around the edge, they avoid kissing, inserting fingers, or licking at all if possible. They never make eye contact, they don't even really talk to you. They are literally thinking, "Dear God please let this be over soon so I can be paid." I feel you, I've been there, but if I was that disgusted by an entire sex, I wouldn't choose a profession that involved having sex with them.
My favorite girls to work with all enjoy sex with girls. Most are bisexual through and through and have had relationships with women, whilst others enjoy the sexual treats a female has to offer, but would rather be in a relationship with a man.
Aiden Ashley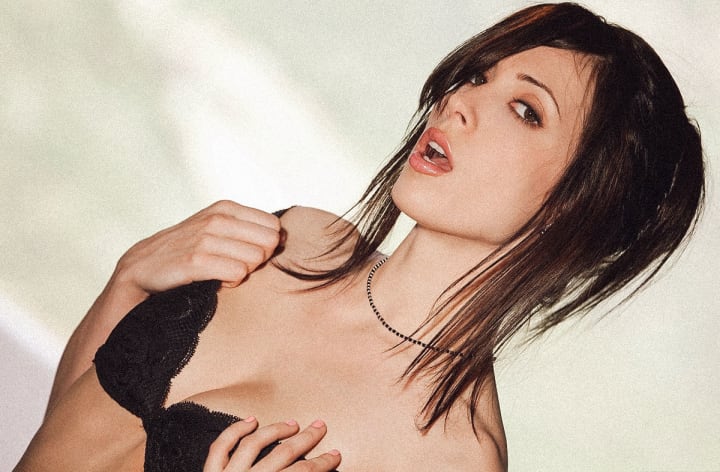 Aiden is my evil twin from the other side of the planet. When I met Aiden it was clear we had been separated at birth and brought back together by some sort of Goth sixth sense. Aiden and I were both contracted to Juliland for our websites and were friends a long time before we ever got to have sex. We shot a scene in the Standard Downtown LA with nothing but a handy cam. It was raw, energetic, and full of pent up sexual excitement. We had been waiting to work together for so long that when we finally did, it was the best kind of explosion. (Note: this has happened with friends before, and we have waited years and finally been booked together and then just been giggly and shy. It can go both ways.) Aiden and I have also had sex off camera numerous times, including once in the toilets of a venue in Cardiff while there was a queue of women waiting to use the bathroom. Oops.
Dani Daniels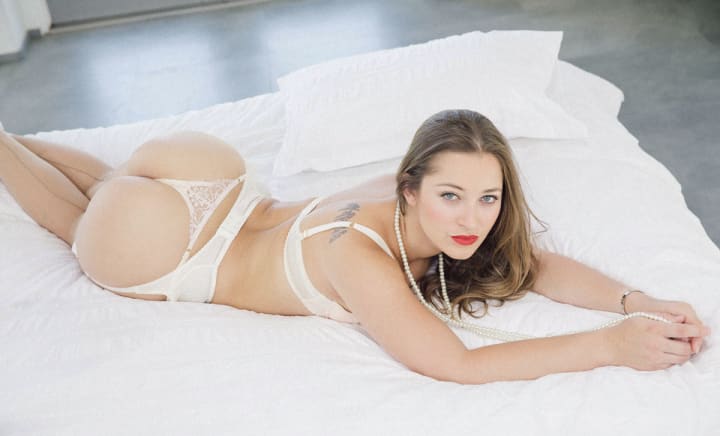 Dani and I were "online" friends for about a year before we actually met. We both started in the industry in literally the same month, followed each other on Twitter, exchanged a few messages of mutual admiration, and did girl/girl for a few years before slipping over to boy/girl at the exact same time! Dani and I have only ever worked together once, almost five years ago. I remember being genuinely nervous before working with her because she was SO beautiful in real life. I also remember that she licked my pussy like a dream come true, and you could tell this was a skill not solely obtained from shooting porn. This chick digs girls. Dani is one of my best friends and also one of the only performers who's scenes I actually watch (I tend to avoid most porn, because sometimes watching my friends can be awkward).
Ash Hollywood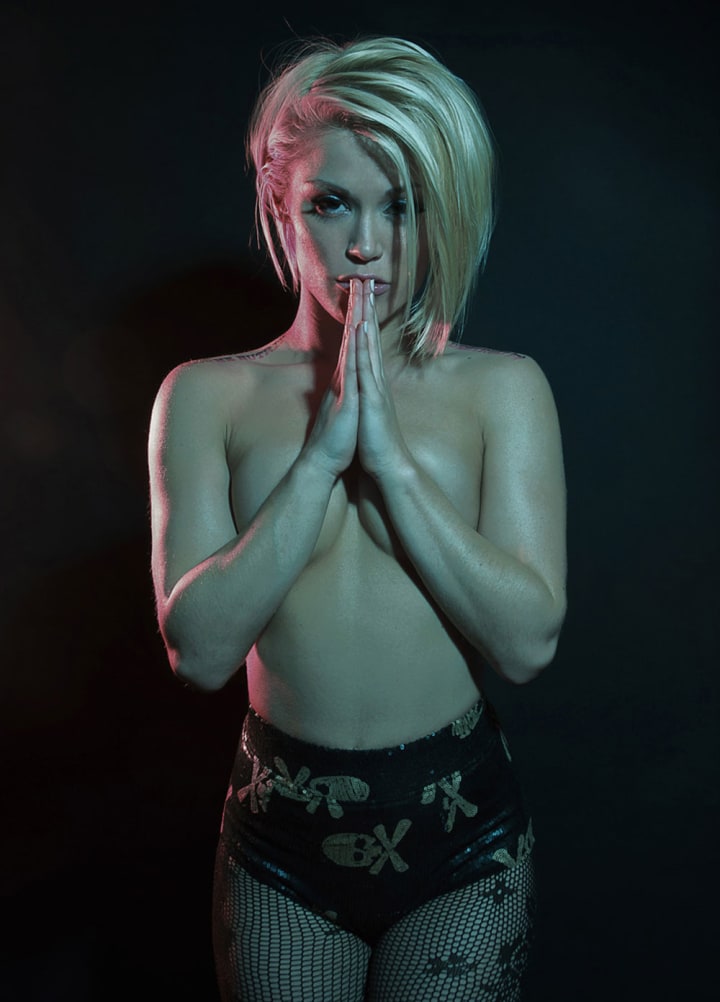 Ash is a pocket sized blonde with a heart bigger than planet earth. She's also one of the most intelligent, business savvy girls I've ever met. Ash doesn't take any shit and she tells it like it is. Literally. Ash and I have also only worked together once, for our Juliland sites (Aiden, Ash, and myself were the original Juliland trio Bad, Evil, Trouble). Ash may be tiny but she's sexually dominant. She taped me up, gagged me, and used a hitachi wand on me while making me watch myself in the mirror. We then made out and smeared makeup all over each other's faces for a good 10 minutes. As numerous song lyrics attest, it really is all in the kiss, if a girl kisses me back, and really, really kisses me, I know she's into girls and I know it's going to be good. And Ash kisses like an angel (or devil, depending on your respective fantasy).
Misha Cross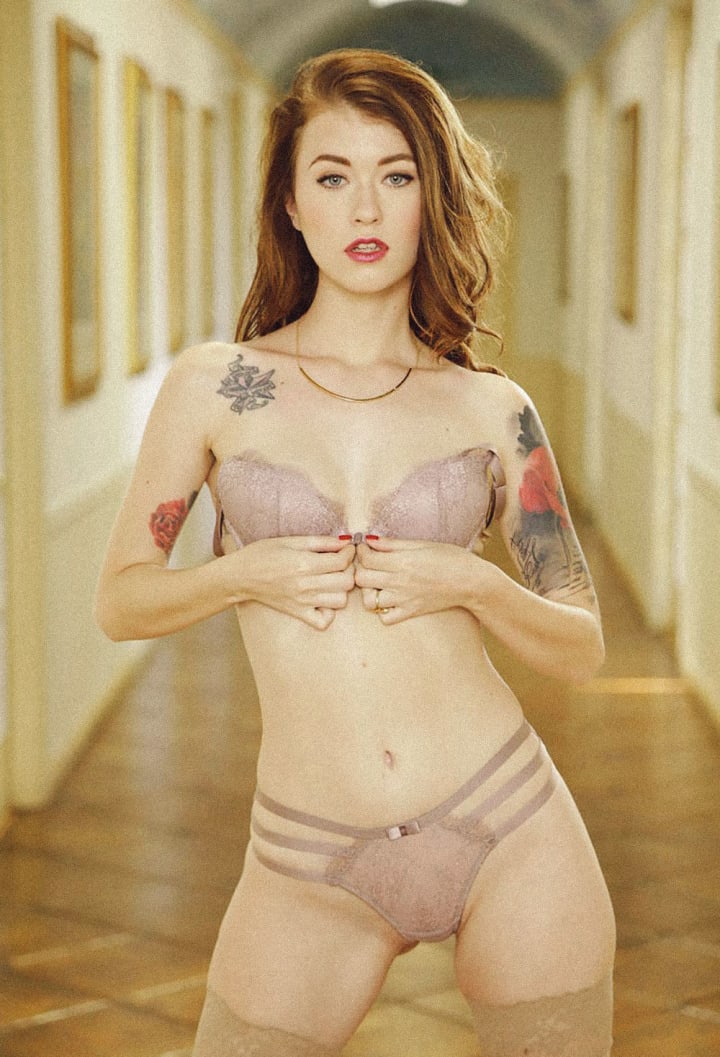 I'm pretty sure anyone that knows who I am, knows who Misha is. Largely because we have worked together more times than I can count. In the porn world, we tend to come as a package, especially lately. This could be because when we work together it's fire. Full blown, emergency services on set, fire. I have worked with Misha more than any other girl, or any other guy for that matter! Our back catalog includes some of the biggest companies and best directors the industry has to offer, and each scene is better than the next. We met on set, we were booked together, the scene was incredible and is still one of my favorite scenes ever. It started a very intense friendship that resulted in psychotic, dramatic, over the top sex scenes. Misha likes girls. I know this because Misha licks pussy for the best part of the scene, and I ain't complaining. Recently, Misha and I put our efforts together and wrote a two part ALL GIRL feature film directed by John Stagliano, about the jealousy, drama, and love involved in a lesbian relationship where the girls also shoot porn. It's called Hard In Love, should you wish to check it out.
Lexi Lowe
What is it they say about the welsh? Sexually devious. And ain't that the truth. Like me, Lexi also lost her virginity to a girl, so it's safe to assume she likes the ladies. Like me, Lexi also started in the industry by doing girl/girl only. She was the first and only British contract star of Viv Thomas, a South African residing in Portugal, known for shooting some of the best lesbian erotica in Europe. Lexi and I knew of each other for a long time before we met. We worked together for our websites and both left the shoot paranoid that the other didn't like us. Why? Because we are mental. We then worked together, at Lexi's request, for her Viv Thomas feature film. The scene, though four years old, STILL gets mentioned frequently. And yes, we both came for real. Rare? In porn? I'll say. Lexi is a tall, leggy blonde with gigantic boobs and a tan. We are kind of like chalk and cheese but maybe that's why we love each other so much. After Misha, she is the girl I have tallied the most scenes with.
Jasmine Jae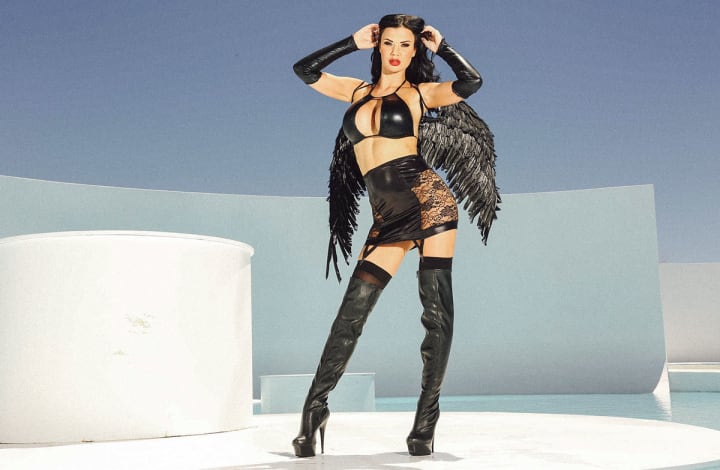 When I first met Jasmine, she was just starting in the business. I had seen her and her husband around the UK industry, and booked them both for my feature film Samantha Bentley is Filthy. However, I booked Jasmine with a guy, not with me. I was chatting with Jasmine after the scene and she told me she had never ever done a girl/girl scene. She had only ever been booked for boy/girl. Jasmine and her real life husband, Ryan Ryder, are the UK's porn power couple. The Posh and Becks of Brit Porn. From the beginning they worked together, which explains why it took so long for Jasmine to be booked for a girl/girl scene. I'm not going to lie, when I heard she hadn't done one I kicked myself over and over that I hadn't been her first. I didn't get to be her first, or second, or third. In fact, Jasmine and I didn't get to work together for almost a year. We were CONSTANTLY on the same sets and in the same movies and never ever booked together. I love Jasmine, to me she is one of the strongest performers in the world right now. Men, women, she loves both, this girl just loves sex and she's fucking good at it. Working with Jasmine is SO easy because you know it's always going to be incredible.
Adriana Chechik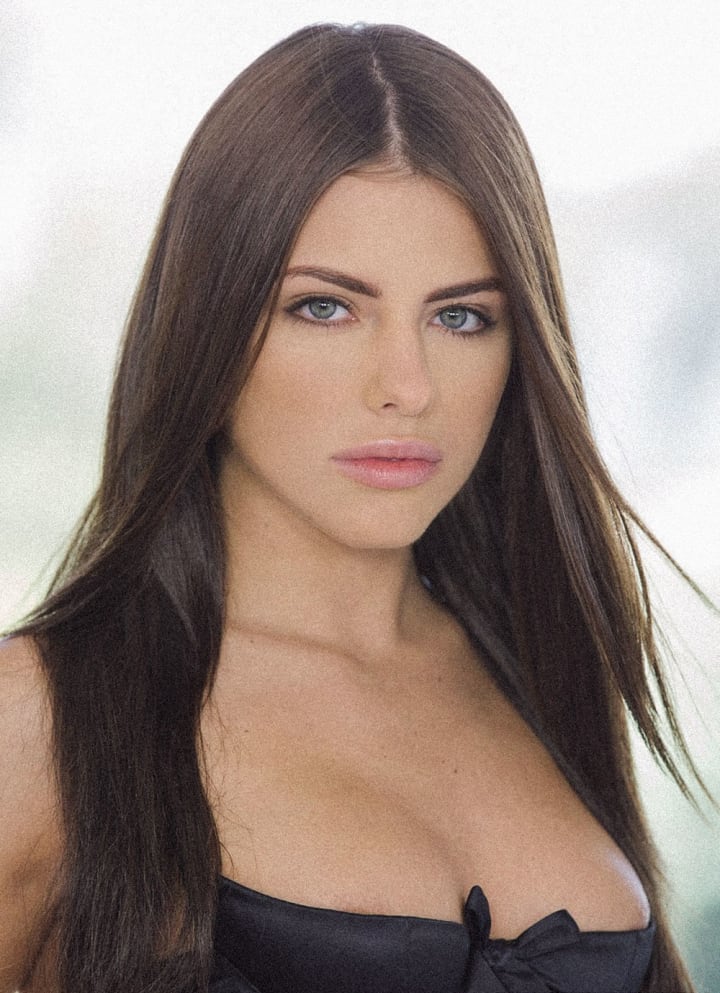 Last but not least, Adriana Chechik. The dirtiest, nastiest, give me a run for my money filth bag, I have EVER met. And undeniably one of the best performers on the planet. There is almost nothing this girl can't and won't do. I knew I'd met my match the day I walked on set with her. We have only shot together once due to unavoidable circumstances. But that one time was enough to land her on my all time favorites list. This girl is up for anything, and not in a dirty way. I mean yes, dirty, but also in a loving way. She WANTED to kiss me, and touch me, and lick me. She had a touch that let me know this was not her first rodeo, or her 100th for that matter… skilled, beautiful, dirty AND into girls. What more could you want?
About the Creator
Born and Bred Londoner, Mother to baby Roman and my two pooches, Plant Eater, Yoga and Aerial Teacher + Learner, Music Maker... was once in Game Of Thrones, was once a Penthouse Pet, used to win awards for getting naked.
Reader insights
Be the first to share your insights about this piece.
Add your insights