Where to Buy Sex Toys
What do you need to know?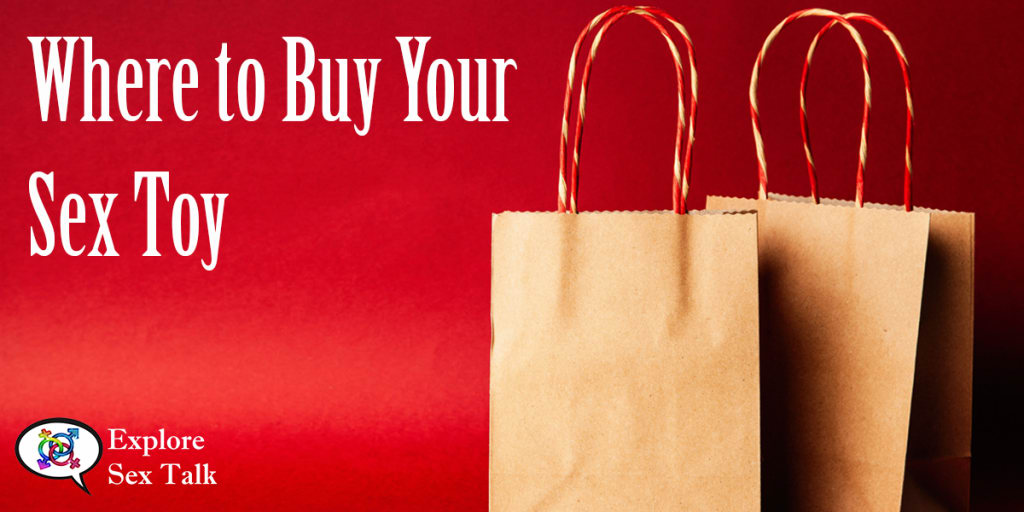 If you're new to buying sex toys, it's easy to get overwhelmed. There are so many options and different places to shop! You want to make sure you choose the right one and spend your money wisely. Sex toys tend to be a bit on the pricey side and so you want to feel confident you're making the right choice. If this is your first toy, the important first step is to choose the type of toy you think you'd like to try.
So let's assume you've done your research, you've saved up your money, and you're ready to buy! Where do you go??? Which is the best place to go? There are a bunch of places to make your purchase but the best place will really depend on where you live and your comfort level. But let's run through some options.
Your Local Sex Stores
If you live in a city, or large town, there's a good chance that you have a local sex store. These can be really hit or miss. Some of them are amazing while others are extremely unimpressive. You will have to check out the options where you live. If you've never entered a sex store before, it doesn't hurt to check out reviews online or ask a friend who might know that you feel comfortable talking to, before picking one to check out. Some stores can have a seedy feel that can be quite offputting to some people. Other stores are welcoming and fabulous! If you end up checking out one that makes you feel uncomfortable, don't give up! They're not all like that!
If you are local to Vancouver, Canada, there are a few really good stores to check out. Little Sisters has a diverse collection of quality toys and the staff are knowledgeable and able to answer questions. Another great option more geared specifically for vulva owners is Womyn's Ware. Their staff also really knows their stuff and can make some fantastic suggestions.
The advantage of going into a local store is that you can get a better look at the toys. It's easier to get an idea of what the quality of the toy will be like, read the packaging, and feel more confident in your purchase. It also gives you a comparison to check prices and get an understanding of what kind of price goes with what kind of quality expectation. If you end up purchasing somewhere else, this can help give you a baseline for what you should expect to pay based on quality.
Sex Toy Parties
Another option for exploring what sex toys are available is to find a person who does a sex toy party. These are sex toy sellers who come to your home and do a presentation on the types of toys they have available. It's pretty much like a Tupperware or candle party, except with sex toys. Usually, this is an event you'd put on in your home where you invite some friends to come.
It can be a fun night and the sales reps can answer any questions you or your friends have about a particular toy or how to use it. There are also usually toys out of the package for you to touch and examine more closely. The person who arranged the party often gets a gift for hosting it as well.
There are a number of companies that sell toys this way such as:
Fantasia
Hanky Panky
My Secret Soiree
Pure Romance
These parties can be great if you're looking for common, run of the mill sex toys. They usually have a good selection of basics. If you're looking for more exclusive items, they may not have what you're looking for. This is something you can always discuss with the representative before the party.
Adult Conventions
If the first two options aren't really for you, checking out an adult convention can be another way to see the different types of toys available. Conventions like the Naughty but Nice Taboo Sex Show occur yearly and travel. These kinds of shows can be fun to attend with a good friend or your partner. There are usually lots of different booths and sex stores that attend. Depending on the show, there can be more variety of toys available as well. Another major advantage of these types of conventions is that you can find good quality toys for special convention deals.
If you feel shy or anxious about sex or large crowds, this may not be the best option for you. Do your research about conventions coming through your town. Find out what other people say about them. It can help you determine whether or not you think you will enjoy going.
Buying Online
A fairly discreet way to pick up your toy is also to buy online. Depending on where you live, this also may be the only actual option. If you're looking on buying online there are LOTS of places to look. It's always a good idea to shop around to see where to get the best price for the toy you're interested in. It's worth investing a little time to do this because it may be different sites for different kinds of toys.
One thing to beware of when buying online is to keep an eye on brands. It's best to avoid knock-off brands and go for brand names that you've researched. The knock-offs are guaranteed to be cheaper but it's going to be rolling the dice on what the quality is going to be like. Sometimes the quality is right on par with the brand name and other times it's a huge waste of money and the toy isn't reliable at all.
You can decide how much you want to risk quality. When it comes to sex toys, it doesn't pay to cheap out too much. Cheap sex toys may not be made correctly and in a way that is safe for your body. So it's important to know what the material of the toy you're ordering is, what the standards are for the country where it's manufactured. Toys that are not safe for your body can cause infections or toxic poisoning. Some companies will sell sex toys that are not body-safe and require the user to put a condom on the toy prior to using. Make sure to research these details and know what you're buying. Online toy reviews can help you a lot in this research as well.
Time to Buy Your Sex Toy!
So do you feel ready to buy your toy? You've done your research and know your options! Are you excited? You should be! Buying sex toys can be a super fun experience. It's a good start to all the fun you can have owning a toy! Enjoyed this article? Leave a tip!! You can also check out the other great articles, games, and more on my website.