When Harry met Sally... she never came
Ode to Joy; From orgasm to Tarantino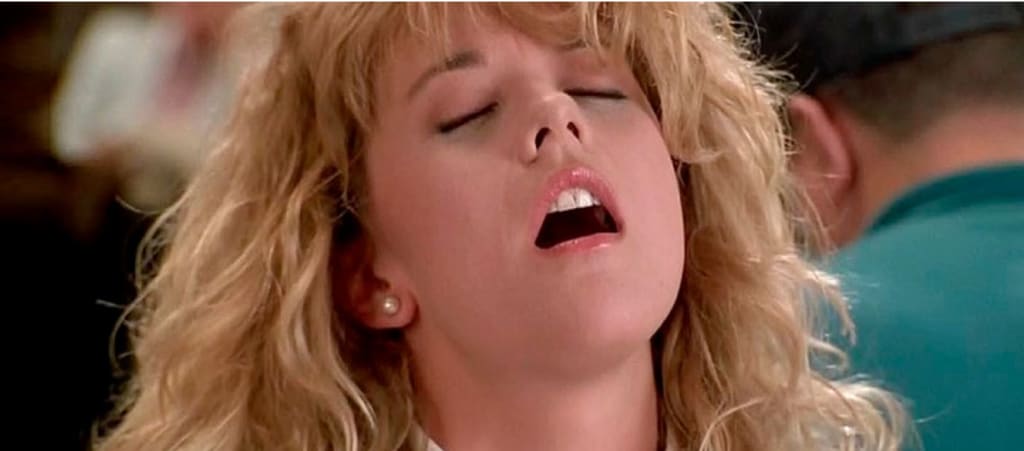 Meg Ryan in the movie 'When Harry met Sally'
I recently came across an eye-opening documentary series. It is 'Explained' on Netflix. Every episode focuses on a different topic. By watching these roughly 15-minute-long episodes, you can take a deep dive into various issues from the gender wage gap, extraterrestrial life to the female orgasm.
Have you ever wondered how come you've never cum? Have you ever faked it? Or you just gave up on it?!
Don't worry. There is a podcast for you.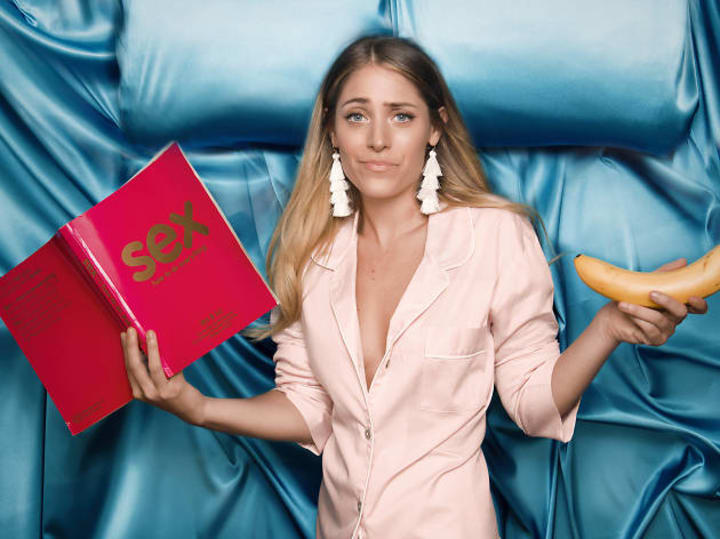 Remy Kissimir is an American stand-up comedian and podcaster. She appeared on 'the female orgasm, explained' of 'Explained'(S 01, Ep 16). Through the episode, I learned about her and her podcasts. After I listened to the first episode, I couldn't stop listening.
When she started the podcast, she was 28, and never felt an orgasm. So, she became the host of this podcast to know how to do it, talked to countless people, and finally reached the goal.
This podcast is like having a pajama party with close friends to have some frank chat. Have you ever told a friend about a problem that you had inside for so long but couldn't tell? Then you know how it feels when you finally have someone who listens to you and empathizes with you, especially when the problem is about something you'd ever want to know and never talk about.
Having sex must be a joyous thing for every party who's involved. However, the female orgasm has been considered as a tiny part compared to male ones. According to a study in 2017, 95 percent of straight men in the US said they have a regular orgasm during sex, but only 65 percent of straight women said the same. And half of US women said they've faked it.
I've faked it, too. When I first did it, I knew something was not right. It was so ironic that someone pretends to feel the joy for someone else's sake. I've been trying to tell my close friends, but I was afraid I might be the only one with the problem. When we talk about sex, we describe it as making love, and love is the most intuitive and natural feeling. Then, why is it so hard for only women to get the pleasure of sexual climax? This podcast has helped me a lot in solving this deep-down problem that I have had.
My favorite episode that I'd love to introduce to you is 'I'm Very Proud of How Far You've cum'(S 01, Ep 27).
Sofia Rose is an award-winning adult entertainer, and Alyssa Limperis is an actress and comedian. They talk about body positivity, from being BBW (Big Beautiful Woman) to battling an eating disorder. I learned so much about how easily the body image and sex life can affect each other. Now, this podcast has helped hundreds of 'Cumpanions' around the world to accomplish their first orgasm. Still, this podcast is not merely about how to have an orgasm.
It is more about reminding you of how perfect just the way you are and help you find more reasons to love yourself.
After you listened to this episode, this meme that I came upon on Reddit will make you ironically happy and laugh out loud.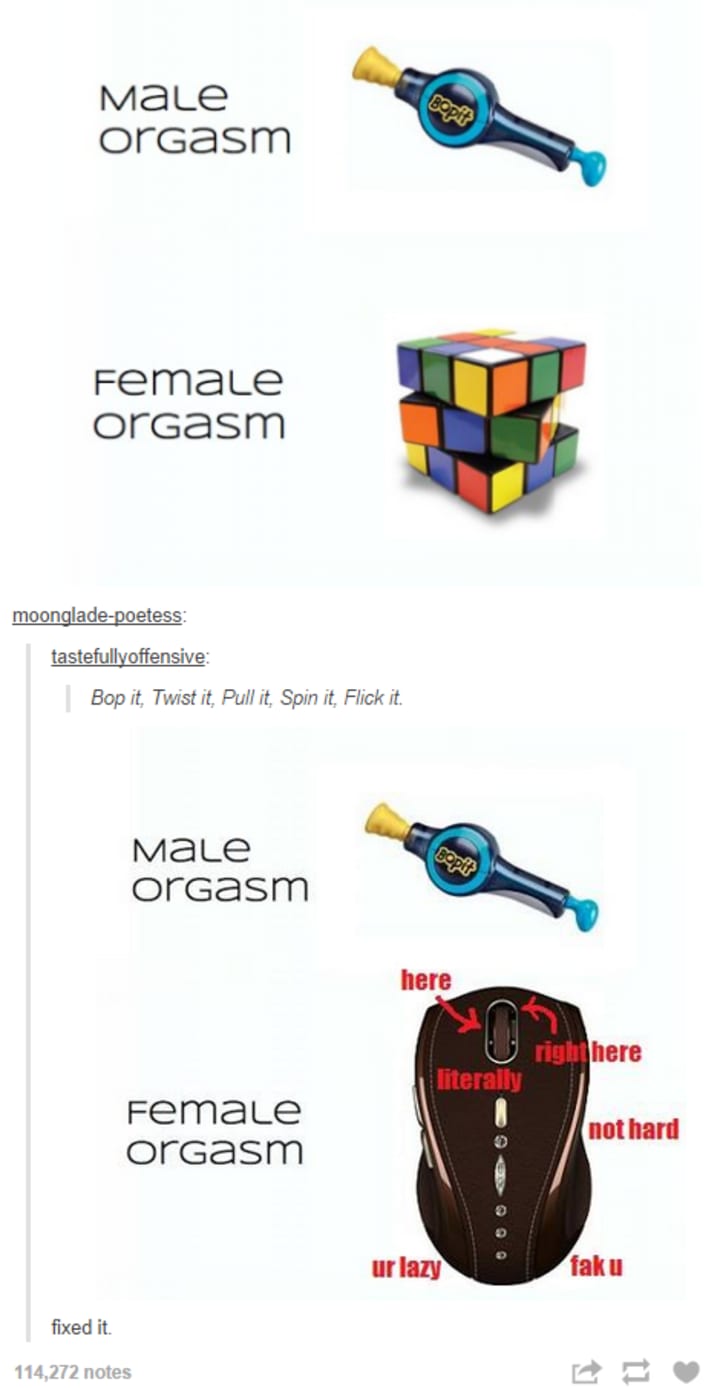 As you can see, many things between genders are unfair, and we should be able to talk about it. According to 'the female orgasm, explained', scientists are still not sure which muscles are involved in female orgasm, and they can't agree if the G-spot even exists. However, the female orgasm is not a myth or an unsolvable puzzle. The pursuit of pleasure for women should no longer be a taboo and should be a public issue.
Many people learn social cues about sex from Hollywood movies or porn. We should be more careful about the influence they have on the world, considering the sexual harassment and discrimination that has occurred in Hollywood in recent years. That's why I love celebrities who use their influence and fame to speak out on 'sensitive' issues.
In 2016, when I was in South Korea, a self-proclaimed feminists community called Megallia made T-shirts to support feminism. A woman working as a voice actor for a game company posted a supporting post on the T-shirt on her Instagram. Some anti-feminists started boycotting the game company, and she ended up getting fired. It was a big issue in Korea, especially among women. I was angry about this unfair treatment as well.
At that time, a Hollywood actress named Margaret Qualley spoke out.
Margaret Qualley Instagram; @margaretqualley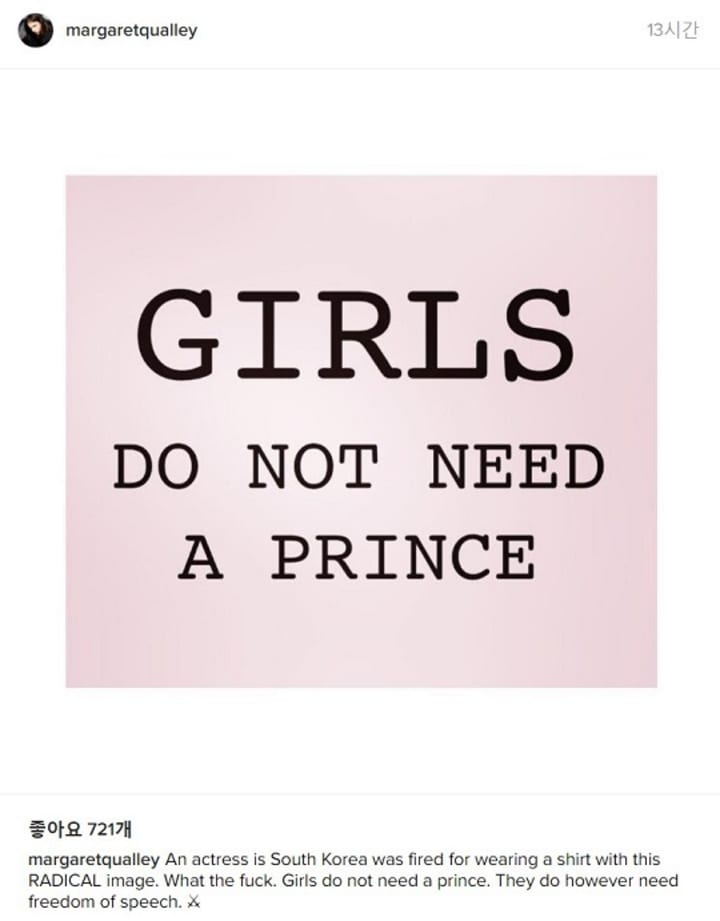 This post is deleted as of the day because some anti-feminists wrote malicious comments on her Instagram and she had to fight them back.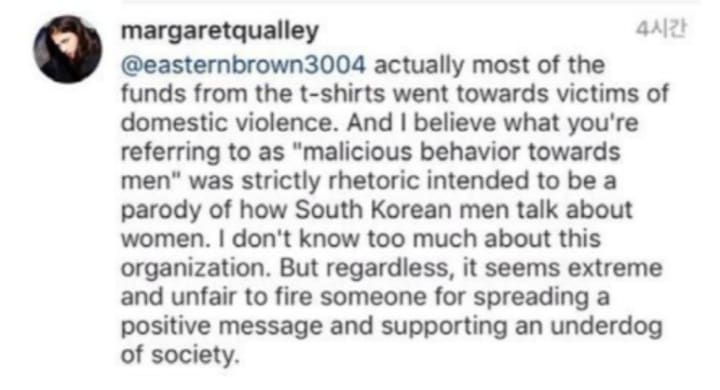 I got to know her through an article about this post and became a huge fan.
She always has been supporting women's human rights. Every time I look at her account, these supportive posts give me great pleasure, along with her incredible style. Recently, she appeared as 'pussycat' in Quentin Tarantino's latest film, 'Once upon a Time in Hollywood', giving me the pleasure of seeing the movie that my favorite actress and my favorite director worked on together. As a fan, I hope she becomes more and more famous in Hollywood, and her voice grows louder.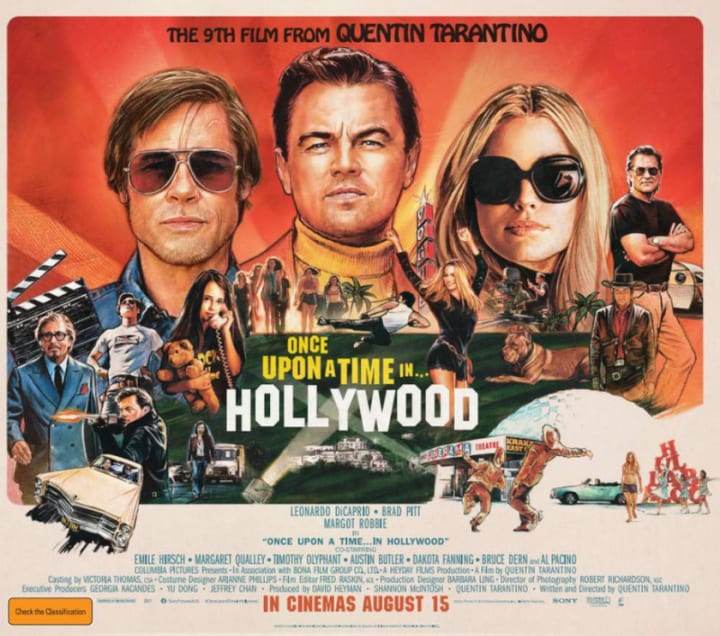 Once again, I'm very proud of how far we've cum. Also, how strong we are and how brave we are. The world has changed drastically, and it keeps changing every day. Do you ever feel lonely or mistreated living as a woman? Remember, at least half of the world is with you. I am with you.