What 'Normal' People Do
A Story About Lost Love Affairs. Or the Complete Opposite. All About Your Glasses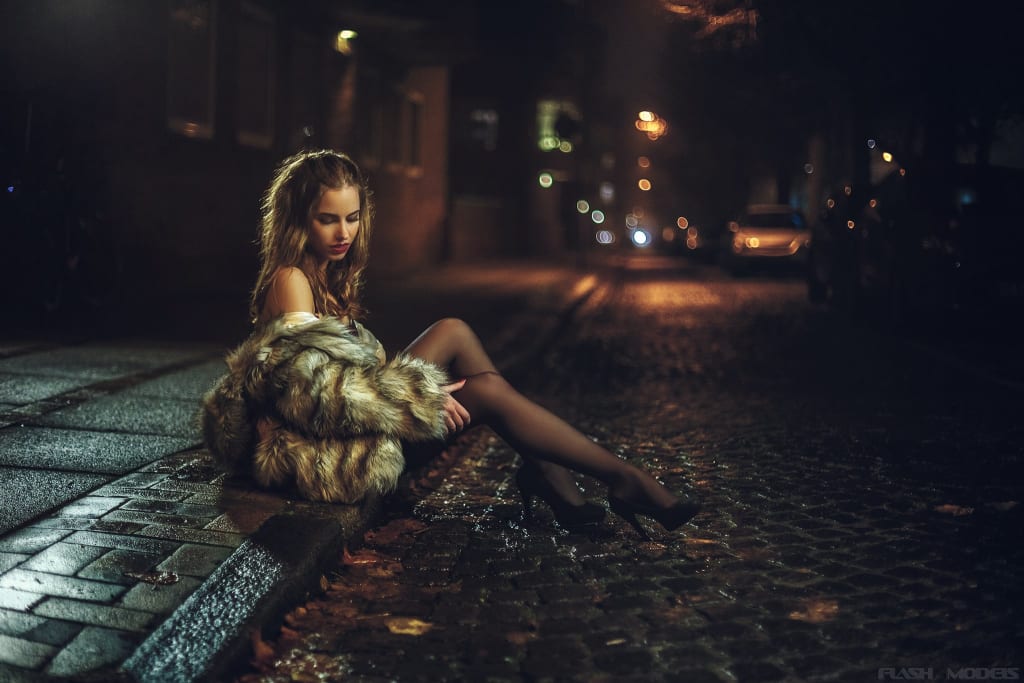 November 2012
I remember standing in a dressing room in Selfridges, sweating and trying on a new top 20 minutes before we had to meet up at Leicester Square station. It was white, flowing and loose, with straps beautifully decorated with rhinestones. Very angelic. It's funny, I've always done that—panic shopping before I had to meet up with a guy, looking for something that would make me feel less ordinary than all the other tank tops I bought before all the other dates. I felt somewhat insecure about my arms, but reminded myself that "guys don't really care about perfect as long as you get naked."
And I had to get naked.
I'm not sure if I had binged and purged that day. It would always make me feel like the most unattractive girl in the Universe and my trick was usually to get shithammered as soon as possible, to deal with my self-disgust and bloated chipmunk-cheeks, which felt at least 5 centimeters too wide. Strange how alcohol turns you into a sexbomb in your mind as your makeup starts running and your eyeballs start rolling.
I tend to trust that the boy's gonna get blurry double-vision soon anyway. Never go out with a guy who don't drink, too much pressure, girl.
He wrote me, "Sorry, in the underground, running late, it's like a sitting duck here."
Perfect. Just about had time to find a public toilet and change to my new angel top. I met him at the station, glad that he recognised me 'cause frankly I couldn't recall his features, from the making out in a dark club to making out in a dark taxicab to making out in a dark alley ("no, Maria, we are not gonna have sex in the rapey alley, I'll take you out on a date"). I had kissed him goodbye two days ago, rubbing my little, white, fluffy hat onto his black wool-jacket. Just so he wouldn't forget about me.
He wrote me immediately after leaving.
"1. Your hat is all over me. 2. You're pretty awesome."
He was shorter than I remembered, a little too short, but handsome still. Sort of strained and tense, though, maybe just nervous.
But then again, not too nervous. "What are you wearing?"
He was nodding towards my leopard fake-fur with a look of slight disgust, not very well concealed. I laughed it off thinking, "the fuck are you to talk, motherfucker, that is probably the ugliest shirt I've seen in a while, different shades of purple stripes, really, WTF, fashion police wannabe, don't fucking test me."
*Big smile*
"So where are we going?"
It was a hip newly-opened tapas place in Soho, small but charming. So hipster, but "hipster" wasn't a well-integrated term at that time, so I would go with "boho."
I didn't eat much, but drank my full red wine way too fast for his pace, reminding myself I had to get naked in a couple of hours. I took the lead, talked a lot, did my classic Fritsche-thing, revealing too many freaky fun-facts about myself while remaining flirty. It usually scares off the boring people and attracts the interesting ones. For a start.
It was slightly awkward, sitting next to each other on high chairs in a small space trying to eat tapas without cutlery, keeping my lady while having smeared olive paste all over my painted red lips.
I got into a way too long lecture about rodents and hamsters in particular, desperately trying to sidetrack into something more normal chit-chatty like movies (everybody loves movies, right? Right).
He talked about how they were filming Thor 2 in London and mentioned Natalie Portman—"She is a goddess." I was slightly *insecure-teenage-girl* annoyed and felt the angel top shrink into this grey substance of averageness and my waist-length mane getting frizzier by the minute. Ugh.
"Yeah, the Hemsworth guy is really… fit as well."
Like WTF, Maria? As if you ever cared.
We didn't touch each other in the cab, sat with a nice distance between us with our seatbelts on, having a lowered, almost polite conversation. Same in the elevator, acting like shy kids, trying to pretend that we were just going to his apartment to check out his stamp collection (or Pokemon cards, for my generation).
He came onto me gently and slowly and started to undress me first. I let him do it, like a scared little girl trying my best to remember what Scarlett Johansson or Charlize Theron would do in the "please confirm that you're above the age of 18" clips on Youtube, having always carefully avoided porn. I opened his belt, fiddled with his buttons, feeling like an idiot. He was nice about it and helped me out, kissed me and told me my body was gorgeous.
Nobody ever told me that before.
And then I started panicking. I could still feel the red wine, but I didn't get aroused although he licked and kissed me on my chest. Why? Why wasn't I aroused?
He went down on me and I did my best impression of somebody enjoying sex. There's a word for that, Maria. It's called "faking."
I looked at him down there thinking he looked like a wild animal. And I didn't like it. I felt disgusted, like I couldn't connect with a grown man just lying on his knees like that. Why was everybody talking about this as if it was the reason to live? I felt nothing but a great disappointment and my legs all stretched and stiff as if in some sort of paralysed rape situation.
"I CAN'T! I'm sorry." I avoided looking him in the eyes and lay down on the bed with my arms crossed over my breasts, trying to hide the unimpressive size of them as usual. "I'm sorry."
He turned over and said it was "okay." Said he was tired. I could tell he was really hurt.
I reached out and caressed his back. Some vague desperate attempt at an apology. His skin was nice and soft. He had broad shoulders and the right amount of chest hair. I traced his back lines with my finger and suddenly realised how I'd never looked at a man that way before.
Unashamed, appreciating. I was always so afraid to look. Just as I were afraid to look at myself.
"You have an amazing body," I said in my best, soft, lowered Liv Tyler voice. The trick is to use a lot of air—it makes men think you're constantly a little out of breath when you're around them.
He just shrugged.
Okay, fuck you, soft lowered voice.
It had happened three times now. Me just throwing myself at somebody trying to lose my virginity and ending up at the side of the bed, curled up in a ball and shaking as if he'd hit me. Poor guys.
I took the train from Greenwich back to the city, walking home in the winter sunlight with the birds chirping around me. I wasn't that sad. I was clarified. I thought to myself, "M, your life is not gonna be about men or affairs. You're gonna be a creative force and you're gonna feed upon that. That is your food, that is your life. Ordinary people can have relationships and get kids and eat dinner every day at 6 PM talking about Dancing with the Stars or some political scandal just chiming in with what the rest of the little people confirm is right or wrong. You're not ordinary."
I felt light and I felt like I could cope with giving up this adventure for something more sustainable and natural for me.
I went to bed in my angel top when I came home. And then I touched myself.
Today I sat down and read my journal from my psychiatrist. It says "M doesn't see herself having a family and normal relationship in the future as she doesn't seem to think it's compatible with her condition."
He had looked at me from the other side of the desk with caring eyes saying, "It's very natural to want a family. That's what most normal people aspire for and get."
*Normal*
It tastes so strange in my mouth, like a new flavour you haven't adjusted to yet and decided if you like or not.
But as with that morning walking through Marylebone six years ago, I don't feel sad as I read my own dooming of my future.
I cried at the sunset, the beautiful fusion of red and purple and the monuments of London reflected in the water. And I felt a lot.
See, the boy couldn't touch me. But the city always will.
Xx Lea Fritsche