What Happened to Beau Kennedy
Once a rising gay porn star, Beau Kennedy has disappeared.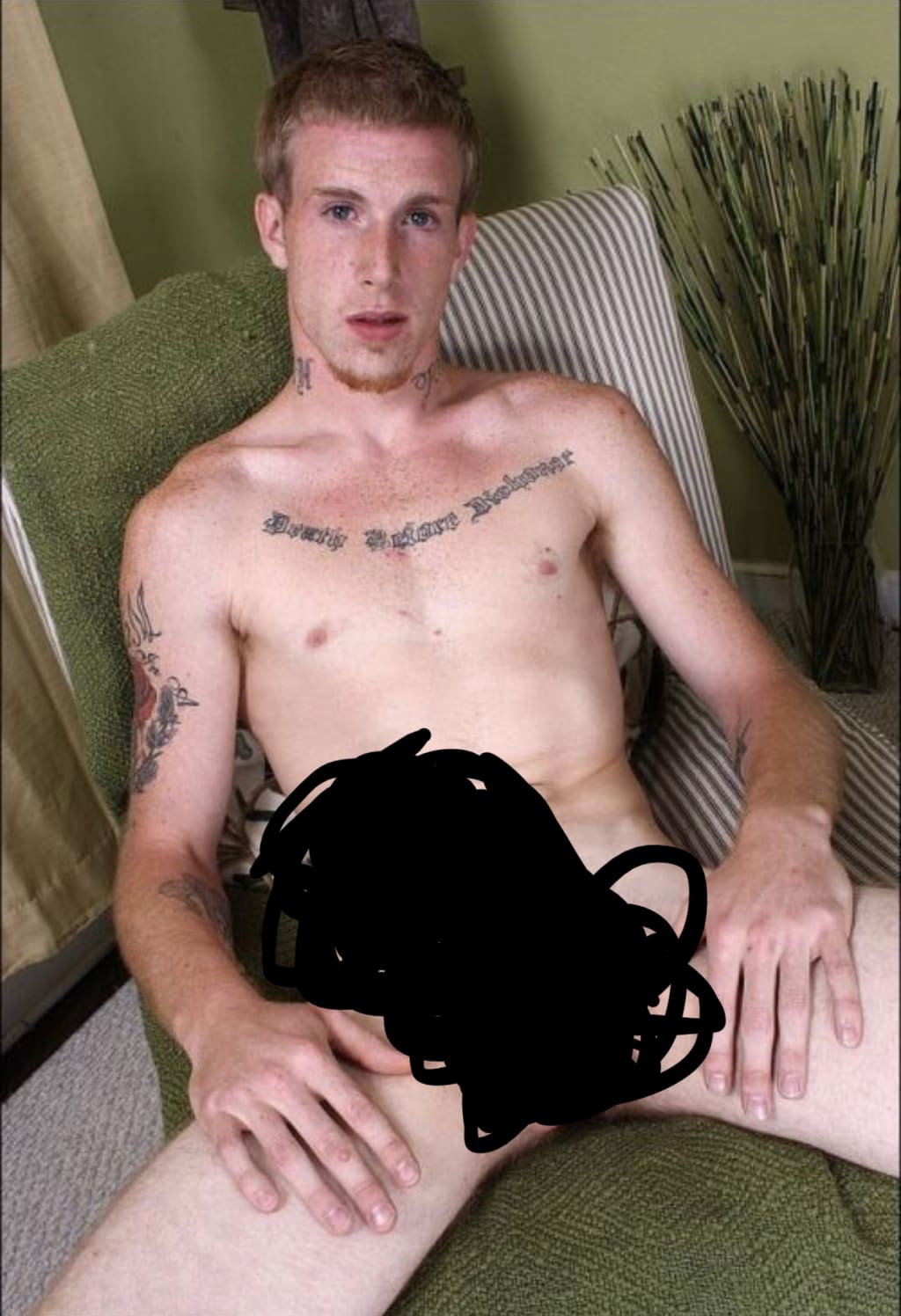 Big dicks are always in style. When that cock is attached to an alleged straight guy, well that amplifies the hotness of the male performer. These facts allow for producers to come up with scenarios that will intrigue the public and make them a ton of money.
Beau Kennedy was the entire package. He had a cock that begged to be worshiped. Publicly he seemed to identify as straight, though he was not against hooking up with men. And best of all, he was not porn star attractive. Meaning he was cute, but one could imagine running into him on the street or in a bar without an entourage. He was a rising gay-for-pay porn star and then he disappeared.
Bait Star
The first and arguably most popular clip starring Beau Kennedy set the tone for the rest of his movies. It starts with Kennedy and Noah Springs sitting on a couch, ostensibly waiting for female costars to join them. The unseen producer asks them to strip their clothes off, they show their asses. He leaves the room as Kennedy and Springs jerk off. He comes back to find that both of them are hard and raring to go. It is then that the stars learn there is no female coming, for extra money they will need to fuck each other. Springs jumps at the chance and gives Kennedy head. Kennedy gives Springs head as best as he can (or at least as good as he thinks a straight guy could) and soon after Springs is riding him. As Kenendyis fucking him hard, the producer tells him that this had been a setup and that Springs was in on it.
There have been many male porn stars who have gone the gay-for-pay route. Kennedy found the perfect niche as the white trash straight bro with a huge cock. Seemingly he had a huge career ahead of him and could have done anything. It is rumored he started doing drugs and became difficult to work with after this initial scene.
Extra Big Dick
The next popular clip has Kennedy starring in a scene with Kevin Cavalli for Extra Big Dicks. Once again Kennedy is a straight guy who ends up with a dick in his mouth. Funny how that happens. The two are friends, who love to show off their tattoos. Soon Kennedy is in his boxers and Cavalli is eyeing the 9.5-inch cock like it is pumpkin spice and he is a basic white bitch. Soon the boxers are off and Kennedy is getting blown by his buddy. Then he pretends to never have sucked a cock before and returns the favor, and Cavalli ends up with the white snake in his ass.
Around the time this clip was released, rumors began abounding that Kennedy might have been using drugs. There are no public arrest records suggesting that he was caught doing drugs, but the lack of work that follows can be used as an indicator that something affected his performance.
While Dean, Magnum, and Lewis all resorted to bottoming to keep their careers going, Kennedy did not. At least not on clips that have been released to the public.
Out In Pubic
One of the last clips, there seems to be only four professional releases, sees Kennedy once again playing the straight guy. This time in a sort of meta twist, he acknowledges that he knows he is in a porn and going to get his dick sucked by a dude. They find a willing participant, who also happens to be gay-for-pay and the pair head to a museum. The other guy sucks Kennedy's cock in an isolated part of the museum. Then feeling too horny (or needing more cash) he ends up riding Kennedy's cock. The most readily available clip is only four minutes long.
With this clip, we were treated to a more cleaned up looking Kennedy. It's the only clip where he stays relatively dressed. Some have speculated that by this point his drug use was out of control and producers were covering up pockmarks on his arms. There is no evidence of this, but seeing as the release date is in 2012 and there haven't been any other releases from him that is a very telling sign.
Around the same time as the museum clip, he also made one of the massage videos that were so popular around that time. While only a promotional clip is out, it is the only one where Kennedy is seen kissing his costar. This has led many to wonder if he was forced into bottoming and left the business because of that.
Broke Straight Theories
As one of the only men who was exclusively a top in gay porn, Kennedy could have had a long career. At the time (and perhaps to this day) only Girth Brooks and Kennedy have not had a dick in their ass on film. So his disappearance is even more surprising. Even more so when one considers that he could have played this straight boy having gay sex act out for all it was worth. Or gone the Derrick Dime route and had a string of movies with the same plot made.
After his last known on-camera appearance, Kennedy is alleged to have been working the streets of New York City. Rumors have abounded that he has been seen walking around Greenwich Village looking to hook up with men for money. In one case, a witness said he offered to suck dick for coke. Given the police presence around the area, it would seem to be a work of urban legend more than truth. However, trusted sources have said he was seen at Monster Bar and Stonewall Inn. They also have said he did approach men offering up his services for money. One says they walked in on him getting head in the bathroom and he offered a threesome.
A Google search of Beau Kennedy brings up an article about a truck accident in November 2018. There is no picture attached to the article. The car accident that took the life of Beau Stephen Kennedy happened in Texas, which is not a far leap to imagine that our favorite big dicked porn star would be there. However, without definitive proof that this is him, he is just missing.
It should be noted that Kyle Dean and other gay porn stars who started around the same time as Kennedy have also died. Most of them were heavily into drugs, which is usually the listed cause of death.