We Took Our Coworker to Bed
She went from our coworker to our cuckcake...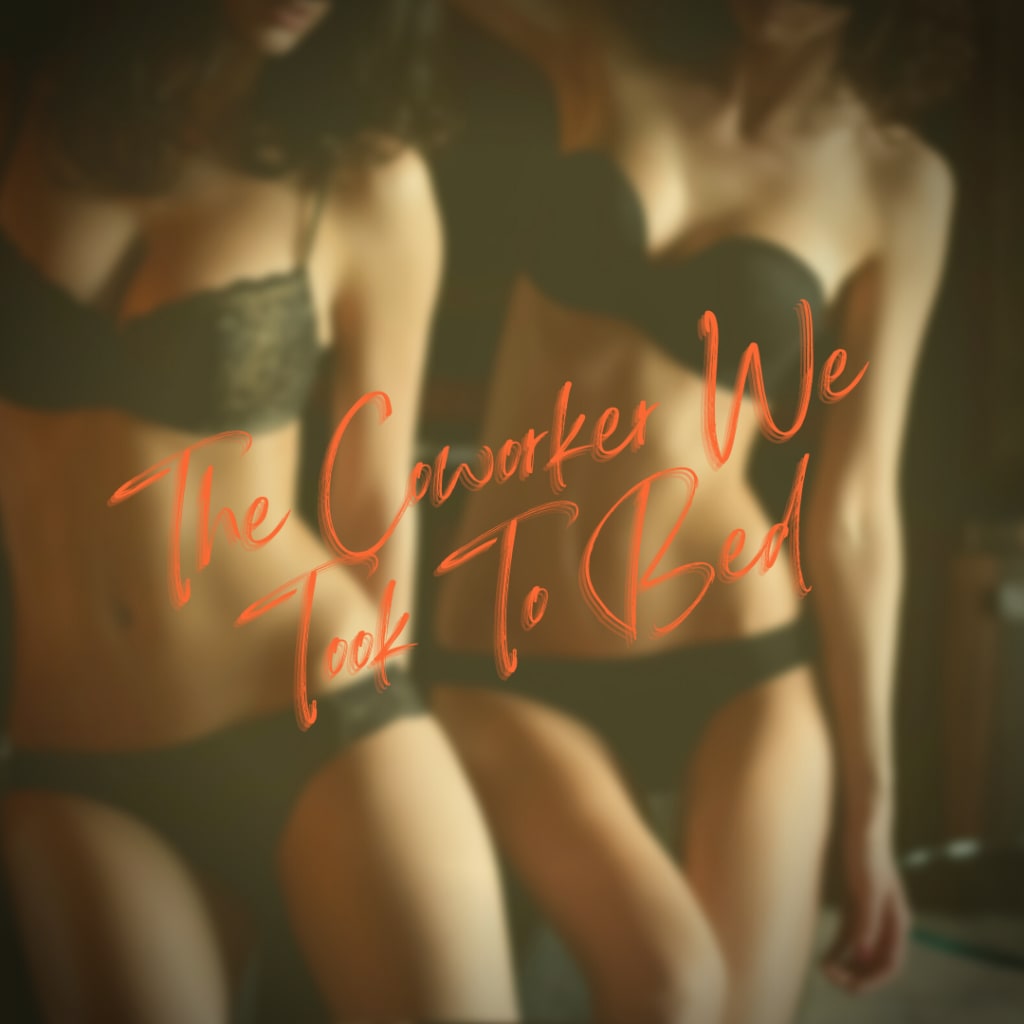 We couldn't help ourselves... She was too stunning...
I walked in and Tony was balls deep inside of Emily. I had only left the room for a few moments, and that was all it took for them to start going at it in my absence.
Tony was my husband. I know people probably think that I would be mad about seeing him with another woman, but on the contrary, I actually was wanting them to get started before I had even left to use the bathroom.
Tony and I worked in the same office. I know people are going to say how that's a bad idea, because of wandering eyes or spending too much time together, but Tony and I never really got bored with one another. And when it came to wandering eyes, I wasn't really against that myself. In fact, it was usually me who was doing the searching. I had been the one who found Emily in the first place.
She was small, with tattoos covering he arms and chest. She had pale skin and dark hair. She was stunning, and I had floated the idea of Tony fucking her weeks before that night. He was inside of me when I suggested it at first. I hooked my legs around him and pulled him in close and I asked him if he ever thought of fucking her. She had the cutest little ass and I would catch him getting side glances at her. He lied. He admitted lying to me later. I scolded him and we agreed it was wrong, but he claimed that he was just trying not to hurt my feelings. How silly of him. I wanted to see him fuck her. That was exciting to me.
I started flirting with her. She would smile and blush, and she would never seem off-put by it, so I knew we had a chance. I just kept going at her. Slowly things started seeming normal. She linked arms with me when walking to her cat after work. Her coming to our apartment and having drinks and slept over. At first, it was just subtle hints, and then one night I just flat out told her that I had watched Tony ball other women right in front of me. She acted shocked. I knew she was lying. She admitted as much to me later on. She knew how freaky we were.
Their tongues met outside of their mouths. It was a very sexual kiss. Nothing but lust and passion. I think she was thinking of that moment all day. I know I had. I stepped forward and they both looked at me and she looked embarrassed for a moment before turning back and letting Tony kiss her again. I didn't say anything. I took a chair and stared at both of them. He started taking off her clothing. He reached under her dress and began to remove what was underneath it and that's when I reached under my own skirt.
I was so excited when I saw him put her in his mouth. She had her clit pierced. I had always been fascinated by women who did that. She did things I could never find the courage to do myself. That was part of the thrill. Seeing my husband take different women from different walks of life was awe-encompassing. He was such a delicate and amazing lover. He had his tongue moving in ways that drove me wild, and watching him do those things to Emmy was wild. She looked over at me and started letting go. I walked over and grabbed her hand and held it while she let it roll over her.
"I came in his mouth," she told me.
He pulled her up and jammed his cock in her mouth. Her body went limp and she allowed him to use her face. I would always gag when he would do the same to me, but she took it like nothing. No gagging at least. Her eyes watered and tears ran down her face. That only added to her allure. I found myself staying on the bed, watching as close as I could muster. I kept one hand between my legs as I observed.
When he took her out of his mouth she said how she wanted him. How she needed him. He nodded and placed her on all fours. Her eyes met mine and they widened when he went inside her.
"He's so thick!"
"I know," I whispered back.
I did know. I loved the way he would make me feel so full when he came inside of me. At that instant, I pictured him doing the same to the woman in front of me. I pictured him pulling her body in close to him and emptying his balls deep inside of her.
That didn't happen right then, but I mentioned it nonetheless. I said:
"Oh God, it would be incredible if you just... Came deep inside of her."
They both reacted. Tony grunted and moved deeper into her. Emmy looked shocked but then threw her ass back at him while gritting her teeth.
"Oh? Is your hubby going to come inside of me?"
I felt my mouth watering. I wiped it with the back of my hand. I felt like Emily had a hold not just on my husband, but on me. She looked into my eyes as my husband kept on fucking her from behind, and there was this strange connection that I felt with her. I knew it from the second that I saw her at work and decided that she would be the next one in our bed.
Not every woman we took to bed made me feel that way. I had a crush on her, but my husband was the one who was with her. The mix of feelings in my chest made me question everything.
I touched myself. I felt my body freeze the moment I touched myself. I thought I may come immediately. I looked at the two of them together. Tony had taken a handful of her hair, and he pulled it and she arched her back and his free hand grabbed her ass. Her pale skin was turning red and she had marks on her body from where he was spanking her. I bit my lip and tried to hold back my orgasm for a few more seconds and then I couldn't hold it back any longer.
She saw me coming. Her eyes registered what was going on and a smile crossed her lips and she looked so pretty. Tony was still manhandling her, but she was looking at me and paying attention to me. My heart started to flutter and I scooted up and took her face in my hands and kissed her.
"She's wonderful," I said.
"Oh..." Tony said.
He was so enthralled in her that he couldn't speak. I felt a twinge of jealousy shoot through me. Was she that much better than I was? Was he enjoying her more than he did me? Would I ever be able to fulfill his needs like Emmy was doing right then? I didn't know. I don't know if I know that today. But I saw him at that moment and it felt amazing. I felt like he and I had found something that we both could let ourselves get lost in. I would watch as he fucked every pretty girl we could get in our bed. I felt myself climax one more time. I didn't hold back anymore. I didn't feel shame. I wanted Emily to see how much I liked seeing her with Tony.
"I'm going to come," Tony said. His muscles were covered in sweat. His strokes were getting shorter.
We both heard him and wanted the same thing. I heard Emily begging, telling him to come inside of her as we had promised.
"Please, don't pull out. Just shoot it right inside me. That would feel amazing."
"Oh, baby... Come inside of her. Do it. Come right now and fill her up."
He sped up so fast that she looked like a blur. He was really laying into her. He wasn't stopping until he came in her, and I watched on in awe as he did so. I saw something in him I had never seen before that day, and it made me love him even more. It made me know that I loved him enough to give him what he really wanted.
He stopped when he started shooting inside of her. He just froze and stayed like that until he was done. I then took my cue to crawl over, looking at him while he was still in her. I could see her overflowing. When I pulled him out, it came flooding out, and I put my mouth over her pussy and started sucking and I could feel it slide into my mouth. Emily grabbed my head and pushed me into her ass, and held me there until I was done being a good clean-up girl for both of them.