Venus Berlin - A Pornstars POV
A backstage look at what it's like to be a Pornstar at the biggest Porn convention in Europe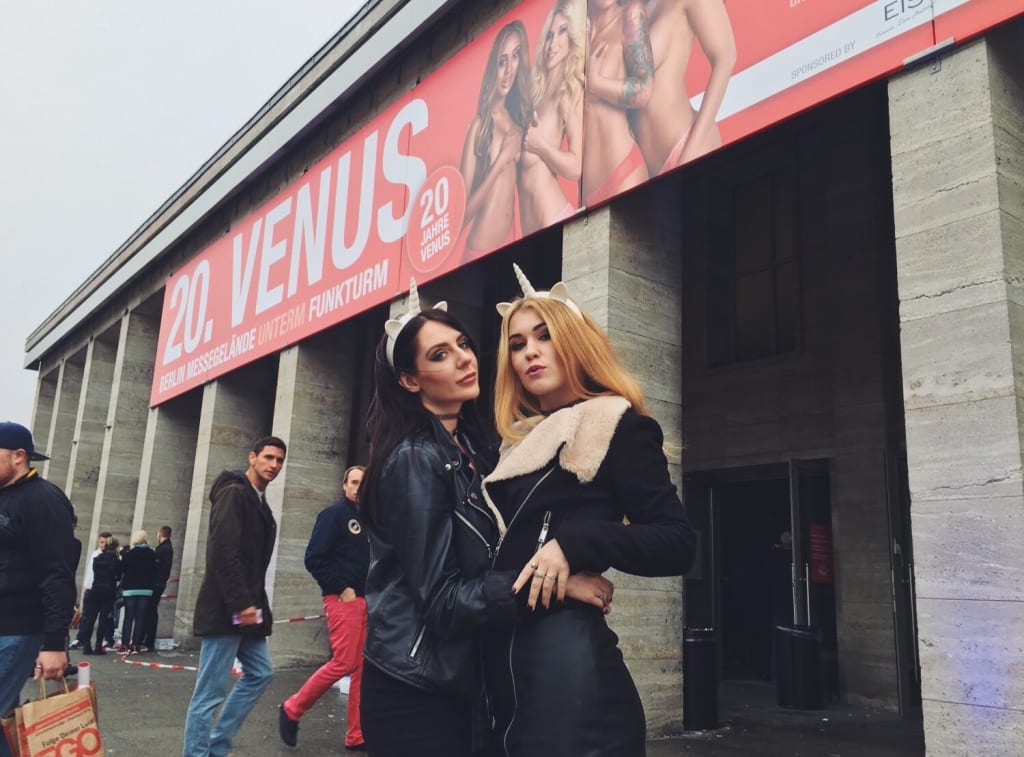 Misha Cross and I outside the Venus show.
My first time at the Venus show was three years ago, this was also my first ever time in Germany. Venus is Berlins largest erotic trade show, it rivals the AVN show in size, boasting four huge halls dedicated to dildos, fetish wear, Porn and of course, the stars of the adult industry.
German porn is strange, in the sense that their industry is theirs and theirs alone, very rarely will a girl from ANYWHERE else in the world, shoot for a German porn company. One exception being Bonnie Rotten who shot a showcase movie for Magma films a few years ago. Aside from that, they tend to keep themselves to themselves, their stars also rarely integrate with the rest of Europe or America, they have their own trade shows, their own companies, their own stars and their own Awards.
That being said, it doesn't stop stars, producers, webmaster and Porns' bigwigs, flooding to Berlin each October, to drink, eat and do business at the Venus show. I am blessed to have an incredibly strong working relationship with Evil Angel, who take Misha Cross and I to Berlin every year for promo. This year was no exception, Misha and I co wrote and starred in a two part feature for the porn giants which we shot in Berlin last October. The all girl, 8 hour, anal fuck fest 'Hard in Love' part 1 & 2 was directed by the godfather of Gonzo himself, Mr. John Stagliano, and the purpose of our Venus trip this year was to promote the fuck out of it to the German market.
Arriving in Berlin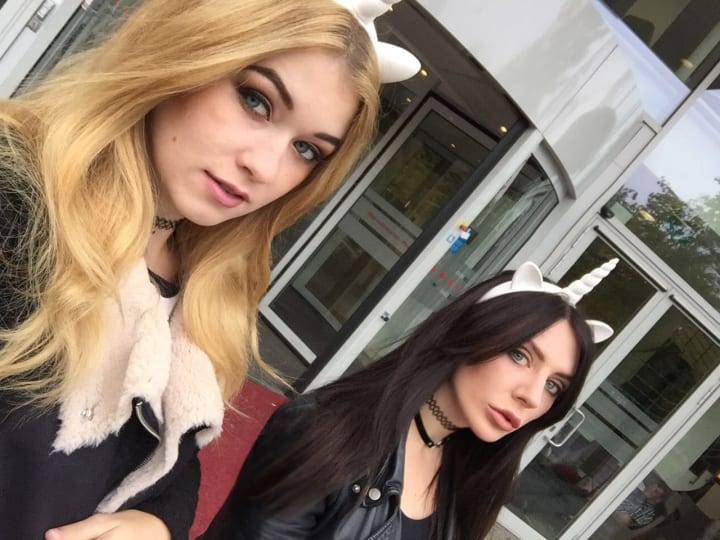 Polish born Misha is one of my best friends, both in and out of Porn, so it's always enjoyable knowing we are being paid to essentially hang out. Misha and I flew in to Berlin Schonefeld airport from London on the 6.30am flight and then spent 4 hours navigating the trains to our hotel. Our first day in Berlin was unusually relaxed, convention weeks are the most intense times most girls in the adult industry will ever experience and generally consist of wall to wall signing, press, promo, meetings, shooting and club hosting before falling into bed for three hours before 6am make up the next day. Repeat this for 3 to 4 days and you generally have the entire industry on the verge of a mental breakdown. AVN takes the cake for me, especially because AVN week ends with the awards which can either be the most exhilarating experience of your life (if you win) or depressing as fuck (if you're a sore ass loser, like me).
A day off in my life is something to be cherished, so of course we spent it shopping for really important things like unicorn head bands and dinosaur onesies to wear at the convention, whilst simultaneously hunting for Pokemon. After being ripped off for some of the worst food I've ever eaten and deciding upon a white glitter unicorn horn but NOT the matching choker (which I now wish I had) we headed back to the hotel to prepare for our dinner with Evil Angel. John Stagliano, Evil's founder and first director, is something of an enigma. Before I met him I had heard stories, I had seen his movies, and meeting him was way up high on my porno wishlist. So when my dear friend Rocco Siffredi recommended me to John for his second Vampire movie, I was ecstatic. I now know John as the quirky, endearing, generous and caring man that has helped Misha and I in our careers and lives more than we could have ever asked for. Always entertaining and forever weird, seeing John and the rest of the Evil crew always lights up my world.
We had planned on visiting the world famous Kit Kat club, but being awake since 4am was making Misha and I question reality and we chose drinking in the hotel bar whilst John told us tales of his Porn past and introduced us to executives and directors from all over the globe. John will tell you no one cares that he's there, but everyone always knows who he is and wants to say hi. He is, after all, pretty fucking legendary.
The Show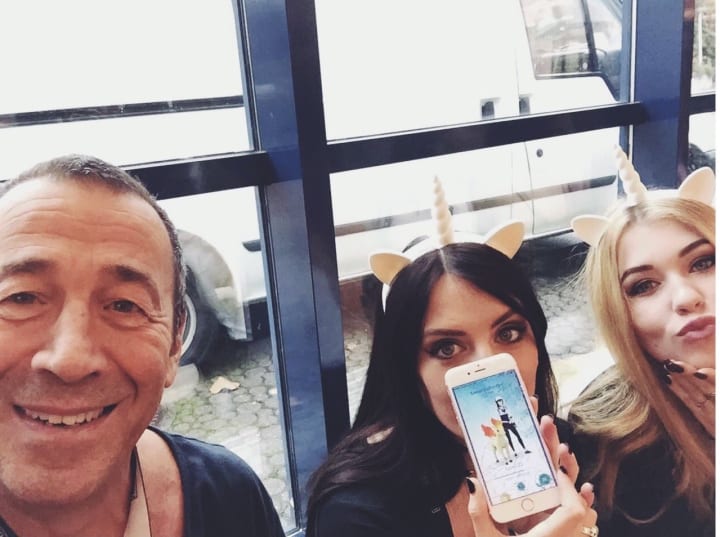 Saturday started with breakfast at Hotel Berlin, Berlin with John and Misha. If you've never stayed in this hotel, breakfast here is a 5 room buffet with pretty much every single possible thing you could imagine for the generous price of 18 euros. Whenever I am faced with an all you can eat situation, it's more of a challenge then a meal. I think, if given the chance, I could quite easily eat myself to death.
Several strong coffees and full plates later, we headed to the Venus show.
I always forget the sheer magnitude of this convention. Amidst the grey buildings and October sky it looms, an enormous red sign emblazoned with topless German Pornstars, smiling and welcoming every man and woman, with the desire to engage in the filthy and erotic, to come inside. We head past the long line of Porn fans and into the Venus press office to collect our badges. Immediately met by the press photographer for Sign magazine, who interviewed Misha and I on our first ever trip to Berlin with Evil Angel, and last year, hosted the Evil Angel booth at the show.
Misha and I posed for photos, showing off our (incredibly cool) Unicorn head bands, which would become the talking point for everyone that met us that day, before being hurried through the masses of eager filth hunters toward the German Adult News booth, who would be hosting us this year.
Every year that I visit this show it seems to get bigger, the volume of humans packed amongst the dildo stands and Porn booths make it incredibly hard to not pass out from the heat. Thank god Misha and I are sneaker heads and don't go for the stiletto option. High heels at a Porn convention are a downright no for me, we are on our feet in the slimey, sweaty heat all day. Signing, posing for photos and doing press. I at least want my feet to survive, even if my mental state doesn't. After being introduced to a very enthusiastic man who was delighted to meet John, we were told our signing time and decided to go do a little shopping before hand.
Every year at Venus, Baci lingerie has a stand, this stand is the main reason Misha and I love to visit Berlin. Every single item on the stand is €1, we take this chance stock up on our outfits for the next 12 months. Fishnets, stockings, body suits, lingerie, g-strings and bikinis in every possible color. Some not amazing quality, but for a solitary euro, who cares? The best thing about these cheap treats? It doesn't matter if they get destroyed, and in our particular brand of Pornography, outfits get destroyed. In fact, one of these euro treasures was worn in our group sex scene for Daring that was nominated 'Best Foreign Sex Scene' at last years AVN awards. The fishnet body suit was, of course, annihilated.
We headed back to our booth clutching bags full of goodies, where we signed copies of 'Hard In Love' for German Porn fans. I love meeting fans, it's part of what makes what we do so exciting. In Germany, we may not be as well known as we are in other parts of the world, but there are still fans waiting to meet us, and that makes it all worth it. After signing, the heat began to take it's toll on Misha and I. Feeling light headed in a room full of pumping techno, bright lights, live dildo shows and hundreds of sweaty human beings, is when it is time to leave. We headed in the direction of the hotel, in search of food. We came across a brand new tiki bar that served Vegan cuisine and played music that made me feel like I was in an Ed Wood movie, I was in heaven.
Insomnia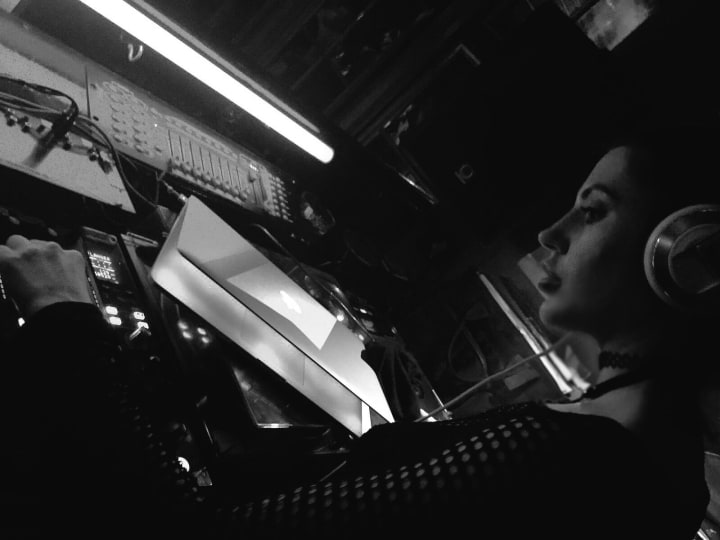 Another annual tradition for the Evil angel crew, is that we visit club Insomnia and promote the company with an appearance, this year I had been asked to DJ. Knowing that this was a particularly important show, I had spent the last month writing and changing my set, panicking, worrying and freaking out that it wasn't right. The owners of the club had decided to give me a peak time set, just to add a little pressure. They warned me that, if the music was not on point, people tend to leave. No pressure then.
After changing my outfit approximately nine hundred times, we were ready to go. Clutching my headphones to my chest and carrying my goddamn suitcase, because I would have to go straight to the airport after my set, we waited for our car. Some of my best friends were over from LA, by some miracle, on the exact same day, and had agreed to come with us. Making our crew even more 'on fleek' as the kids would say.
Insomnia is a legendary fetish club in the heart of Berlin, running for 10 long years and ALWAYS packed to the rafters with sexually charged night creatures. The dress code is strict and the cloakroom policy even stricter. The entrance to the club is forever packed with guys and girls slipping out of nondescript street wear and into latex and leather. The posters read 'sexy, fetish, black glamour' so no reebok classics and blue jeans in here. There is also a strict no phones and no cameras policy. Everyone must hand their phone in at the entrance, along with their jacket and bag before entering the club, into the dark room with high ceilings, decorated with laser lights, a giant swing, a mirrored stripper pole, and of course, a giant cinema screen that tonight is playing 'Hard In Love'.
We shot the opening scene to our movie in this very room, it begins with Misha being ripped apart by French beauty Jessie Volt and curvy, bubblegum pink haired Proxy Paige. After Misha is fucked into submission in the dark depths of the club, she enters the very room we are all partying in tonight, to see British dom Angel Long filming myself pole dancing. The entire premise of 'Hard in Love' was born in this club 3 years ago, when John witnessed the very real and very intense connection between Misha and I, and decided it had to be made into a movie. And here we are, back in Berlin, promoting our masterpiece. This club will always hold that very special place in my heart, so to be asked to DJ here was an honor.
At 1.30am, the dance floor packed, I was led to the decks. My throat was dry, I had been drinking water all night because I didn't want to be drunk and fuck up my set. The DJ before me was mixing on vinyl, I watched, mesmerized, before I loaded my USBs into the decks, and then it was my turn. Because I'm a baby, and also because I wanted to have a hot girl at my side, I made Misha stay in the booth with me during my set. I had also snuck my phone into the club in my knickers so that Misha could take sneaky photos of me as I played.
Concentrating on the decks and not daring to look up encase I had cleared the dance floor, I waited until I was 10 minutes in before I allowed myself a glance, I couldn't believe how packed the floor was, everyone was dancing. It is now ok for me to drink and start enjoying myself. The previous DJ complimented me on my set and, before I knew it, it was over. I walked out of the booth and rushed to the cloak room to get ready to leave for the airport.
John was nowhere to be seen. Misha and I took it in turns to run back into the club to look for him, I descended into the depths of the backstage area. As I stepped into the dark stairwell, I heard the door click behind me 'Please don't be locked' I prayed. Obviously it was. So now, I am stuck in a pitch black staircase, with no phone, no one is here, the door leads to a hugely packed club with music blaring, no one can hear me, no one knows where I am, and I have a flight to catch in less than 3 hours. It is safe to say I am mildly fucked. I began running up and down the stairs, panicking, until I found an open window leading to the street, my only option is to forget I have any pride, climb out the window in my patent black heels and fishnet stockings, and run round to the front of the club in the rain. Cool story bro.
By the time I got back, John had been found and was standing with the clubs owner to congratulate me on my set. After hugs and goodbyes, I jumped in my taxi to the airport, exhausted, sweaty, make up running from the rain but sad it was already over. I can't wait to come back and do it all again next year.
About the Creator
Born and Bred Londoner, Mother to baby Roman and my two pooches, Plant Eater, Yoga and Aerial Teacher + Learner, Music Maker... was once in Game Of Thrones, was once a Penthouse Pet, used to win awards for getting naked.
Reader insights
Be the first to share your insights about this piece.
Add your insights