To Whom May Wanna Learn...
Total Erotica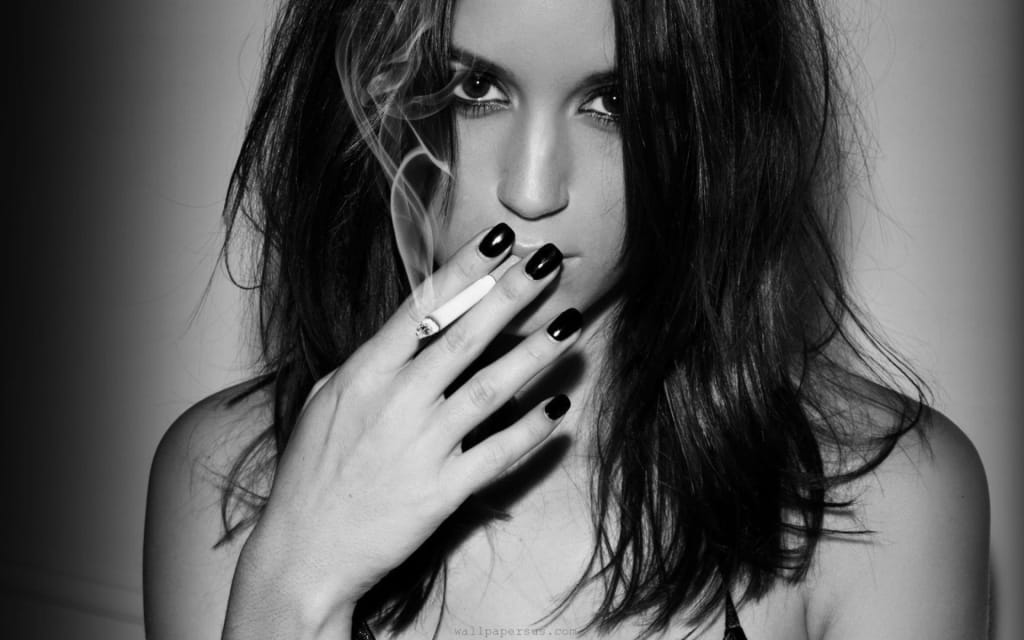 As I lay here in my bed, I wait for him to shadow my body with his. I have on his favorite lingerie. My black crotchless fishnets, he loves it too, everything I like and love. When we are together in bed, it is like our spirits are dancing together. I still patiently await my "Night Knight" to devour my every crevice. I'm on my back when he comes in. He quickly falls to his knees. He grabs me by my hips and thrusts my body downward and upward to where my soft ass is shifted up! He stops and just stares at my bottom for a few seconds. I'm just dying for him to start. He slowly eases his head close to my now wet asshole because my pussy has already started dripping my juice down, covering my asshole. He doesn't touch or kiss, or use his tongue yet. He slowly leans forward and blows ever so slightly with his warm breath on my puckered asshole. At first, he moves his head in a circular motion, as he blows, just enough for me to feel it. I'm dying for him to just jump right in. He loves to tease me! Ummm.. after a minute or two of this tantalizing pleasure, he barely touches it with the very tip of his warm tongue, slowly circling my pucker...
Keep Going...
He continued for another few long minutes. Just as he pulled his face up and out of my ass, Shwoosh! My pussy exploded all over his face! This was the 1st time my pussy had squirted in years! His faced was drenched! His eyelashes are kind of long for a man. I watched as my pussy cum was all over his face and matted all in his lashes. He opened his mouth to suck in as much of my juice as possible. Still grasping my ankles he then pulled my stockinged feet to his lips. He takes his teeth and rips the toes of my stockings, setting them free from their stockinged prisons! Most men as well did he, love my painted red toenails! Then surprisingly he stuffs his mouth with all five of my sexy little toesies. I wiggle them all around inside his mouth as fast, and as rough as I could without hurting him. After a minute or so, I don't know why; but, I figured he'd had enough of my toes in his mouth. I was wrong! I tried to pull them back and then he surprised me. He tightened his grip around my ankles and forced both my feet into his mouth. He had all ten toes wiggling around in his mouth.
I'm now on my back, it is arched up in the air. He sucking on my feet and toes like it were his last supper. No man has ever taken it this far! He was really taking advantage of me giving my all to him. Anything he wanted, I was his for the ravishing. He ran his tongue through every crevice of my feet and toes. Before I knew it, he quickly released my ankles, sliding his hands down to the back of my knees and pulled my body higher and dropped back to his knees. Plunging his face right back into my bottom. Now taking turns, lapping my juicy pussy and my hungry asshole. Back and forth he went. I could hardly take it! He sucked my pussy cum as hard as he could, and it felt as though he was trying to deliver my pussy cum that he then had in his mouth to inside my ass, using his tongue and mouth. His mouth and lips were so strong! Finally, I blasted inside his mouth one final time. I was ready and wanting to suck his cock so bad! I reach out and grabbed it as hard as I could. I couldn't wait to make it fuck my mouth! Oh God! He softly pushed back on my shoulders to stop me. He raised up and wiped his face clean of my juices from his face. He said "Na baby, that was just for you." Then he smiled and left my room. My pussy will never forget this! I can't wait to see him next week!
Reader insights
Be the first to share your insights about this piece.
Add your insights