The Softball Stud (Pt.1)
A Summer Story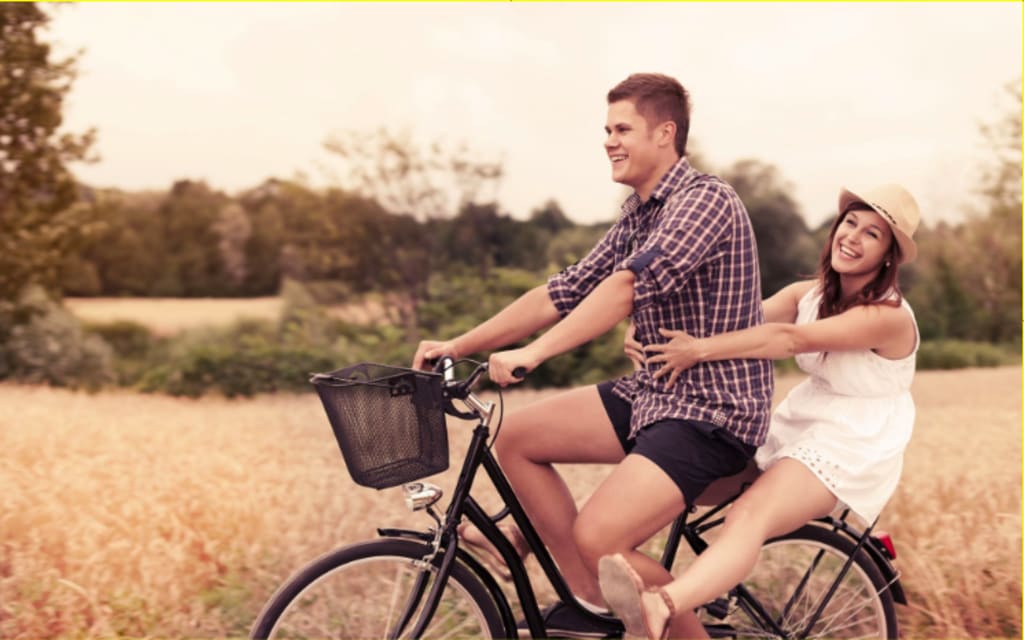 If our bike ride was this graceful!
Summer isn't summer to me without a softball team to play on. This year was no different. I was new to town, but I wanted to be able to play some ball in the mountains. The roommate of a guy I was seeing was on a team and I was eager to see if they had a spot for one more. Sure enough, they did. I should mention that from the get-go, I was always more attracted to the roommate than I was to the guy I was seeing, but we'll save that story for another day. The roommate, whom we'll call Jake, was well above six feet tall with shoulder length curly blonde hair and indifferent blue eyes. He once was hockey star and he was a natural athlete with a laidback "dude-man" approach to life. He was a stonemason who read conspiracy novels and I was fascinated by him. It helped that I was hopelessly attracted to him too and that he responded well to my deadpan boldness.
The only unfortunate thing was that he was loyal to his roommate/friend who had spent time with me first. I'd long since cut him lose, but his brotherly loyalty remained, which I both respected and resented for my own selfish reasons. Thankfully, I still got to see him each week at our ball games. I'd play third base, he'd play shortstop, and we'd have a great time teasing each other and cheering the other on. I knew I'd have to tread delicately if I wanted something to happen. I didn't want to seem desperate or needy, but I also wanted him to know that I was indeed interested in him. For the very least a summer fling. He'd flirt back and chat with me on the bench, but nothing much ever seemed to arise out of our encounters.
I'd long since given up that anything but friendship would manifest between us. The raw attraction wasn't enough and our personalities didn't align in a way that seemed to make anything easy. So my beautiful friend is what he'd be… but I'd still throw feelers out from time to time to see if anything had changed. The sociopath in me didn't seem to want to let it be.
The week of my birthday I was feeling hotter than the rings of Saturn like any true Leo would. Oddly enough, Jake's current stonemason work was across the street from the bed and breakfast I was working at. We ran into each other a few times and I flirted shamelessly. The cringiest thing I ever said was, "Well when you're done work one of these days, come over and eat my cobbler." He looked at me side-eyed for a minute, smiled and said, "Okay, I might." I smiled innocently back and said, "Sounds good!" before driving off. It wasn't a few minutes later that I realized how truly horrible that statement was and just had to laugh off the embarrassment of the encounter.
Later that week, after a particularly intense ball game, the whole team decided to stick around and drink the rest of the beer in the cooler. I had some hard liquor in my car from a party the weekend before so I brought it out to do birthday shots with everyone. It wasn't long before both bottles were polished off. Jake, in his liquored up chillness, decided it would be funny to tell the team about my embarrassing blunder. Thank god I can own stuff like that and am able to laugh it off. But on the bright side, the fact that it got to him meant that I was doing at least something right. Now was my chance!
As the sunset and the liquor coursed through my veins, I realized that there was no way I'd be able to drive home. Jake, the avid biker was about to leave as I raced after him to ask if he'd walk me back to the inn. He agreed and suggested I hop on his bike. I decided it would be a fun idea to try to ride on the front handlebars like every romantic comedy I had ever seen. Trouble was, we had to go down the steep hill of the ball diamond and I am no feather-light chicken! But, by the grace of God, and some smallish miracle, we made it down the hill without injury.
On the flat pavement of the road, my weight on the handlebars impeded his ability to steer so Jake suggested that I sit on him and we'd try riding that way. Drunk and goal driven, I didn't think twice about it. I hopped off the handlebars, went around and boldly straddled the man! Face to face, hip to hip, as if it was the most natural thing in the world. He held me up and smiled, but my torso wasn't long enough for me to sit on him and hold myself up on the handlebars. So back up on the handlebars, I rode.
The streets were empty and darker now as we rode along laughing, chatting, and enjoying each other's company. I learned that he was sensitive to the judgments of others and emotionally damaged by his upbringing. I was happy he was opening up to me and happier yet that he laughed at my jokes. All the sober awkwardness we had was gone now and we were able to talk like old friends, agreeing to get pizza and then hangout at the inn I worked at.
We sat in the dimly lit dining room of the inn, and as friendly conversation tapered off, we silently acknowledged the now undeniable sexual tension between us…