The Sex Life of Barbie
Perhaps we have much to learn from the American icon Barbie's sex life.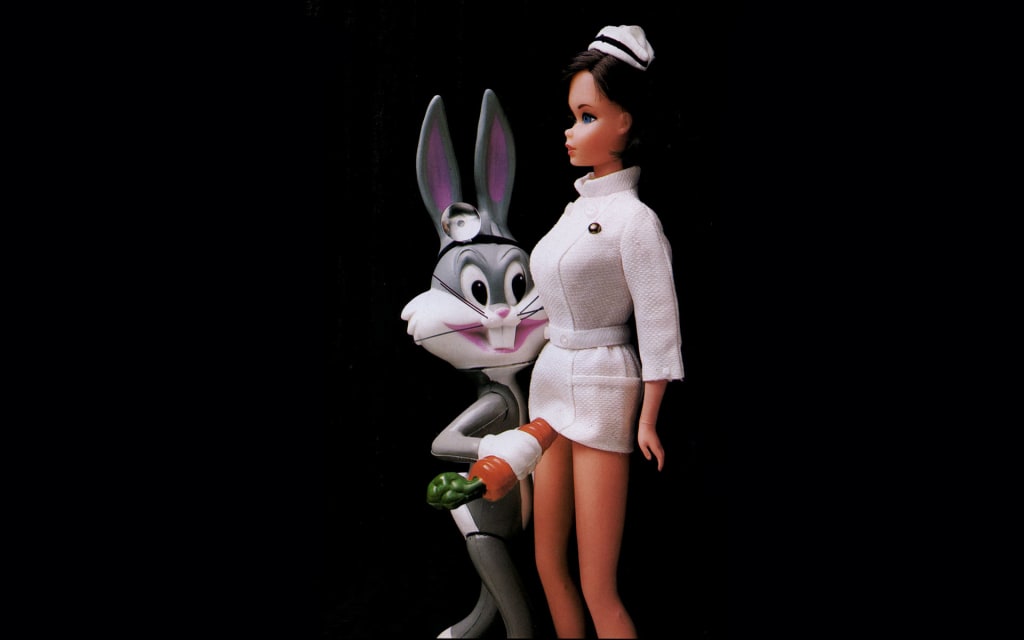 On the surface, the Ken and Barbie teenybopper dolls advertised on the Saturday morning TV cartoon shows never seemed very erotic. She may have been sculpted hot, but came off kind of a sexual given she had the same thing between her legs that Ken had; nothing. Ever since Toy Story burst onto the scene, giving life to these little plastic beings, Rule 34 seeped its way into toy land. Perhaps we have much to lear from American icon Barbie's newfound Pansexuality.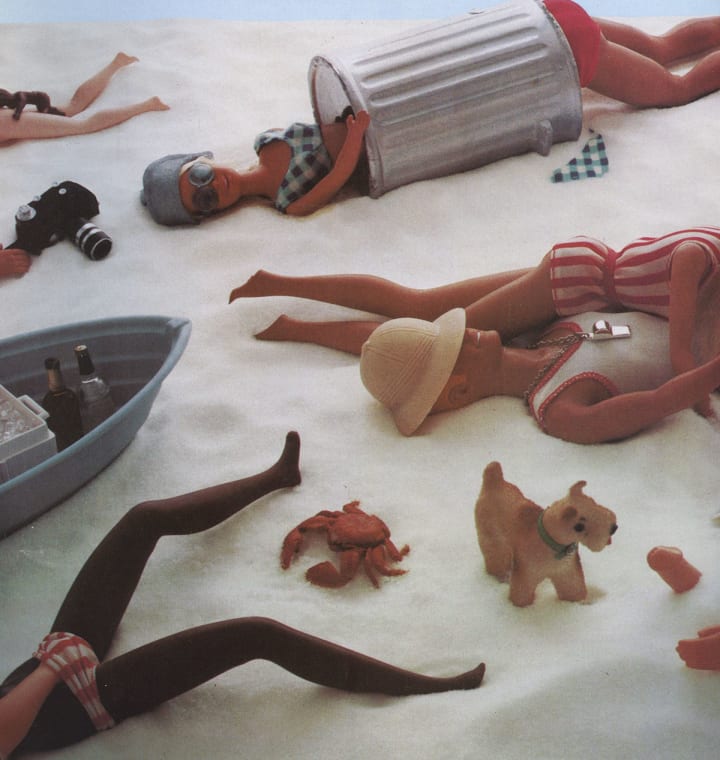 In fact, they seemed as prissy and sexless as members of the high school student council. But did you ever fantasize about what happens when the toy store lights go out. Do toys masturbate?
What did the Duck say to the Prostitute?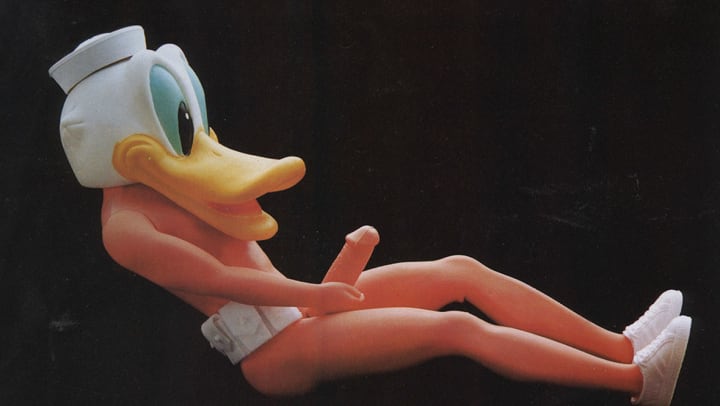 What did the duck say to the prostitute? Put it on my bill.
Was there a possibility of Bugs Bunny, Porky Pig, and the other rowdy, wisecracking cartoon characters crashing through the aisles of the old FAO Schwarz, like a pack of fraternity brothers at a keg party and irreverently socking it to the prim 'n' proper dolls?
Smoke this pole baby.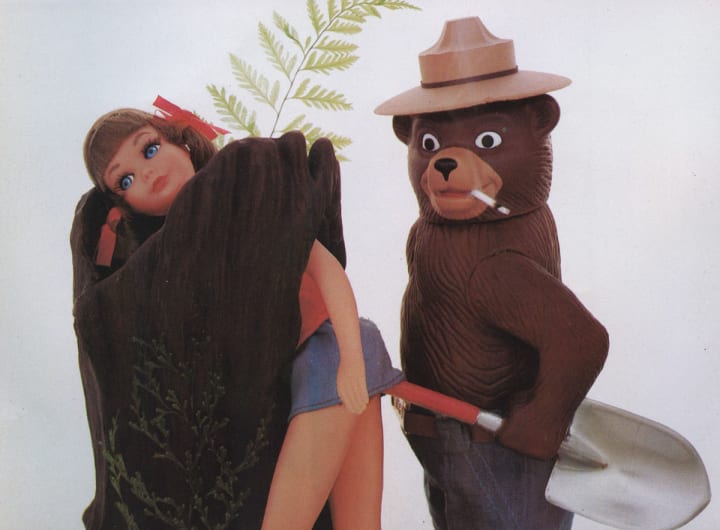 Barbie always looked like she could use a good spanking, anyway. Perhaps a little rough sex would loosen her up. Who knows? Maybe a full scale "orgy of the dolls" would ensue behind the locked doors of the Barbie Store in Buenos Aires, Argentina.
Once you go Black Ken, you never go back again.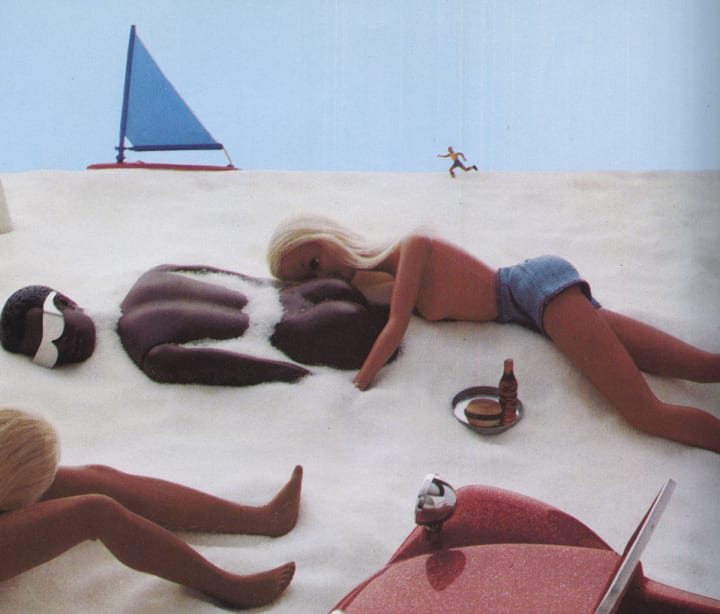 Such perverse fantasy took root in the fertile imagination of photographer Tony Lance, who turned many of these images into posters with a company called Slikpix back in the 1980s.
Howdy Nipple Time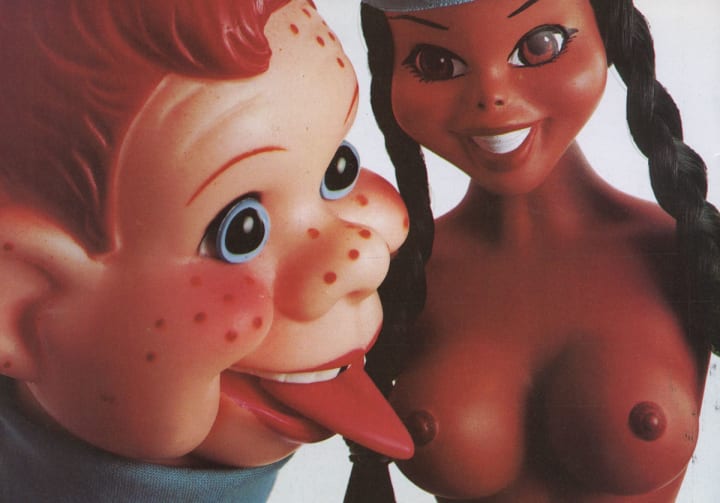 Maybe Bring Back Howdy Doody, written by Steve Dworkin should have added a lyric about his ebony fetish.
Barbie Horsing Around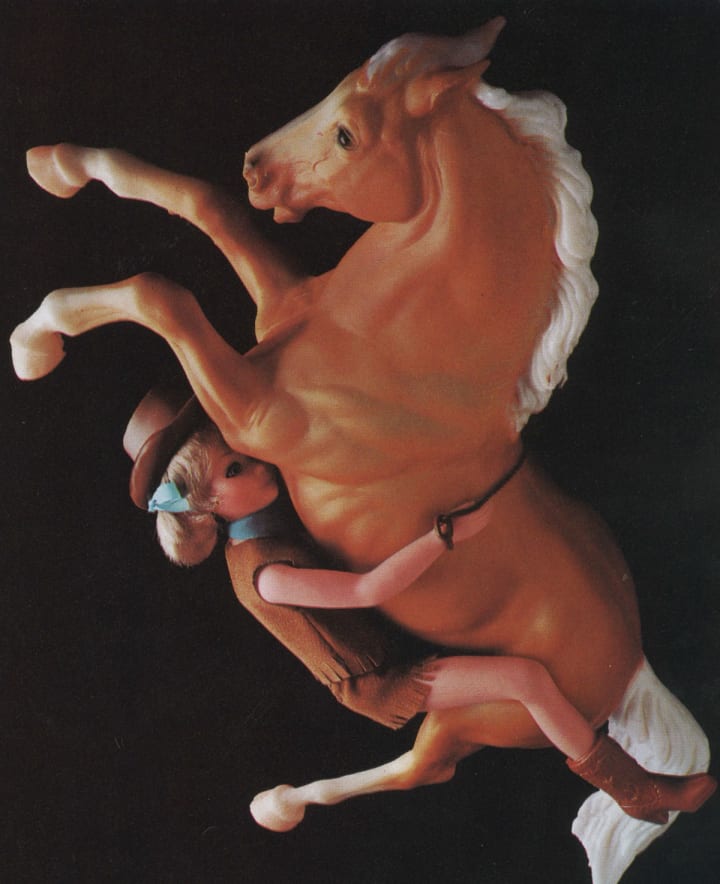 No comment!
Barbie and Ken in Love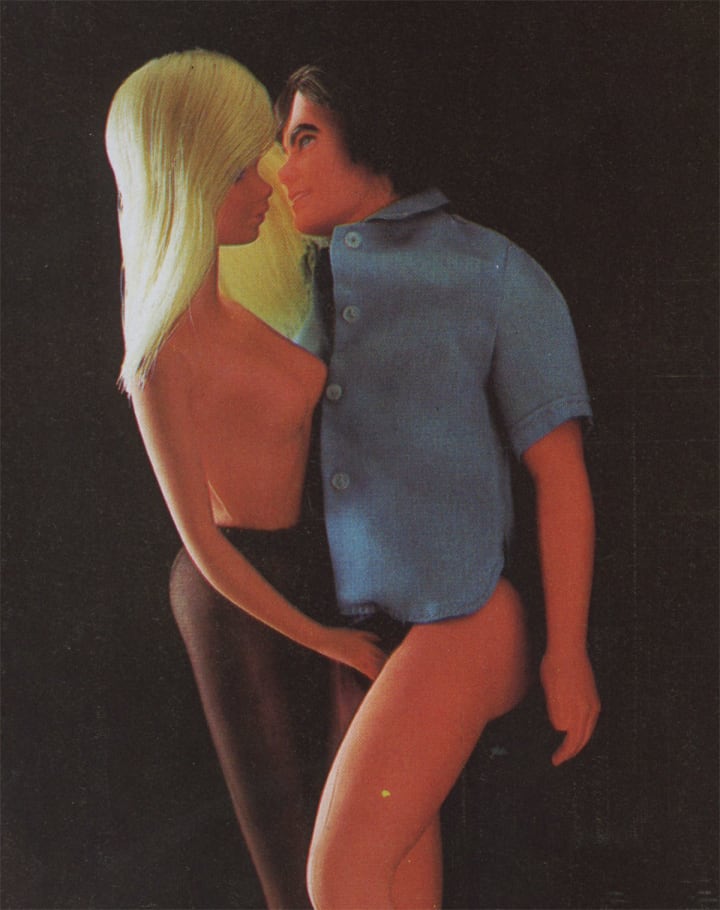 Ken's future now that Barbie is on the hunt can be summed up with this classic 1980s joke.
After a frantic search,a man desperate to buy his daughter the new Barbie for the holidays, finds a toy store, goes inside and attracts the attention of a shop assistant. When asked what he would like, he simply says "a new Barbie doll". The shop assistant looks at him in the particularly condescending manner that only shop assistants can muster up and asks
"Which Barbie would that be, sir?"
The man looks surprised so the assistant continues...
"We have Barbie Goes the Gym for $19.95, Barbie Goes to the Ball for $19.95, Barbie Goes Shopping for $19.95, Barbie Goes to the Beach for $19.95, Barbie Goes Night Clubbing for $19.95, and Divorced Barbie for $265.00"
The man can't help himself and asks "why is Divorced Barbie $265.00 when all the other Barbies are selling for $19.95?"
"That's obvious!" the assistant exclaims, "Divorced Barbie comes with Ken's house, Ken's car, Ken's furniture ....
Porky Pig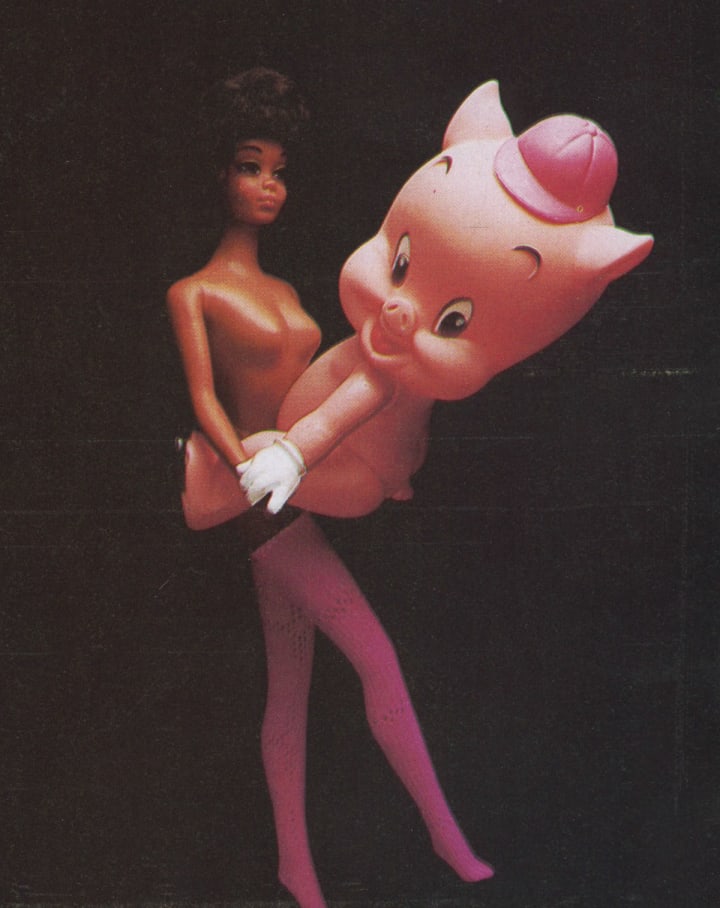 In contemporary pop culture Porky word play fills the pages of urban dictionary. Clearly his creator had more than his stout physical appearance in mind, because this guy loves porking barbie. Most importantly was Porky's sense of style.
Porky Piggin' It definition: Wearing only a shirt, no pants and no underwear, ala Porky Pig, who did not wear anything below the belt.
"I was video conferencing with my professor online today, totally porky piggin' it!"
Bugs Bunny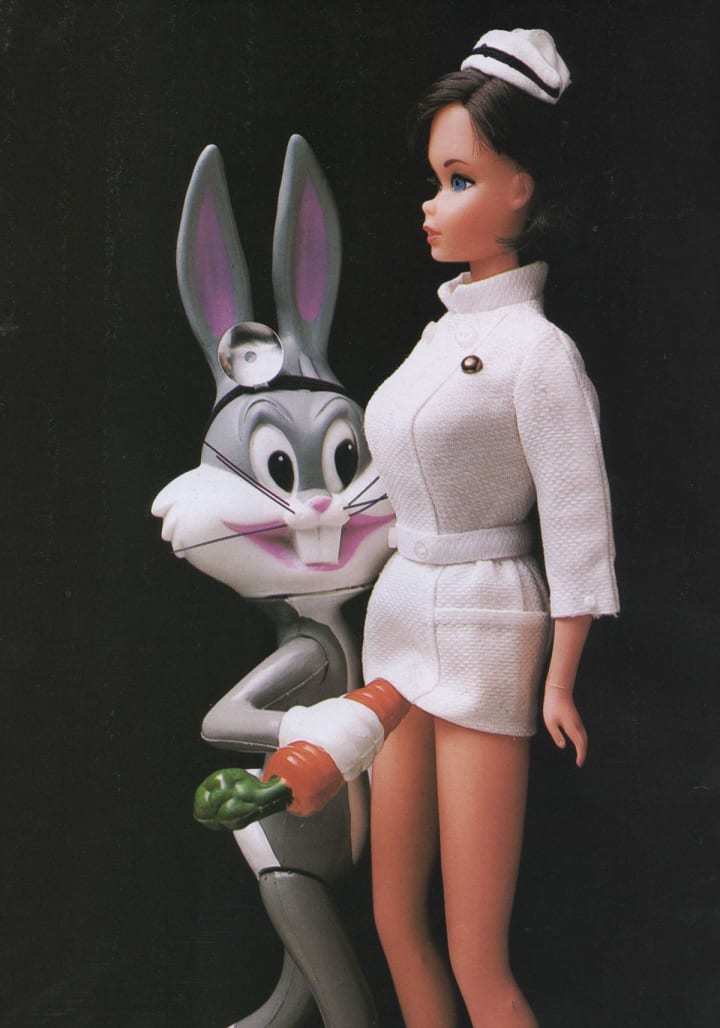 At long last answer the question that has been haunting Bugs Bunny for generations: "Eh, what's up, Doc?"
About the Creator
Grew up in Tel Aviv, Israel. Good looking and kinky. Loves the beach and romance novels.
Reader insights
Be the first to share your insights about this piece.
Add your insights