The Instructor
Real Wife Stories: Brazzers Review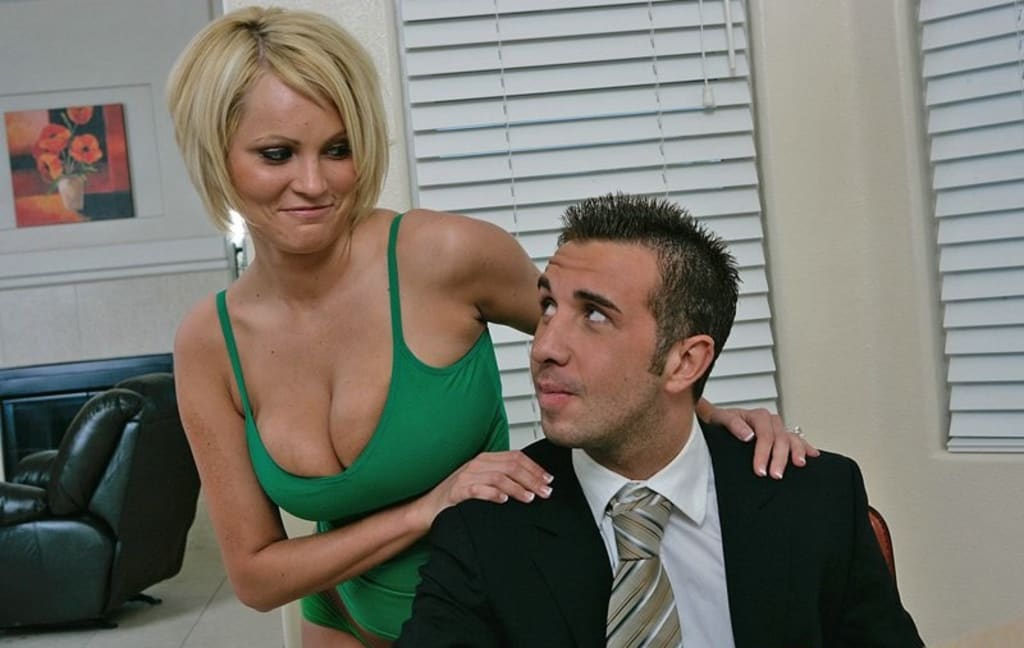 Brazzers have a variety of different websites under their banner, producing quality material and shots like a professional movie or television program. One such website is 'Real Wife Stories' where Brazzers take a real life scenario and re-enact it for the benefit of the viewer. We've all had this thought cross our mind while we're out at work: what is our wife/girlfriend really doing with her fitness instructor? Call it insecurity, call it being selfish, but this thought has crossed most men's minds at one point or another. Hannah Hilton and Kieran Lee play a couple whose marriage is in a crisis. While Hannah seems to be entering her sexual prime and wanting to see bedroom action at least twice a day, Kieran seems to be bored with the sexual aspect of marriage. The scene begins with Hannah getting dressed into some green bedroom wear before trying to seduce her husband. The acting is good, surprisingly, as this is Hannah Hilton's first ever boy/girl scene. She seems to be a natural actress and very seductive on screen. Kieran Lee is a veteran and, although he isn't performing, does a good job in the role of Hannah's husband.
Pilates, anyone?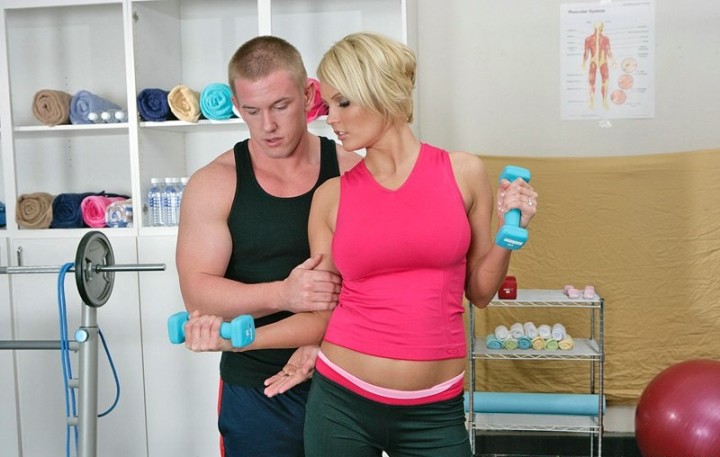 After rejecting his wife's seductive advances, Kieran asks what Hannah is doing for the rest of the day. Hannah replies that she has Pilates in an hour. Kieran gives a chauvinistic reply which makes Hannah pretty angry and bitter. It's a good setup, helps the flow of the scene, and gives motive behind the sexual activity. Both Kieran and Hannah deliver a convincing performance as husband and wife.
Hannah proceeds to her Pilates class with her personal trainer who happens to be Jack Venice. She's clearly having trouble concentrating on what she should be doing. Jack is professional and tries to motivate his client to look past the problems she's having at home. Venice is a good performer and has a good body builder look about him, which should please female viewers. Hannah, clearly on the pursuit for sexual satisfaction, manages to break down his defenses with suggestive questioning. Eventually, amid stretching, the two start lip locking and Hannah puts on display her natural, naked body. The scene uses a scenario which all couples have been in, a mutual attraction to somebody you encounter in your everyday life. Jack happens to be married as well in this scene, which adds to the realism; playing on the idea of married people in monotonous relationships.
This is a hell of a debut for Hannah. Her natural 34DD breasts look amazing and she has a nice tan for her first scene. The angles are unusually close for the sex; probably because Hannah is so photogenic.
Jack Venice seems to be willing to go to a lot of places most male pornstars wouldn't and shows good stamina.
Hannah appears to really enjoy her first scene, when she takes position in the reverse cow girl, her eyes seem to glaze with enjoyment. Think I would have enjoyed watching Hannah in some more standard pornographic positions, but there wasn't much to utilise in the scene other than the weight bench and the balancing ball. This doesn't detract from the quality of the scene, though. A particularly good shot is Hannah bent over the weight bench with a frontal view of her breasts.
Brazzers have chosen some very vibrant back drops, from the location at Hannah and Kieron's home, to Hannah's colourful costumes, and the bright gym; it just goes to show how professional they are when shooting a porn scene.
The Verdict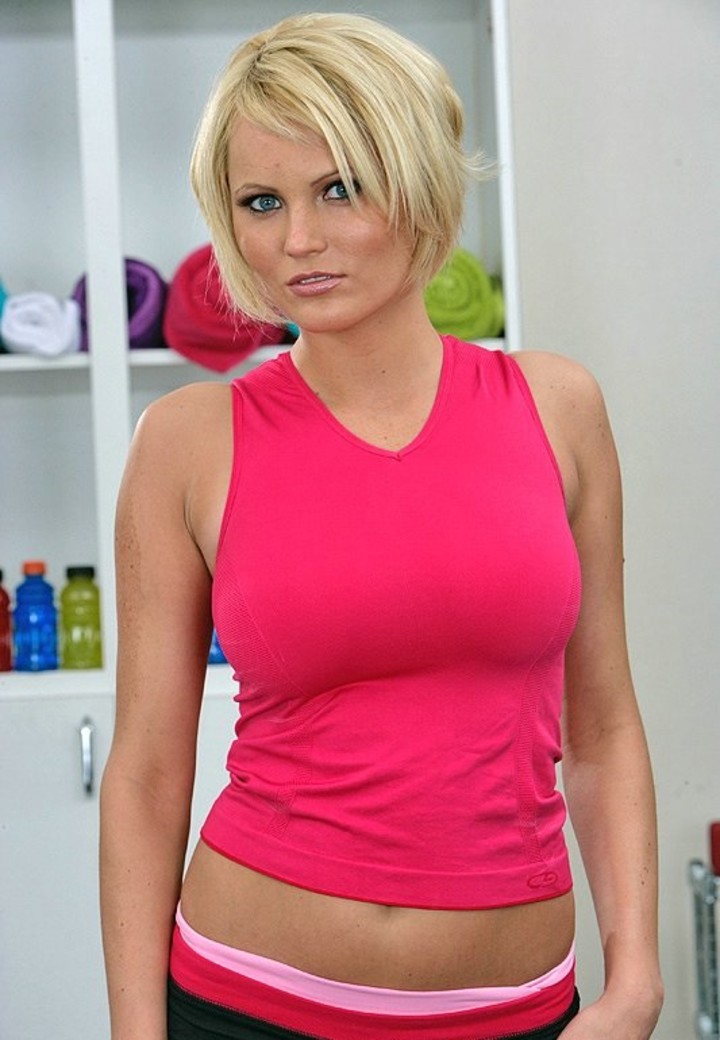 Excellent scene and awesome debut for Hannah Hilton. Quality actress, as well. Jack Venice and Kieran Lee are veterans, both really good in their respected roles. The sex is hot and by the end, Hannah's glamorous looks are adorned with sweat. Fans will love it. Scene is juxtaposed in smart looking locations, which adds to the whole attractiveness of the scene.
4.5 out of 5.
Great scene, well shot, well acted.