The Great Outdoors
An erotic short story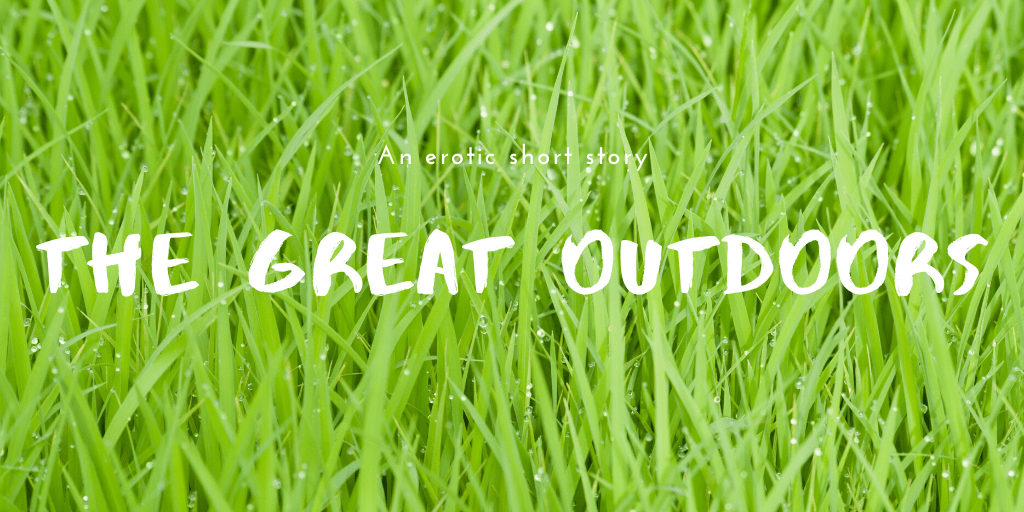 Holding hands, the two young women made their way to the park. Yuzuko couldn't believe her eyes; not a person in sight. On a glorious day like this, why was it so desserted, Yuzuko asked herself feeling tingling sensations between her legs. She had always been a woman with pride. Her black wavy hair touched her shoulders, her floral dress brought her petite figure to life. Her beige leather handbag looked twice her weight. She lived her life as the 'It' girl, the one who had it all. Of all the treasures she had from a priviliged upbringing, Sakura was by her her favourite treasure in the universe.
Her partner, best-friend and lover of many years, Sakura Kanagawa was taller and rounder. Still suffering from low self-esteem from playground bullies and online trolls who called her a pig. To Yuzuko, pigs were adorable, highly intelligent and super delicious. Yuzuko sighed, watching Sakura hang her head in shame. Even after all these years, she still felt responsible for Yuzuko's husband's suicide and turnimg their world upside down in the reality tv show that changed their lives.
"What's up?" Yuzuko asked. They had come here to unwind. Yuzuko knew this park like the back of her hand. How could she ever forget the place where they first kissed and fingered each other.
Sakura removed her white coat revealing a sleeveless polka-dot dress. "Just a lot on my mind."
It was the most obvious lie Sakura had ever told her. "That was the past. We should move on now." Touching her shoulders, she felt the sun's warmth transfer on her palms. Skin-to-skin excited her, especially when it was Sakura's curves.
"If only it was that easy," Sakura whispered, leaning onto Yuzuko's shoulder.
She stroked her hair and massaged her breasts. Soft cries erupted from Sakura's lips and as Yuzuko's fingers curled around the nipples, they poked out of the dress. Noticing how Sakura pushed her shoulders back and licking her lips, Yuzuko pulled the dress down.
"Does that feel better?"
Sakura nodded, clutching onto Yuzuko's cheeks and pressing her mouth against her lips. They had done it many times before amd tried almost every kink imaginable, but the great outdoors was by far, Yuzuko's favourite. There were too many reasons for Yuzuko to list in her head, but the feeling of Sakura's hands exploring her body with the background of trees and the fresh air ticking her skin. Winds may be cold, but Sakura's hands were hot... the balance was just right.
"Let's go deeper!" Yuzuko suggested, winking as she grabbed Sakura's hand as they ran into the woods, following a trail of pansies to the lake.
Lucious green pastures, gentle grass and squirting fountains beside the lakes. Sakura removed her dress and stepped out of it. "This place is beautiful."
Sakura had the best underwear: no underwear. "Not as beautiful as you." Yuzuko wrapped her fingers round ner shoulderblades and tugged the sleeves. Of course, she could remove the dress herself, but it was much more fun to have Sakura do it for her.
"I can't believe you still think that. How could someone like me end up with the prettiest girl in Kyoto?"
Hugging Sakura, Yuzuko reflected on the fifteen years they've been together. "Because you're kind, and amazing and that's never changed." The big breasts, curves and gorgous flower tatoos were the icing on the cake. "I love your body, your boobs, your garden, but most of all, I love your heart."
"So when are you going to take your dress off?"
"I was waiting for you..."
"I'm already naked."
"I meant I was waiting for you to take it off." Fingers pressing into her waist made Yuzuko pant. Sakura had a special talent in making her feel sensual with her hands. She wouldn't have it any other way. Sakura was honest with herself even when society disliked it. As someone who was raised to be obiedient and comfirm to society, she found Sakura's rebellious attitude hot.
"You're a naughty girl," Sakura hissed with a snake-like smile. She fulfilled Yuzuko's wishes. It was good to be bad. Their dresses joined together in a yellow and pink lump in a patch of grass. As they lay on the grass, they could not keep thier hands or their lips off each other. They took turns on top, rolled around the grass and carried on kissing. "Yuzuko...you're soaking wet."
Grinning, Yuzuko used her best fingers to penetrate Sakura as spooned together. "So are you... and that's the way it should be."
Laying on their sides they faced each other. Sakura always wore makeup at work, but without it she looked even more beautifuller than she ever did before. Waking up to her was like sleeping with an angel and finding they never left. Yuzuko mimicked Sakura's movements, reaching for her legs and stimulating the vulva and G-spot.
The sounds Sakura made were orgasmic, enough to make Yuzuko squirt all over Sakura's hands. With her back on the ground again, Sakura got on top to scissor her. The wetness soothed the friction between the rubbing vulvas.
She didn't want it to stop. Humping, their bodies guided each other into a grinding position. Yuzuko opened out her legs more for comfort. Her body was aching, but she didn't want to stop until Sakura got her orgasm, and she wanted to see Sakura's face as she screamed in pleasure. Massaging Sakura's breasts, she kissed her again to help give her partner the climax she deserved. Sakura gasped as if her body had exploded and imploded into Yuzuko's arms. It was times like this when Yuzuko felt her busy life was worth it.
Peering over at the lake, Yuzuko cradled Sakura's hair and said, "I think we should go for a swim."