Temptation Garden by the Sea
Which temptation do you desire?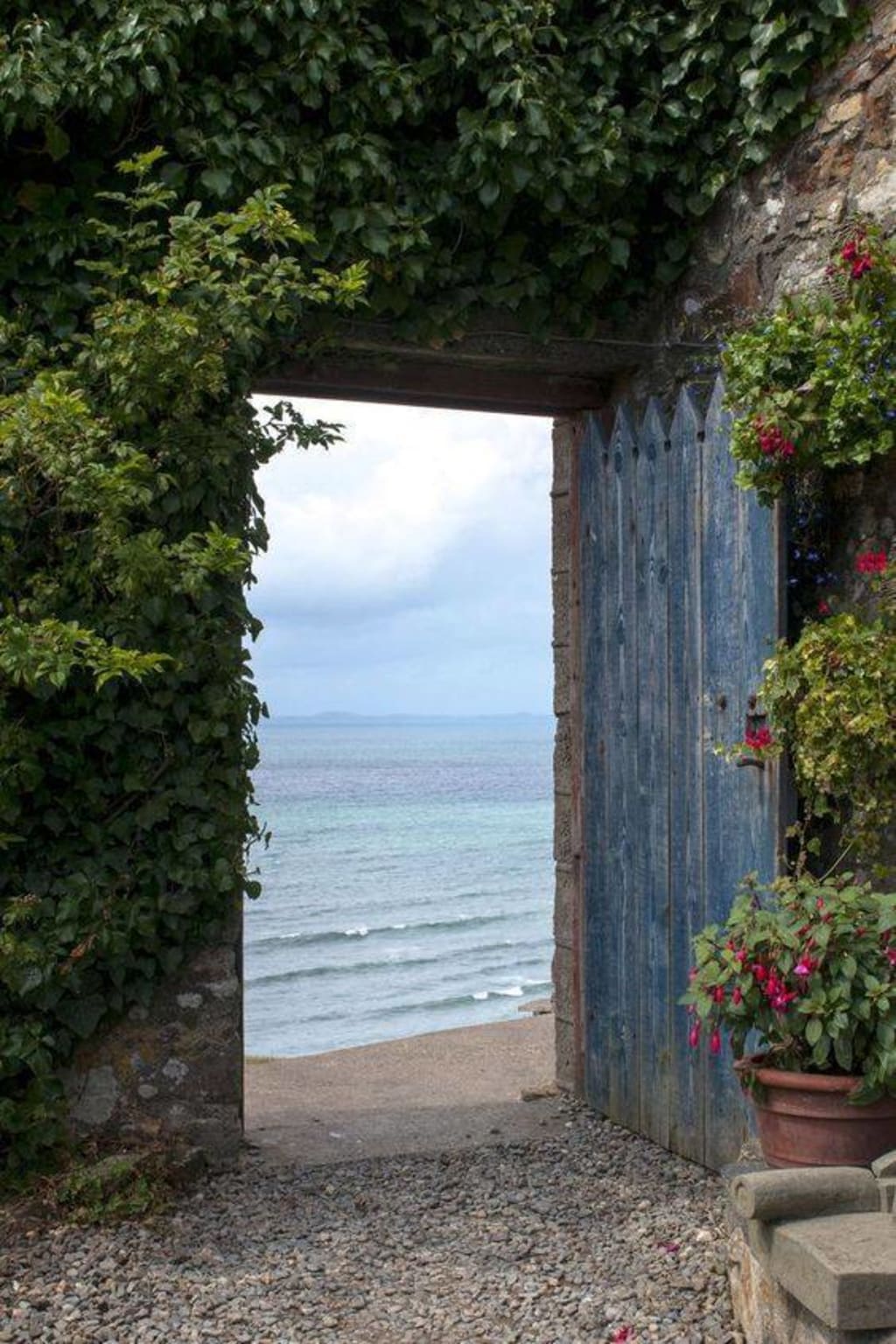 A picture perfect image lies before my eyes this late August afternoon. Blue salt waters and warmest breezes engulf all the beautiful half naked people enjoying the pleasures of nature. Life on a beach is like having a constant erection. Senses are always in overdrive at all the fascinating sounds and intriguing images.
I stumbled upon this garden by the sea one evening when I was out for a run. It was on a dirt road lined with grassy fields, there was no one in sight for miles up the flat deserted strip. Up ahead I see a huge stone wall with a gigantic wooden door. It was covered with flowers and greenery. Not sure how the greens were growing on the stone but it was obvious that I was looking at a garden gate. The closer I get to it the more questions I ask myself. What is behind there? Should I open the door? Why is it here? The door suddenly flew open, startling me causing me to jump back. There stood my love at first sight.
The most stunningly beautiful blonde giggled at my expression before asking "What brings you here handsome?" I was out for my run when I came upon this place. Her eyebrows rose when I said, "came up on" It's like they were connected to my cock cause it tingled instantly. Seems like an odd spot for the road to end, I said to her. She said I had it all wrong. Through that door is where the new road begins and it can be quite a journey, only those with courage, desire and an open mind shall enter. We call it Temptation Garden By The Sea.
My nipples went hard and my dick started pressing up against my shorts. It's hard to be discrete in gym shorts and Blondie wasn't shy about looking at my massive erection, now throbbing to be touched. I'm not gonna lie, the name of the place had me not only horny but intrigued. I really wanted to know what was behind that door. She could sense my curiosity and I was hoping for her to invite me in.
Her eyes scan up and down my body, like some kind of machine taking x-rays. I was a stranger to her but I could tell she liked what she was seeing. Her nipples poke through her bright pink bikini top and I envision sucking on each of them, rolling them softly with my tongue. Wonder how she'd like the warm, wet, tongue of a stranger.
She tossed her long blonde hair over her sun kissed shoulder as she turned to invite me in. I could feel my heart beating lightly as the wooden door swung open. We were by the sea, beautiful flowers lined the outer wall to a massive area covered by plants and trees. There is bright colored, carefully placed, furniture all around, making the atmosphere very inviting.
Men and women are everywhere, embraced in each other's arms, some walking, lying on blankets while others were making wild passionate love. It was like a dream I had as a young boy, only this time it's right before my eyes. The air was salty, waves were calm, and you could hear moans of pleasure everywhere you went. Goosebumps covered my fit body and I was in complete awe, all hairs standing on end. I was super excited about their no closed door policy, can't wait to see what's before me.
Temptation Garden By The Sea is a perfect name for this place. Everywhere you go there is an opportunity to explore and adventure. People are free and open to whatever it is you seek. It is up to you where or what temptations you choose to embark in. Whatever choice you make the result will be the same. You will leave satisfied, one way or another.
My nerves were dancing on edge, I was so friggin excited. Blondie told me she would be my guide. No one there used names, only descriptions of their physical stature. I called her Blondie and she called me Handsome because of my good looks and muscular disposition. I didn't mind, I just wanted her on my most powerful muscle sliding up and down. Not yet though, we are just getting started.
I watched her ass through her silky, colorful sarong. I was hoping the sarong would slip to the ground although it could be a wonderful asset for what's yet to come. There goes my cock again, even my own thoughts excite me, I'm perfect for this place.
The first couple we walk up on are tucked away sitting on a blanket surrounded by rosebushes. The woman is sitting in front of the man having her neck and shoulders massaged. Both are naked and well aware that we are there. They smile and wave as we walk by. I thought, "hmm I wonder what else we're about to see"? Blondie asked if I was okay because it was my first encounter with naked strangers. I thought it was awesome.
To the left two couples were sitting on a picnic bench looking at the ocean. They were all topless drinking pink slushy drinks. They too smiled and waved as we walk on. Everyone here was happy and relaxed. Kind of wish I wasn't wearing gym shorts, at least my bulge subsided enough to walk half way normal.
Up ahead under the red maple tree a man and woman were kissing quite heavily. She was pushed up against a tree while his hands ran up and down her skirt. They couldn't see us but I could see his hard on pressing up against her as she ground her hips on him roughly. Her hands pulling his hair as she bucked away. It was hot, heavy, and making me horny. Blondie gave me a little wink cause she could hear my breathing become heavy.
Lilies, orchids, and geraniums line many different paths throughout the tempting garden. It was a safe spot where everyone was relaxed enjoying sensual pleasures of all types, always in the company of others. The place had a warm glow to it. It was ecstasy.
I could see a group of people out of the corner of my eye. They weren't close so I'm not sure how many, maybe six. All were swimming in a huge oval in ground pool that was partially enclosed making it dark. A glow from the white string lights around the pool and candles on all the round tables made the room romantic. It screamed sex appeal.
There was a bar in the corner where two tall slim blondes sat in thin summer dresses. Both wearing bright red lip stick in deep conversation. My first thought was lesbians and my dick instantly went hard again. They were totally seducing each other, using their fingers to trace outlines of each other's titties, it was so hot but had nothing on the moans coming from the sauna.
Even the sauna didn't have a door. If you were inside you could see the ocean, flowers, paths, fiery stones and anyone that crossed the front door. A petite brunette made eye contact with me and let out a loud moan of desire. I looked down her naked body to a man on his hands and bare knees licking her pussy like a dog. His fat wet tongue was licking her from top to bottom. I actually gasped at the sight, it was the sexiest thing I have ever seen and I couldn't pull my eyes away. It took everything I had not to touch her and help him lick her to ecstasy. I just waited and watched with a throbbing cock aching to be touched, while she squirmed in pleasure.
Blondie smacked my ass and brought me out of my trance. My face turned pink but she continued on unscathed by the sexual pleasures we were encountering. It's obvious she has been here many times, hell she's my tour guide. Maybe she owns the place and has her own plans for me, hope she includes the sarong.
Down by the ocean, a group of girls in their late twenties are skinny dipping. At that point, I thought I died and gone to heaven. There was thin ones, short ones, tall and small, blondes, brunettes and red heads. Everyone was laughing, I look over and this seemed to pleasure Blondie. Her look went from flirty to lust, she was really liking what she was seeing. I could sense her desire filling her up, maybe it was mine but nonetheless we were getting all charged up.
The girls laughed and splashed around the water, some picking each other up for chicken fights. Thought I was going to pop a load at the sight of a naked pussy on the back of a chick's neck. Titties were everywhere and the place was getting so damn hot. Watching the girls lather each other in sunscreen brought goosebumps to the surface and my cock bounced with excitement.
Slippery, silky titties in the petite hands of a woman was turning on Blondie. I know there must be a wet spot soaking up her bikini bottoms. Hope she lets me run my wet fingers up and down her glistening slit, I'll pay close attention to her rose bud giving it small swirls with two of my fingers. Wow, the thought alone makes me want to jump her right now, but I must refrain until the time is right.
We start walking again and she asked what my opinions are on gay men. I don't know any and have never been in the company of any so I'm not really familiar with the scene. I always thought to each his own, not my business. "I like pussy!" she laughed and told me to brace myself for the cave. So many sexual scenarios shot through my thoughts, that in itself, made me excited and a little nervous.
The cave was made out of bricks and was rather large. It has a fire pit in the middle with benches surrounding it. A dozen beds have been built into the walls surrounding the room. Each bed housed two men fully engaged in sexual pleasure. The benches were filled with people watching. I have never seen anything like it. Smoke from the fire filled the dim lit room and you could almost taste the sex in the air. I felt overdressed so I finally ditch my clothes in the cave. Of all places to leave them, I even surprized myself. My cock standing at full attention, Blondie gives me a nod of approval and a sly little grin before we head on our way.
I could see the stone wall and wooden garden gate door up ahead, this meant the tour was quickly coming to an end. I had to make a move soon if I wanted Blondie sucking on my dick, and boy do I ever want that. Little did I know, Blondie had other plans. We walked up to a huge hole in the wall that she called her chambers. I could smell leather coming from the opening and could see straps hanging from the black padded walls.
Up against the wall was a red velvet bench, with strapped cuffs for your wrists and feet coming from the ceiling. I could feel my knees go weak at the sight of all the dildos and oils on the stand beside the table. That is some kinky shit, I thought. There were whips, flogs, gags, and balls that go in all sorts of holes. I have never seen anything like it in my life. All beside the ocean in a beautiful garden. Is this a fantasy, or am I dreaming, went through my mind many times until I felt the silky sarong wrap around my head, covering my eyes.
Blondie gave me a choice that was not an easy one to make. She said being blind folded, sitting back and relaxed would help me decide. To be honest, the blindfold had me super excited. Just thinking that she might touch me and I wouldn't see it coming brought tingles to my spine and made my throbbing cock bounce a bit. I know she could see it but not yet feel it.
She proceeded to speak. You've now been through Temptation Garden By The Sea. I could feel her presence getting closer to me as the warm breeze touched my skin. I wish I could see her in that pink bikini or even better feel for that wet spot. "Oh, I see you're having a naughty thought," she said. I blushed and grinned with embarrassment.
On our walk through the garden, we saw many acts of sex. Which group or room tempted you the most? What do you want badly? Where would you like to begin? How horny are you? So many questions and all the answers rolling through my mind. Was it the naked couple massaging on the blanket? Two topless couples drinking slushy on the picnic bench? The man and woman up against a tree, waiting to be watched?
Everyone turned me on, the six people skinny dipping lit a spark in me. All the beautiful bodies rubbing against each other really got me going. Maybe I'm a voyeur at heart cause watching excites me. Red lipped lesbians can make any dick hard. I wonder what those wet lips would feel like, tempting, but I would want to include the hot petite brunette that loved getting her pussy licked.
My options are plentiful and I am raging hard listening to Blondie recap our journey through the garden. When she got to the ocean chicken fights my cock bounced at the memory. She got closer to me and touched both my nipples with her thumbs and forefingers, reminding me of the lesbians and the sunscreen. She was just above my cock and I was so horny. Even talking about the gay men in the cave turned me on. It kind of made me want to get off then and there. I am ready to suck, fuck, lick and blow my load while everyone watches in the stands.
Blondie knows how turned on I am but still hasn't touched me. The blindfold is still on my eyes and I anticipate the best is yet to come. No pun intended. Both wrists are now in cuffs when I smell the leather. She whispers in my ear, "was it the chamber that tempted you the most?" With no time to respond she straddles my lap, breath on my neck and earlobe, I want inside her. Is she still wearing the pink bikini? I can't even touch it to see if its wet. WOW! Guess I don't have to! She slid her wet bikini bottom to the side and slid the tip of my cock all over her slippery wet pussy. She moved her hips in small circles never inserting the head.
Her lips met mine and the taste of spearmint filled my mouth as our tongues danced together. I want to lift my ass from the chair and plunge deep inside her but refrain because I like the lack of control. Being powerless turned me on, this was just like the ultimate wet dream only it exists and with any luck, I can relive it again. All of a sudden, I felt it! Her pussy is so hot, wet and tight, I was in her fully!
She removed the sarong from my eyes and uncuffed my wrists while she slips up and down my engorged cock. She felt like a velvety goddess. I took her head in my hands as we kissed while pushing deep inside her. She screeched as her pussy ground hard against me. Orgasm after orgasm released from her body. Her moans of excitement filled the garden.
People starting forming around us watching Blondie lash out in pleasure. She bucked and thrashed, taking it all, like a hardcore slut. If I had to guess, I would say she spends lots of time in the chamber. Everyone paired off and an orgy freak show started. Everywhere you look there was dick, tits, ass or pussy, better than any porn I've ever seen.
I could feel myself ready to cum and so could Blondie cause during her orgasm she stuck her wet pinky finger up my ass and we exploded at the same time. Cum dripped from her pussy as we watched the other guests erupt in pleasure.
The biggest garden temptation by the sea started for me at the front wooden flowery door. A beautiful blonde invited me in and I fought the urge to fuck her the entire journey through the garden. The sexual activities along the way got me even hornier for this woman of experience. I can't wait to see how she tempts me in her lovely garden again.