Taurus + Libra Sexual Smut — Tinder Hookup
A Detailed Hookup Story of a Sexual Encounter I Had with a Libra Man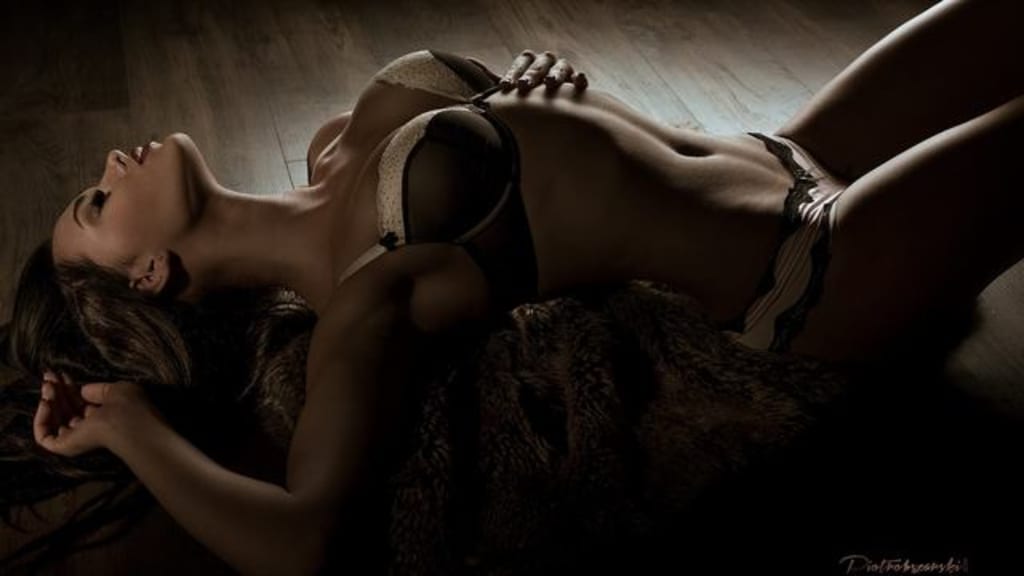 This is a continuation of my previous story, "I Can't Get Over My Tinder Hookup" where I described the beginning of a date that I'll remember for the rest of my life. Just to recap, I left off at my hot Shawn Mendes/Taylor Lautner hybrid Tinder date Netflix and chilling with me at my house. The sexual tension was gradually but passionately building as we started watching New Girl on Netflix. We were on my bed and he sat on my right when he smoothly put his arm around my waist and then proceeded to go a little lower. Damn. He skipped the shoulder and went straight for my ass. He traced his finger in no particular shape on the curves of my ass. I could feel myself getting wetter by the second.
I said something regarding the show and when I finished, I turned to my right, finally facing him. I have tried time and time again to remember how it happened but suddenly we were kissing; I was sitting on his lap facing him. As a Taurus woman, I am deeply sensual and decided to run my hands through his soft hair which merged into a fade. Typical fuckboy haircut, I smirked inside my head. He must be good in bed — he clearly has great style. Another aspect I look for is style and aesthetic. As someone super feminine, I am really attracted to a manly, clean-cut appearance.
A few minutes later, I found myself grinding on him. This was an automatic reaction to how turned on I had been just making out with him. I wanted more. He was turned on too since he started kissing the right side of my neck and went lower to my boobs. I pushed my bra down so he could have a good view of my hard, enlarged nipples. He started sucking on my right nipple which was an ecstatic sensation — yes, I am one of those people who gets turned on my nipple play. I wanted him to slightly bite my nipples and make them as wet as possible... I was already soaking wet down there so why not spread the wetness.
Speaking of spreading, he flipped me over so I was on my back. He had taken my bra off and my little black dress had come off. My soaking wet panties were still on. He started touching me through my panties and asked: "Does that feel good?" Ugh yes. It felt amazing. Five minutes in and I already knew my bedsheets would have to be changed. That was a good sign and truly set the tone for the rest of the night. Soon, he seductively took my pink, wet panties off.
He started fingering me at a medium pace and gradually built up momentum. With two fingers deep inside my pussy, I was getting ready to cum. Wait, but there was more a lot more to come. I was staring at his defined lifeguard abs just when he shifted to go down on me. I was writhing in pleasure with an arched back as he licked my clit like no one ever had before. He was practically making out with my pussy lips while I was tugging on his luscious hair. I was breathing heavy, moaning, and letting out gasps of pleasure as his tongue took me to paradise.
Then he did the thing that every girl lives for — the duo of simultaneously fingering and licking my tight little pussy. What drove me wild and essentially made me explode was him looking deep into my eyes as he devoured every drop of my pussy juice. To top it off he finally placed both his hands on my boobs while he cleaned up on my now dripping pussy. I didn't even think of any other guy (not that I usually do) because I was so immersed and just felt one with this incredible experience. Struggling to even find words, I exclaimed "You're literally every girl's dream!" after which he kissed me passionately, giving me a sense of what I tasted like down there. I was elated beyond belief.
Fuck, I thought. How is it ever going to get better than this? I repaid the favor and went down on him before finally moving on to some good old fashioned fucking. I started off with a hand job for a few seconds until I put my tongue on the tip of his throbbing cock. I made eye contact as I seductively swirled my tongue around until I finally took it all in and went as deep in as I could go. I bobbed my mouth up and down his manhood, anxiously anticipating him asserting his dominating over me after our episode of reciprocated oral. I consistently gleamed upon him with bedroom eyes.
He then proceeded to ask, "Are you down to fuck?" I was pleasantly surprised but humored at the manner he asked for consent — or more so amused by the fact that he even did.
"Yeah, sure," I responded.
He then asked, "Are you sure? You can say no..." At that moment, I wanted him to fuck me more than ever. I didn't dare say it but in my mind, I was begging to have him in inside of me.
He finally put his throbbing cock in slowly; I was still tight as this was only the second guy I proceeded to have sex with. We only did it missionary style, but my god I still crave the intimate manner in which he moved around while on top of me. I was fixated on him the entire time. I was intensely staring into his eyes as he fucked me passionately, but sensually. "Is this the right speed?" he questioned. At first, I told him it was perfect but deeper into it, I told him to go faster.
"Faster, faster," I moaned and begged at the same time. I wanted nothing more than him to dominate me. And dominate me he did. I played with my boobs and fingered my clit as a response to the intense pleasure I was feeling. He finally leaned in closer as if hugging me and whispered: "I'm gonna cum because of your tight little pussy"... That drove me crazy. I came for the third time that night.
He finally came and just lay on top of me for a few seconds. We then lay there stark naked and cuddled, his moving his magical, seductive fingers on the curve of my waist. I had never felt more comfortable with anyone. I offered to suck him off in return for the mind-blowing, unreal encounter I had the privilege of experiencing. This happened two months ago and I have since hooked up with another guy but I have been fantasizing about my Tinder hookup every day and night. I'm hoping to see him again in the next month or so, as he is coming back from college for the summer. I would give up almost anything to experience just one night with him after that heavenly experience. Taureans and Librans are supposed to be some of the most seductive, sensual, and romantic signs especially with each other... this night more than proved that...
To be continued.... hopefully.