Surprise
I surprise my husband.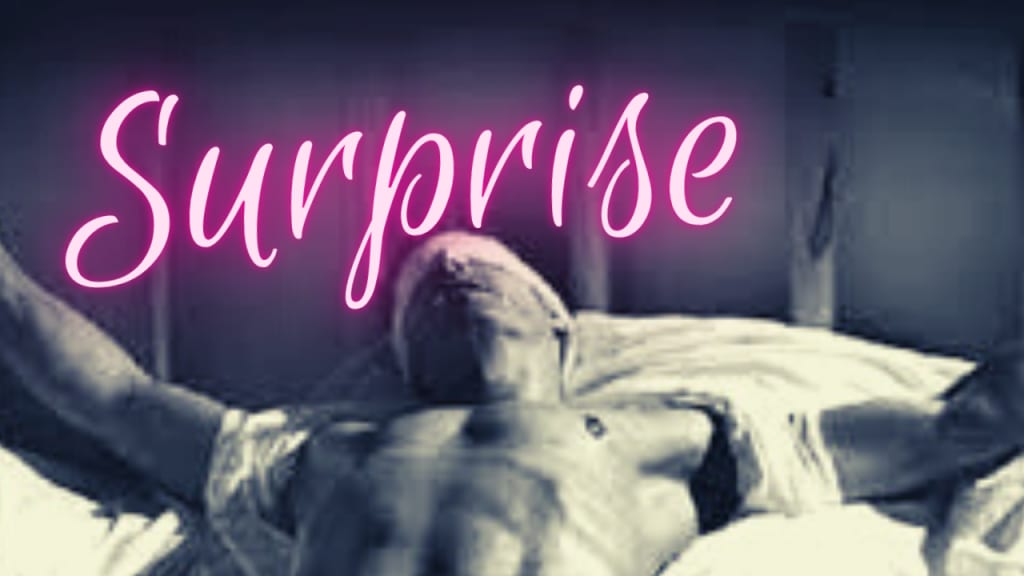 Tonight, I'm surprising my husband.
I'm at the hotel now, setting up the room.
I put bed restraints on the mattress and covered them with the top sheet. The blindfold is placed neatly on the pillow.
There's a knock at the door. I answer.
It's my girlfriend, Cassie. I open the door.
"Yay! I just got the bed set up!" I say.
"Oh yay!" She replies, leans in and kisses me.
"Head into the bathroom, he'll be here soon" I tell Cassie.
She sassy walks her sexy self into the bathroom and closes the door over.
I take my clothes off and put on a robe. Just in time, there's a knock at the door.
Oooh, it's the husband!
I open the door, grab his hand, bring him in and close the door. I press him against the door and kiss him. Grabbing his rough hand and sliding them under the robe. He squeezes a handful of my ass, his fingertips grazing my throbbing opening.
I pull back. Grab his hand again, leading him to the bed. I let go and pull back the sheet, exposing the restraints.
"Lay down, Marcus" I sternly say.
He does.
I climb on the bed and removing his pants, leaving his boxers on. I straddle him. Tugging on his shirt, he sits up so I can remove it. I push his chest, causing him to lay back down. I removed my robe, grab one of his hands, guide it up my side and across my breast. Then I press his arm back and place his wrist in the restraints. I grab his other hand and run it across my chest, using my fingers to pinch his fingers around my nipple. I restrain this arm and run my hard nipples across his lips... He moans softly.
I turn around, lean over to his ankles, exposing myself fully to him with him unable to touch me. I restrain his legs and turn back around. I lean over, kiss him while grabbing the blindfold. I slip the blindfold on him as I lift from the kiss. I whisper in his ear "be right back".
I step away to the bathroom. I open the door and motion "come here", to Cassie with my finger. She emerges from the bathroom, completely naked. We walk to the side of the bed; she spins me around and kisses me. As we're kissing, I take her hand and guide it onto Marcus' cock. She begins stroking him while we're kissing. I put my hand through her hair, grabbing a handful of her hair. I pull her face from mine and shove it on Marcus' hard dick. She begins stroking and sucking him. I pull her head off & climb on the bed. I straddle his face, and give Cassie the "go ahead" look to continue sucking and stroking Marcus. I lower myself onto his eager face, he begins devouring me, soaking his face. I grab Cassie and pull her off of him.
I jump off and begin kissing him, slowly lifting his blindfold. Cassie begins sucking his cock again. He stops kissing me and I look him in the eyes, he looks down to realize there's a surprise in the room. Cassie looks up, his dick filling her mouth. He moans, I slide his blindfold down and join Cassie in sucking hubby. He's getting close so we both pull off, he lets out a moan of being deprived. I straddle his chest and remove his blindfold. Cassie climbs on behind me and reaches around. She begins caressing my breasts, pinching my nipples and slipping her fingers in and out of me causing me to gush on Marcus' chest. I lean over and kiss him while she rubbing on me and caressing him.
"Go get the toy Cassie" I say as I take a breath from kissing my husband.
Cassie gets up and I straddle his face, putting my pussy just out of his reach. Cassie returns with a double ended vibrator; she slowly slides it in me as I'm over Marcus' face. She gets right up to me kisses me and slides the other end in herself, moaning slightly in my mouth. We begin rubbing and grinding against each other. Marcus lays just below our wet slits, unable to touch you. We begin moaning louder and louder. We begin cumming together, squirting all over his face. He's moaning, he needs to cum.
I pull my end out and sit on his face. He begins slurping and sucking. Cassie takes a seat next to his face and begins playing with the toy in herself. I hop down to his thick throbbing cock and slide on; I begin riding him and grinding on him. Cassie begins moaning, I dig my nails into Marcus' chest as I feel an explosive orgasm take over my body. I begin kissing him as I start cumming on his dick, Cassie leans in and starts kissing him as she cums on her toy. Marcus grabs my hips with raw passion, his nails digging into my skin. He thrusts deep just as Cassie and I cum, again. He's cumming, we're all cumming. We all moan as we explode together and then collapse into a pile of ecstasy.
erotic
I enjoy writing and have for a very long time. I think I have a knack for it, just no direction. I prefer to write erotica. Other styles to keep my brain fresh. Enjoy reading my work.
Tips are appreciated but absolutely not necessary.
Receive stories by Tuesday Daily in

your feed