Strip Clubs
The New Date Night?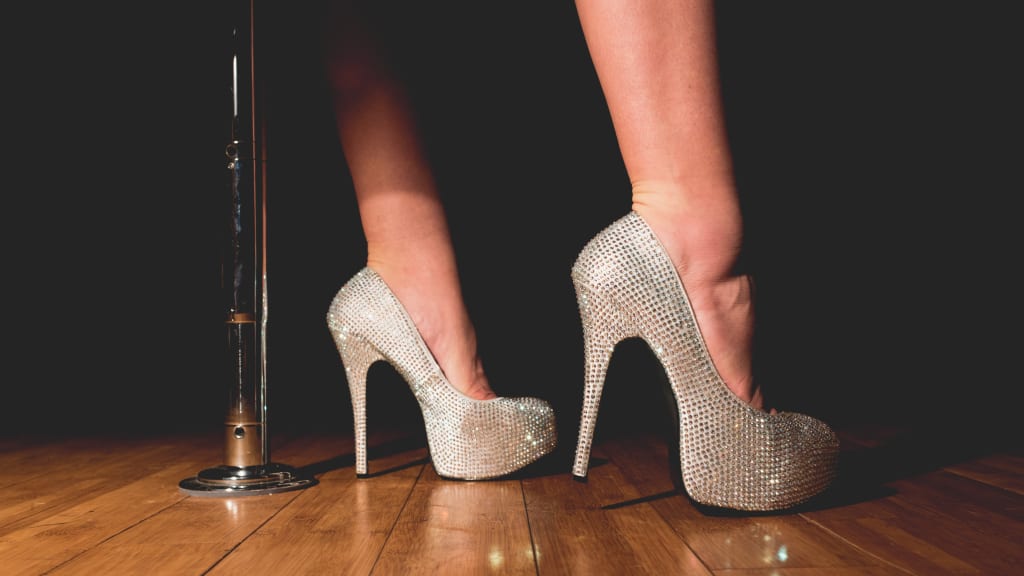 For years I thought strip clubs were only a thing for the guys. I also thought that guys wouldn't want to go to a strip club with their girlfriend. Boy was I wrong about both!
Now I will start off by saying that no one should feel pressured to go to a strip club if they're uncomfortable! This experience will only be fun and enjoyable if both people want to go and have agreed to it. If you're both down, then go for it!
I'm going to give you a few reasons why I think going to a strip club can be fun and beneficial for a couple, followed by a few etiquette rules if it's your first time exploring this world!
TIP 1: Strip Clubs Help You Loosen Up Your Inhibitions!
The first time I went to a strip club, I'll admit I was nervous! I didn't know what to expect, and in my mind, I was picturing a bunch of women giving me dirty looks for being there! But once I got inside, it was a very different experience. Everyone inside was totally chill and just having a good time! Honestly, watching another girl work her lady biz with confidence makes you feel like you could be a badass and shake your money-maker too! And you're not bombarded with boobs and vag in your face the whole time. The girls walk around with tops on most of the time, and are only nude when on stage or giving someone a private dance. So put on your sexy outfit and get your groove on because the music will totally bring out your inner stripper!
TIP 2: It's A Fun Sexy Atmosphere!
Maybe it's the hot chicks, maybe it's the music, it's probably a lot of the alcohol, but strip clubs can be fun! Strip clubs have gotten a reputation as being skeezy and gross (and yes some definitely are!), but the high-end clubs are actually pretty nice and have a fun, laid-back atmosphere. Stripping has also advanced as far as the dancers go too. I don't know how many of you have tried a strip fitness class, but that shit is hard AF! So to see a hot chick do it in a sexy little outfit while still being sexy as hell is actually pretty awesome and totally impressive! It makes me want to get buff and do the badass moves too!
TIP 3: It Can Help Spice Up Your Own Sex Life!
Let's face it, women have beautiful bodies! Boobs, asses, arms, backs, they're all sexy to look at! And girls, don't worry about your man fantasizing about the chick he's just watched. Once you get home after seeing sexy women work their bodies, it will get you both horny and ready to bang! I promise, start grinding on him and showing him your sexy moves, and your tits and ass are all he's going to be focusing on! Use what you saw on your date to inspire you to unleash your own inner sex kitten!
RULE 1: Set Boundaries Before You Go!
Make sure to set your strip club rules for both people so you know what to expect when you go in. Maybe you're okay with each of you touching the strippers, maybe you're not. Maybe sitting at the stage is as far as you want the date to go, maybe you want a lap dance. Set the rules before you go in so you can both have the best time, and won't leave in a fight. And just make sure that you both respect each other's rules. Once those are put out there, go on in and have a great time!
RULE 2: Don't Be A Cheap Ass!
When you go to a strip club, you need to go with the expectation that you're going to buy some drinks and tip the dancers. The girls are there working and deserve to get paid. Especially if you are sitting front and center at the stage, make it rain for them! If you like a particular girl and her moves, tip her accordingly! The more you pay, the more attention you will probably get! But remember, if you are getting a lot of attention, keep the bills coming! If it's your first time going, I highly recommend going and sitting at the stage! Don't hide in the corner in the back! That looks way creepier than sitting at the stage, I promise! The girls will love having another female up close rooting for them and dancing along with them! So don't be shy! Just make sure you're hooking that sister up accordingly!
RULE 3: Know The Rules!
There are rules at every strip club, and you need to pay attention to what they are. If you don't, you might get a tap on the shoulder from the bouncer or he might throw you out! Some clubs allow certain types of touching of the dancers, some don't allow any touching at all. If you want to touch some, you may need to pay for a private room and get a lap dance there. Those are going to be more money than just a quick lap dance out on the floor, so be prepared for that. Some clubs let you tuck your bills into the dancer's thong or bra, others just want you to toss it only on the floor. If a stripper says no, or directs you to do, or not do, something, respect her wishes and listen. Everyone wants to have a good time, but the girls don't want to be disrespected. If you don't listen, you'll probably find yourself out on the curb.
All in all, strip clubs can be a fun date night for everyone! They can get you in the mood and make you DTF when you leave and go home! Enjoy your time, get freaky with your date, and learn some new moves! Just try to remember the tips and rules and you'll be good to go ;)
If you like what you read, show me some love by sending a tip my way so I can continue to bring you more sexy content!
Until next time!
Muah!
XOXO
-J