Stella Artois
A story my family should never read.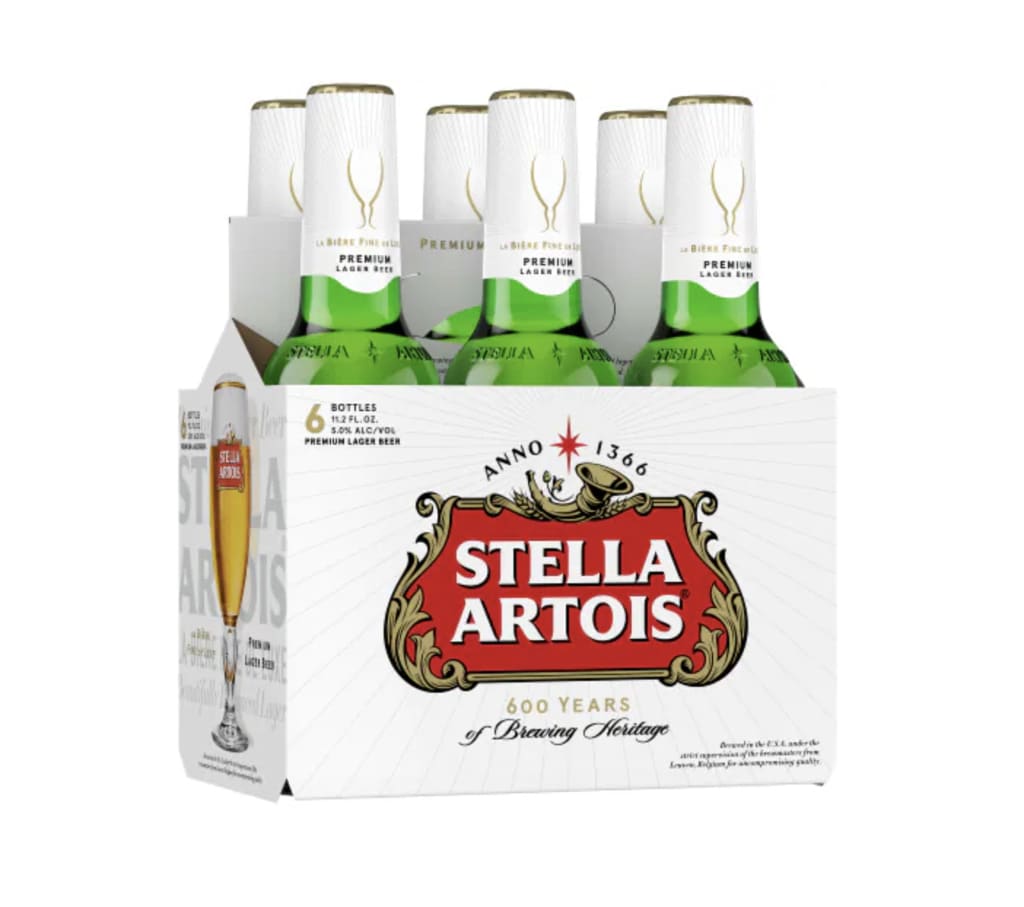 When I turned 18 not only could I buy cigarettes and I think rent a car? I could also finally have sex with older men, legally. While we didn't have Grindr quite yet, we had the next best trashiest thing. Craigslist. You're probably wondering how the hell did a 18 year old know about the personal adds on Craigslist?
At the age of 14 I worked at "Bay Area Young Positives" a center which supported HIV positive youth and adults with resources or just a place to hang and feel safe. While other kids after school were busy smoking weed, studying, or some other type of activity. I was busy listening to one of our regular clients at the clinic talk about the boy on the bus she had fingered that day. Then she would go into further detail about how one of them looked just like a dude she "Topped" from "Craigslist", hence why she put her finger in his pants in the first place. I ask her what "Craigslists" and "Topping" was. She got up from the couch and walked over to my computer and said, "Let me show you, baby". Our manager at the time, exclaimed "GIRL, he is way young for that". She disregarded, she pulls up a chair next to my desk and logs onto Craigslist.org. "On Craigslist not only can you buy furniture, find apartments, or even find free random antiques, you can get dick right there." She points to the Men seeking Men tab.
I click the Men Seeking Men tab. It's full of real time ads of men looking to meet up and get off. A lot of them seemed like all they wanted to do was just party! I really loved partying! Also there were a lot of "Subs", I thought is it some sort of weird fetish I don't know about… Playing with sandwiches? I was very confused.
I stored that information in my brain, upon other queer vernacular and culture. After a horrific breakup when I was 18 It all came rushing back to me as I sat down at my computer. I log onto Craigslist.org, hit the forbidden tab (M4M) and there it is at the top.
28 y/o Muscle Asian Top, looking for White Sub Twink. (sunset)
I click the link, nervously send my photo and my stats hoping for a reply. This man replies within the hour tells me he can pick me up from my house to bring me to his and that I can sleep over if I want. Another hour passes, I get a call on my cell. He's here.
"Bye Dad, I'm sleeping at Kelli's House!"
As soon as the front door makes the clicking sound of being shut, I get a feeling I've never experienced before. My entire body starts shaking from the inside out. I'm scared. I grip onto the railing as I slowly make my way down the stairs thinking. Here I am about to trust a perfect stranger to take me to his house then maybe have sex with, and all the while hopefully not get killed and my bones thrown into a lake? I try and muster up some courage and eventually reach the bottom of the stairs to approach his car. My teeth are chattering like I'm freezing cold.
I get in the car. He greets me with a kiss on the cheek. I examine him, he's handsome, definitely older than 28, wearing a windbreaker and a SF giants cap. "Are you cold?" He asks. "I am" I reply. He blasts the heat. "So, want to get pizza & beers?" I look at him with big hopeful eyes. "That sounds PERFECT!" I spit. "I'm Brian by the way" he kindly says. "I'm Kyle" I reply smiling, teeth still chattering. "Cool, let's have some fun" he says. My shakes all the sudden had dissipated, I relax. He made me feel safe all within 30 seconds, and we drove off.
We get a large clam and garlic pizza from Gaspares which is my favorite in San Francisco accommodated with a 6 pack of Stella Artois from Safeway on the way to his house in the Sunset. In that time I learn that Brian is a Cop, I tell him that I'm in school and I'm only 18. He asks to see my ID, I show him, He smiles. 
We finally arrive at his apartment in the Sunset. He lives on the top floor and his view faces the ocean. It's a pretty large 1 bedroom apartment, and maturely decorated. Black leather furniture, modern wooden dinner table, art on the walls, very clean. I think to myself, "OK obviously is put together, so maybe I won't die".
We sit on the couch and bust open the pizza, Brian puts on some music for background noise, He offers me a beer and says "Don't worry I won't arrest you… yet!" I laugh nervously and take the beer and clank cheers with him. As the night progresses so does my lack of consciousness. But I feel safer and safer with him. He's so charming and witty. Maybe dating older men is better for me since the younger ones are undeveloped and crazy, and I truly need a mentor. After an hour or two he asks if I want to go to the bedroom. I say yeah. He says,"Go to my bedroom, strip naked, and lay down on your stomach, ass up"
I look at him perplexed as he cracks another beer open. "Ok" I get up, head to his bedroom I can feel him watch my every move.
I enter his room, It's dark, black sheets on his bed. I get naked and put all my clothes in a corner. I climbed onto the bed with my "ass up" as he's requested (I've never done this before) and laying there with my face facing the wall.
Brian enters the room. I don't hear him unbuckle his belt or anything.
Then his cold finger touches my perked hole. I clench. It goes away, then comes back wet and he slides his finger into me. "Is this ok?" He asks. I reply, "Yeah it feels good!" This guy is really nice, he's like taking care of me in all ways possible! Then after a few minutes his finger leaves. All the sudden I feel something harder and much colder touch my hole. It kinda feels like a penis but it's not, it's harder, like glass? Brian had shoved a full Stella Artois in my butt. "OMG!, WHAT THE", I scream. "Just relax, I'm going to take care of you" He says as he caresses my back. I try to relax into it, but I can't help but to think what I look like in doggy style with a BEER BOTTLE UP MY ASS. I look back finally. Brian is completely naked, his body is hard as a rock, and so is his cock, which is very large.
My butt takes the last sip as he pulls it out.
Brian climbs on top of the bed and puts his cock in me. Now he's actually fucking me. Beer isn't coming out at all. All I can remember is truly having the best sex I've experienced in my life yet. It was wild. And he made me cum hands free. I realize when he pulls out that he came inside of me too. He looks at me "OK your all filled up, you should probably go to the bathroom now" I laugh nervously, and hop over to the bathroom and shut the door.
It's lit by a candle and I can see myself in the mirror in front of me as I sit on the toilet. "What did I just do", I think to myself. For a second my intuition tells me to leave, to go home, protect myself, comfort myself. And then like a lightning bolt comes crashing down on that idea. I say to myself, "No, this is good, I deserve good sex like this." But then again I think.. "This guy just came inside of me, without a condom. I've never had sex without a condom, even with my Ex. I might get AIDS! Holy shit Kyle! You're an idiot! What the fuck!?".
I'm partially losing it in the bathroom for a few moments, and Brian calls out. "All good?!" I reply "Totally!"
I think again. "OK but alcohol kills bacteria, like maybe the beer can kill AIDS, maybe that's why he dumped a beer in my ass, so that he could fuck me without a condom!?" I start to fart out the beer and cum.
"Well don't let him know your nervous, this was the best sex, you want this again, play it cool!"
I clean up and leave the bathroom. He has lit a candle in his bedroom and is now playing a song I've never heard before. It was Sade "By your side". He signals me to come lay next to him. I climb into his embrace.
"Kyle by the way, I'm HIV negative and clear of all STI's. I was just checked this past week". Brian says.
"Oh yeah!? Me too, I got checked a month ago. I say. I now feel calmer. He turns me around, and I pass out.
The next morning I wake up. Brian has Coffee ready for me. He's been up 4 hours already.
I apologize for sleeping in, and he says not to worry, that it was cute. And while I was sleeping he thought of something and kind of went ahead and planned it.
I ask him what that is?
"I wanna take you to Joshua Tree, lets go camping this weekend"
I laugh, "Wait seriously?!, We just met and now we're gunna take a trip together"
He says, "Yeah! I mean you had fun last night didn't you, and didn't you feel a connection? Let's do this while it still feels good"
My intuition speaks to me again. Don't go Kyle. You don't know this man. Then again light a lightning bolt strikes me down. "Ok, fuck it, lets go, I've never been!"
We finish our coffee and then Brian drives me home.
I tell my parents that this weekend there is a last minute dance competition in SoCal and my dance team got asked to compete in it. Both of them hesitant to say yes. But they miraculously do.
Kyle, what have you gotten yourself into now. .
humanity
Queer Storyteller - native of San Francisco.
I write mostly non-fiction stories based on people and experiences I've witnessed. Maybe a tad "jeuged"
Trigger warning! There... I said it.
Receive stories by Kyle Thomas Shea in

your feed