'Star Spangled Stepmom' Review
Lauren Phillips in 'Family Strokes' Scene!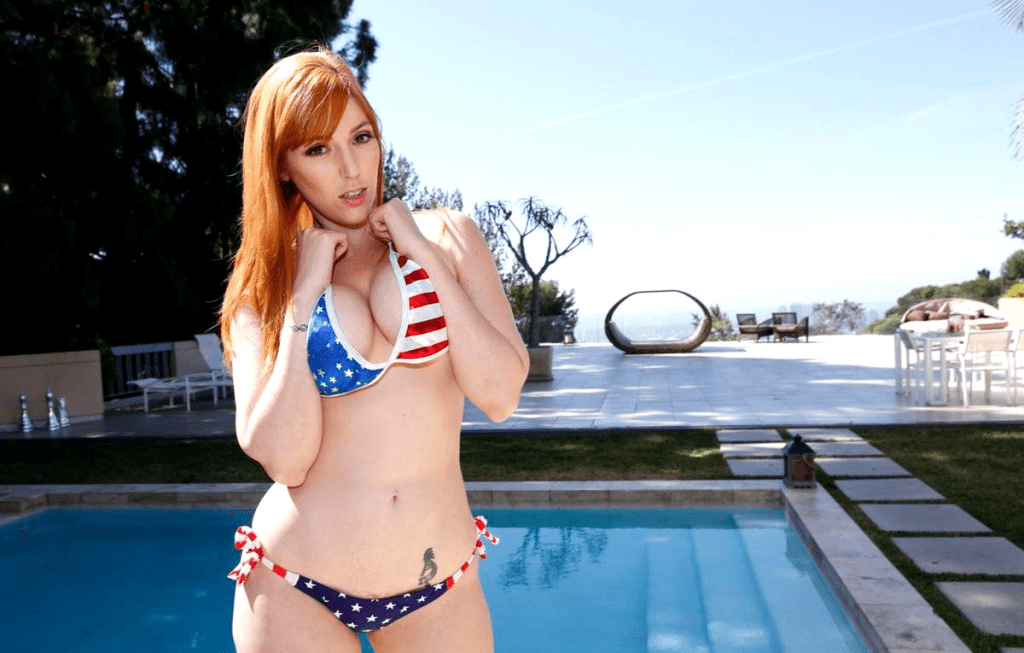 Porn sites are getting more creative in how they set up their sex scenes which is making for stiffer competition (no pun intended).
Personally, I'm not sure if they are doing polls with Americans on the street or they are just aware of what men and women like in general sexually. We are all different, so I suppose producers can take a generalised view and build their idea into a quality, sexy scene. One thing is clear, the idea of being a soldier or in the military is very cool. I know personally I wanted to join the army when I was younger, and as I've got older the very fantasy of getting some sex coming back from deployment aroused my senses. I've never been in the army, but the fantasy was still there etched in my mind from decades ago.
Boys will be boys...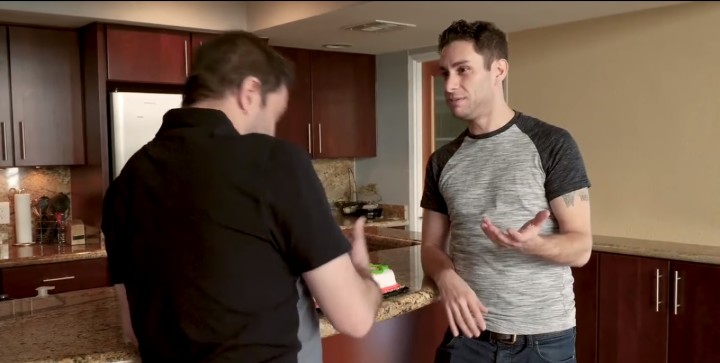 The "Family Strokes" porn site has taken the concept and given it a kinky twist being well aware of the military fantasy people have. In this case, Lauren Phillips plays Anthony Rossato's stepmom coming back from a military deployment. The fantasy is believable as soldiers tend to have that "live for today" attitude, and an unfortunate by-product of their chosen career path can often mean a decline in morals. This sets up the scene for some very kinky escapades and some rather hot sex from the two performers. Lauren Phillips is a former "cam girl" and majored as a professional dancer. This gives her a lean and athletic body which the camera cannot ignore; her pale body and ginger hair look phenomenal on the screen. Unfortunately, she sounds like she's smoked a million cigarettes and then swallowed them. She has a very distinct croaky accent which makes her sound like the "Janice" character from sitcom Friends.
Bit of vintage, anyone?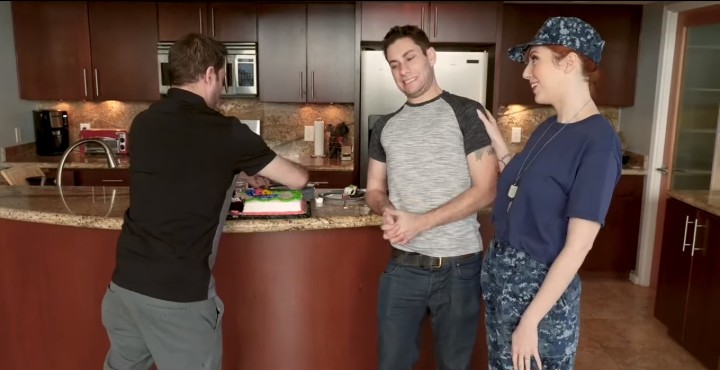 It does, to an extent, add to the stereotypical idea of soldier and does make her sound particularly hardened emotionally. Yet I do find her voice particularly annoying in other scenes, and it makes her sound older than her 31 years of age. Her costar in this scene is Anthony Rossato, who plays a very surprised stepson in this scene. He does a good job playing a young lad startled by the gorgeous presence of his stepmom in uniform. He's also a solid performer when it comes to the sex, and there's definitely an energy between Lauren and Anthony.
Down the Hatch!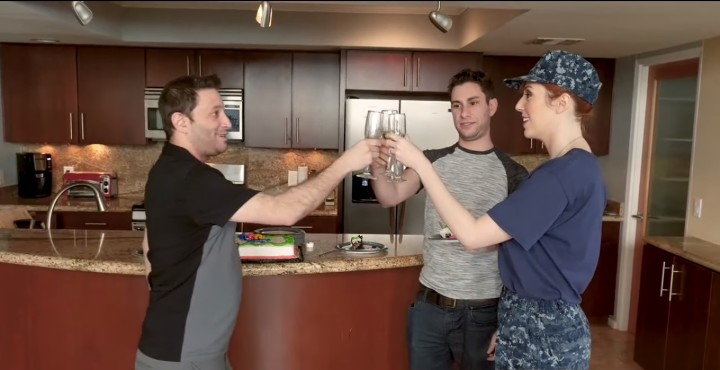 The scene begins with Anthony talking to his real father as they await Lauren's arrival complete with a "Welcome Home" cake. Anthony remembers that Lauren was in the military, but his memory of her is pretty fleeting at best. The father is uncredited in this scene, but he does look to be a bit too young to be Anthony's father. This is a bit of a letdown, but hopefully it won't detract from the viewer's enjoyment of the scene. He does his best in the role but says very little and I'm not sure if this is a deliberate tactic on the director's part. Anthony's father shows him a picture of Lauren in her military uniform, which leaves him flabbergasted. Lauren looks particularly sexy in her military get up, which adds to the dilemma and drama of the scene. Finally, Lauren arrives in a blue military T-shirt complete with urban camo trousers and cap. She embraces her husband and stepson but is surprised how much Anthony has grown. There could have been better chemistry here between Lauren and her husband; a smooch on the lips might have made the relationship more believable.
Lauren seems more interested in her stepson and Anthony is besotted with her as the two discuss what they have been up to in each other's absence. Anthony discusses his college accolades while Lauren explains her military career. In the background, Lauren's husband prepares cake and champagne while sampling the alcohol on offer.
Easy on the Eye, Not so Much the Ears!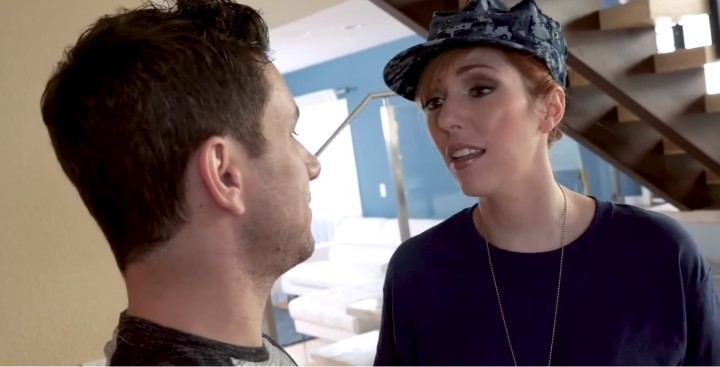 It's well juxtaposed, and the director does a good job in the way he's set this up. Eventually, Lauren's husband downs one too many glasses of champagne and looks to retreat to the bedroom. The fiery stepmom is looking to score and follows her husband up the stairs hoping to get some drunk sex. They arrive at the bedroom and it appears her husband was after the same thing as well as he eyes the gorgeous redhead undressing in front of him. Unfortunately, he's unable to handle his drink and passes out leaving a disappointed and bored soldier.
"Are you serious!?" Lauren gripes as she crawls towards him in a black g-string and her military t-shirt. Unfortunately for her husband, it appears the stepson has been more impressive today and Lauren sends him a picture of her exposing her breasts and pussy.
Can't handle your drink?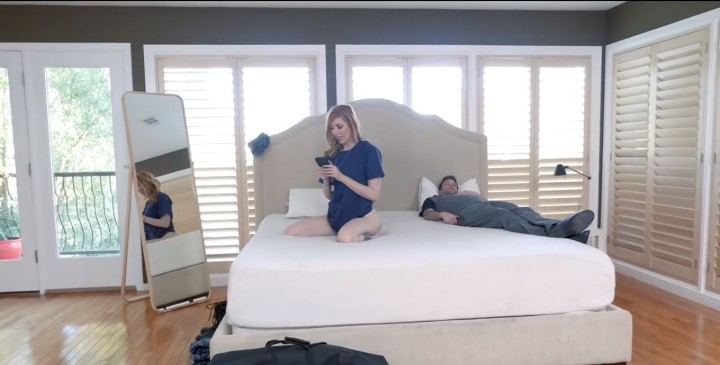 Anthony is both shocked and turned on, sat on the sofa in the living room in just his underwear. He doesn't know what to make of the sexy shots so just waits in anticipation as his stepmom tip toes down the stairs. She gets on her hands and knees and crawls towards Anthony before rubbing her face on his crotch. Lauren proceeds to give him a really sloppy blowjob devouring young Anthony's cock, much to his pleasure. Lauren's pale body looks incredible in the cowgirl position as she grinds Anthony's cock and moans in approval. The tattoos on her body also look particularly sexy, and the scene is set in a cosy white living room location. Unfortunately for me, though, there were two many errors in terms of the acting of the father and the lack of intimacy between him and Lauren that let this scene down.
Cheeky Rossato!
For that reason, despite the good sex, I'm going to have to give this scene a 2 out of 5. If you watch for any reason, then do it for Lauren Phillips. I found the scene for free at whorestepmom.com, but it's available at the "Family Strokes" website. Better scenes are out there though, and this should only be sought after if you want to see a bit of military foreplay.
2 out of 5.