So You Think You're Into BDSM
Are you into BDSM?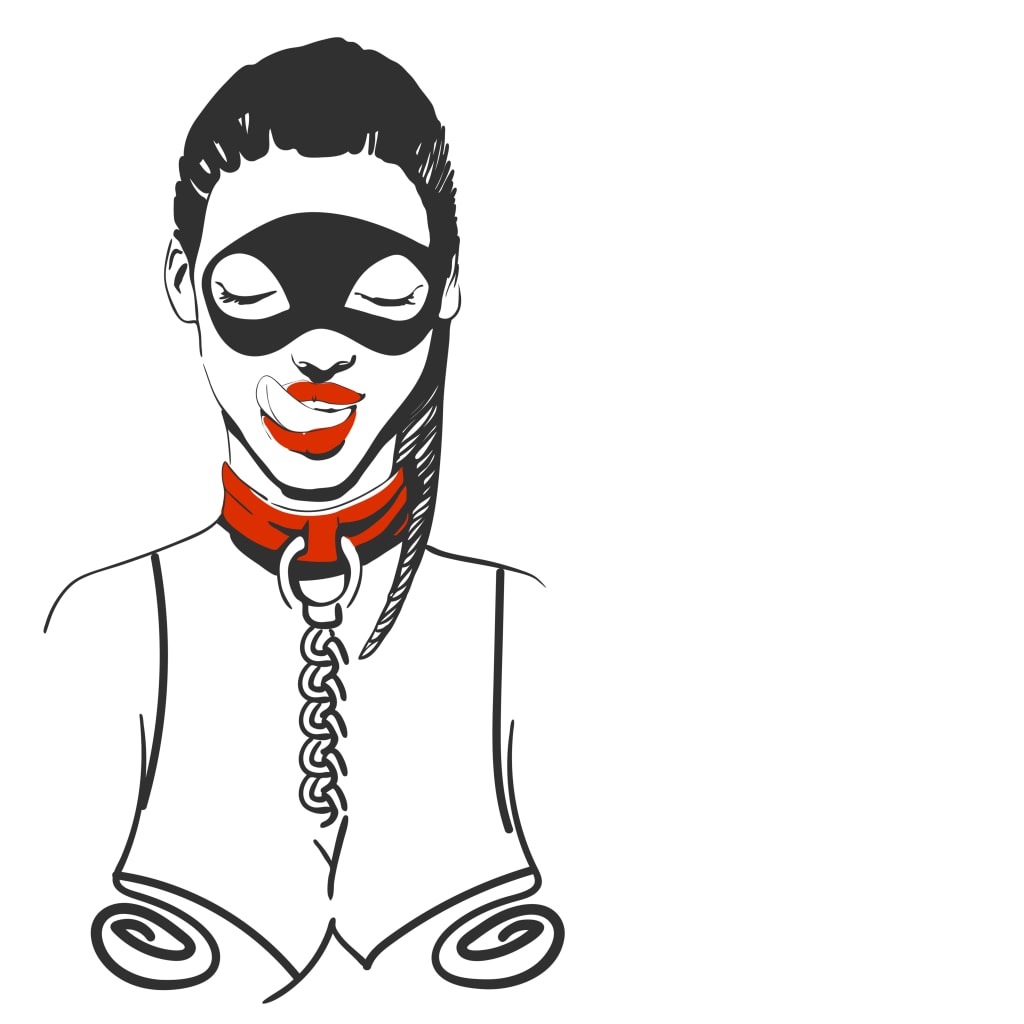 So here is the truth is, a lot of people are into BDSM. However, some are just into one part of BDSM, not all the aspects.
Before I even discuss it I will say this, it is only BDSM when it a relationship between CONSENTING ADULTS
So let's talk about what CONSENTING ADULTS means. It means that everyone in the relationship is over the legal age, and everyone consents to what will happen within the relationship or scenes. These people have a contract in most cases, sometimes couples who have been together do not, but they have all said what they do, and do not want to try.
Before you start trying anything involving BDSM, you need to figure out what it is you want, is it just bondage? Do you like pain? Do you like inflicting pain? Is being degraded sexually arousing for you? Do you like to take charge, or follow?
Now I am a switch, often people have no idea what that is, but a switch is someone who is both Submissive and Dominant, they switch between the two, sometimes with the same partner, sometimes with another partner, or it changes based on the sex of the partner.
For a switch the same rules apply when they are submissive, they make the rules, they say what is their soft limits etc. They say what they indeed are never willing to try.
Just as when I switch to a Domme, it is all the submissive's choice. See, people think the Dom has all the control, when if you look back, they don't, they are working from that they have been told is okay, hence the submissive being able to just relax, and trust 100 percent they will be okay. The submissive gives up her free will, again the Dom doesn't demand and take it, although it may come across that way, the submissive has already agreed to give it up.
Now, people say "Oh they are not a true submissive" There is no definition of a true submissive, each submissive prefers their own things, sadist, pet play, age play, bondage, humiliation, degrading, fetishes etc.
So the whole not a true submissive is fake, each submissive is different, now I am not saying that everyone who says or thinks they are a submissive is, because some won't be.
Just because you like to be tied to the bed and spanked it doesn't mean you're a submissive.
A submissive is someone who often wants to please their partner 100 percent, in any way they can. They will willingly give up full control, a submissive is told what to do most of the time, yes it sounds like the Dom is controlling, but only within her limits.
If you are someone who likes to be tied up and spanked, but at the same time want to say no, at every chance you can, the likelihood is you're not a submissive, your just into Bondage. A submissive, can often say no, but usually it is for a reason, because they want to be punished, something seriously doesn't feel right, not just because they don't feel in the mood to give their Master a blow job.
Masochisms like pain and degrading. It is a form of pleasure, I am a Sadist, nothing sends me wilder than the pain. Why? I have no idea, but it is something I love. There is often a limit to each person's pain though, some like just to be spanked or whipped hard on the ass.
Others, like being slapped around the face, bitten, hot wax, piercing, yes that can be part of BDSM. Some experiment with knives, now I don't suggest you do that until your 100 percent sure, slowly build up to it, and certainly only with a CONSENTING ADULT!
If at any point the submissive says the safe word you have to stop, you can't think that just because your a Dom you overpower her, the submissive overpowers the Dom.
Degrading is a thing, how it is done depends again on the Dom/Sub, some Sub's will only like degrading in the bedroom away from others. Some will like to be called "Dirty little Slut" Or "Your my fucktoy." Some will love it to go way past that, where they are degraded in public, pissed on, spat at etc.
Each person has their own limits for what they like and do not like.
Sadists are ones who like to inflict the pain, they get a thrill out of it sometimes sexual, sometimes not, and there is nothing wrong with it. They are the ones who find pleasure in calling you a "Dirty fucking slut," but some don't now Sadists don't have to like inflicting pain and degrading, some may like just one of the two.
I will say this, before you delve into it, research, make sure your partner is open to it, make sure they understand as well, especially if you want to try to dominate them, they have to have a say in what is allowed and is not.
Often enough people hear BDSM and think, it is a submissive being lazy, far from it, or that it is all about pain and being hog tied, again far from it.
Each relationship that has BDSM in is different, the only things that make them similar are.
CONSENTING ADULTS
GUIDELINES
SAFEWORDS
All the relationships have consenting adults, guidelines for how far the submissive and dominate are willing to go, and safe words.
Now, some people think that it isn't possible to be a submissive and a dominate it is, as I said before it is known as a switch.
Same think if you're submissive you can't be a Sadist, not true you can be. I am a wide range of things, a switch, sadist, machoism, sometimes a brat, but it depends who I am with. When it is a male partner I often go to being submissive, I don't have any thrill or feelings to dominate a man, I am a Machoism when I am a submissive.
With women, I am a Domme, I also become a Sadist, it is just the way I am, hence no two are the exact same.
So, you may see or read something here that makes you think, no thank you. That doesn't mean BDSM isn't for you, it just means that part of it isn't. There is a lot out there you don't know about, a lot you think you know, and often it is your own fear stopping you from trying something, fear that is caused by not knowing the truth.