Six Secrets to Oral Sex to Blow Your Man Away
Help him last longer, and he will treasure you forever.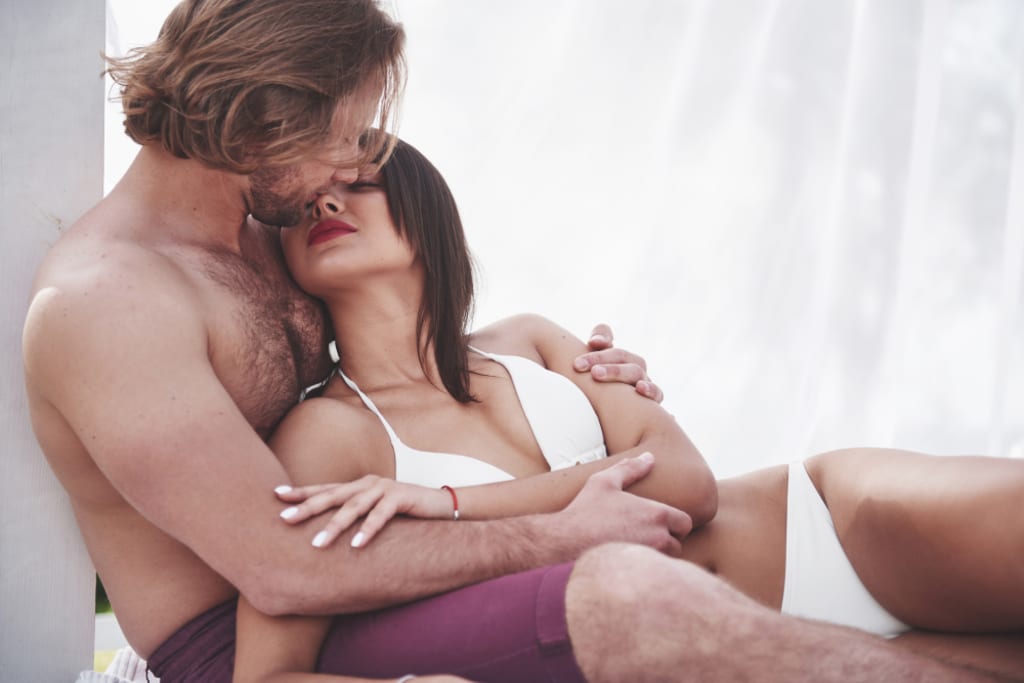 I once dated a guy who refused to go down on me. He said he didn't like the taste. As if that wasn't humiliating enough, he said it was disgusting, and then he shivered — like "yuck!"
This was the same guy I gave a hardcore blow job a few minutes ago. You can imagine my irritation knowing I just ate a nincompoop. Did he think his dick tasted like strawberry candy?
The next day, he made a move on sex. I turned him down. When he asked, I was brutally honest. I told him I wasn't getting off from his lame as pumping, and since oral was off the table for me, am not fucking.
Dude thought I was playing until days after, without so much as a kiss, he realized how selfish he was.
When it comes to intimacy, most people consider oral sex as an essential part of sex. Unfortunately, not everyone has experienced a satisfying oral sex life.
One study conducted in 2016 revealed that one-quarter of women in heterosexual relationships said they have given oral but never received it.
Another study found that men enjoy oral sex more than women. While some people really love it, and some people just give to get, but you have to give when you get.
In oral sex, you use your mouth, lips, or tongue to stimulate your partner's genitals or anus. Both men and women can have and receive oral sex.
Oral sex has proven to be a good way to increase sexual compatibility. Sperm can help you keep your skin young. Women who have oral sex more often are safer against breast cancer.
Although many experts claim that oral sex is not safe sex. It may be "safer sex" than genital sex without a condom because you won't get pregnant with oral sex alone.
However, oral sex without a condom still carries a significant risk of contracting or transmitting sexually transmitted infections (STIs).
Whether you participate in oral sex as foreplay before penetrative sex or as the main event in your sexual adventure, it can be an incredibly satisfying and enjoyable act to engage in with your partner.
Successful oral sex isn't just about achieving orgasm — it's about growing intimacy, gaining sexual confidence, and giving both your partner and yourself a gratifying experience.
It can seem like a daunting task, but it doesn't have to be. With a few simple tips, you can master the oral sex game.
Maintain a healthy oral hygiene
When it comes to oral sex, most people don't necessarily think about their oral hygiene, but it's actually quite important.
It is important to consider if you or your partner have mouth ulcers or bleeding gums before starting oral sex.
Don't have oral sex within two hours of brushing or flossing to give your mouth time to recover.
Take over the stage
When you're in a healthy relationship, having oral sex can be one of the most powerful things you do because you are in control of his pleasure, which can heighten your arousal.
Men love it when a woman takes her pleasure into her own hands and does what she wants with their bodies. They like to have a good view of your breast as you work on their penis.
So if you lean over him or look at him, flaunt your cleavage. Try taking her penis in one hand and pulling it over and between your breasts.
Start off with a slow movement
It can be difficult to respond to direct, intense stimuli right off the bat, so tickle and tease a little bit. You can start by licking the head of your partner's penis before taking it completely in your mouth.
Take a moment to appreciate your partner's smell and his breathing rhythm, and oral sex will feel like the sensual act it is, not just sexual.
Think about the firmness of the penis versus the softness of the mouth, you will intensify your arousal.
Moisturized your tongue with flavored lubricant
Your tongue is a self-lubricating structured muscle that appears to be quite strong. Flavored gum or mints help with licking and sucking on all of your partner's body parts like their collarbone and fingers, and really increases the heat.
Licking his penis as if you were licking an ice cream cone is a pleasure for the man: not only does a regular rhythm help turn him on more, it also gives you a chance to get into a rhythm.
Basically, anything with xylitol in it can help kickstart saliva function and prevent your tongue from getting dry.
Work on his dick with your lips
Men enjoy it when you brush your lips on their dick, and it's a great way to break things up for yourself.
Using your hand, run the head of his penis against the outline of your lips, taking the head in your mouth between outlines for added lubrication.
Located the frenulum under the penis. It contains a bundle of nerves. Flick it with the tip of your tongue, or circle the head of the penis slowly, stopping each time you hit this pleasure spot.
Tease all sensitive parts of his body
Some people only focus on the penis when performing oral on a man. There are a whole bunch of places on his body, aside from the shaft of his penis, that are supersensitive and can lead to a mind-blowing experience.
For starters, work the area around his penis — his balls, obviously, the scrotum, and the perineum (that place between his balls and his butt).
Then move to his shaft, with your mouth sucking his head. It creates a longer stimulation surface, which can be incredibly exciting for them.
Feel free to let your hands roam over other sensitive areas around his body, too — like behind his knees, his butt, and his inner thighs.
Parting words
Oral sex can be such a thrilling experience once you get the hang of it. It's okay to know what you like but not know how to have oral sex.
However, always communicate your boundaries before you begin and after you have oral sex.
If you just don't like a certain type of kink, like deep throating, don't be afraid to say so. Be aware of what your body feels comfortable with. And listen to your body as you give.
Be open to your partner about your experience so you can be on the same page.
---
About author
Jessey Anthony is a motivational speaker, fitness coach and relationship expert who helps people become confident in themselves in any challenges they face in life. Sign up to my newsletter & more cool stuff.
Connect with me on Linkedin, Twitter, and Quora.
This article appeared here.
sexual wellness
About the author
Jessey is a travel addict, freelance content writer and fitness coach. Check out more from me at: https://bit.ly/3j0Lm9Z

















Reader insights
Outstanding
Excellent work. Looking forward to reading more!
Top insights
Easy to read and follow

Well-structured & engaging content

Excellent storytelling

Original narrative & well developed characters

On-point and relevant

Writing reflected the title & theme
Add your insights