Sisterhood: Felony
A scene from my career as an adult performer.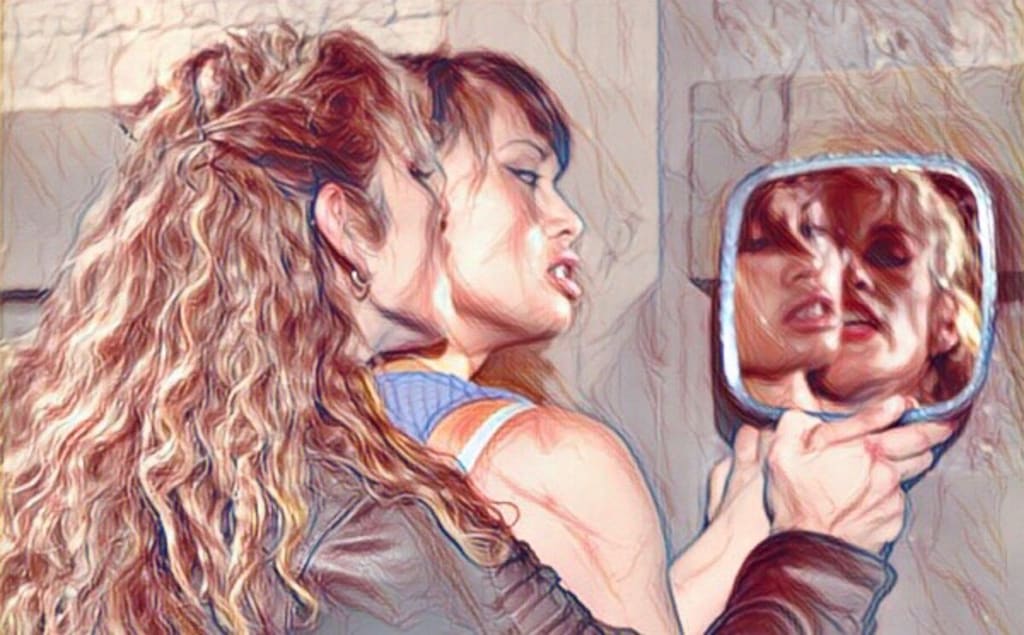 Felony avoids my eyes. We look at each other through our reflections in the mirror lining the long width of the make-up room. Through the buzzing of the makeup artists painting our faces with cream and glitter, their wrists flickering and magicking with a flourish and a brush, I see her brown pupils. Wild. Like mine.
In between closing my eyes while my lids get buffed with black and pink gunk, I stare at Felony's reflection, a stranger, asking me intimate things. My face becoming layered, defined and shadowed, she asks, "How long have you been in the Bondage and Discipline, Dominance and Submission, Sadism and Masochism scene?"
"What is your most hardcore experience?"
"What are your favorite impact toys?"
"Do you like humiliation?"
"Yes," I say, maybe with too much confidence. My face is covered in warpaint, masking everything but my shining newness.
∞
I am not like those pretty models you watch in pornography. When I'm filmed there aren't enough watts in the brightest of key lights to wash out my scars with harsh white. My wounds are too deep and dark to be softened. I tell myself, Don't play rough, don't crash my bike, or scratch myself in my sleep, an anxious habit I can't help but keep. I pray, No harm. My fingers and my limbs do not listen, my body betraying my wishes.
All around me, impossibly beautiful models dress into their wardrobes. I'm surrounded by perfect skin. I search for discoloration to see if their bodies have done to them what mine has done to me. I see no evidence. No one but me has done this deed. I feel a dooming insecurity.
∞
I've wanted to perform for Whipped Ass, the lesbian BDSM site of Kink.com, for many, many months. I learned about all the fun activities the dominants and submissives play. Activities within the online platform include, depending on the comfort level of the model:
girl/girl oral,
vaginal and anal sex,
being verbally and physically dominated,
moderate to extreme bondage,
being fucked while tied up.
Corporal punishment in the form of
spanking, slapping, flogging, caning.
Spitting on the face,
worshipping the dominant's feet and ass,
verbal abuse in the form of being ordered around,
made to beg,
called names.
I don't refrain from anything on that list. I am on a mission for purity.
Felony, my prize.
∞
Prior to and post any Kink roleplaying scene, there is always an interview to insure that the model is developed as an autonomous and self-aware human being. The agreements between Kink and the model add a transparent layer of consent.
This is not abuse. This is BDSM.
I, Milcah Halili, in front of the camera, proclaim that I want this. I want to inflict pain onto my flesh instead of waking up to my skin raw and bloody because I scratched myself in my panicked sleep. I want this roleplay of horror and this rush of adrenaline. Unto I feel born again.
∞
Camera rolling, Felony asks me a question she did not ask me in the make-up room. This question has been arching over me for the past few months as I've mantra-ed my no harm chants, unless my harm is intentional. I'm worth a sincere sensation and a spiritual cleansing.
Why?
Why would I do this to my body? Why am I here?
∞
Padlocked inside a three by three foot metal cage, costumed in a blue babydoll dress, white knee-high stockings, high-heeled mary janes. Legs cramping, pressing against my rising and falling heart center, arms reaching with enough space to bend my elbows comfortably at a maximum of ninety degrees. Hands holding tightly onto the cage in misguided faith that it can contain me. My terror bleeds out of the three by three enclosed space. My breath cuts the entire room.
Mirror, mirror in my hand,
who's the baddest bitch in this land?
Felony removes her gaze from her mirror, gracing her gaze on me. Our eyes finally locking.
It sure the fuck isn't you.
∞
My dignity. How it twitches when Felony takes the mirror to my face and orders me to look at my reflection. My creasing forehead and quivering jaw. How I quake when she unlocks the cage and drags me by the mane across the floor, fist full of my thick, long and luscious, dark brown hair. Her spit flies into my face, penetrating past my closing eyelids. How, before the spit can drip, she wipes her fluid, smelling of post-cigarette, all over my face. Smearing my make-up, the pink eyeshadow melts and degrades over my melanin. A half an hour of painstakingly painted detail, hurricaned within mere minutes of our scene. Trash, she calls me.
∞
I'm shivering and shaking, my breath is a panting dog, and I am fierce in my fear. My hair is disarray. I'm perspiring, trying to keep pace with my dominant's commands. Beads of sweat slip at the top of my brow, down my neck, and waterfalls over my clavicle onto my chest. I burrow further into myself after a hard impact to my ass with the horse-hair flogger. Felony reprimands me with a harder blow when I do not keep good posture. Keep your head up, do you hear me?
Keep your head up.
∞
Every time we stop the camera, the last reeling images of Felony as my nasty queen drop faster than the scissoring control of my memories, viewing only what my mind wants to remember despite how my body holds on. "Are you okay, baby?" she asks.
I nod. Her smile is so illuminating. It's harder to take in than the key light. Her teeth clean against the flashing red of her lipstick. Her eyes edge a soft creasing. Never have I seen a beauty so disorienting. There is something of pride and delicacy in the way she grins and checks in with me. She says, "You want a cigarette?"
I follow Felony down the hall to the fire escape furnished with two white plastic chairs and an ashtray. The clicking of our high heels bounces along the cement walls. Exiting through the window is awkward, but we do so gracefully.
We sit, she lights my cigarette for me, and we share moments of silence, those silences loosening me into intimacy. Her presence is no longer estranging. Smoke swirls above our head and rises three stories. It feels like our sacred ritual.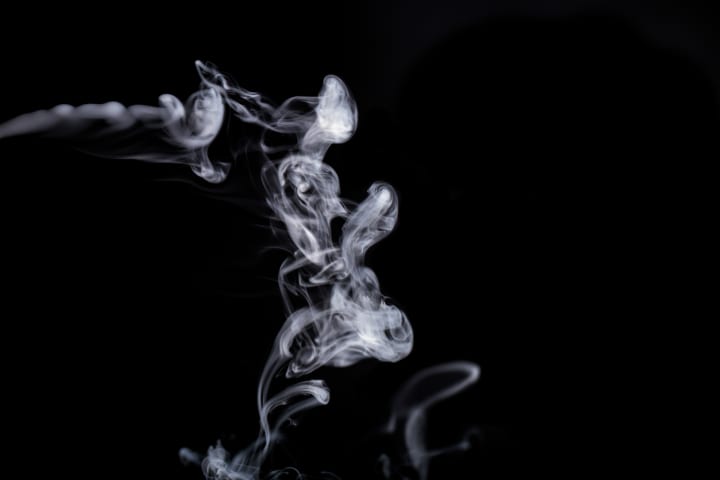 "You're tough," Felony tells me.
"Really?"
"They don't match me with models who can't handle me. Most models can't."
"Wow," I say, feeling my lack of context. I stare at her long lashes, the way her light brown, curly hair halos her face and bounces down to her shoulders. She is a perfect prototype, so skinny it horrifies me. Her hourglass, her ribs poking out and her hips jutting.
Felony shows me pictures of her dogs and daughters. She's a mami. The baddest bitch in her land. I sing inside. She's been in the industry for a decade and she knows the elusive things, the succeeding-woman-in-the-workplace things. And the mothering, mother-daughter bonds and abuses things. Bloody. Umbilical.
We puff, exhale, stay silent. It becomes rhythm and repetition. A raining. Always, we turn to each other, eyes penetrating and disclosing, and smile. This, I tell myself, is my favorite moment. Here, this my raw and battered, sweetly aching body.
∞
I have arrived. I'm exposed except for my high-heeled mary janes covering my feet and my white knee-high stockings hiding my scars. My shadows of wounds are the result of my nervous fingers scratching at itchy skin and from my neglecting a front bicycle brake for too long. I skidded down a steep hill to a faulty-brake-induced crash on my way to the San Francisco Armory, breaking my fall on my left foot. Road rash due to an unchecked brake. Or maybe it was because I didn't give enough fucks about my general safety to consider maintaining my ride. I could have died.
∞
The last scene always showcases models at their final stage of undress. Maitresse Madeline, my director, wants to know how bad my scars are. I roll down my stocking.
∞
I'm inundated with fever sensations. My blood makes contact with oxygen. My cursing vibrates in my throat. The tightness in my chest. The smell of crisp fall morning air. The cool East Bay Area breeze cuts at my face harsher because of my anxiety. The tar is jet black, and the gash is snow white before it fills with red. Identifying the colors help me focus. Otherwise it's my fear of the scar the gash would leave in its wake and not getting hired for shoots because zombie-me slept at the helm of my manifesting spaceship's steering wheel. Fuck me. Why didn't I check the brakes before I left for my sharp downslope commute to the Kink Armory?
∞
When I was a very young human, I was Jesus freak. I loved God with all of my tiny heart, and I thought He was the way to a peaceful life. Growing up in church, I was taught that being bakla is a sin. When I turned thirteen, I realized that I was bakla. I would stare at girls for too long and hope that they would notice me. Sinners don't get to go to heaven. Sinners do not get to live in peace.
My first few memories of being a sexual person were feelings of grief. I felt guilty when I experienced pleasure. I cried in the middle of masturbating because I felt wrong and broken. Bakla. Sinner. Sometimes I still cry before I can finish because deep down I feel it. What I am is what I'm doing. What I am doing is a sin.
When I was thirteen I slashed crimson canyons into my wrists. I didn't think anything of it because fuck perfect skin. I was on a mission for purity. I was numb, and I wanted to be free of being empty. The rush of the first feeling, after initial relief, comes an emotion like shame.
∞
I reveal my scars and my fresh wound underneath my white knee-high stockings to the crew. They all grimace as I tell everybody how I made them. Madeline tells me to keep the stockings on. The foot fetishists will have to go without.
∞
Never mind that Felony just spanked my pussy so hard I'm bruising where my crotch meets my thighs. Never mind Felony called me trash and whore enough times to trick my mind to filter those trigger words as white noise. I am more humiliated by my die-hard skin imperfections than by Felony's heaviness with her hands and addresses. My shame wets me in between my legs. Through my limitations, I release.
∞
Felony continues to impact the mother living shit out of me. Call me a bruised peach. I'm in nectar, my skin a-fuzz, a blurry orb bursting on the floor. Purple, pink and dark blue. Call me a wild beast. I'm a menagerie.
My bruises and scars are an energy map. They show my night songs, underbellies and fault lines. These are my erogenous zones. Felony taunts and tortures them. My pussy wets and I plead for more. Look how they blot and puddle. Look how I spit and squirt. This is my bounty. Felony coloring me.
∞
I have been flogged, caned and humiliated. I have been called mean names, had my trash-of-a-spat-on face reflected back at me while I obsessed over the stupid translucent blue and sparkly plastic handle of the hand mirror, surely no blonde or red wood, adding insult to injury with its cheap and ugly aesthetic. I have been bent over, my back arched against a spanking bench, belly facing the ceiling, my pussy spread, hair tied to wrists tied to ankles. Cunt spanked over and over again, my pain tolerance thresholded, while I'm ordered, if I forget after a particularly trying impact, to beg for more. I have reached for Felony's asshole with my tongue and intermittently been suffocated by her ass's center of gravity resting on my face when I couldn't reach farther. I'm almost done with my list.
Now with my box-tied body I'm immobile above my hips. There is a dental gag tied to my outstretched lips, exposing my braces and keeping my jawbone open without mercy. I'm no longer able to let my tired mouth slack, and, after four hours of shooting, I'm at my greatest discomfort. Felony demands I bow on my knees and suck her strapped-on dildo. "Choke on my black cock, you whore."
I do because I'm a good babygirl, and I want to be perfect. Pump my throat up and down the length of her cock like my livelihood depends on it. I'm a faithful puppy, yearning to be loved and fed, desiring to be redeemed in my human's eyes. Wanting, in the end, my prize.
"That's right. Choke on my cock. Choke on my—"
Oh.
Literally, I choke. Withdrawing, I hurl up stomach acid, my mouth trailing saliva and yellowish green. Gagging, I stop and break scene in my retracting, my pupils widening. I look up from the trail of vomit to Felony's eyes like an old dog embarrassed to have peed inside when I know better, I know the routine (Bitch, go outside!), but I couldn't control my bladder, my body forsaking me. Felony, I'm sorry, I sign with my puppy eyes.
"Don't worry, baby," she coos to me. "Everybody does it."
We all do it, baby.