Sierra's Secret
Sexiness Done Right...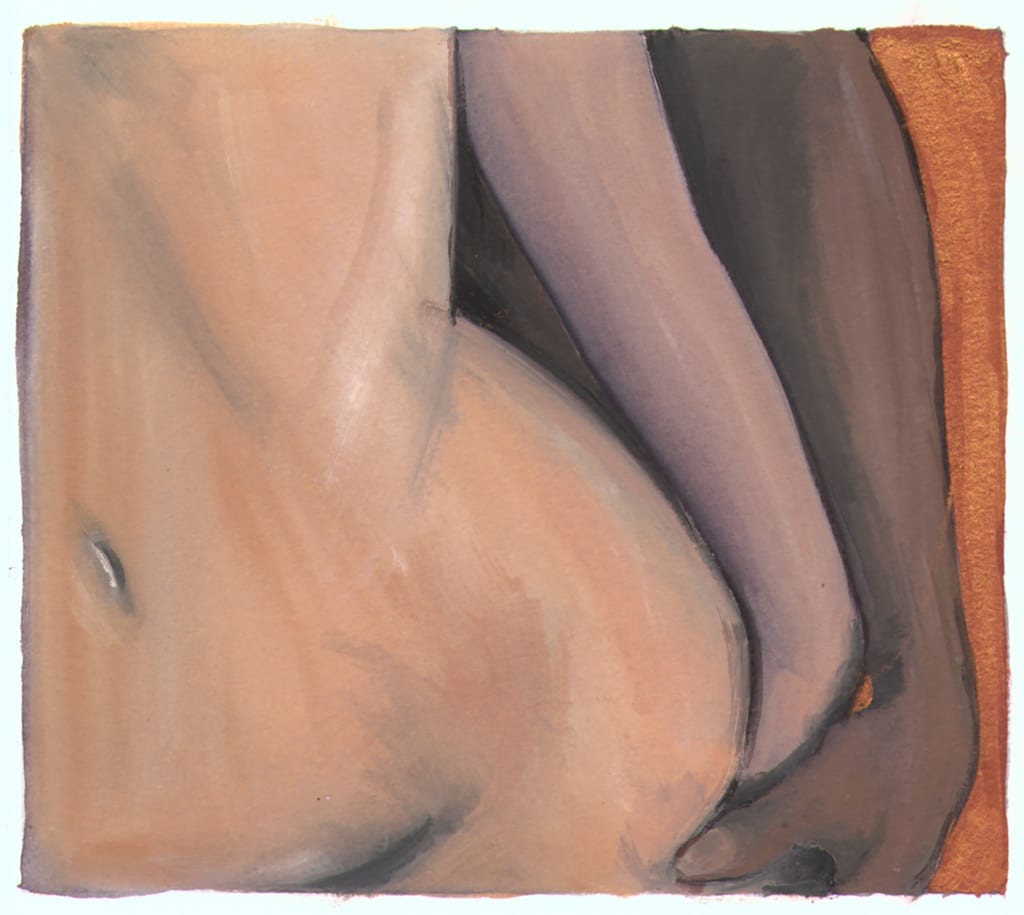 Dr. Ramon Santiago screamed in ecstasy with the final thrust of his pelvis. Moments later, he removed his limp penis from her vagina and pulled up his boxers. Shame spiraled through him at the thought of what had just happened. What he had done with Sierra Johnson was… shameful. No, it was worse than disgraceful; it was illegal.
"Oh, Dr. Santiago, that was intense," Sierra whined as she pulled up her panties and down her skirt. Her ordinarily long and perfect, jet black hair was a mess on the top of her head. She panted, trying her best to suck in as much air as she could. The act felt hopeless.
"I've never had an orgasm like that one before." She confessed. For the first time in a long time, embarrassment stirred inside of her.
"Sierra, please…" Ramon squeaked as he wiggled into his pants. His face was beet red and dripping with sweat. The aroma of vaginal secretions and guilt-filled the air of his office. "What we just did… that can never happen again."
He knew it was wrong. He knew every thought he had about Sierra from the moment she walked into his office was illegal. But he couldn't help himself.
Dr. Ramon Santiago was physically in love with Sierra Johnson from the moment he laid eyes on her. When she wasn't in his presence, his body ached until he saw her again. She was the only thing on his mind each day… even when he was seeing other patients.
Sierra smiled at Ramon's confession.
"That's what you said the last time." Sierra giggled as she uttered the words. She knew he didn't mean it.
For the length of time that she'd known him, she had been coming to his office 3 times a week. In that time, they had been having wild, passionate, unbridled sex for 45 of the 60 minutes she was there.
They spent the last 15 minutes cleaning up and pulling themselves together.
"No, I mean it this time, Sierra." He confessed, "What we are doing isn't right? It doesn't help that you keep tempting me with your gazes and stares as soon as you walk through the door!"
At that, Sierra became instantly annoyed, "Ramon, I don't do anything to you! And, I don't make you do anything either!" Her annoyance flared without warning. She knew he wanted it just as badly as she did. To insinuate anything else was dishonest. With all they were doing, dishonesty with each other could not be tolerated.
Every muscle in her body tensed up as she choked on his words. She knew he wanted her. He knew he wanted her, so there was no point in his denying it now, not after what they just did. She had finished fixing her clothes and once again was the presentable lady she was when she walked through the door.
Ramon wiped the sweat, still beading up, off his forehead with the back of his hand. As always, Sierra opened the window of the office to vent the evidence of their dastardly act.
Once she'd done her duty, Sierra turned and faced Ramon. The wind from the open window whipped through the room and across her body. It caused her completely covered nipples to become enlarged and erect. It was at that moment, Ramon looked up and noticed her. The sultriness of her stance, the position of her walk aroused his desires once again. Like always, Sierra took notice of his growing manhood. Still, she smiled at the thought that he couldn't stand to not be inside of her.
"Awww. It looks like my friend doesn't agree with you…" Sierra said as she sauntered towards him. Embarrassment seized him as he burned with humiliation. Once again, he wanted to look away, to not feel these things for her. He tried to tell himself and her that he wasn't going to do it again. He wasn't going to bend her over his desk. He wasn't gonna ravage her body like he'd done so many times before. He wanted to, but…
Sierra was a baddie. Five feet, six inches with chocolate skin and hazel eyes. Her long hair was now pulled safely from her round face into a ponytail, as always. She wore comfortable footwear in case he wanted her on the roof of his office building again, like so many times before this one. Sierra was unlike any girl Ramon had ever met before, either in his practice or in his life. She could have been the one except…
Everything he felt for her was illegal. Also, Ramon was currently engaged to the daughter of the Lieutenant Governor of the State of Maryland.
Jessica Santos is the model of everything good and pure wrapped up in a single person. To Ramon, she was perfect. A blonde bombshell, Jessica was five feet, ten inches with a smile that won't quit and a style fit for a woman of her statue. She was too good for him… too pure for him… to PERFECT. Her perfection made him feel inadequate. It made him feel as though he would never be worthy of her love and affection. Never mind who her father was… Jessica was just a great person, perfect in every way in Ramon's eyes. The polar opposite of Sierra.
Ramon was torn between the woman he loved and the woman he desired.
He knew that any relationship with Sierra was a terrible idea. He knew that Jessica was the person he should be with at the end of the day.
But, everything inside of him SCREAMED Sierra's name. Especially after…
She sauntered over to him, causing his knees to buckle slightly. His breath hitched as she lightly caressed his face with the tips of her fingers. The points of her erect nipples grazed his barely covered chest as his burgundy shirt still lay open, exposing his white tee-shirt. He felt dizzy as every inch of him craved her. Her touch, her gaze, her breath, her warmth. Ramon was almost beside himself with his longing for her. But desire radiated between them… and it was palpable.
She'd already freed his penis and was stroking it when, without warning, she dropped to her knees and slipped his erect manhood into her mouth. Blinded by his pure lust for her, his head rocked back and forth as her head rolled back and forth against him. His breath caught at the ecstasy running through his body. He braced himself against his desk with one hand as the other hand guided the motion of her head. The slurping and sucking sounds emanating from Sierra was almost professional in length and intensity. But then, she'd had months of practice servicing Ramon.
After three minutes, he couldn't take the buildup of pleasure anymore.
"Shit, baby… I'm about to… UGHHHHH!"
Ramon exploded in Sierra's mouth with a loud grunt of pleasure. She continued sucking as hard as she could until his knees turned to water, and his penis became like taffy on a hot day.
With a hard swallow, Sierra rose to her feet and smoothed back her hair. She smiled and slid so close to him that she could feel the hard thumps of his heart. He cupped her butt with one hand and kissed her right on the mouth while his free hand caressed her face, moving south. Her nerves were electric as warmth spread through her body.
"Baby, you know we can't…" She whispered, biting back a scream of delight. "My ride is here already. I didn't want you to forget me until I can see you again." The innocence of the words she spoke was outweighed by the sinful act she'd committed with him… again.
But Ramon wouldn't let her go… not yet. "I could never forget you, my love." His heart pounded almost out of his chest, but he couldn't resist confessing his true feelings for her. Her stomach knotted as she thought of them being caught together in full embrace. She pulled back from him, and he let her go.
She scooped up her bag from the floor beside his desk and headed for the door as he buttoned his shirt. After spraying Lysol in the air, their go-to distraction scent, Sierra looked over her shoulder one last time before leaving.
As she traversed the hallway toward a waiting Blue Nissan Pathfinder, she saw a woman walking to her. A blonde bombshell with a smile that won't quit.
Sierra opened the back door of the SUV and tossed her bag into the backseat. As she hopped into the front passenger seat, a voice called out to snap her out of her thoughts.
"Sierra… how was your session with Dr. Santiago?" It was the voice of reason, emblazoned in years of wisdom and guidance. She pulled away from the medical office complex.
"It was fine, Mom," Sierra responded, her voice dripping with angst. "Same old, same old."
"That's wonderful to hear, Dear." Her mother replied as her hopes rose within. "If you keep moving in this direction, I may be gifting you with a car of your own to come to these appointments."
"Well, I have to get old enough to drive first, Mom," Sierra said as she adjusted herself in her seat.
"Of course, Dear." Her mother stated as they drove through the quiet city streets.