Showgirls' Elizabeth Berkley
The sexualization of Showgirls' Elizabeth Berkley was never saved by the bell.
Given her notoriety from Showgirls, it isn't that surprising that Elizabeth Berkley's first passion was ballet. A dancer, model, and child actor who had guest starred on Silver Spoons along side fellow child actor Ricky Schroder, Berkley had just turned eighteen when she landed the role of Jessie Spano on the 90s teen hit Saved By the Bell. She was one of the first contemporary teen actresses to transform into a sex symbol on network television. Saved by the Bell first aired in 1989. Six years later, her sexualization was completed with the starring role in the cult classic Showgirls, by renowned director Paul Verhoven. She would set the stage for similar teen transformations like High School Musical's Vanessa Hudgens, Hannah Montana's Miley Cyrus and Wizard of Waverly Place's Selena Gomez.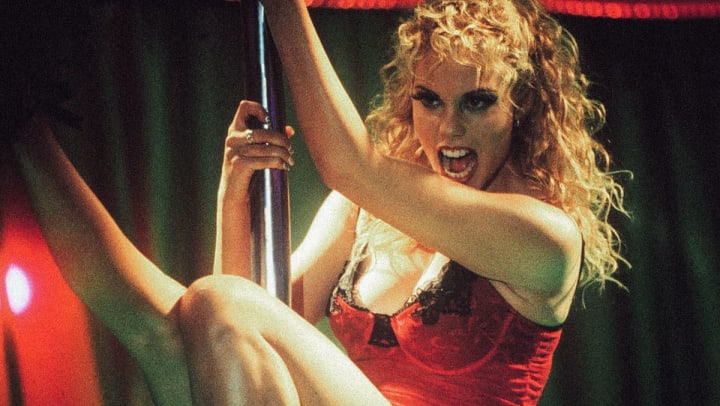 Taking Risks and Getting Attention
She got plenty of attention in the breakout hit TV show Saved by the Bell, for her acting, her beauty, crazy curly hair, 34C bust, 23" waist, and lovely 36" hips. In one of her most iconic scenes, years later, re-enacted on Dancing with the Stars, she frantically jumps around shouting, "I'm so excited! I'm so excited! I'm so… scared!" An almost meltdown-like moment for a young woman on the verge, experiencing overwhelming celebrity status. Elizabeth Berkley went straight from squeaky-clean teen to celebrity to pole-dancing showgirl in Showgirls. The controversial, exploitive erotic film, while panned by critics, achieved cult status over the decades after its release in 1995. She has said "1995 was such a different time, where taking risks like that was not embraced. They were laughed at, they were shamed, publicly. To be a young girl in the center of that was something that was quite difficult."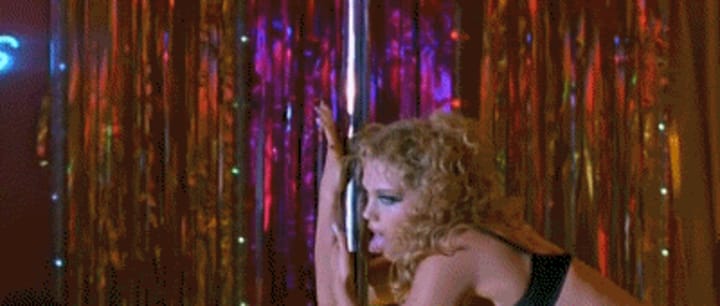 Helping Others Cope
Her experiences in her career, sexuality, and passions were the catalyst for founding a non-profit called Ask Elizabeth. It encourages the teen girl demographic to deal effectively with growing up and transitioning from girl to woman. In her 2011 book, also titled Ask Elizabeth, Berkley said, "I'm very real with them—like, life is not just in a pretty little bow," she spoke with Out magazine about these efforts. "I like feminine, girly things, trust me, but life is not always that neat." A vegetarian who has posed for PETA commits herself to her interests.
Ask Elizabeth addresses topics like love, friends, and growing up. Each page has the look of a scrapbook, and some include notes from Elizabeth scrawled in pen. "Elizabeth is a true girl's girl," her friend Jennifer Garner has said. "There's no topic you can't bring up as a girlfriend, and it's reflected in Ask Elizabeth." In 2003, Elizabeth married Greg Lauren, an artist who has painted nudes for clients like Ben Stiller and Renee Zellweger. Ironic, but not surprising, that the sexualized Berkley found true love in a man who sees nudity through the prism of an artist.
Overcoming the Scarlet Letter of Showgirls
Asked to reflect further on Showgirls, she says. "Regret is not a word that I connect to in my life. I truly believe that everything we walk through and go through is a lesson," but on specific awful reviews Showgirls received, Berkley said, "It was like I was that woman in The Scarlet Letter. Except... I was condemned to wear an 'S' for showgirl."
Oliver Stone would eventually cast her in his football epic, Any Given Sunday. Though a skilled actress, Elizabeth Berkley jumping into bed with a guy is the scene fans obsess over. Wearing a thong as her over-sized shirt flies up to show her butt, she then begins to have sex with the guy. Later, fans are treated to Elizabeth topless as she reclines in bed afterward, showing both breasts as she watches TV and chats with a guy in the room. Many an armchair quarterback sat imaging himself in those brief few minutes of the film. But nothing compares to the never ending, a venerable onslaught of nudity, sexuality, and eroticism found in the iconic Showgirls. The fun is in the search for just how many scenes of full frontal, topless, straight ass, lesbian and straight sex scenes you can count. Debates rage amongst the cult classics fans as to quantity and quality, but a list of what to look for is helpful.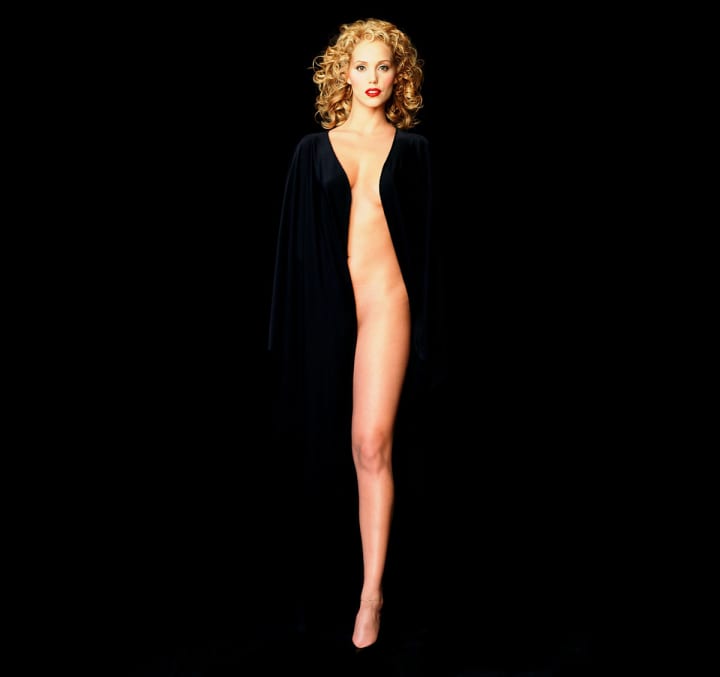 Show Girls Nude Scenes
Elizabeth Berkley stepping on stage at a strip club, stripping down to a black bra and panties first as she does a hot dance around a pole and unhooks her top to free her breasts. She tweaks her nipples and then slides a hand down her panties before continuing to dance topless and looking out at Gina Gershon, who is sitting in the audience and watching Elizabeth's very sexy dance.
Elizabeth Berkley rushing into a dressing room topless after dancing at a strip club, toweling off with her breasts in view as she stands in a thong in front of a mirror.
Elizabeth Berkley stripping down nude for a guy as Gina Gershon watches, Elizabeth bending over in a thong and then grinding against the guy's lap. She stands up, sliding her thong off to go fully nude with her breasts, butt, and bush in view as she returns to the guy and gives him a very hot lap dance while occasionally looking back at Gina. At one point she grabs her own breast and licks her nipple.
Elizabeth Berkley giving a guy a hot lap dance, and then laying back on him as he pulls open her red shirt and plays with her breasts while they make out.
Elizabeth Berkley shedding her dress and walking nude, with her breasts and bush in view, toward a swimming pool. She dives in and a guy joins her with a bottle of champagne and two glasses. He then pours the champagne over Elizabeth, licking it off her breasts before making out with her. Elizabeth then climbs into his lap against the edge of the pool, putting an arm around his neck as they begin to have sex. She then leans back under a waterfall as the sex gets more intense, her breasts bouncing wildly as he holds her up and she rides him hard until she reaches orgasm.
Elizabeth Berkley rising topless out of a set volcano in just a gold thong and then dancing as the lead of a topless revue.
In a quick excerpt from an HDTV broadcast, we get a great up-skirt view of Elizabeth Berkley as she raises her leg to kick a guy and reveals that she is wearing no underwear under her leopard-print skirt. This view is cut off from the DVD and Blu-ray releases in the theatrical aspect ratio.
Elizabeth Berkley taking her top off to reveal her red-painted nipples and climbing into a guy's lap to allow him to lick and suck on them. She then draws a knife on him and we see her topless as she threatens him and then proceeds to attack him.
Elizabeth and her fellow dancers taking off their tops during a dance audition. As a guy watches, the girls dance topless for a bit. The guy then approaches Elizabeth and tells her that her nipples need to be harder and she eventually runs topless into a dressing room. All of this occurs while Gina Gershon watches, showing some cleavage of her own as she leans forward in a skimpy outfit.
Elizabeth Berkley and Gina Gershon being featured in a topless stage dance routine with a cast of other topless girls—Gina starring in the show and Elizabeth as a back-up dancer. We then see the girls running down some stairs after the performance, Elizabeth's breasts bouncing in the process.
Elizabeth Berkley and Gina Gershon wearing bras as they dance together. Gina pulls down Elizabeth's bra and runs her hands over her breasts before almost kissing her.
Elizabeth Berkley and Gina Gershon doing a sexy topless dance together on stage while wearing black leather thong outfits in an slightly bondage-themed dance revue.
Elizabeth Berkley, Gina Gershon, and some other girls all running down some stairs topless as Elizabeth pushes Gina in the back and making her fall down. We see Gina tumbling down the stairs in her thong, and then Elizabeth standing topless as another girl talks to her.
A close-up view of Elizabeth Berkley and Gina Gershon giving each other a very nice kiss, complete with smeared lipstick. Hi-res DVD edition.
Elizabeth Berkley and Rena Riffel doing a very hot girl on girl striptease dance as they remove each other's panties and then bump and grind against each other while fully nude. Hi-res DVD edition.
Elizabeth Berkley, Bethany Chesser and another girl taking off their tops during a dance audition, and then we see Elizabeth talking to a guy while Bethany looks on. Hi-res DVD edition
Elizabeth Berkley and Melinda Songer both topless in a dressing room as they sit in front of a mirror and put on wigs and do their make-up. Hi-res DVD edition.
Final Analysis
Perhaps Elizabeth sums it up best. "Whether this film has been your guilty pleasure, whether you have played 'Pin the Pasties on the Showgirl,' or whether Nomi's own plight and her fight and struggle has become your own anthem in your life, I hope that it's brought you comfort, I hope that it's brought you joy, I hope that you've made incredible memories with your friends watching it cozy on your couch." Those same fans were treated to another groundbreaking moment from their teen sex idol at the turn of the century. As the millennials began to come of age, Elizabeth Berkley guest starred on an episode of the hit classic NYPD Blue, starring Dennis Franz and Gordon Clapp. The sexualization of Elizabeth Berkley could not be better cemented that a then risqué interracial sex scene on the groundbreaking, censor challenging police drama.
Featuring uncensored scenes from Showgirls, Any Given Sunday and Moving Malcom, Elizabeth Berkley exposes everything from lesbianism to lap dances. Available exclusively from Mr Skin.
About the Creator
New Yorker in his forties. His counsel is sought by many, offered to few. Traveled the world in search of answers, but found more questions.
Reader insights
Be the first to share your insights about this piece.
Add your insights