Sex Work Is Work!
A NYC sex workers protest!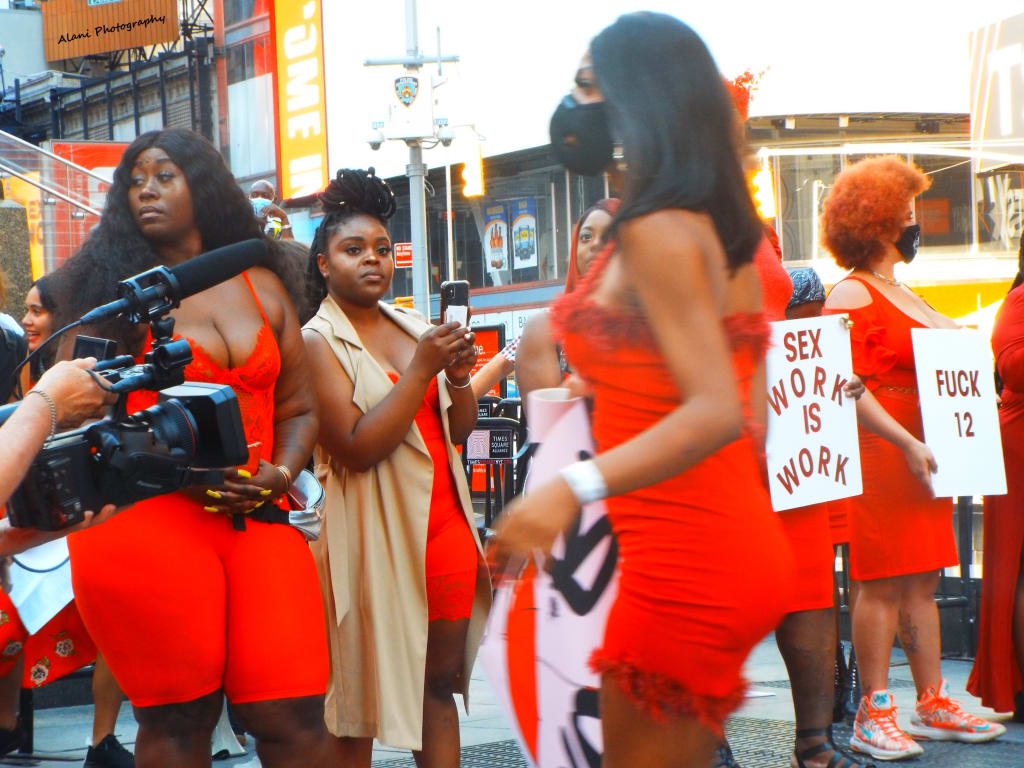 MotherhoodSexMarijuana was there!
Ladies and gentlemen, this blog is all about happenstance, the spirits around you & making sure you are always good aka being at the right place at the right time. It doesn't happen to me often but when it does, I'm always grateful and thankful for the opportunity. As always, I ask you to walk with me.
On July 29th, 2020 I celebrated a birthday and it was a great day; in fact, it's been a long time (shout out to Eric B & Rakim) since I've enjoyed a birthday so it was truly special for me. The best part of the celebration began on the 31st when Ruby Doll & I headed to New York City for the weekend. The idea behind this trip was to take our podcast to New York to do a travel blog. It was a first time visit for Ruby and a well needed re-visit for me because I miss my culture filled city big time. Our whole plan consisted of us roaming the city, taking pictures, eating and talking about our experience on camera but what we didn't know was that our lucky asses were going to run in to some hot girl shit!
Let me paint the picture for you:
Saturday afternoon, it's hot & humid as fuck & we are sitting on the red steps in Times Square. We're feeling great because we were munching on some barbecue chicken after smoking a fat one and people watching everything in the area. As we were taking pictures, we noticed there was a gathering of people wearing red and right next to them, a sound system was setting up themselves like they were about to start playing some music. I immediately thought that a show was about to start and Ruby was excited for the opportunity to dance in New York City streets so we definitely hung around to see what would happen next. As more people wearing red showed up, Ruby decided to ask a bystander what was going on and that's when we found out that we bumped into a sex workers protest! Not only was it a great experience for us, it was also content gold for our podcast!
The main purpose of the protest is the name of this blog; sex work is work! If you take a minute to check our current state of events, you have to agree that a lot of things that we enjoy in our society now came from the world of sex work. In Europe, sex workers are not only protected they are treated like regular working class citizens but not here. These were the main things discussed by the many speakers at this protest and they most certainly tied it in to the black lives matter/de-fund the police movement as well. It was an amazing conversation to bump into not only based on the podcast but also because as women that are not involved in sex work, we needed to see & understand that side of the spectrum. We definitely got an education and we're grateful for it.
If you're reading this blog right now and you were there, please reach out to me to let me know your thoughts on the protest as we do plan to do an episode about our experience in New York and if you'd like to be included in that episode, we'd love to have you!
The whole weekend was a blast but because we got the opportunity to be right there as that was happening was pure magic and we loved it! Make sure you're check out the podcast when it comes out too because Motherhood Sex Marijuana is in the motherfucking building!
sexual wellness
About the author
Author, Blogger, Podcaster for Motherhood Sex Marijuana, Writer for Fuego Magazine!
nattiekai.com
nattiekai.wixsite.com/kaih!
motherhoodsexmarijuana.com
Reader insights
Be the first to share your insights about this piece.
Add your insights