Saucypants: Wearable Technology for Online Dating
By combining geolocation services and erotic vibrational stimulation, the creators of Saucydates bring you Saucy pants...or do they?
In 2017, the dating scene seems to be almost entirely app-based. We've been blasted by creeps on OKC, swiped left on Tinder, had our Coffee Meets Bagel meet-ups, and maybe even looked into moving into a faraway place just so we could use a website like FarmersMeet because city dating just sucks that much.
Apps and dating sites now account as the meeting place for as many as 1 out of every 5 couples out there. It all sounds great until you actually notice how sexualized and creepy online dating has become.
Tinder swiping happens, "Nice Guys" of OKCupid talk about porn-ready stuff they'd want to do with you before they even say "Hello," and entire waves of creeps have basically just turned entire apps to the newer form of Craigslist's "Casual Encounters" forum.
Well, now there's one maverick inventor who has gotten tired of keeping things pretentious with sexuality and also has decided to reintroduce a level of privacy into the online dating world. The company, SaucyDates, is doing this by bringing wearable technology and dating apps together with their trademark SaucyPants.
How SaucyPants and SaucyDates work all depends on your gender. Men wear boxers that vibrate and use targeted vibrations to guide you to a woman in the area. The closer you are, the more they vibrate.
Finally, guys can literally be led around by their dicks!
No pictures, no names, just vibes.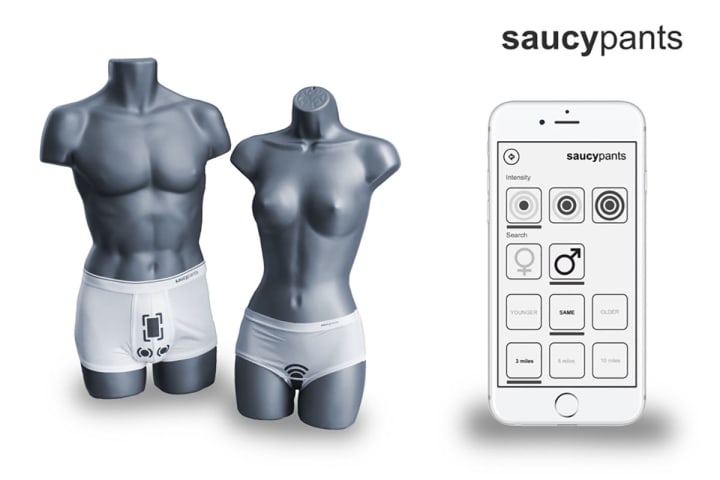 Women, on the other hand, can't tell where men SaucyDaters are. However, the closer that a man is, the more their underwear vibrates too. So, all women have to do is wait. For women, not much really changes in the dating scene in that respect - at least, that's what most guys would assume anyway.
Better still, there are no pictures or names involved in the SaucyDates app. Anonymity and a total lack of communication make this the most private dating app ever. All that is ever displayed are user's dating preferences, nothing more.
So far, it's only in testing mode, but it seems to fare well. According to the makers,
"The combination of meeting someone new with intense erotic stimulation is a real game changer to the online dating industry. User feedback during testing has been immensely positive."
We suppose it was only a matter of time before this happened...however, there's one small catch. This was all done as an April Fool's prank by a single website owner. He had you fooled, didn't he? Don't worry, he had others fooled as well.
The entire site was basically a satirical outlook on how people seem to think dating and hookups work - and what's scary is that it sounds crazy enough to actually work.
The current app dating world seems to have a theme of having guys who are only into sex, having guys who accuse women of "doing nothing and waiting," and having people forget about personality, and the author definitely pegged that perfectly. So, maybe in the future, there will be something similar to this out there. Only time will tell.
About the Creator
Ossiana Tepfenhart is a writer based out of New Jersey. This is her work account. She loves gifts and tips, so if you like something, tip her!
Reader insights
Be the first to share your insights about this piece.
Add your insights