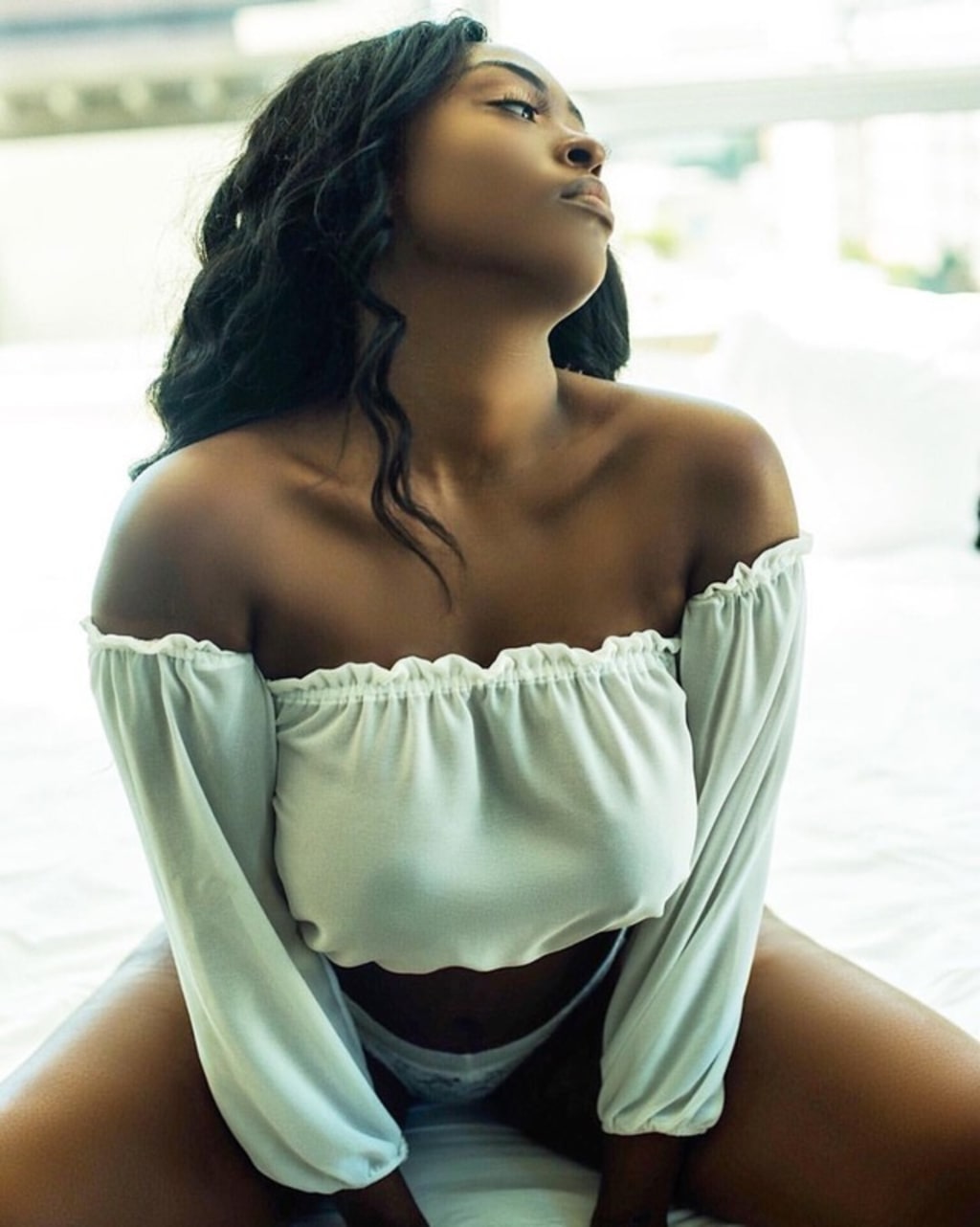 The best part of my blogging has always been and probably always will be the fact that my loyal readers (I love y'all so much!!) love to tell me their bedroom shenanigans just so I can rewrite/spice it up in a blog. Don't get me wrong, I can't just make the story spicy unless it's already spicy (wait...that's not necessarily true as I am a great creative but you get what I'm saying). In order to protect the 'innocent' people involved, I always promise to rewrite/spice it up so that it's different from the story told to me and I always fulfill my promises so let's get into this one right now:
"I met this nice looking chocolate man about a year ago. He was tall, bearded, low hair cut and I could tell from the first time we met that he worked out. He had a firm, well shaped body and I was interested in seeing more of him.
We exchanged numbers and began calling each other often. Our schedules were a bit hectic at the time so setting up an official date was kind of hard but as soon as we both had free time, we scheduled a dinner & drinks date at a nice restaurant in the downtown area of my home town.
We talked, laughed and a whole lot of flirting was going on, it was really cool but in my mind I was fixated on his lips and how they would feel on me. I was so ready to leave the restaurant, go to his house & get answers to the very important questions that were swirling in my mind like...what does his dick look like? Will I gag when I deep throat it? Better yet, will he eat my pussy while I smoke a joint? I was totally paying attention to our conversation while I was having all these wild thoughts, trust and believe.
As soon as we were done with dinner, he asked me if I wanted to take a drive down by the shore. Of course I said yes since I knew that the shore was a romantic scene, especially at night time but I didn't want to go on a drive...I wanted him to take me home and ride the hell out of my pussy! I went along with it though.We get there and we park at a secluded spot, of course the drinks had us flirting and giggling. I decided to turn things up. I reached over, ran my hand across his chest, down his stomach and as soon as I got to his bulge, I grabbed it firmly and licked my lips. He got the hint immediately.
A few minutes later, we were at his house. As I headed to the bathroom to freshen up, he headed to the kitchen to get us some wine and glasses.We got comfortable on his living room couch, sipped red wine & flirted to the point where I couldn't take it anymore. I leaned over and started kissing him while rubbing on his dick. He stopped me to say "I don't want to rush into this if you don't want to" which was his way of being a gentleman and I appreciated that however my hot n dripping wet pussy said "we must have that dick tonight.". I agreed with her wholeheartedly.
Clothes came off quickly, his dick was harder than a ruler and my rivers were overflowing. When I tell you that this man pulled me to the end of the sofa, pushed my legs up and proceeded to lick & suck my pussy so motherfucking good! GIRL! He had me trembling like I was cold when I came and just when I thought he was about to slay me with the dick, he decided to do things differently. He finger fucked me, played with my clit, rubbed my hard nipples and watched me cum over and over again. He grinned wickedly as he felt my pussy tense up around his fingers and my cum splashed on his hands. I got to the point where I wanted his dick deep inside of me.
Finally he relieved me as he slid deep inside my waters, swimming and hitting all of my spots and when I came on his dick Kai I swear to you, I soaked that shit properly! I came so hard that first night I fucked him, it was such a passionate night. I fucked him so hard that night and he definitely returned the favor. Kai I sucked the fuck out of his dick, damn near swallowed it! It was so delicious too, even his cum tasted good. Shit, as I'm writing this email I'm getting hot n bothered just thinking about him. I'm going to have to call him now....
All I have to say is "GET YOURS HONEY!"
Thank you so much for checking out my blog, please do leave a tip & checkout my sites for more info!
www.nattiekai.wixsite.com/kaih
www.motherhoodsexmarijuana.com