Pussy Target: Bea and Eva
Bisexual girls with bankable charm.

I am a heterosexual girl. Even so, these two females make me squirm, press my thighs together, and feel the tingling, the delicious wetness of being. The unbearable lightness of being, the sexual joy of being. I have been in porn videos with Eva, and I want to be in porn videos with both girls, me pressed between those warm, full, soft, beautiful breasts! Let them hold my hard nipples in their mouths! Let them both lick my hungry pussy! These past few days my fantasies swirl around Eva and Bea. They are my Pussy Target!
I have had small-talk with both girls, and know they get each other off, whenever they are in the same room, and have some time to spare. Bea owns a giant yellow vibrating dildo, which I call The Yellow Submarine. In videos I have watched her use it on herself, and use it on Eva. She moves the slow vibrating tip in circles around Eva's clit, as Eva fingers herself, Eva's slender fingers full inside, slick with viscous juice. And later, Eva slaps her fingers deep into Bea, as Bea works a small purple bullet, a little vibrator at full speed, warp-ten! Bea told me that was the first time she had ever an actual orgasm in a porn video. Up to that moment, all the videos she had made with boys and girls had been acting, really believable acting, but all fake.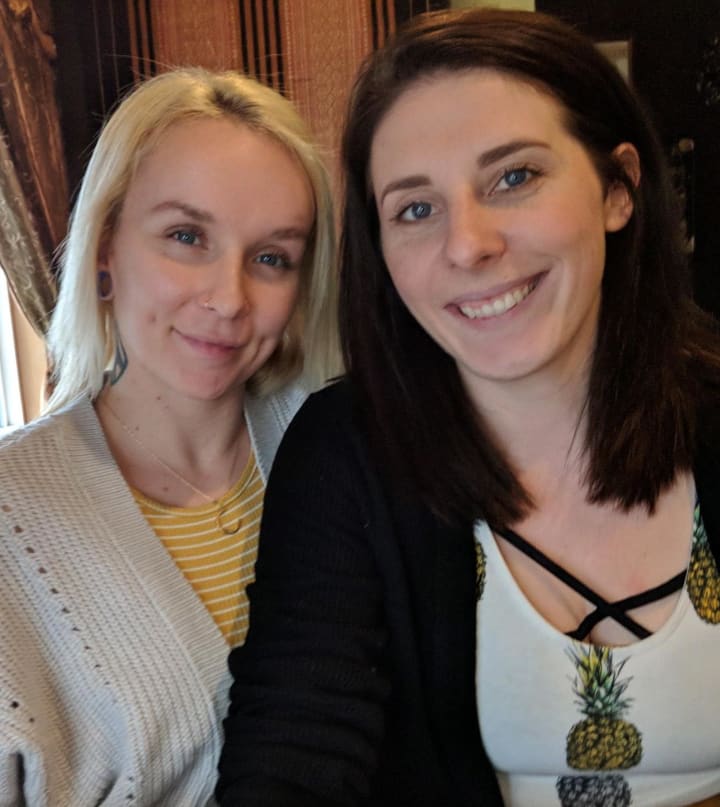 Eva and Bea have a long-distance romance, Eva in Seattle, Bea in Portland, Oregon. They talk almost every day, comforted and made calm just by hearing each others voices. They can talk about nothing in particular, the normal things, the coming and going of boys, the coming and going of girls, the current cash flow, future jobs opportunities, photo and/or video shoots. The primary way both girl make cash is by taking their clothes off. Sometimes this includes sex, often not. Many older gentlemen just want to spend time with smart, beautiful young women. Often sex is the best thing for those men, the real fun is spending time in friendly conversation, out to dinner, out dancing with a gorgeous, chatty, cheerful woman. Call it escort work, or just going out with successful gentlemen, and being tipped generously for ones time.
After a while the labels no longer matter. It all comes under the general category: sex work, which can mean a wide variety of things, some having more to do with imagination and fantasy than with actual physical sex. It is possible to earn $1000 or more per hour, without ever taking one's panties off! Just by being a calm girl, with a pleasant attitude, being observant to the particular needs of the particular man, and being patient, generous and understanding about the life and fantasies of the person who has offered you piles of cash. Many strippers and hookers have no patience for the subtlety of this type of sex work. Just by being in a hurry, those girls miss out on tens of thousands of dollars.
Being in the same business, Eva and Bea have much to talk about, similar experiences with men, and the various ways to make money with men. Mostly it is men who are paying for their company, their time and their delicious bodies. Bea has a doctor who likes to suture-up her pussy lips, sew them up tight, as if mending a knife wound! He sews her up, pets and caressed his skillful work, jacks-off on his skillful work. Then cleans her up, cuts away the surgical threads, kisses her pussy tenderly and sends her home with piles of hundred dollar bills. Other times, they just sit on the couch together, drink beer and watch TV, and he still sends her home with piles of hundred dollar bills. That is only one example of the variety of sexual actions, and simply, tender human joy men are willing to pay for.
I am not recommending any of this a career choice. Sex work is not for everyone. I am reporting the facts, like an honest cultural anthropologist, taking notes, and reporting what is going on in this particular place, at this particular time.