Origins of an OnlyFans Mom
Journey of a Lifetime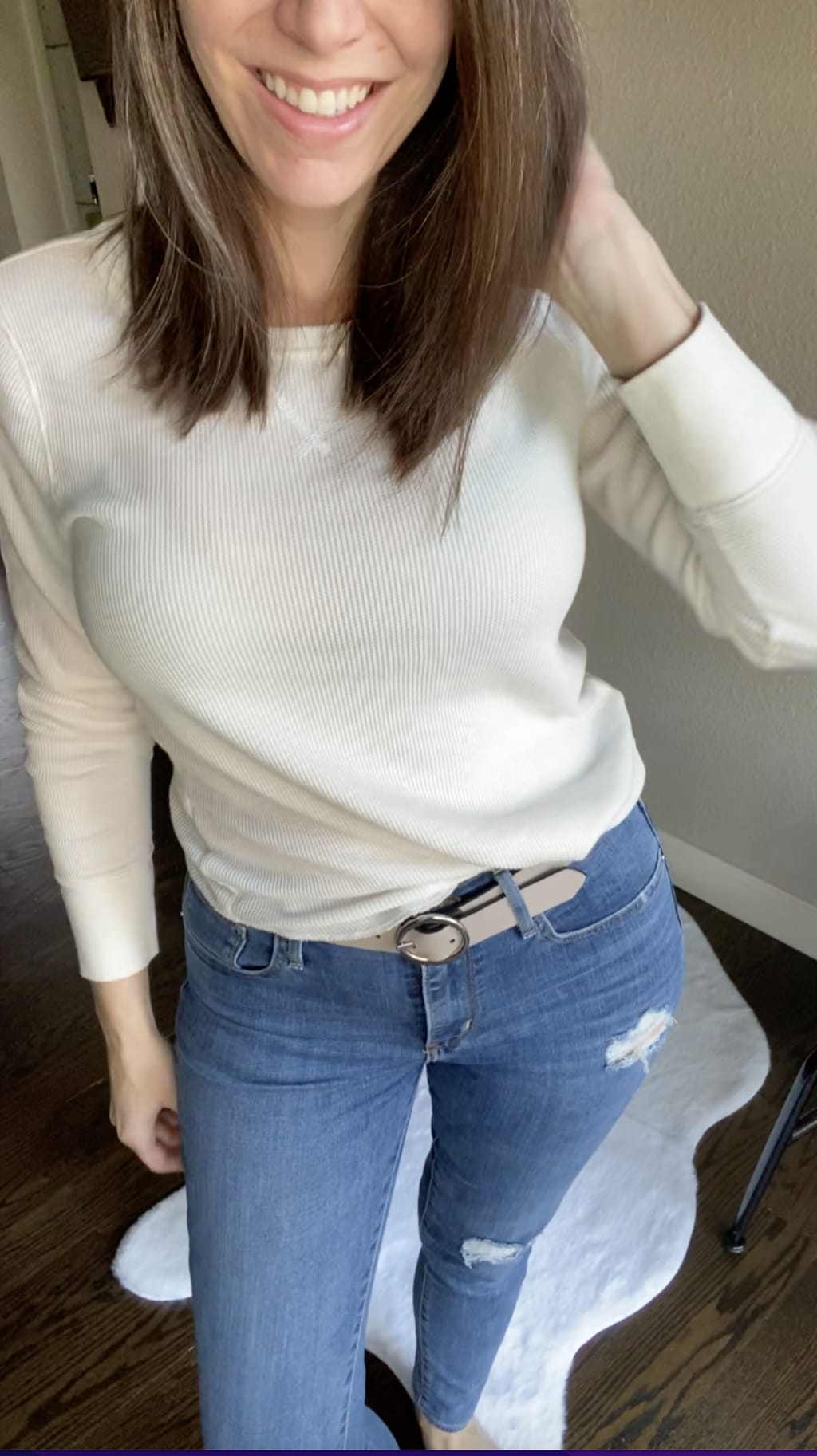 Hi! I'm Lori Grace. How did my hubby, El Capitán, and I decide to become spicy content creators with an OnlyFans page? Read on to find out!
Sometime during 2020 – it's hard to say exactly when. Time during the early months of the pandemic is slippery – I notice an unfamiliar charge on our credit card statement. I see it again the next month, so I ask my hubby what it is. He tells me about this site called OnlyFans.
He casually floats the idea that I could start an OnlyFans page. Says there's real money to be made. I'm doubtful but mildly intrigued. I'm also from a conservative Christian family down south, and my stomach instantly knots.
It doesn't matter anyway because I'm insanely busy creating a department from scratch at my large, public school district. I pour my heart and soul into my work. I'm a career educator with 20 years of teaching and administration under my belt, and working overtime is a regular part of the gig. Let's just say, I don't have time for musings about amature porn sites. I have no intentions of making a career change, even though I'm overworked and underpaid.
Skip to December, 2020, and cabin fever has us inching out into the world. The hubby and I go to dinner at a members-only club downtown. As he'd tell you, it's the only pretentious thing about us. He's mostly right. All I know is that they pour a helluva drink and keep 'em comin'.
We step into the cigar room after dinner, and he clocks a couple at a table in the corner. He says he's pretty sure he knows the woman from somewhere.
I notice the way they're looking at us. They're swingers, I say. Somehow, I just know these things. Why I couldn't have been blessed with a more useful sixth sense, I'll never know.
Deep into our 3rd-ish cocktail, my hubby tells me for real, he thinks he knows this lady. From Reddit. I'm not from the internet as my hubby would say, so I ask him to expound. He tells me she's this OnlyFans gal whose stuff he's been seeing in some of the subreddits he follows. I'm a Reddit novice, so I tell him I'll have to take his word for it. (Flash forward to today, and I'm solidly an advanced beginner, but more about Reddit later.
I don't remember if we approached them, or if they came over to us… I kind of think it was the latter. But anyway, we strike up a conversation. Nobody mentions Reddit, or OnlyFans, or swinging because, well, I don't guess those are icebreaker topics. They – let's call them Callie and Jay – say they're accountants (which has no special significance to me at the time) who run their own business. If you're new to the spicy content creator shtick, let me tell you – accountant doesn't mean what you think it means.
When the hubby and I can steal a private moment, I reiterate that I totally think they're swingers. The hubby and I aren't what you would call actively involved in the lifestyle, though we both enjoy the occasional unicorn. There's more to it, but that's another story for another day.
By this point, we're all sauced. The four of us end up going back to our place. At some point, Callie and I are trying on lingerie in my closet – that's normal, right? And our hubbies are talking in the living room.
As it turns out, they are, indeed, swingers. Hubby is tempted because, well, Callie is kind of a Reddit crush! But, we don't have a habit of making rash decisions. So, Callie and I give our hubbies a sexy show, followed by a fun, wild, and fuck-free evening.
The next day, as we're lounging around, nursing hangovers, the hubby says that Jay told him they were making an income of 15, sometimes 20k a month from their OnlyFans site. Hubby was incredulous, so Jay showed him their OnlyFans payout statements. Sure enough, they were.
No way, I say.
We could be doing this, too, he says.
Work is so demanding, though. I can't fathom adding something like that to my plate. Besides, the conservative Christian knots are still in my gut when I even think about the idea of starting an OnlyFans page. (Nevermind that I have no idea what that actually entails.)
Not only is work demanding, it's starting to suck the life out of me. I love my team, and I adore the students we serve. I'm holding on by a thread, knowing our work could be life-changing for thousands of students and families. Getting my district into compliance with federal law required changes that ruffled the wrong feathers. By November of 2021, I find myself at the unemployment office.
A little bit of soul searching brought me to the conclusion that I wanted to be my own boss from here on out if I could find a way to do it. Fuck giving my blood, sweat, and tears to a place that could cancel my livelyhood on a whim.
We could start an OnlyFans page – my hubby's quiet encouragement running in the background as I half heartedly search job postings.
Every couple of weeks, he half-jokingly pokes at me about becoming a spicy content creator. I wonder if being spicy content creator with an OnlyFans page could possibly replace my 6 figure income.
I kick around the idea of creating educational content and becoming a consultant. Lord knows my former school district isn't the only one needing help with federal compliance. But, my heart just isn't in it.
Blink, and it's January 2022. Let's start an OnlyFans page, I say.
When we embarked on this adventure, I had no idea how I'd do as a spicy content creator. We didn't know how much time and effort would be involved. We didn't know if we'd missed the boat now that the world is getting back to normal (whatever that means!). I'm just your average minivan driving mom-next-door. I knew I wanted to be anonymous, and I had no social media presence of any kind. We would be building from square one. So, we set the humble goal of making an income of 2k a month from our OnlyFans page by the end of May. That would give us all of February, March, and April to figure out what we were doing and to see if this venture was going to be worth our time.
Fast forward to May 1, 2022, and I'm in the top 0.7% of all OnlyFans content creators, making 5 figure income every month and growing! I'm well on my way to blowing my previous 6 figure yearly income out of the water. Fast forward to September, and we're still goin' strong. Like any job, there are ups and downs. (And LOTS of fodder for spicy writing!) One thing's for sure – I love being my own boss and creating content on my own terms.
Stick around to read about how we got here and where we're heading.
About the Creator
I'm Lori, your sweet, sultry neighborhood mom. I love telling spicy stories - both fictional and from my life. If you want to peek into the window of the married, vixen-next-door, here's your chance. Reddit.com/u/good_lord_lori
Reader insights
Be the first to share your insights about this piece.
Add your insights