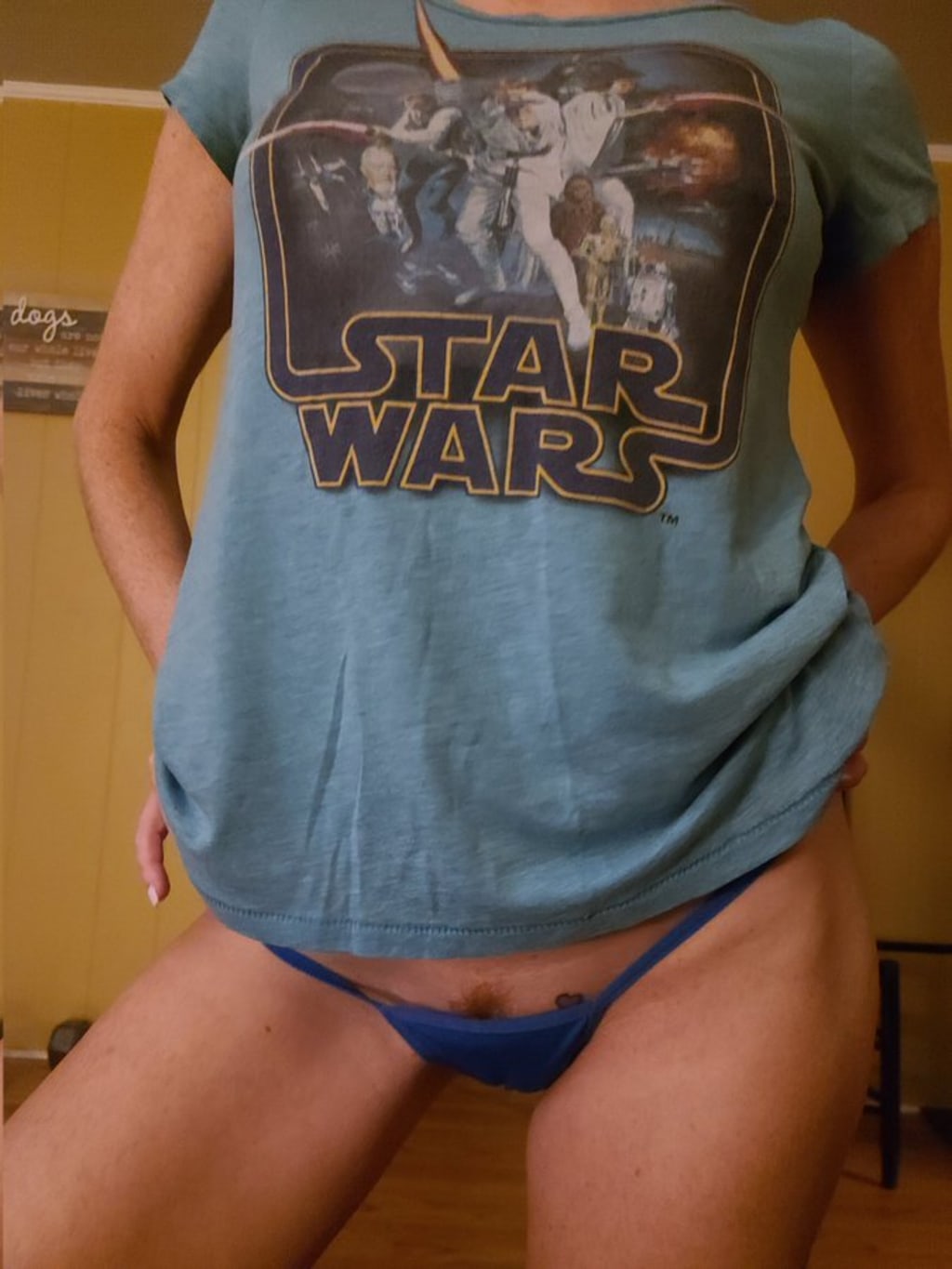 Model credit: https://twitter.com/AlliJ864
As Allison lay there, she felt Simon's tongue press against her swollen clit and let out a moan. She had been frustratingly horny all evening and had wanted to touch it herself while she sat opposite him at the bar. Now as he excited her with his tongue, his finger slid inside her wet pussy. She reached out her hands to the back of his head and pushed against it, she wouldn't need much to cum.
Eight hours earlier they had met at the ultimate nerd event. Allison dressed as Queen Amidala from Star Wars in a white crop top and tight pants suit to show off her superb curves. Meanwhile, Simon wore a Captain America costume. Initially, Allison thought his costume had padding for muscles, so she went to squeeze them. Instead, she found out they were real, and she was impressed.
They chatted and it turned out they were both staying at the same hotel. Despite his physique, Simon was a bit shy, so Allison arranged to meet him for a drink at the bar. They chatted, and flirted, Allison touched his leg, and then left her hand there. Finally, she suggested they head up to her room for a nightcap. They were barely in the door, and Simon was kissing her, and they were both naked.
He didn't waste any time getting Allison onto the bed and burying his face between her legs. The way his tongue moved, told Allison that this certainly wasn't his first time pleasing a woman. As she moaned some more, the intensity of his tongue movement increased, his finger slid deeper into her, and she could feel herself close.
As she breathed deeper and faster, she pressed her hips forward and felt his nose rubbing against her clit. She started rocking so that she could feel his nose and tongue on her clit while his fingers explored her more. His other hand moved to her breasts and started to massage them, she loved his big strong hands on her body, she liked to feel his firm, well-defined arms.
Allison felt that gush of pleasure coming, and she wanted to wait, so she pushed his head back, and murmured "Fuck me, Captain America!" Simon smiled and removing himself from between her legs he stood up. It was only now that Allison saw how big and hard, he was, she needed him inside her.
Simon made his way up the bed, Allison spread her legs invitingly to let him inside her. He took hold of his lightsaber, rubbed the head of it in the juices flowing from her pussy, then thrust it inside her. He leaned down to kiss Allison and she could still taste her juices on his lips, this excited her even more.
Feeling him so deep inside her made her start to gush. She was so well lubricated that, despite his size, he slid so easily in and out of her. She could feel every bump of his hard cock and she enjoyed the way he felt. His arms bulged as he supported himself above her. He leaned down far enough for his chest to rub against Allison's hard nipples. She stretched out her hands and felt his chest, this time without the material between them.
Her other hand moved down until her fingers felt that little excited clit of hers. She rubbed as he thrust back and forth inside her. She was close, she thought he might be too. She looked into his eyes and saw complete desire; she loved that look!
As Allison's fingers rubbed her clit some more. She moaned, "I'm going to cum". This spurred Simon on, to move faster, to pound harder. As Allison felt that first wave of pleasure spread through her body, she felt Simon's body spasm as well. Then she felt the warmth oozing inside her. Her whole body responded to the feeling of him and his juices. Allison gasped for air as every part of her body responded to the way Simon had pleased her.
As she lay there, on her back, with him deep in her still, Simon asked, "Did you want to taste me?" Allison did want to taste him, but she thought he would be empty, at least for a little while. She smiled and replied, "Didn't I drain you?" Simon nodded, and said, let me get you some.
He rushed backward, pulling his softening cock from inside her, he dropped to his knees and buried his face between her legs again. She felt his tongue slide inside her pleased pussy. Part of Allison was shocked that he would do this, and another part of her was incredibly turned on by his tongue back at work in her pleasure zone.
After a few seconds of his tongue lapping at her pussy, his face popped back up. She could see him smiling. He climbed back up the bed, over her satisfied body. She could feel his cock on her stomach, now a lot softer, but still soaked in her juices.
Simon's face leaned down to Allison's, his mouth was just above hers. She could smell her pussy again, but this time the scent was much more intense. His lips pressed against her, she opened her mouth and felt a thick liquid flow in. It had an intoxicating flavor, she kissed him, and she wanted to taste it all off him. Her tongue circled the inside of his mouth to get every drop. The way their juices combined tasted like nothing on Earth.
Allison would need to taste him more. She made sure she did.
*****************************************************************
Thank you for reading. If you enjoyed this story, please like, comment, or even leave a tip. The model on the cover is Allison-Jayne to find more about her please check her out at the below link
To read other steamy stories like this, please subscribe. There are some other great stories like the one below:
About the Creator
Amateur storyteller, LEGO fanatic, leader, ex-Detective and human. All sorts of stories: some funny, some sad, some a little risqué all of them told from the heart.
Thank you all for your support.
Reader insights
Be the first to share your insights about this piece.
Add your insights