Naughty secrets.
Babysitter.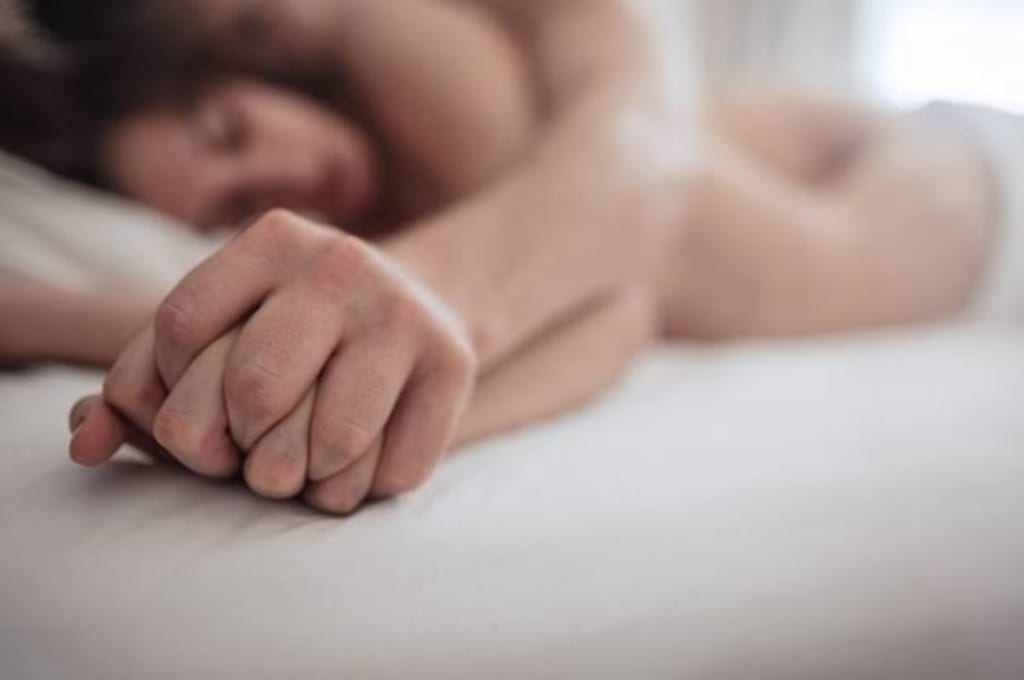 I took a job as a nanny for a single father of two kids. The job role was to care for his children while he worked and in return he would give me a place to stay and pay me $300 every week.
One night after I had fed and put the kids to bed. I had a shower, wrapped myself in a towel and went into the room that I was sleeping in. I ended up falling asleep on the bed in my towel.
I began to wake up as I felt the presence of someone hovering over me. My towel had come up onto my belly and my vagina was on full display. I looked up and the father was standing over me, "you have a beautiful body" he said as he pulled the towel off me, exposing my naked body. I was surprised that this was happening as I am 19 and he is 38 but I didn't mind it. He was fucking hot.
He pressed his finger to my lips and ran it down my body. I opened my legs for approval as he stuck his finger inside me, he grabbed the back of my neck and pulled me close to his face, "I'm going to make you cum and then I'm going to fuck you." He said as he fingered me hard. He made his way down my body with his lips until he reached my vagina. He sucked, licked and bit until I came. I have never had an orgasm like that before.
He stood up and said "lay face down on the bed with your legs open, I'll be back." After a couple of minutes, he came back into the room with rope and massage oil. He tied me to the bed, hands and feet all tied up so I could barely move. I don't know what it was but I was keen.
He then tipped the massage oil all over my body and began to rub it all in. He ran his hand up the inside of my right leg until he reached my vagina. He rubbed slapped and fingered me until I came again, "I'm going to fuck you now." He said as he climbed on top of me. He put his right hand under my stomach so that my arse was up into the air. I was so wet and excited to be fucked.
He teased me for abit, running his dick up and down my vagina as he said "beg me to fuck you." I was tingling and I wanted him inside me, "fuck me please, fuck me hard." I said as I pushed myself onto his dick and it entered inside me. He grabbed my hips and lifted me onto his body as he fucked me harder then I have ever been fucked before. He then untied my feet and flipped me over, my hands were still tied but I liked it. I held onto the ropes with my hands as he held my arse with both hands and entered me again. I moaned and said "keep going, fuck me harder." He moved my body up and down on his dick as he said "young pussy is so good, your so wet and tight."
He untied my hands, got up and sat on the lounge in the corner of the room, "come ride me." He said. I got up off the bed, got onto of him and lowered myself onto his dick. I went mad on his dick while I grabbed his throat and said "I'm so naughty." He came quickly and said "sleep well." And went off to bed.
The next morning he asked me to go for a drive with him while he takes the kids to school. We all piled in the car and made our way to the school. We dropped the kids off and he drove us to a walking trail and said "thought we could go for a bit of an adventure." I looked at him and replied with "Sounds good to me."
We began to walk the trail. 15 minutes went by and he said "let's go this way." It wasn't the trail but I love adventures so that's the way we went. We walked for about 10 minutes before we reached a small waterfall. We stood there for a bit, admiring the waterfall.
Then he slid his hand up my dress and played with me on top of my underwear. I moaned and leant back on a massive rock that was next to the waterfall, I lifted my leg up onto a tree stump that was nearby, grabbed his hand and rubbed myself harder. Then he pulled down my undies, stuck his fingers inside me and said "I'm addicted to your young pussy." I put my hand on the top of his head, pushed him down and into my vagina. I pushed him onto the ground and sat on his face. I rubbed my self up and down on his face until I came.
He got up out from under me, lifted me up and pushed me against a tree. He pulled down his pants and pushed his dick into my wet vagina. He fucked me harder and harder as I screamed "punish me, fuck me." He grabbed my ass and fucked me until he came.
We then left and drove back to his house. When we got to his house there was a car there that I didn't recognise. "Fuck." He said. I looked at him and said "what?" He rubbed his head as he said "it's my wife." Surprised and confused, I said "what the fuck? You said you were a single dad?" He sat in silence and said nothing.
We went inside and they hugged and kissed, happy to see each other I guess. He introduced me to his wife as their babysitter and house cleaner and they went outside to spend time together. I was so confused and annoyed. I did my normal jobs and went on with the rest of my day.
The next night when the kids were in bed. We sat in the lounge room together and watched a movie. They sat on the big lounge together and I sat on the arm chair. Half way through the movie I noticed that his wife had fallen asleep. I discreetly took off my underwear and waited a couple of minutes. I was only in my nightie now. Then I got up off the lounge and sat down on the coffee table in front of him. I lifted one leg up and began to play with myself. "What the fuck are you doing? My wife is right there?" He whispered. I got up and sat myself on top of him, "I want you inside me." I whispered in his ear as I unzipped his pants and put his dick inside of me. I could see the worry in his eyes but he didn't mind starting this when I first got here.
I slowly fucked him as his wife was asleep next to us. I moaned in his ear and said "I want you every night." After a couple of minutes, he came and I went off to bed.
This cycle of naughty secrets went on for months until he had to relocate due to a job offer but my god was it good.
About the Creator
I'm Summer Rayne.
There's not really a lot to say about me, I'm abit boring but the things you will read on my page will not be.
I don't have any certain things that I write about. I write about all different things.
Anyway I hope you enjoy!
Reader insights
Be the first to share your insights about this piece.
Add your insights