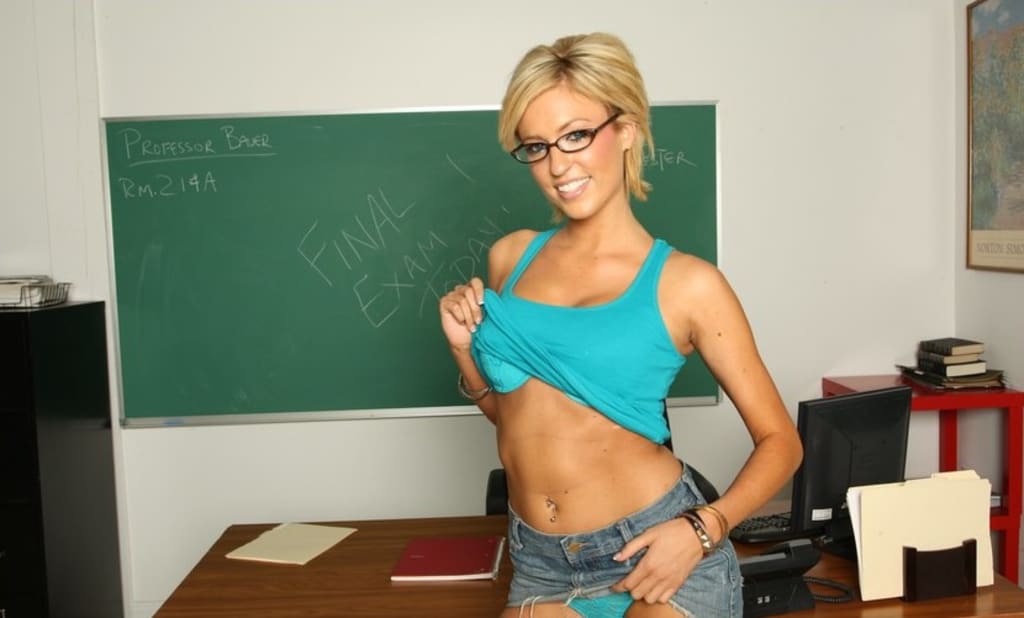 We all have those sexual fantasies about an education setting with some type of seduction. Luckily we have the internet to feed that fantasy which takes out any potential lawsuit which may be imminent. It can come from the sexy teacher or the attractive student but there's a certain power play to be had in the classroom. I'd like to focus on the sexy student scenario today though as that's the type of scene I'll be reviewing. Many websites do scenes based on this sexual fantasy; they include the likes of Innocent High & Teacher Fucks Teen (Nubiles.)
There is some quality stuff for a price but I find I keep going back to the same website for the good stuff.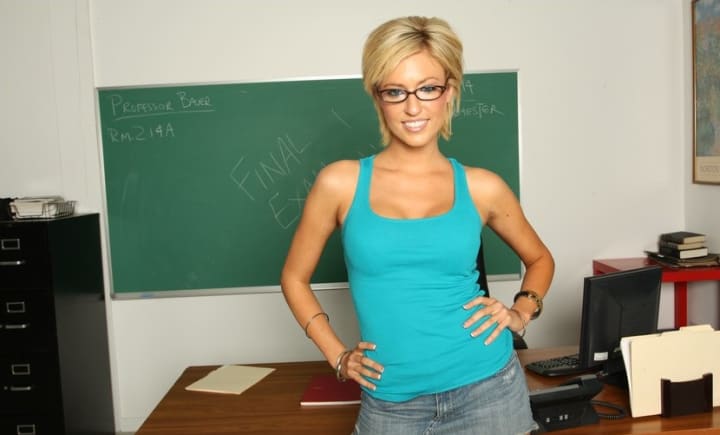 One series that has been consistent in quality throughout the years has to be 'Bookworm Bitches' (or Naughty Bookworms as it's now known.)
It's a porn series produced by Naughty America which basically depicts young, naughty college students seducing their teachers/ tutors/ trainers for better grades. It's hot because it depicts young, attractive looking teens acting in the most ruthlessly sexual way possible. The thing I like about Naughty America is they tend to bring a lot of realism to their material. They'll often use clever camera cuts when the performers run out of lines to say while they're improvising. It usually makes for a top pornographic product; they tend to sell scenes as multiple DVDs now as well.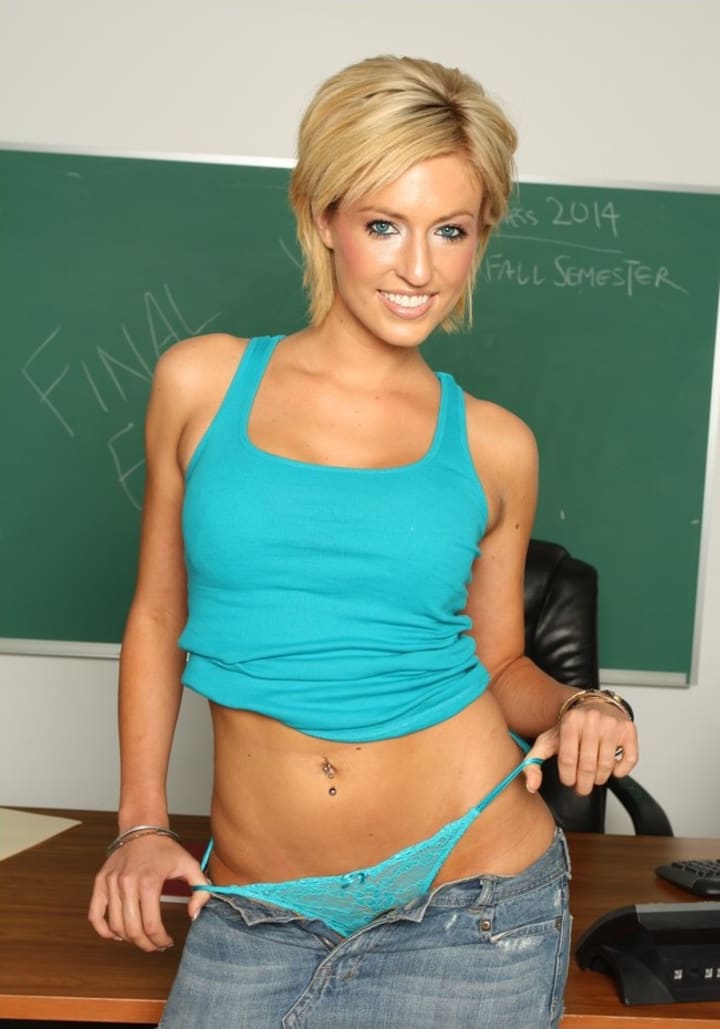 This particular scene stars a young, blonde pornstar I haven't came across before called Victoria White. She's a natural beauty from Dallas, Texas, aged 33 years old with curves of 36C-25-35.
I think she's a lot younger in this scene though as this scene was shot way back in 2010 which I guess would make her 23 at the time.
Her co-star playing her teacher in this scene is well known performer Christian. Simply known as this with no surname he's quite distinctive in the industry as he's 6ft 5 inches , bald and made of muscle. He actually dates a fellow pornstar Lovette who introduced him into the porn business when she met him working at a nightclub. Before that Christian was a talented athlete who use to coach basketball while working as a teacher. It's quite strange but it appears a lot of pornstars come from an educational background before getting into porn. In one of my last articles I discussed how Lexi Luna was an English teacher before getting into porn. Anyway the background works perfectly here as Christian plays the role of Victoria's teacher.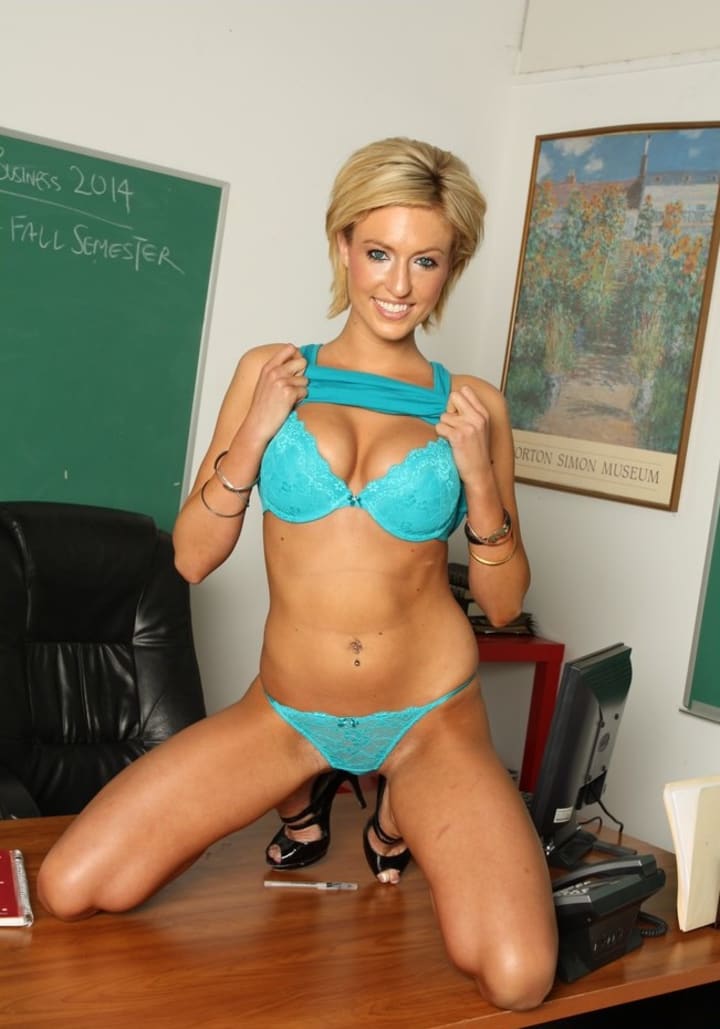 The scene begins with Christian sat casually at his desk when a 'giddy' Victoria turns up particularly early for her class. She's wanting to know the results from her final and hopes her early arrival might allow 'Professor Christian' to disclose said information. It's good acting from Victoria who comes across as an innocent, teacher's pet. The whole look she has with the glasses too are a nice touch and help the whole thing appear more real.
Christian is dismissive of her eager attitude and it appears his class hasn't done particularly well. He discloses to Victoria that she actually got a grade D. Victoria is in shock as she needed at least a B+ to continue her general progress. She emphasises to her professor how it will affect her standing in her sonority and affect her college life in general. A cold Professor Christian is equally dismissive clearly annoyed with his class' effort in general. It's good acting by both and sets the sexual activity up nicely.
Anyway it doesn't look like Victoria is going to accept the Professor's D grade or his continuing cold attitude towards her. She starts to 'butter up' her professor by giving him a shoulder rub and rubbing his bald head.
Professor Christian is taken aback, trying to resist her advances and stating that other students will be here soon. He has to relent though, smooching the gorgeous blonde before having his dick sucked. It's a good juxtaposition with this giant dude hammering a way at the tiny blonde too; it's like Naughty America knows what works. The acting doesn't stop from Victoria either who coos throughout how much she enjoys 'fucking her professor.'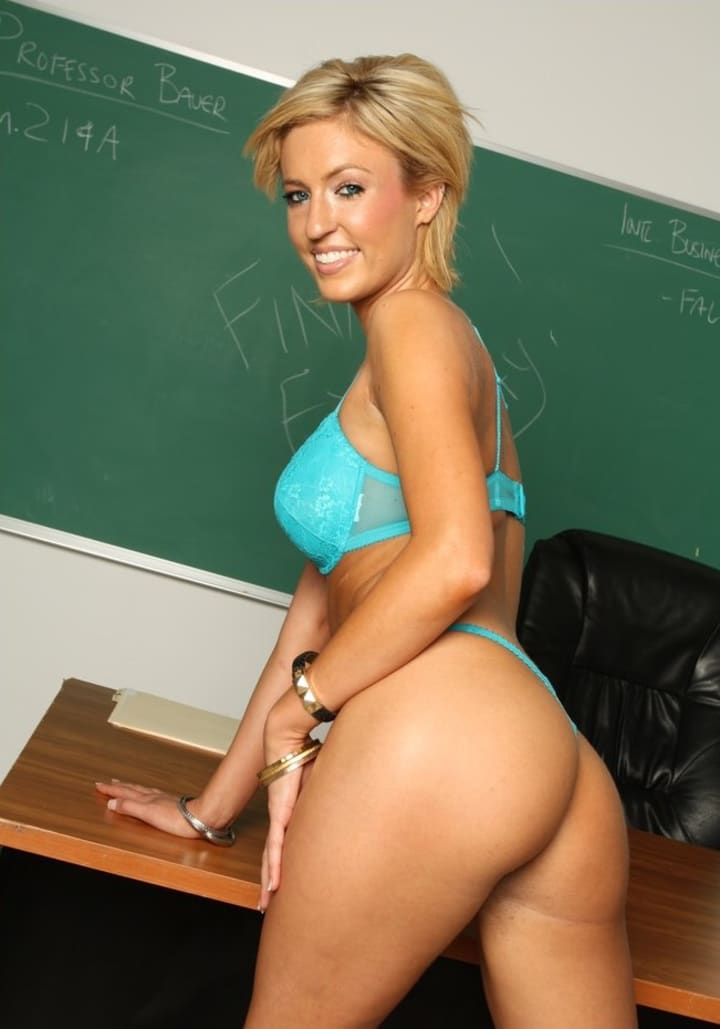 She also lets out little 'woos' when she's changing sexual positions for the camera which I found particularly hot. What's good as well is Christian gets her full naked by taking her high heels off; her tanned naked body is definitely a hot spectacle. My particularly favourite angle is when Christian has her bent over the desk but this is generally a good scene. One odd looking angle though is that pretzel reverse cowgirl stuff I hate anyway; I 'm not sure why directors have women bouncing like a pretzel but I suppose they want to get the model from all angles. I give this 4 out of 5; it's a good scene with good acting.
4 out of 5.