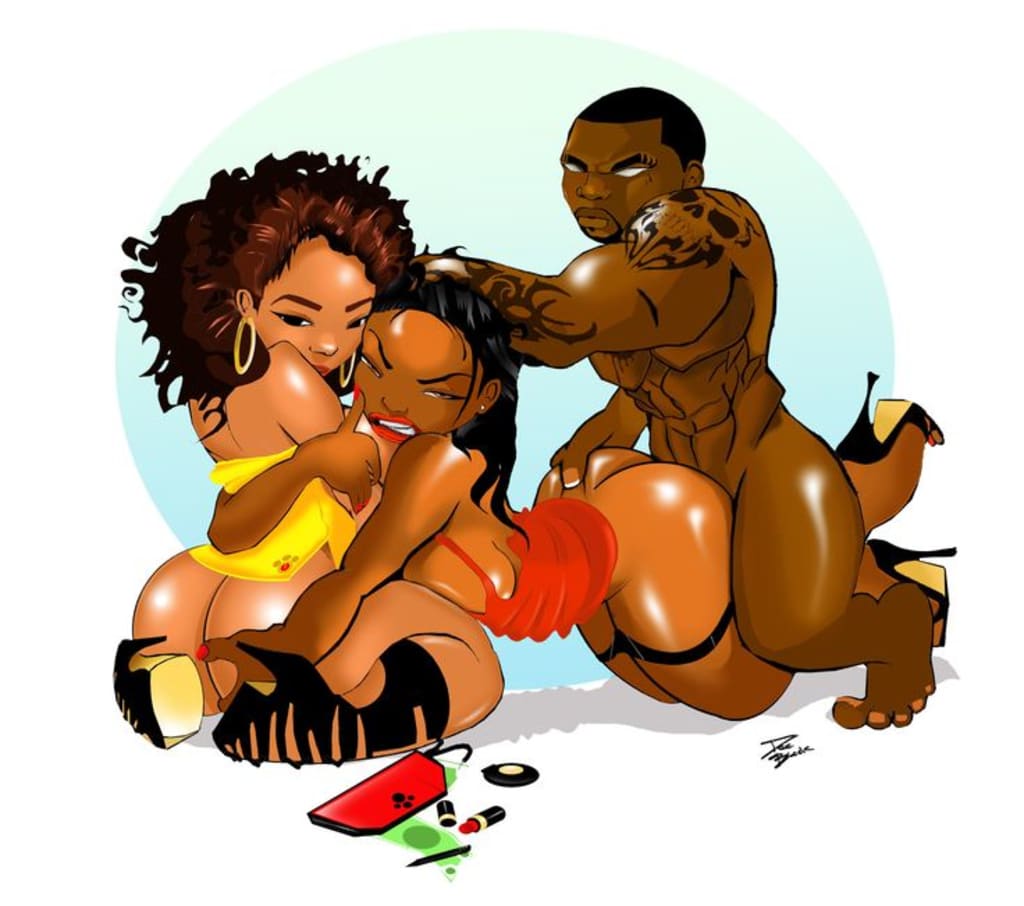 Every now and then I will turn a blog into a full blown story fantasy.
Did you love my last one called Pull Up N Cum Again(?!
Well, check out the continuation below:
"Meeting Solo sparked a whole new chapter in my life called My Sweet Three. Like most people who've had great sex in their lifetime, I've enjoyed different levels of sex so meeting someone and deciding right away whether you want to fuck or not was nothing to me. I've never worried about labels or personal opinions because it's my pussy; I can open, close, give it away or charge. Either way, no one owns or manages it but me, and sideline chatter is just that. I looked over at Solo, thought to myself 'I still want a piece of that wood!' and if he had just played nice he would've been part of the lovely scene playing out in front of him. The whole purpose of coming to the park was to have a one night stand, enjoy each other and probably never see each other again; I was willing to live with that, in fact I was encouraging it. So what the cops came along and instead of arresting us, they want to join in the fun? Why was it different all of a sudden? I could understand if I was Solo's girlfriend or wife but no...this was a random, one night fuck and who cares that others want to join in, especially if it keeps us out of jail? Not me!
ME: 'There's a whole fountain of juices in between them legs baby! You can have some, I can have some, and it'll be still flowing after that!
There's enough for everybody to get some! The real question is do you have some juice for me?'
Lady officer slid her hands thru the slits of my robe dress and as soon as she found my wetness, we moaned in unison. Aroused and soaked, I turned towards her and unbuttoned her shirt to release the hold it had on her breasts, kissed her passionately while she unbuckled her pants. I figured that she would be wearing her bulletproof vest because she was in her uniform but like her male counterpart aka partner, they were ready for some action so she didn't have on a vest. Maybe they came to the park to do the same thing Solo and I were going to do...maybe they fuck in public all of the time...or maybe they meet couples all the time and impose FUCK ME OR GO TO JAIL orders...I wasn't particularly concerned as to what lead to this fateful meeting at this moment but I knew at some point in my life I would be laying around, playing with my pussy and thinking about all the wonderful adventures I've had tonight and that would be a thought that would stand out. Little details like names were completely left out of this equation but that didn't stop the officers from dropping both their pants and exposing their special places for me. Just like Solo, he had an equally impressive piece of wood while Lady officer had a sweet looking, shaven snatch. I fell to my knees and began to orally pleasure both of them; taking turns between sucking on his lollipop to her protruding clit, feeling their hands gently caress my hair while they kissed each other and moaned loudly. My mouth was going, my juices were flowing and as I grabbed a hold of Man officer's hard wood, Lady officer bucked backwards as the intense feeling of an orgasm hit her. I moved quickly as I wanted to catch every drop of her essence in my mouth but before I knew it, Man officer's cream squirted out like a fountain and I damn sure wanted some of that too. Drinking them both in gave me the sweetest orgasm, one that came from deep within and needed to be released in the worst way. Man officer then entered me from behind and all you heard was 'swish' sound from my wetness in the night. Lady officer was on her knees, her mouth surrounded my clit and her eyes stared straight into mine. Looking down at her beautiful face in between my legs as Man officer swirled his wood in my pot had me in complete heaven. Niagara Falls started flowing again and Man officer took this to mean that he should fuck me hard...and he did! His cream shot into me hot and heavy, his loud moans told me that he thoroughly enjoyed me and I was very satisfied.
OFFICER: 'Damn! I haven't felt this good in a long time! Baby, I think we should keep her. She's beautiful, she's clearly open to it, and I love the way she feels. What do you think?'
LADY OFFICER: 'I agree. Her pussy is so sweet; I damn sure could see me playing with it for a long time. What do you think honey? Do you want to hang out with us for a bit and be our personal lover? We've been looking for someone just like you, and if you're down, we'll make sure you don't regret it. What do you say?'
Are they really asking me to be a permanent part of their bedroom? Wait...this would mean that I would get to do THIS whenever I wanted to! I would have dick AND pussy at any time, and there would be no jealousy or anger, just pleasure and wanton lust...this was too good to be true...yet I was intrigued by the dynamics of this relationship. I wanted to know more about them so I had no problem accepting their offer.
ME: 'One of the best nights of my life happening right now and will continue on a regular basis? I would be a fool to turn you down. The only question I have for you both is...am I the only one?'
OFFICER: 'Yes...so far...things can change. Let's discuss that a bit later; for now, I'll take him into bookings myself. Baby, take her back to our house, introduce her to our toys, and as soon as I'm done I'll come home so we can really finish this up right.'
LADY OFFICER: 'Am I allowed to play until you get home Daddy?'
Her hands were all over me, roaming my body and I couldn't help but have a warm feeling inside. It felt really good.
OFFICER: 'Of course baby! I want you both wet and ready when I get there."
Check out Kai Storm Books on www.nattiekai.com or www.nattiekai.wix.com/kaistormbooks