My First Sex Teacher
Naughty America Scene Review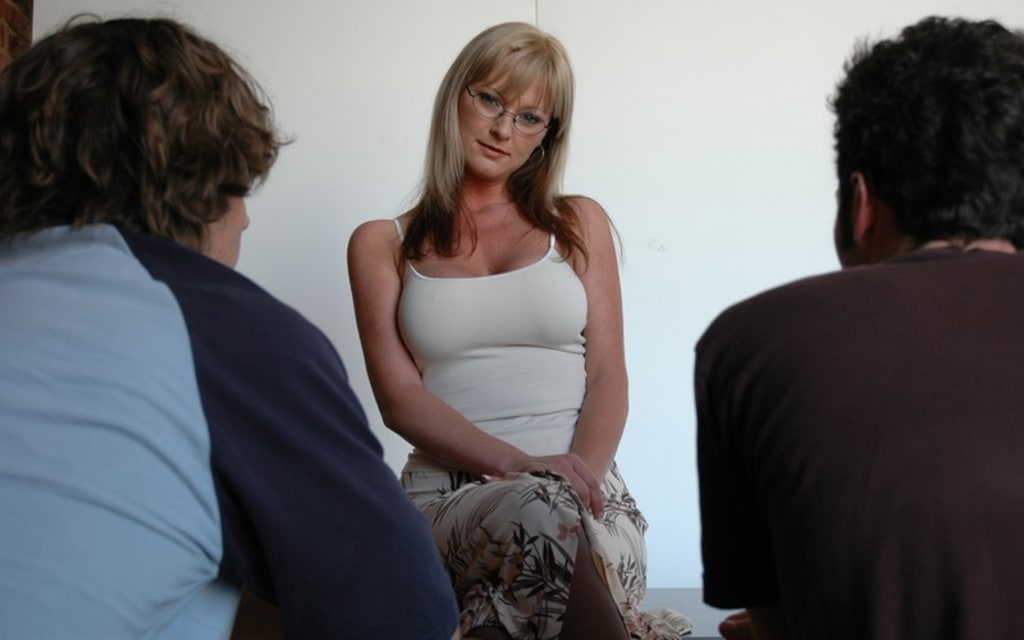 Allison Kilgore playing 'Mrs Wesley'... the type of teacher you don't want your teenagers to have.
Naughty America has came a long way from their low budget scene productions but they could still shoot a sexy scenario back in the day. This particular shoot is a follow up to a scene Allison Kilgore and James Deen shot, where 'Mrs Wesley' accommodates Deen and his buddy. One thing that works in this scene is how sweet looking Allison is. Her innocent look can almost put the viewer into disbelief as they watch what she does in this scene. I'm not too impressed with James Deen and don't really rate his work either. He brings a certain arrogance with him into scenes and doesn't really use much acting ability. I suppose women may like him for his 'boy next door' look but I think he destroys that with his lack of acting ability. In this scene he brings along his buddy (an actor who seems to have left the business as his name doesn't appear to be listed) who has a more believable surfer look about him. Mrs Wesley is angry at Deen asking why he has involved someone else in their tryst. Deen then proceeds to blackmail Mrs Wesley, who in true dirty fashion, accommodates and proceeds to suck his friend's penis. Allison's acting is good, although she's accommodating to his friends, she arrogantly denies Deen pleasure until she is ready for him to join.
Allison proceeds to give both guys a blowjob. It's a good visual spectacle and gasp factor is added by Allison's innocent look. Her arrogance in the scene is great and she clear knows how to entertain the viewer.
Apple for teacher?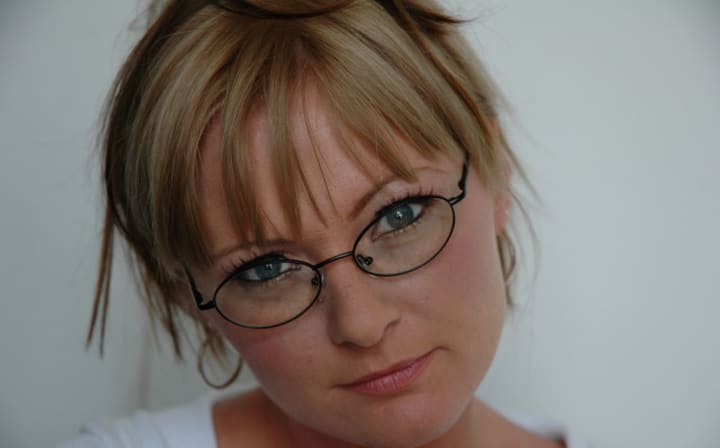 A big mistake the director seems to make here is that Allison doesn't seem to disrobe. It's ok at the beginning when she's giving the guys a blowjob but they tear her tights to have sex with her which just looks a bit messy. You have this gorgeous woman in Allison Kilgore and you're not taking full advantage of her. Allison's oral skills are excellent and it's clear she's enjoying herself in the scene.
Yet another bad element is when they have Allison in the 'bullet' sex position, it just looked untidy. Allison had to angle her head awkwardly to give James Deen oral sex and it just looked uncomfortable for her. The scene picks up when they bend her over the desk, someone directing actually had a good idea and filmed her from the front. This allowed the viewer to her 38DD breasts in full motion, Allison adds to this by some dirty talking; watching that cute face talk filth is awesome. Naughty America's set seems a bit bland, the only things identifying this place as a college is the desk and a globe. They gave Allison some spectacles which do add to the effect but I don't think much thought went into this scene. The 'spoon' position gives us another shot of Allison's gorgeous body but because she's still clothed it still looks a bit messy. Allison does everything right here, when she starts demanding for the guy's load on her face you know it's going to be a good ending to the scene. I don't really rate James Deen as a performer, his buddy in this does a much better job.
Overall, the spectacle and the gorgeous talent of Allison Kilgore save this from a 2 out 5 rating. It was an earlier scene and production values have went up ten fold at Naughty America. This scene has been remastered on the site so does look a bit better.
Overall, 3 out of 5 but could have been a full house if more thought had went into it.