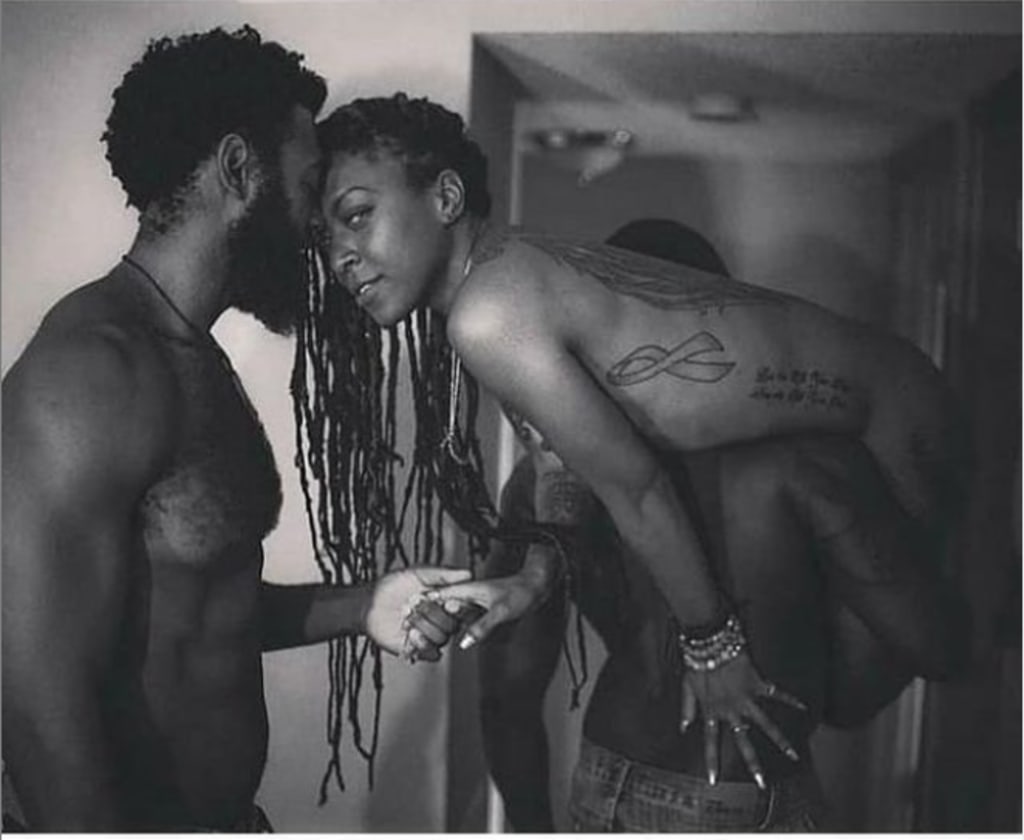 "I swear to everything that I love that when this happened to me, I wanted to tell the world and the only way I thought of getting that done was to tell Kai all about it so here I go. I hope you love all of the details as much as I loved experiencing it!
I met this guy about a year ago...for this story his name is Miami...when I met Miami, it was truly magical. We mentally connected quickly so it was only natural that we connected physically right after. We spent a weekend together where he wined & dined me, treated me like the queen that I am and the sex was amazing. When we were in bed together, he made me feel like the sexiest woman alive and I loved that. He sucked my pussy, he licked my ass, he fucked both holes until they were sore and I loved that. Our connection was so deep that we talked like we were best friends; I shared things with Miami that I never shared with anyone else because he made me feel that comfortable with him...THEN HIS MOUTH FUCKED EVERYTHING UP! In conversation, he just happen to say something that pissed me off and for me, all it takes is one time. I was done with him, I didn't answer any of his calls, texts, emails, video chats, DM's, none of it. He didn't give up though, he continued to reach out and hoping that I would respond.
Recently, I was in his area on a business trip. As I drove closer to his house, I decided to call him because I needed to get some marijuana, I didn't have any on me or any way of getting some on my own and I knew he always had a stacked stash. He literally answered after the first ring and as soon as I told him about my problem, he invited me over. My intentions were to go to his house, buy what I need and head to my hotel for the evening. When I got to his house Kai, I realized that a plan was already in place for me. As soon as I got to Miami's front door, he opened it quickly and he was naked. The dick was laying down but as soon as it saw me it rose from the dead. I walked in wondering what was going on because in Miami's living room, he had cameras set up, lights and another man was sitting on his couch. Kai, the other man was fine as fuck, buffed and muscled up and smiling at me from the minute I walked in. A part of me is excited but then another part of me is scared and nervous; because Miami saw that, he took me to his bedroom to explain the situation.
I was wearing a simple blouse with a flowing type skirt and as soon as I sat on his bed, Miami got on his knees in front of me, reached for my panties under my skirt and slowly pulled them off. He spoke slowly as he reminded me that I told him about a year ago that I always wanted to have a threesome with two men, that I wanted it to be recorded so that I could watch it whenever I wanted to, he told me he had the whole thing ready to go if I was ready! My mouth dropped Kai because not only did I remember telling him that, I was amazed that he had this as a plan for me all this time and was able to pull it off at a moments notice!
He got me ready for it too. He sucked my pussy and my ass to get me comfortable and all the while he was licking me, I was thinking about buffed dude in the living room; it made me cum extra hard on Miami's face and by then I was ready to take it to the living room. I'm going to call buffed dude New York for this story. When I got to the living room, New York was naked and stroking his thick dick. I got on my knees to swallow New York and Miami took this moment to bury his dick in my pussy. Apparently the cameras were already on and recording the whole scene! Miami switched from my asshole to my pussy on one end and New York was fucking my mouth until his hot cum shot slid down my throat. As soon as Miami shot his load in me, they switched places and New York's dick made me cum so hard! One of the best parts was New York and Miami eating my pussy and sucking my ass back to back; just when I thought I couldn't cum anymore, they had my body in convulsions! Then I got to fuck them one by one and that was truly magical.
When we woke up in the morning (yes girl I spent the night) Miami asked me to drive him to his girl's house of which I was willing to do if he obviously had no problem with it. When we got there, he invited me in and at first I was like this can't be good but he assured me that everything was fine. I came in, we sat on the couch and talked, he rolled a blunt and passed it to me when he lit it. I smoked and felt like maybe he was comfortable doing things like this because his girl was not there therefore she wouldn't know about my visit. Half way through the blunt, he called to her to ask her to come out of the bedroom and when she came out, she was naked. A beautiful and sexy chocolate woman was standing in front of me naked...until he told her to get on her knees and eat my pussy! As she devoured my wetness, Miami watched and reminded me that I should never ignore his calls, he will do everything to keep my pussy wet and as far as he's concerned, I'm a queen and should be treated as one. Miami said 'my girl loves to eat pussy so this is a treat for her too' and I believed him. Girl, when I left his house on my way back to my hotel, my legs wobbly!"
Thank you so much for thinking of me, my audience will appreciate your kindness! Tip big everyone!
Kai Storm!
About the Creator
Author, Blogger, Podcaster for Motherhood Sex Marijuana, Writer for Fuego Magazine!
nattiekai.com
nattiekai.wixsite.com/kaih!
motherhoodsexmarijuana.com
Reader insights
Be the first to share your insights about this piece.
Add your insights