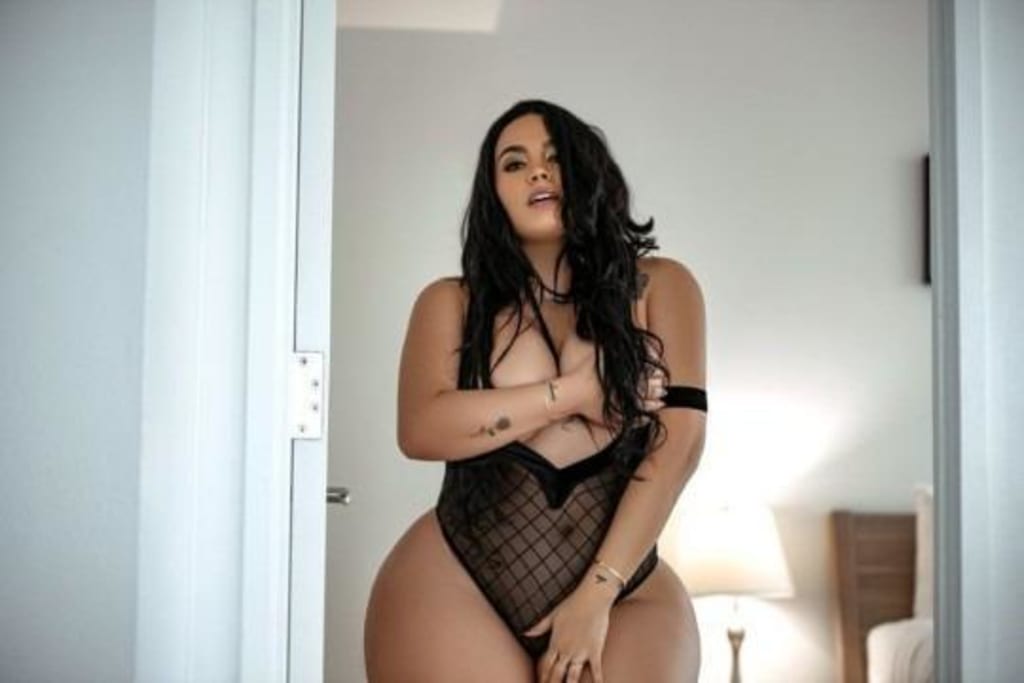 Let me start by saying that a part of me wanted him to see, a part of me knew for sure he would be pissed off and a part of me didn't give a fuck! Now that I've got that off my chest, I can tell you my story.
I like watching porn because it truly turns me on. Watching people have sex whether it's scripted or amateur is a real turn on for me so when my boyfriend decided to add watching porn to our bedroom activities, I was all for it. For us, it became a competition with whomever was on the screen. If the woman on the screen was spitting on the dick, swallowing and gagging on the dick, I was doing it ten times harder and better and vice versa. Our love making nights turned into full blown fuck-a-thons when porn was added to the mix. There was one thing I discovered about myself while watching porn with my boyfriend that I thought I could keep a secret; the very true fact that lesbian porn turned me on. It all started innocently enough while we were watching a new porn that had a mixture of different scenes. The scene started with a man getting his dick sucked by a woman who was sitting down with her legs wide open and playing with her pussy. In comes another woman who immediately gets on her knees in order to partake in the open and very wet pussy. At this moment, my boyfriend had his face deep in my pussy, the gyration of my hips as his tongue dug deep in my wet hole made me cum so hard. I almost thought he would've have figured it out or even guessed that the sounds and the visuals of a woman suckling on another woman's pussy turned me on like that...but he didn't mention it or acted like he knew so I never mentioned it.
I took it up a notch. One night after my boyfriend fell asleep first after a night of love making, I looked up lesbian porn on my phone to masturbate to. I had a couple of favorites bookmarked in my search history and I turned down the sound on my phone so I watched in silence. Every time I needed that itch scratched, I'd scratch it and he knew nothing about it....until the night he caught me!
I was home alone and he was out with his friends. After I got out of a refreshing shower, I laid back on my bed, put on my headphones, connected them to my phone and put on one of my favorite lick flicks. My favorite brown skin thing comes on the screen, flicking her tongue at the creamy caramel pussy lips, blessing them with juicy kisses before she dives deep into the wetness. Creamy caramel tries her best to be quiet but the stiff tongue in her hole is making her pussy talk loudly. When my boyfriend walked into the bedroom and saw my hand deep in my pussy, the puddle of wetness that was on the bed and what I was watching, there was no way I could explain it as if it was all innocent. I couldn't say that I was "getting ready" for him because I didn't know he was on his way home. I was clearly watching women which had him asking if I had been with women or wanted to be with a woman. It turned into an argument and I'm completely over it. He even asked me if I wished he was a woman when he eats my pussy....I was this close to telling him YES!
He was pretty upset for a while but a couple of back to back blow jobs got him to calm the fuck down. I still watch my favorite lesbian porn though, I'm just better at hiding it now. He doesn't need to know that every time he licks my clit and pussy, every time he tongue fucks me, every time he swallows my cum, I'm thinking about silky feminine lips.
I watched a girl eat a girl and I loved it!
Thank you to...um...yes to the person that wrote this awesome email to me! Your sex life brings life to my blogs and I love it. MY ADVICE: do what makes you happy, do what makes you smile, do what makes you cum!
Kai Storm!
About the Creator
Author, Blogger, Podcaster for Motherhood Sex Marijuana, Writer for Fuego Magazine!
nattiekai.com
nattiekai.wixsite.com/kaih!
motherhoodsexmarijuana.com
Reader insights
Be the first to share your insights about this piece.
Add your insights