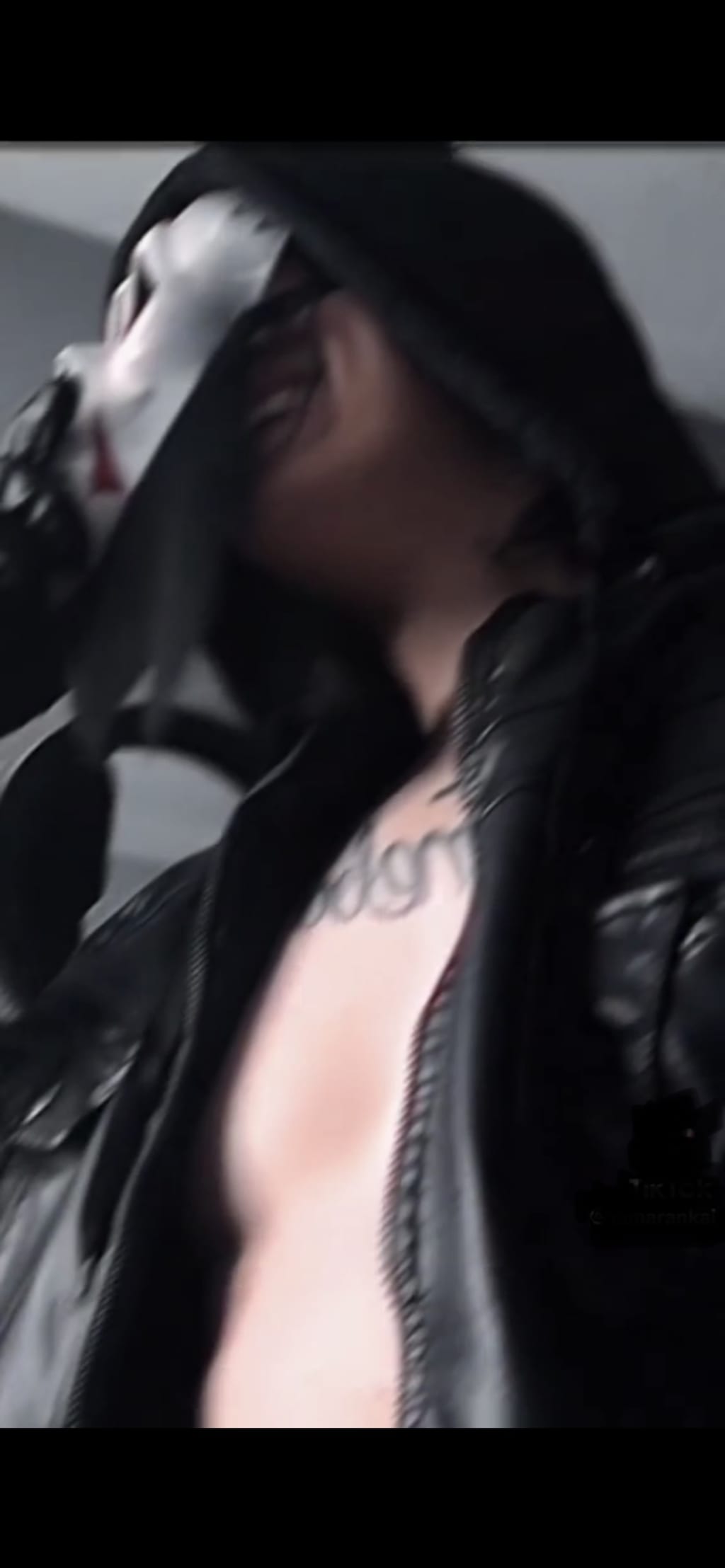 Ghost face, Billy?
Meg's wild ride had come to an end, the fun with Johnny and Jason had held her off for a few months. She had healed from the heart ache of losing her love, and was ready to go out into the world again. Or so she thought!
Meg had gone to a costume party, she wore tight, black leather pants, and a maroon corset that had black lace on it. The corset clings to her curves perfectly, showing her perfectly thicc body, and stiletto heels. Someone dressed in a ghost face mask, caught her eye, he wore a black leather jacket and ripped black jeans. He had words tattooed across his chest, he was very tall, and sounded handsome! The deep voice, sent chills up her spine with excitement. She felt heat rising, and realized the hunger than had taken her over. Meg walked up to him, a good song was playing to catch his attention. Ghost face danced with her, her stilettos made her just the right height for her to brush her ass across his crotch. She swayed back and forth a few times, he was in sync with her. She could feel his bulge hardening, she dropped down in front of him and slowly pulled herself back up, making sure he had a perfect view of her body. It was a costume party, so she just went straight for it, "Meet me in the far room to the left in 15 minutes. Meg went to get a few shots in, and immediately went upstairs. She had some ropes laid on the bed, and had taken off her leather pants, wearing only her corset, black lacey silk thong and her stilettos. Ghost face walks in, he starts to take off his mask, "Leave it on", Meg says, "It's sexy". Meg gets excited at the sight of his dick through his jeans, he walks towards her, "Take off the pants, leave on the jacket and sit on the bed". He listens and quickly undresses, Meg slides her hand along his torso as she gets on her knees in front of him. She takes her hand, gently sliding along his thick shaft, she feels herself getting wetter and more excited. Meg quickly licks along his shaft, circling her tongue around him. She takes all of him into her mouth, sucking up and down as deep as she can while quickly circling her clit through the silk. Moaning with each movement on his dick. He moans fuck under his breathe, "Fuck me daddy" she says. He releases and she swallows, he places his hand under her chin and pulls her her up from the floor. "Get on the bed like a good girl", his husky voice demands. "Yes daddy", Meg says as she sits on the bed. He takes his hand, and pushes her on her back by her stomach, he then grabs her by her hips and pulls her to the edge of the bed. He takes his thumb and circles her clit, she shivers. He feels how wet she already is and slides one finger in her as he thrusts it once, twice, then three times and slips another in. Meg arches her back and exhales, he speeds up and fingers her harder. She squirms a little, and he pulls her back to the edge as he takes his thumb, circling her clit as he continues to finger her. Excitement builds in her, as he speeds up circling and fingers her deeper. She moans "fuck" as she releases, "Roll over", he says in his deep voice as he removes his ghost face mask, Meg nods and does as she's told. "Now get on your hands and knees", he then gets on his knees and licks her clit up and down from behind. Speeding up, quicker and quicker, her body begins to trimble as her chest drops to the bed poking her ass up more making her pussy more visible. He then licks from her clit to her opening, he gently separates her lips with a finger on each and quickly slides his tongue into her dripping, wet pussy. Meg moans, begging for more. He quickly thrusts his tongue in and out of her several times, she screams as she squirts all over the bed. Ghost face stands up and positions himself behind her, he stares over her body, taking in every curve. He starts with following her silky dark hair til it ends half way down her back, giving him the perfect view of where the curves of her hips come out, showing her beautiful hour glass shape, continuing to look her down in her perfectly shaped ass, he takes a long glance at her beautifully pink, wet pussy, continues down her legs and stops at the heel of her stilettos. His lust for her takes over as he gently thrusts himself inside her, she arches her back. He starts at a slow pace, thrusting in and out of her, Meg breaths heavily, "Faster" she asks. He listens and speeds up, her moans get louder, he pays close attention to how her body moves with the thrusts and her reactions. He thrusts deeper in her each time, as she lets out screams of pleasure, grabbing the bed sheets. He feels her closer to her release and stops, Meg confused at his stop as he says "Move to the head of the bed, and get on your back". She listens, and says, "I've seen you with your mask off now, so can I put a name to a face?", "Billy" he says. She smiles and says, "So, what's next Billy?", he takes the ropes and gently ties her hands to the headboard, "Now that you got me tied up, can we 'finish'?" she asks. Billy answers in a deep, sexy voice, "Beg harder" with a smirk on his face. He can she the way she trembled at his words, he climbed on the bed in front of her, spreading her legs as he positioned himself, thrusting into her again. She moans, he thrusts deep, yet gently into her as she moans with each thrust. Billy lays his body over hers, as he continues, kissing down her neck, cupping her boobs over her corset with each hand, he placed a delicate kiss between them. Slowly kissing back up her chest, her legs begin to shake, he gets to her neck and bites gentle yet hard. Meg screams in pleasure as she releases, "Yes daddy!". Billy then releases inside her with one deep thrust, she moans. "Untie me now please", Meg says. Billy does, she pushes him on his back and climbs on top of him, "Don't move" she says. Stepping off the bed to remove the stilettos, she climbs back onto the bed and on top of him. "Let's play a game", confused he nods in agreement, she pulls out a silver knife and brushes the cold steel along his skin. She feels his arousal as he gives a little shiver, "You like that, baby?", "Yes!" he exclaims, "Good". She gently slides the blade down his abs, "It's called knife play, are you familiar with it?". "More than you know", he says, "You want a turn?" Meg asks. "Yes", he says. He rubs the cold steel across her her arms, "Take it lower and use the blade" she says, he brushes the blade across her thighs. She takes a deep breath in and says, "You know what I want", Billy takes the knife gently cutting her a little bit. "Watch this!" she says. She kisses him, slightly pulling her lips from him, and he sees the chie coming from him as she closes back in on his lips and quickly ends the kiss. She then points to her leg, and he can see she is healed. "I'm a succubus", she says, and asks Billy, "What are you? I can tell you're Fae as well. Vampire I presume, from your bite?". "Yes", he says "Bite harder next time, I like it". She climbs off him, "Why?", he asked. "We should get back to the party before they become suspicious, plus, we can't be seen together. You're dark Fae, and I'm unaligned. It's against the rules and this is an elders gathering". They hurry and get dressed, one heads downstairs on one and the other heads downstairs across the way. They "accidentally" bump into each other on the dance floor, but it is so crowded they can see anything, when suddenly Billy is stabbed in the side and hits the floor. "Game over", someone says, everyone is quickly evacuated from the party, everyone but Meg. They see the bloody knife lying in front of her on the dance floor.
About the Creator
I'm still working to get where I want to be as a writer, that's why I'm focusing solely on short stories. I intend to try and move towards other topics, but for now all I have successfully written are romance stories.
Reader insights
Be the first to share your insights about this piece.
Add your insights