I Truly Enjoy Thick Cocks Inside Me
21st Century Love Relationships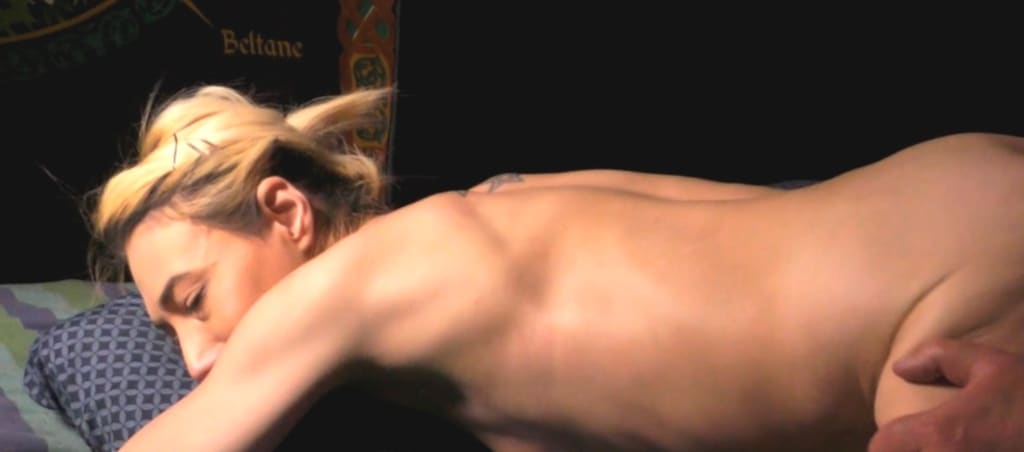 There are always practical considerations. Is the boy attached to the cock going to make trouble in my life, or be an on-going problem in any way? Is he simply too stupid or broke or homeless or needy, to be worth the trouble? The most delicious, awesome and satisfying erection, attached to the wrong torso, owned and operated by an unstable psychology--- well, it pays to be prudent. Too many of my girl-friends fell wildly in love, got pregnant and ended-up taking it in the ass and making sandwiches. Pumped in the ass, then cheated on by asshole husbands or boyfriends. True assholes who don't even pay enough child support to buy meat for the sandwiches.
My current solution is a tasty Vietnamese boyfriend, who lives with his parents, and make lots of money selling primo Washington State weed in New York and Pennsylvania. He gets my juice flowing and makes me laugh. I am joyful whenever he is in the room. I have him, and I have Roscoe. I live with Roscoe, and make movies with him. He has been a good friend to me for over twelve years, long before I met my Asian hunk. I suck Roscoe's cock, and go grocery shopping with him, and he is smart and kind, and has plenty of cash, so we are OK. When my Asian joy-toy gets enough cash, he will probably buy us a house. Then Roscoe will enjoy his other girls more often. Perhaps one of them will move-in and replace me.
Whatever happens, I have found a temporary solution to the Love-Sex-Money challenges every adult human lives with. We live in civilization of economic slavery. So we each have to deal with that in our own way. The ways we choose determine if we are happy or miserable. Often it is a balancing act, a constant adaptation to changing circumstance. One tell I really enjoy about Roscoe is his maturity, his long-view of any situation. He is over 60, and that helps immensely, him being mature and financially stable, as well as being a completely decent human being. I can trust him. And most of the time, he can trust me. I admit, my various addictions and bad habits have caused me to steal money from him now and then. Fortunately, I have never stolen enough to REALLY piss him off, to the point where he kicked me out of his life.
There it is. Accurate self-assessment. I recommend that to everyone. To lie to yourself about yourself is one sure way to be miserable, and cause disasters in your life and in the lives of the people around you. So Roscoe's mature cock is not nearly as satisfying as my big young, energetic Asian cock, but my loving relationship with Roscoe is so much more important and valuable than what his cock does or does not do. I don't mind getting him off when he needs that. Why would I? He loves me, and takes good care of me, and always has. He will probably let me live with him as long as I want to. And he knows, my true love is my Asian. And my Asian is grateful Roscoe gives me a safe, stable place to live. He does not care if I suck-off Roscoe now and then. Why would he?
These are the facts of human relationships of 21st Century America. We adapt, and try not to let our Walt Disney fantasy versions of human love and happiness, fuck up our realistic expectations. Fantasy versions of life are always a waste of time. Much better to assess the situation, and make rational choices. I notice, in many "reality" shows, the rappers or pro-ball players, show us their homes and hot wives and talk about what they are buying for $10,000 this week--- That is as much bullshit as Walt Disney feel-good chick flix. None of that helps make anyone's life better. (Except those handful of people, the TV producers and advertisers, making tens of millions of dollars from those TV shows.)