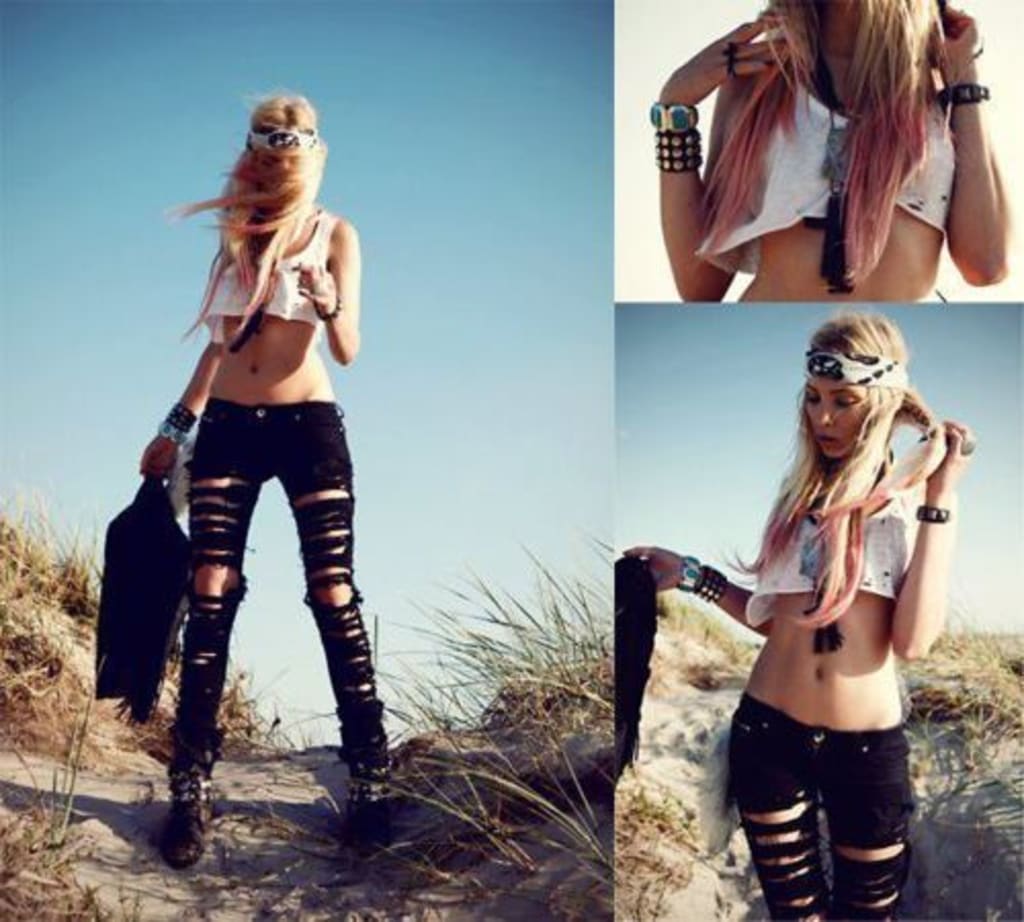 I walk into my favourite alternative clothing store and there she is. Standing behind the cash register is the most beautiful woman I have ever seen. She's not beautiful in the typical princess way, but like an alternative rockstar kind of way. She's got hot pink hair that is straightened and shoulder length, amazing smokey eye makeup that makes her blue eyes pop. She's wearing a tight crop top that shows off her perky breasts, with black high waisted jeans that caress her every curve.
I walk in and smile, she smiles back and says hello. She briefly tells me about the sales they have on, as all sales people do. I say thank you and start to walk around the store.
I pretend to be looking at the new clothing but in reality just watching her. She moves so perfectly, so smoothy. Her voice is soft, but she speaks hard. I like that. I like a woman with some sass. I can tell she has it.
She comes over and asks me if there is anything she can help me with. I want to say she can help me get off, but I know that wouldn't go well. I tell her not yet, that I'm just looking. She responds, "Let me know if there is anything at all I can do for you." Before turning she winks at me. My heart flutters.
I am trying to think of ways to get her number, but who knows if she even swings that way. Fuck, I don't even really swing that way, but for her, for her I would.
I continue walking around thinking of ways to talk to her more, to see more of her. I finally decide to ask for her number. I get nervous, my heart pumping. I walk up to her and start a conversation about music. Her laugh is intoxicating. I finally get up the nerve to ask and right before I do she says "Do you want to see the new shirts in the back? We aren't supposed to really bring anyone back there but I think you'd like them."
Fuck yes, I want to go back there.
"Yeah, I'd love to."
She tells her coworker she will be back soon. She grabs my hand and leads me towards the door to the back room.
She opens the door, closes it behind me and, to my surprise, she pushes me back up against it. Her lips on mine so quickly I can barely catch my breath. I wrap my hands around her waist. Then I grab her ass. It's so perfect. I just want her right now in this room.
She stops, apologizes and asks if it was okay. I said hell yes it's okay. I grab her face and keep kissing her.
I want her and she wants me.
I pull her shirt off and start kissing her chest. I take her bra off and start kissing her nipples. Slowly licking them. She's moaning quietly, breathing heavily.
She pulls my face up, kisses me and starts undoing my pants. My heart is beating fast, I've never been with a woman, but I want to. She kisses her way down my body, taking off my pants as she goes. She makes me spread my legs just enough so she can get her face in between. She licks my clit, tickling it with her tongue. I struggle to contain the noises I want to make. She starts licking more, sucking a little bit. Then she starts to finger me too. I am grabbing her hair, intertwining it in my fingers. She starts off slowly, getting faster as she goes, matching the speed of her tongue. Then she has found it, my magic spot. She knows it too. She keeps going with her tongue as she uses her finger against my G-spot. I finish quickly. She looks up at me and smiles. She kisses me, gives me her number and goes back to work.
I walk around the corner from the store. I stop.
I don't even know her name...