How to Make Big Penis Sex More Comfortable
For the giver and the receiver.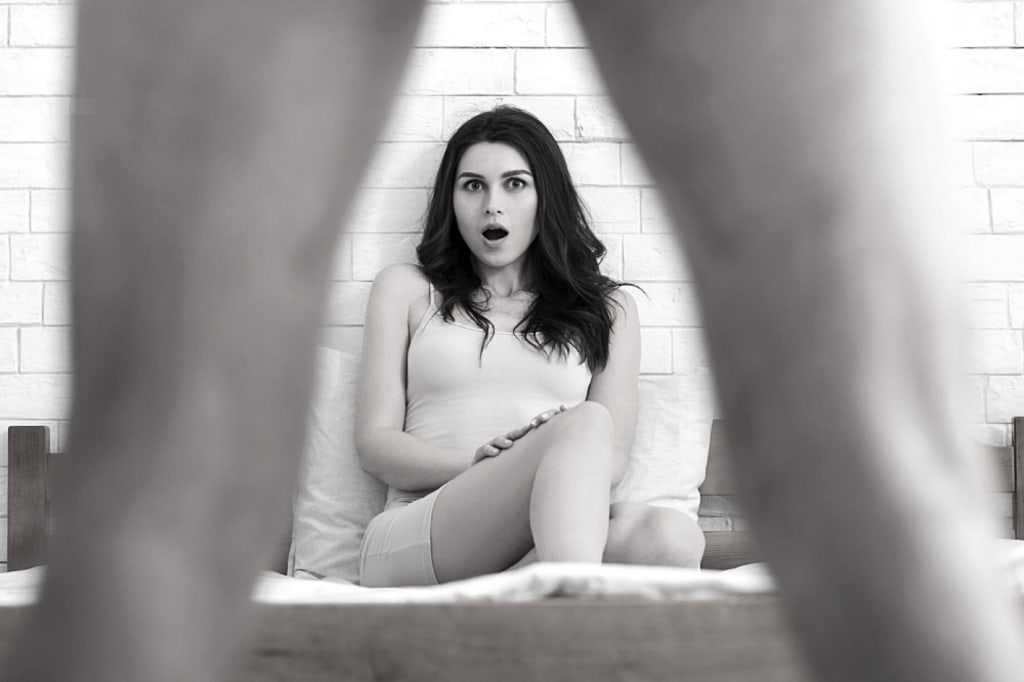 For givers and receivers
My very first king-size cock experience was uncomfortable — and it never got better. I was young and very inexperienced. Though my partner was a bit older, he was also pretty green around the gills. And the fact that he was oblivious to how big he was didn't help either.
The sex before the sex, also known as foreplay, was fantastic. But the PIV portion sucked (absolutely no pun intended). It wasn't excruciating for me, but it was unpleasant enough that I could never relax or get comfortable. It was as if my body was in a perpetual state of tension, and as luck would have it, he wasn't one for quickies.
I felt utterly disembodied whenever we would have sex. I literally would zone out so that I wouldn't have to be present for the discomfort.
If I could travel back in time and have a pep talk with my younger self, I would tell her that sex shouldn't hurt unless that's how you like it. And that it's okay to change the channel in the middle. I would also tell her that her pleasure is her responsibility and that she needs to advocate for it — at all costs. And that using her words will help her vagina to be more receptive. #ForFACTS
And I'd also give her the following tips on making big penis sex more comfortable, and I think you'll find them useful too:
Lube — like use a lot!
In most cases, lube is used to keep everything nice and slick. But when it comes to big dick sex, lube is not a preemptive measure but a mandatory one. Using a superabundant amount of lube will keep the penis from hitting the same spot in succession. I'm talking slip and slide, baby!
Natural lubrication is a beautiful thing, but the elements easily influence it. Fluctuating body temperatures, the heat created by friction, and the air in the environment affect the consistency and viscosity of natural lubrication. And if you're enjoying a particularly long session, natural lubrication may begin to dry, which is normal. But drying increases the possibility of chaffing, which may make the experience even more uncomfortable. That's why lube is not optional.
It's also important to remember that lube does not replace arousal. So if you are the receiver, make sure that you are fully aroused. Foreplay is never optional — but that's especially true when you're dealing with a substantial penis.
Know your anatomy.
I cannot stress the importance of being intimate with your own body enough. Anatomy matters — a lot.
Do you have a curved penis?
Tilted uterus?
Delicate testicles?
Sensitive cervix?
These are things you need to know anyway — but especially if you're trying to pull off big dick sex.
Curved penises can create friction on the vaginal or anal wall. And plowing into a tilted uterus can be downright painful. Of course, delicate testicles or a sensitive cervix can inhibit pleasure big time if you don't use the right approach.
And even if all your parts are situated comfortably, that doesn't mean that discomfort won't happen. But the more you know about your body, the easier it is to steer clear of painful possibilities. You can maneuver, shift, and change things up as needed when you know what you're working with.
For example, I know that my body is a lot more accommodating when I'm ovulating. This means that it takes less time for my body to come online, and my turn-on is much more intense. So I can take more pressure, and what would usually cause pain often doesn't.
This kind of insight can make all the difference. Nobody should know your body better than you do. And in case you're wondering, masturbation is one of the best ways to cultivate self intimacy.
Find the right-fit position.
When it comes to big cock banging — location, location, location, and by that, I mean it's imperative to find a comfortable position — for both of you. Almost any position where the receiver's ass can be used as a buffer will enhance pleasure, but here are three that I highly recommend:
Prone Bone — in this position, the receiver should be lying flat on their stomach so that the giver can enter from behind. The receiver's hips can be slightly raised (a pillow might be useful). It's like a modified doggy but better because it provides excellent access to the g-spot or the prostate if you're doing anal. Additionally, the receiver's ass offers an added layer of cushion between the penis and the vagina or anus.
Spooning — is a great position for added intimacy, which can be particularly important if either of you is feeling a bit nervous. Holding or being held will help calm the nervous system so that you can relax and lean into pleasure. The giver is the big spoon, and the receiver is the little spoon. And like prone bone, the receiver's ass works as sort of a shock absorber for penetration. The receiver can also curl forward toward their knees, which may provide added pleasure and less pressure.
Front-facing-side-by-side — this position is perfect for maximum communication. Wrap your legs and arms around one another so that the receiver can control the depth. Or you can keep your legs straight for more shallow penetration. This position affords the giver full access to the receiver's facial expression and body language. That way, if there is some discomfort that the receiver isn't expressing, the giver is more likely to recognize it.
LARGE PRINT: if something hurts or you want to stop, always let your partner know. Establishing a safe word in advance is a good idea.
I encourage you to experiment — a lot. Because while finding the right position can make all the difference, finding the right angle changes the game!
Remember, the only right way to do sex is the most comfortable and pleasurable for you and your partner(s).
Don't forget the props.
If you are on the receiving end of a large cock, you know that the human body is not designed for — how can I say this — extremely long phalluses. And if you have an extra-long shlong, I'm sure you're aware that trying to control the depth can sometimes inhibit pleasure.
But a good prop might be the answer to your prayers. The Ohnut (or something similar) can help control the depth of penetration so that you can both stay fully present and immersed in pleasure. These simple cushy rings will allow you to sit in the saddle and ride without a wince. You'll be able to bump, grind, and bang-bang-bang minus the fear of going too deep and hurting your partner.
I mean, a good prop could put all your favorite deep-dive positions back in the game. Reverse cowgirl, happy baby, pretzel, and wheelbarrow too! Endless possibilities, maximum pleasure, and almost no ouch.
...
If full penetration isn't possible — be okay with that. Sometimes you might need to switch positions more often than you prefer — that's okay too. There may also be instances where you or your partner will need to tap out — that's also cool.
Above all else, make comfort your top priority. That means doing whatever it takes to create a relaxing environment for you and your partner. It may take some time to get to a place where there is almost no discomfort — but trust me, it is possible.
There are many ways to achieve pleasure. Penetration is only one way. And if it's important to you and your partner, remember practice makes better.