How Much You Can Earn On iFans: iFans Review To Make Money
How Much You Can Earn On iFans: iFans Review To Make money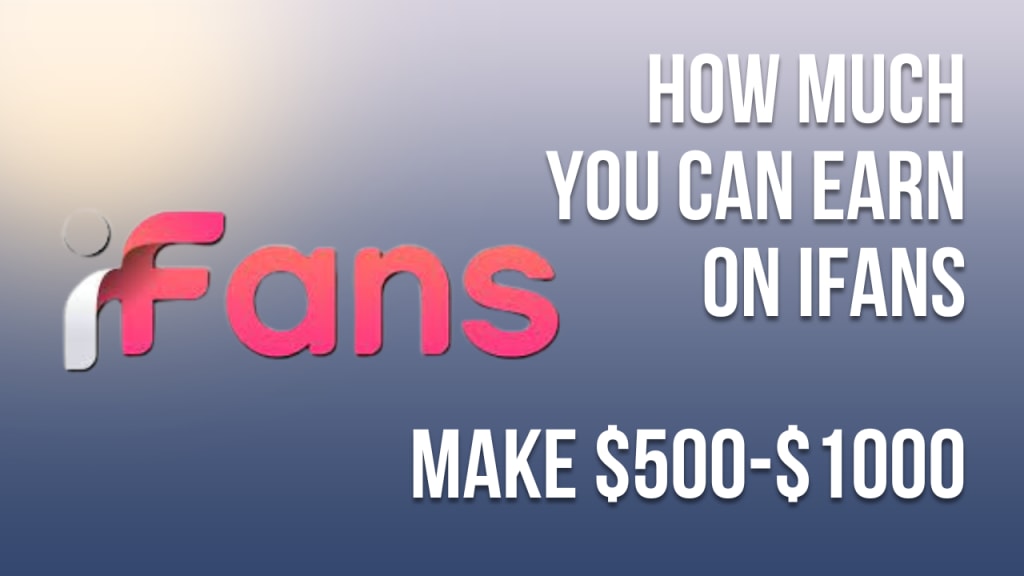 iFans is a platform that provides content creators and models with the opportunity to monetize their content. The website is user-friendly and allows creators to post their content with ease. The content that is usually posted on iFans is adult content.
Models on iFans can make a good amount of money by utilizing various features that allow them to make as much money as they want. The income of models on iFans depends on several factors such as the number of followers, frequency of posting content, engagement with fans and subscribers, and marketing strategies. If a model has a huge fan following with a great marketing strategy, then the model can make a full-time income from iFans.
How To make Money From Selling Feet Pictures
However, new content creators, especially those in the adult content industry, must work smartly to attract more fans.
In this article, we will discuss "how much iFans models make?" According to the site's suggestion, a model on iFans can make up to $72,000 monthly, which is a substantial amount of money. iFans offers many features and perks to content creators, such as keeping the suggested content creator list updated.
This list helps maximum audiences discover new content creators. Posting content with a proper schedule and great quality increases the chances of getting paid heavily.
How much can iFans models earn on IFans?
The site suggests that models on iFans can earn up to $10k per month, and while some models do earn this amount, the reality is that earnings vary widely depending on a model's following. New models on the platform might only earn between $200 and $500 per month, whereas more established models can earn between $5,000 and $10,000 per month. These earnings are calculated based on the number of followers each model has.
Is iFans' payout rate fair?
In the current market, iFans' payout rate is considered fair and even generous compared to other platforms. For example, if a model makes $10,000 per month on iFans, the platform takes $2,000, leaving $8,000 for the model. This payout rate is more favorable than many competitors, making iFans an attractive choice for content creators.
Is Selling Feet Pictures Dangerous
Creating a backup system for your income
It's essential for adult content creators to have backup channels to ensure they don't lose all their income if one platform disappears. Joining at least three platforms is a smart move. One such platform is FriendsOnly, which allows you to create vertical videos and start a subscription business. It provides excellent exposure for your content and is worth considering as an additional income source.
Ways to earn money on iFans
iFans offers several ways to earn money on the platform. If you're an adult content creator looking to maximize your income potential, here are some of the ways you can do so:
Paid Subscribers on iFans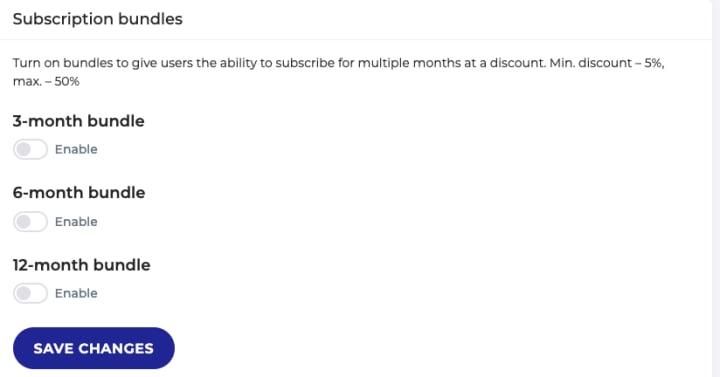 Creators on iFans have the option to offer their content to subscribers for a monthly fee. The subscription fee can be set anywhere between $5 to $50 by the creators themselves. iFans also offers subscription bundles, where fans can subscribe for multiple months at a discounted rate, ranging from 5% to 50%. This provides fans with a more affordable and convenient way to access their favorite creators' content.
Tips on iFans:
Earning money through tips is another way to increase your income. Generous fans can tip you any amount, and if you're posting content frequently and your fans love it, you can earn a serious amount of money.
Donations on iFans:
Loyal fans may donate money to support your growth. Some fans become emotionally attached to their favorite content creators and donate to see them succeed.
Messages with Fans:
On iFans, fans must pay an access fee to start a conversation with you. You can charge them extra if they request specific content in the chat.
iFans Referral system: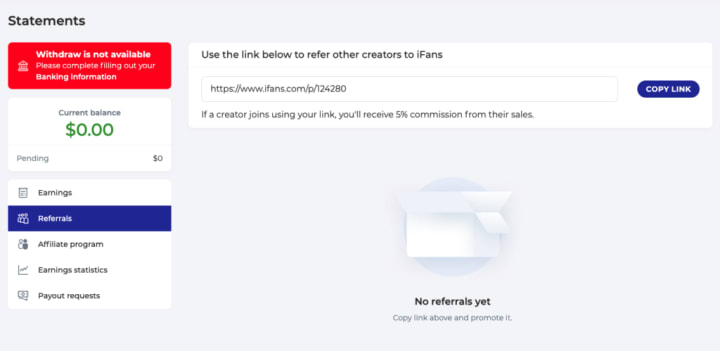 iFans also offers a commission for inviting other content creators to the platform. If you invite someone, you'll earn a 5% commission on their transactions.
How To Promote iFans Profile on Social Media
To increase your visibility on iFans, the platform suggests sharing your profile link on your existing social media accounts like Twitter and Instagram, and anywhere else where you already have an audience. You can also promote your profile from within the platform using the internal affiliate program. However, keep in mind that if you get other creators to promote your profile, you'll have to pay a 40% commission. iFans will take an additional 20%, leaving you with 40% of the earnings.
Benefits of using iFans for Creators
iFans offers benefits for both creators and fans that you're not going to find on any other platform.
Creator Benefits Include:
• Prompt and Regular Payouts
• Fast and easy to use.
• Get discovered by a new audience.
Fan Benefits Include:
• Message 1-on-1 with your favorite creators.
• Detailed creator discovery and search.
• Secure and private.
• Access to exclusive content and interactions.
iFans offers a personalized way for individuals to interact with their fans and they believe it's about time people got paid for all of their hard work.
Read More
How To make Money From Feet Photos
About the Creator
"Step into my world of feet and discover the beauty in every toe, arch, and sole. Follow for daily foot pics and inspiration."
For More Follow Us On
Feetpicreviews.com
Reader insights
Be the first to share your insights about this piece.
Add your insights